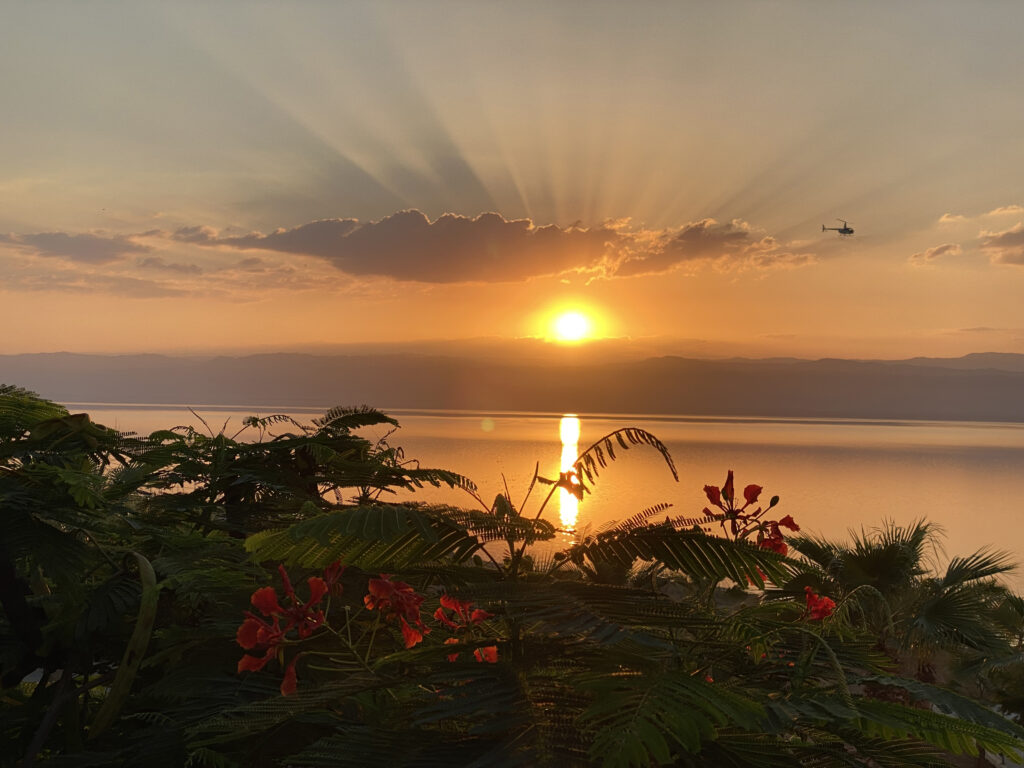 The Dead Sea
The Dead Sea is something mysterious that we have all heard about as we have grown up, but to actually experience it was so enlightening.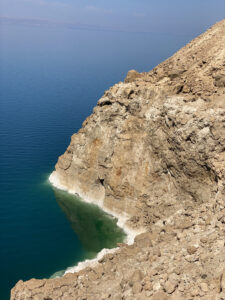 As our van drove along a winding road, we had our first shot of this sea from above and over the edge of a cliff. Potash, Jordan's largest product, comes from the beds along the Dead Sea that could be seen in the distance.
The Dead Sea is bordered by Jordan on the east and Israel and the West Bank on the west. The Jordan River is the source of most of its water.  It is here that the Upper Jordan River/Sea of Galilee/Lower Jordan River water system comes to an end. The Dead Sea is the lowest land mass on the face of the earth. It has long been thought as a health resort which dates back to when Herod the Great used it as his health resort.
Our stay at the Hilton Dead Sea Resort and Spa (one of nine resorts on the Jordan side of the Dead Sea) gave us resort access to the Dead Sea.
There are many theories about the healing powers of the Dead Sea mud. It is believed that it may temporarily relieve pain in patients with osteoarthritis of the knees. Another theory is that the climatotherapy of the Dead Sea may be therapy for psoriasis due to its position below sea level causing the UV rays to be somewhat blocked.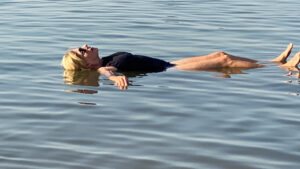 But, we were here to have fun and the enjoyment of floating on the Dead Sea and then covering ourselves with the famous mud.
We grabbed towels and headed for the sea. We found that because there is so much salt in the water, it is nearly impossible to do anything but float. We learned that when we ventured into the water. Walking very far out into the water was very difficult without being buoyed horizontal by the salty water. We all just enjoyed floating on our backs with no effort to stay on top of the water.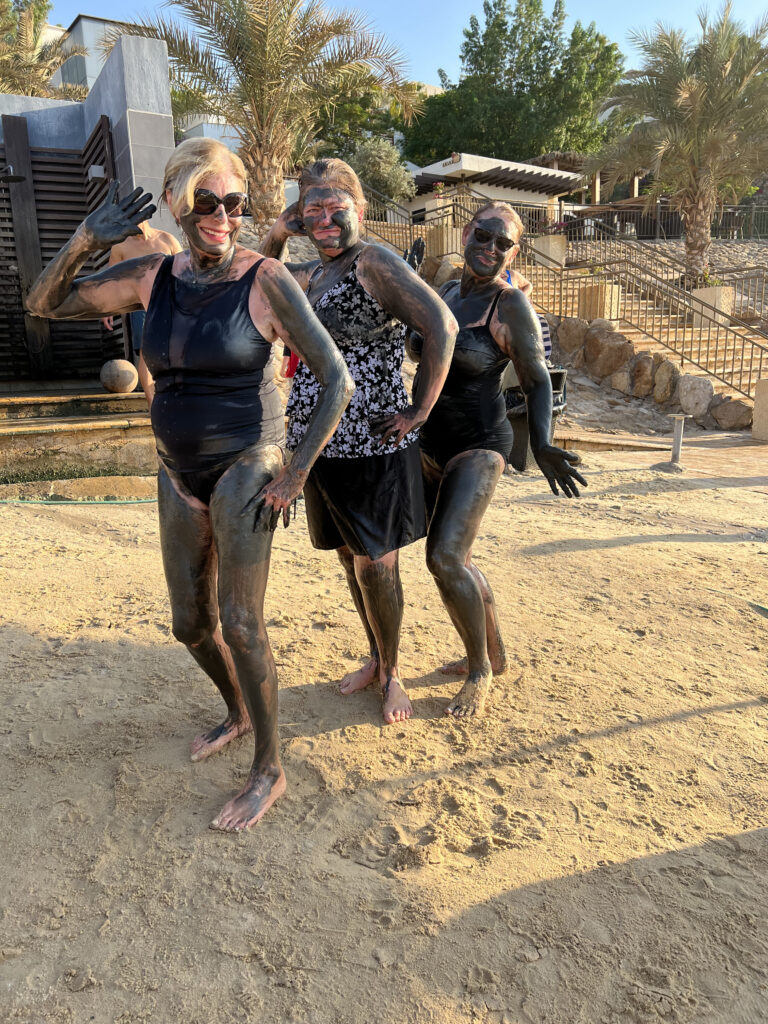 Once we had the opportunity to float for awhile on the sea, it was time for us to try out the mud bath. We headed to the bathhouse area above the beach where pedestaled bowls filled with Dead Sea mud begged to be smothered all over our bodies from faces down to our feet in between a whole lot of laughing at the sight of each other. We found this activity works best with a group of people so that you can cover each other's backs.
The mud isn't supposed to remain on longer than 15 minutes, and you have to be careful not to get it on your lips because the saltiness will sting. While it was fun to try this therapy on ourselves, getting rinsed after 15 minutes was a welcome change. We couldn't immediately notice any amazing changes in our skin, but maybe we needed to have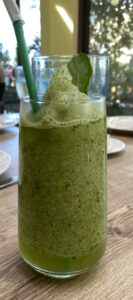 done it several times.
Hilton Dead Sea Resort and Spa
We had lunch at Bacchus, the Hilton's pool-side Italian restaurant. It was great enjoying some of our favorite foods like bruschetta, pizza, pasta, and a beautiful and citrusy lemon tart with a meringue topping. Our guide ordered a traditional Jordanian drink called Limonada, a slushy made of lemon and mint leaves.
Our dinner was at 1312 that features Lebanese cuisine and Lebanese wines. We enjoyed the casualness of this restaurant with music and French fries.
Breakfast was at Spectrum. We all loved breakfast in Jordan. The offerings and varieties are so plentiful from yakatori to pizza to grilled meats, salads, cheeses, and eggs. And, there was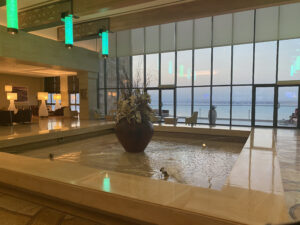 always a giant table of desserts. Desserts for breakfast can't be bad.
The hotel itself is massive and sprawling with wings off both ends of the enormous main lobby and restaurant. It is set on a hilltop with several sets of steps and two elevator landings down to the pools that overlook the Dead Sea. There are three pools—an infinity pool for adults and children, one pool for adults only, and one for families only. The sunset from the pool area made all of us as photographers click away because it was spectacular.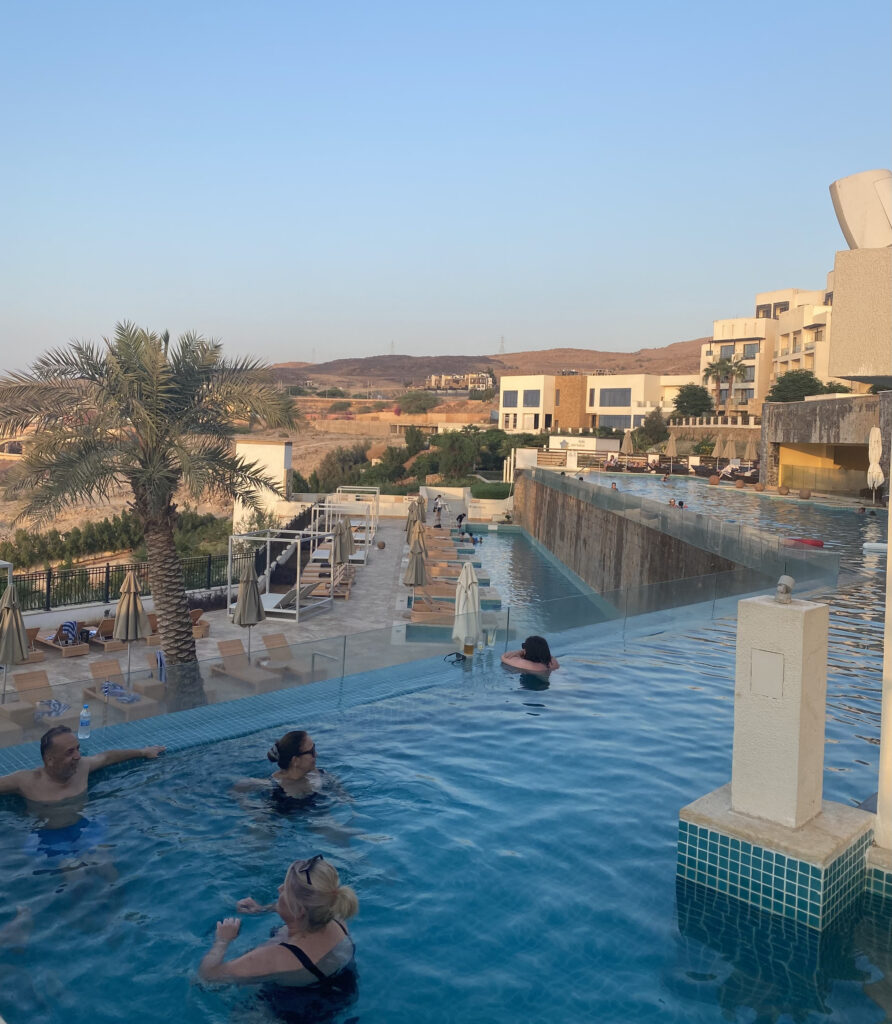 The rooms are luxurious with wood paneling. Unique to this resort is that the bathroom soaking tub has a sliding glass door to the bedroom that when open affords a view out the window and in some rooms a view of the Dead Sea.
The spa at this resort is worth a visit. My massage was one of the best I've ever had. My massage therapist actually got on the table to be able to get deep enough into my muscle tissue. I was the last appointment of their day, and once my session was finished, I was offered a cup of hot tea and found it amazing that they were in no hurry to get me out the door.
This resort is just 28 miles from Amman and about 23 miles from both Bethany Beyond the Jordan and the Wadi Mujib Adventure Center where you can go canyoning.
Part of any Jordan trip should be to this area with a luxurious stay and both historical and adventure features.