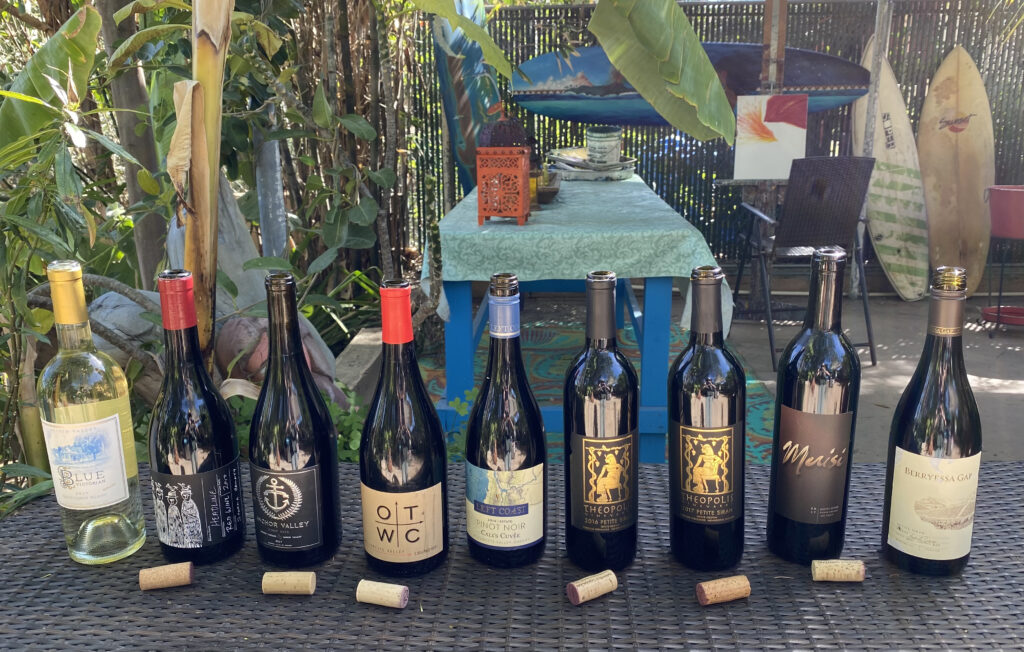 With a salute to both Black History Month and women winemakers, the Wine Review Council, consisting of eight wine enthusiasts, met to sample some amazing and unique wines. Many of our wines were made by female winemakers and came from female-owned vineyards, an unusual
occurrence just a few years ago. Pairing food with wines is what we do and adds to the fun of sampling. Robin and Marc Simpson offered up the tropical outdoor setting of their backyard for this event.
The Vezér Family's 2019 Blue Victorian Sauvignon Blanc from Suisun Valley (in the Vacaville area east of Napa) opened our tasting. Vezér Family Vineyard is best known for Petite Sirah and Zinfandel.  UC Davis has rated the Suisun Valley appellation as the best growing region for Petite Sirah in California. Today, however, we had the opportunity to taste the 2019 Blue Victorian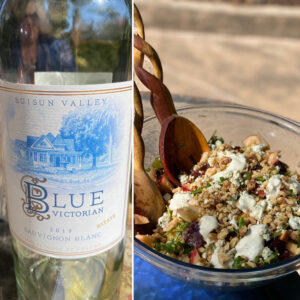 Sauvignon Blanc ($26) with notes of citrus and tropical fruits. On the palate we tasted the minerality of the region. This wine had a nice acidity to cause it to linger for a while, always a good sign of a good wine.
A visit to the Vezér Family Vineyards can be a full day experience by visiting their three winery tasting locations, Vezér Estate Ranch, Manka Gardens Tasting Room, and the charming blue Victorian home, fondly called the Blue Victorian tasting room.
Our salad of celery, apple, beets, and arugula paired well with this refreshing wine.
Our second wine was made from a little known grape, St. Laurent, and was blended with Malbec to create the 2017 Headline Red Blend($28) by the Tres Sabores Family Winery of St. Helena. This variety holds some mystery because while it is known that developed from a cross of Pinot noir with another variety, that second parent variety in unknown. The St. Laurent grape variety is a cold-climate varietal and is the most widely grown grape variety
in the Czech Republic and the third most popular in Austria. It has experienced a revival in many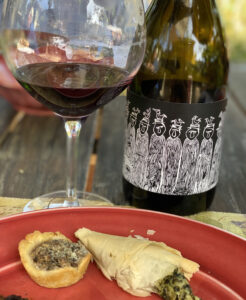 wine producing regions. The floral aroma hits your nose as you lift this glass with herbal and cherry notes. We found it to be subtle and low on tannins.
The Tres Sabores Family Winery was established in 1999 and is both owned by and has a female winemaker, Julie Johnson.
Our pairing for this charming blend was both spanakopita and mushroom tarts. The earthiness of both the spinach in the spanakopita and the mushroom tarts brought out the best of this wine.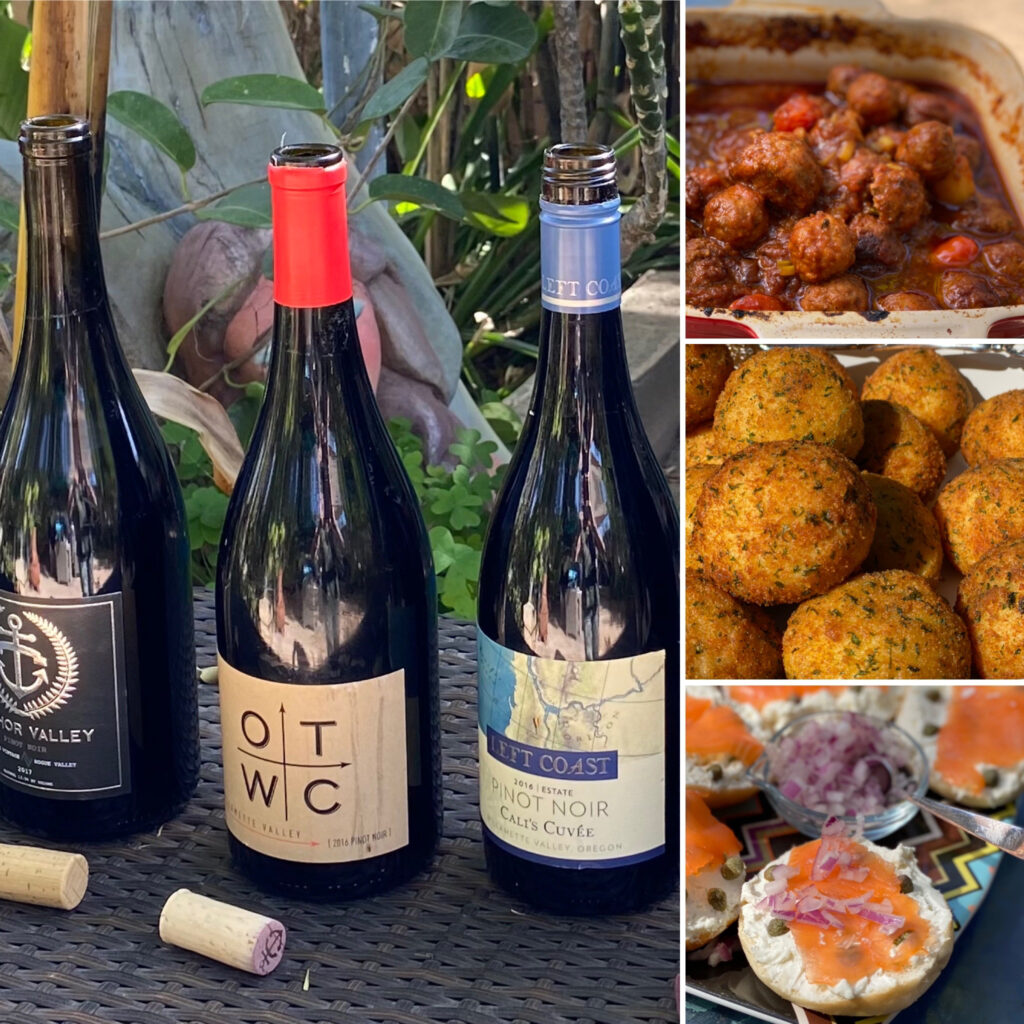 One of my favorite wine varieties is Pinot Noir. I was happy to taste the 2016 OTWC (Oregon Trails Wine Co.) Pinot Noir ($21) from the Willamette Valley of Oregon. A certified organic vineyard, this wine is both reasonably priced and easy drinking with flavors of cherry pie. It would be wonderful to sip on a spring or summer afternoon. We loved the nose on this wine. OTWC is owned by a former NBA player, Channing Fryer.
Our pairing for this Pinot Noir was a unusual Cuban Potato Purée filled with seafood ragout. Seafood makes for a great pairing with Pinot Noir. The creaminess of the potato balanced the acid in the wine.
Next up was the Left Coast Estate Winery with its 2016 Pinot Noir, Cali's Cuvee (named after the daughter) from the Willamette Valley. While the 2016 Cali's Cuvee is currently unavailable, the 2017 sells for $24.00. Founded in 2003 by Suzanne Larson who moved with her family from Colorado to the "left coast" and surrounded by three of the five family members being left-handed, the name is justified.
We found this wine to be loaded with blackberry and cherry flavor. It had an earthiness to the nose, typical of Oregon Pinot Noirs. The finish was smooth and silky. It paired perfectly with the smoked salmon on bagels with cream cheese, capers, and chopped purple onions.
The 2017 Anchor Valley Winery Pinot Noir ($33) from the Southern Oregon Rogue Valley also has a female as a co-owner, Ashley Cates, who we first met as Rogue Valley Vintners Vice President. What hit our nose first was cranberry. Then, on the palate we tasted berries and a smokiness with floral notes and vanilla. This wine has a lovely smooth and silky finish to it. Sexy and seductive is the description of this wonderful Pinot Noir. Our pairing for this wine was Italian meatballs.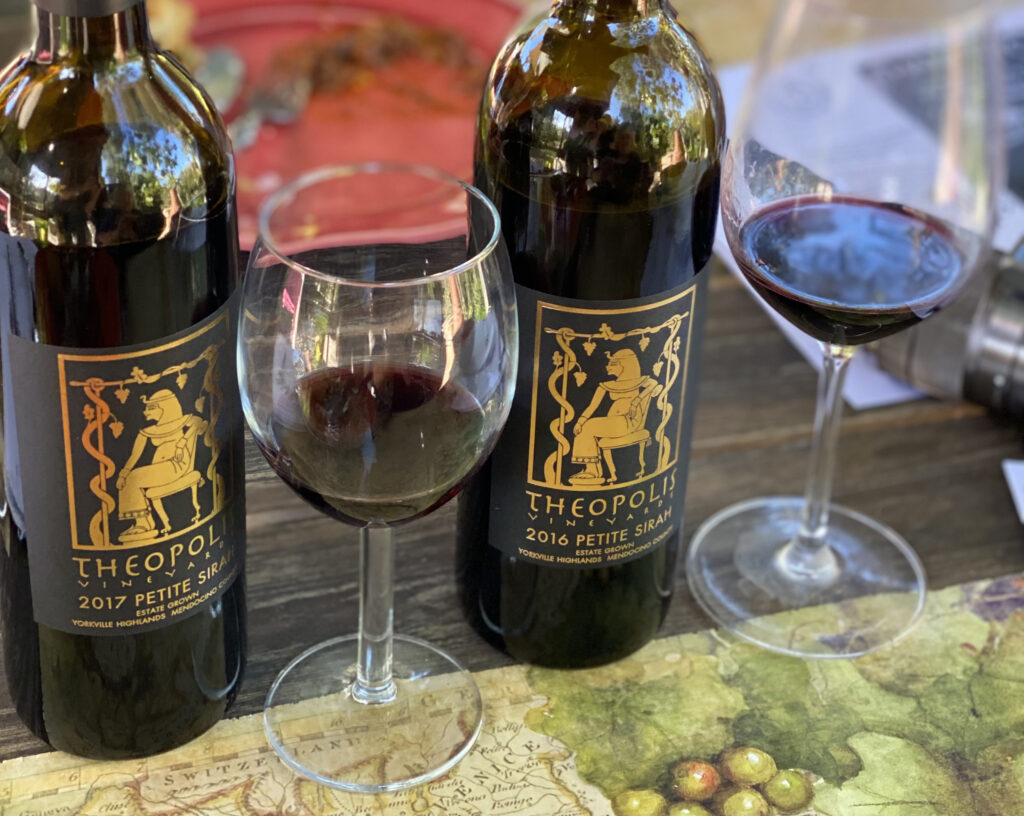 As far as female winemakers and owners, Theodore Lee, a dynamic native Texan and San Francisco trial attorney, started bottling her own wines at Theopolis Vineyards and Winery. Theodora is known as Theo-patra, Queen of the Vineyards.
During the month of February, when we celebrate Black History Month as well as the rest of the year, Theodore should be commended on her involvement in the Association of African American Vintners (founded in 2002) as one of the charter members and where she served as its Secretary and Legal Counsel up until 2020. This group provides a support network for African American vintners and wine industry professionals as well as access to career enhancement opportunities in a glaringly White industry.
On the day of our wine tasting, we had the opportunity to taste both the 2016 and the 2017 Petite Sirah ($39). Being able to sample the two years side by side offers a challenge to the taste buds to decide the nuances of the two.
We ended up enjoying both of them and found little variation. The year of 2017 was a very good growing year and perhaps tilted that bottle a little as being our favorite, but age adds to the character of a Petite Sirah, making the 2016 luscious. Both were an inky purple color in the glass with a nose and the palate of black pepper, cherry, currants, and tea. These two wines are big and bold with tannins and a smooth finish.
Our pairing of a Beef Stew containing nutmeg, cinnamon, chipotle, and coriander, brought out the depth of both of these delicious Petite Sirahs.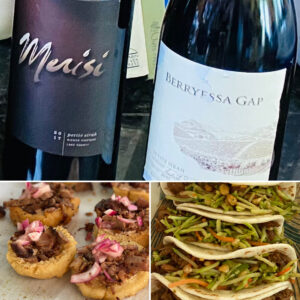 Talking about Petite Sirahs and women winemakers and vineyard owners, Mandy Donovan, is the founder and co-owner and winemaker for Merisi Wines. With grapes grown on the hillside of Lake County, California, known for hot days and cool nights, the 2017 Merisi Petite Sirah ($60) was a real treat.
This winery is named after the Italian painter, Michelangelo Merisi da Caravaggio because his art brought passionate realism. The whole family is involved in this vineyard and winery and works to produce a wine with minimal intervention grown in a sustainable vineyard.
On the nose, we picked up mint and a little smoke and dark berry. We tasted some chocolate as well as the spice of molasses with a great acidity. The pairing for this wine was a slow cooked brisket, a meat big enough to balance this bold but smooth wine. We also had a great pairing of chalupas (masa dough containing shredded pork) topped with crema.
Last of the day for our tasting was another Petite Sirah made by female winemaker Nicole Salengo and owned partially by a female, Corinne Martinez (a former Microsoft employee) and her siblings, Dan and Santiago. The vineyard, Berryessa Gap Vineyards is located in Winters, California, about a half hour west of Sacramento. Interestingly, Berryessa Gap's wine that we tasted was grown in a vineyard of both Petite Sirah and Zinfandel where the vines are interspersed and harvested together. This Petite Sirah blend ($28) opened up with lots of big flavors of ginger and eucalyptus. Along with that big cherry flavor, we tasted cocoa that coated our mouths. Lots of acidity in this wine maintained a long yet smooth finish.
We loved the pairing of a fusion dish of Asian pork tacos with the spiciness from Hoisin sauce and bold flavor needed for this big red wine.
We celebrate female vineyard owners and winemakers as well as African American winemakers and owners with a salute to some amazing wines provided to our group by these vineyards and the organization P.S. (Petite Sirah) I Love You. Cheers to some fantastic wine!