.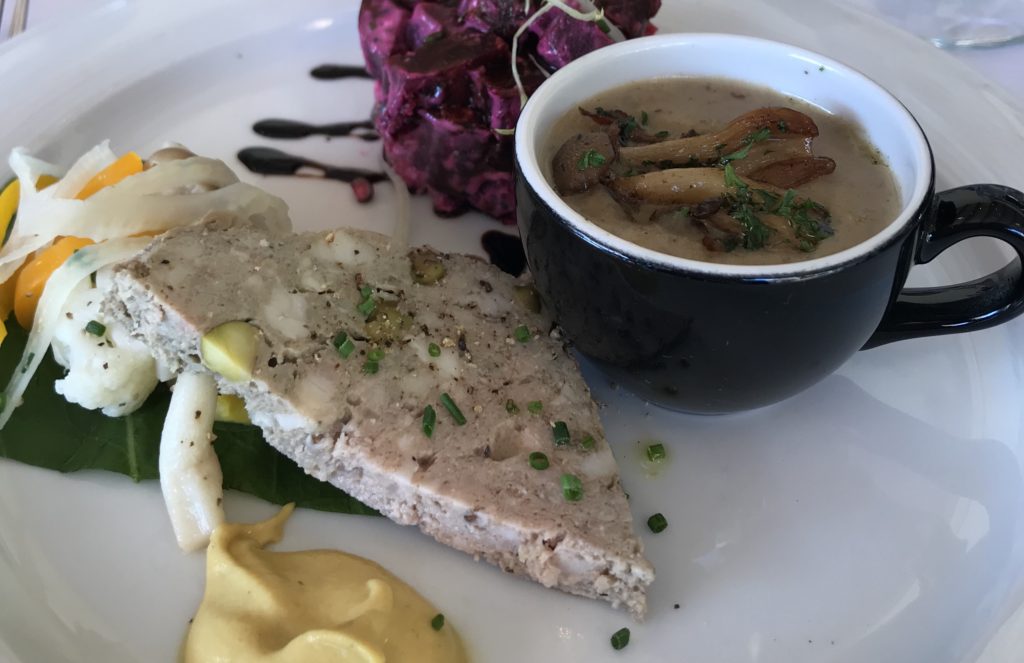 Take a tour of the Sherman Gardens in Corona Del Mar, California, and then enjoy a leisurely lunch on the patio at Café Jardin. This gem of a restaurant is located adjacent to the Central Garden. Let Chef Pascal Olhats guide you through his extremely French menu of some of the most amazing food offered in Southern California.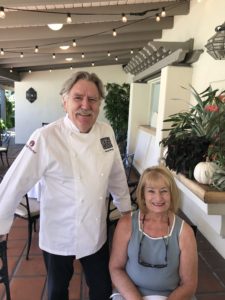 Chef Pascal is the real deal. He was born in Normandy and then lived in Leon and St. Tropez. He worked for Chef Paul Bocuse. In 1984 Pascal moved to the United States to work as a chef for Piret's Restaurant, then Chef de Cuisine for Le Meridien Hotel in Newport Beach. Pascal's restaurant has been rated the #1 restaurant in Orange County for 15 years by the Zagat Guide.  He claims fame to being awarded the Wine Spectator Award of Excellence as well as the award of Great Chefs of America.  In 2016, his restaurant was chosen as Restaurant of the Year by  Orange Coast magazine.  On top of all of this, he has mentored numerous chefs, and he's just a really nice man who is loved and respected by his peers and customers alike.
I was fortunate enough to tour the lush Sherman Gardens with fellow IFWTWA (International Food, Wine & Travel Writers Association) members and then enjoy an authentic French lunch at Café Jardin. Guests can either dine on the patio under an awning adjacent to the Central Garden or if the weather is inclement,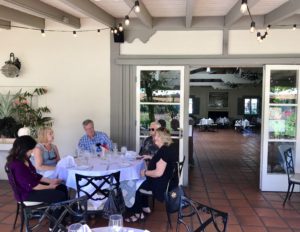 they can eat inside by the mosaic fireplace—a room of glass doors, exposed beams, and Spanish tiled floors.
As is typical of most days in Southern California, it was beautiful in this hidden outdoor patio restaurant. We enjoyed our lunch outdoors with the sight of flowers surrounding us.
Chef Pascal poured glasses of Cave de Roquebrun Col De l'Orb from Saint-Chinian, a lovely rosé from the Languedoc region of France to start our meal.
Our first course was so very French. A luncheon plate topped with a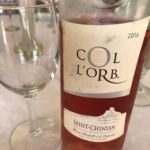 myriad of small bites was brought to our table. The plate displayed a homemade country paté atop pickled vegetables, Coupled up to the paté was a small cubed beet salad with goat cheese, roasted hazelnuts, and a lemon vinaigrette. A petite cup held an earthy rich mushroom soup.
On my list of favorite varietals of wine is pinot noir. Luckily for me, Chef Pascal poured a bottle of Bourgogne Hautes Côtes of Beaune 2016 Pinot Noir for our next courses. Our noses and palates were greeted with a wonderful bouquet of cherries, flowers, and nutmeg, a perfect pairing for the dishes that followed. (By the way, I would highly recommend trying to find this pinot noir. It is reasonably priced, and the wine made the entire group at the table sigh with delight.)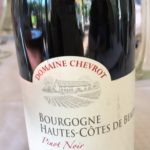 Next up on the menu was a leg of duck confit. Duck confit can be described as a big fat flavor blast. A favorite method of preparing meat in pre-fridge France was to preserve it in its own fat which is from where the term came. You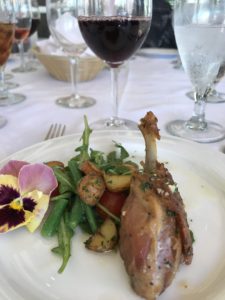 infuse meat with fat and flavor (fresh herbs.) Our leg was plated with small roasted potatoes and green beans.
Just when I thought we had finished our meal, our server brought us the star of the lunch, stiped bass and octopus served with a saffron aioli. The sea bass melted in our mouths with a marriage of all the delicious herbs and emanated perfect preparation. We were determined to leave not one bite behind.
I love the approach of serving a chocolate and a lemon dessert together, and this is what Chef Pascal presented to us for dessert. The rich flourless chocolate cake was balanced with the slightly tangy lemon tart and served with fresh berries and cream. Pure decadence in each bite.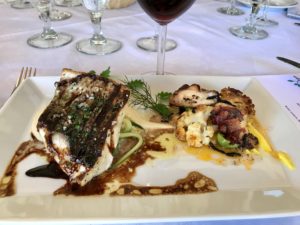 This hidden oasis of wonderfulness amid the Sherman Gardens is open for lunch on Monday through Friday from 11:00 am until 2:00 pm and on Sundays from 10:30 am until 2:00 pm (but is closed for brunch for the season at this time.)  In addition, there is  a Tea Garden Creperie on Saturday and Sunday and a high tea once a month.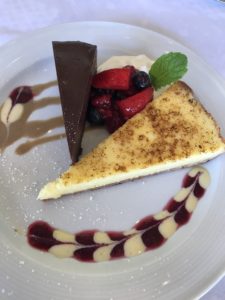 Be sure to call ahead to confirm hours Café Jardin is serving in the garden. Reservations are also possible by calling  949-673-0033. To view the menu and learn more about Café Jardin, go to:  http://www.slgardens.org/cafe-jardin
As is customary in this industry, we were hosted at Café Jardin so that we could share our experiences with our readers.