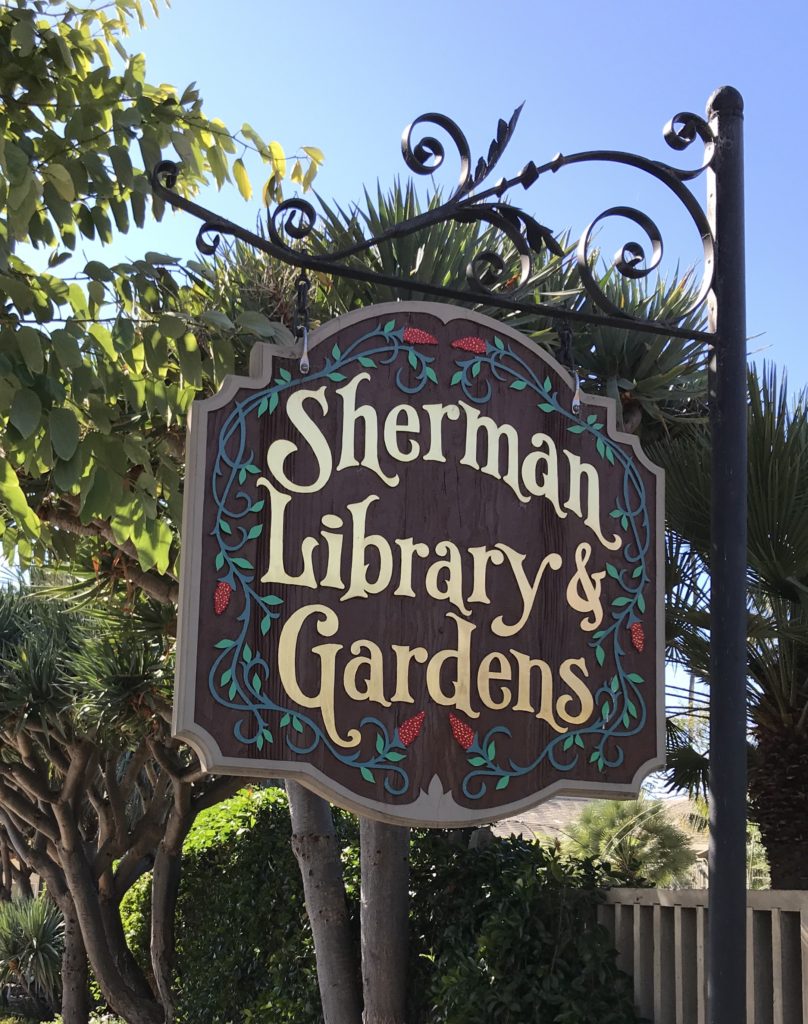 Behind the hedges and shrubs with a small peek out to Pacific Coast Highway in busy Corona Del Mar there is a paradise of natural beauty awaiting visitors. This paradise is known as The Sherman Gardens.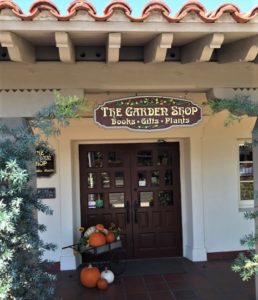 The Sherman Gardens were started by a man named Arnold Haskell. In 1956, he purchased a small nursery on the corner of Pacific Coast Highway and Dahlia, originally the handmade adobe home of the couple owning the nursery. This property became part of the Sherman Foundation, a nonprofit Haskell created to honor his mentor, land developer and railway baron Moses Sherman. Haskell had a vision to create beautiful gardens and started purchasing property over a 10-year period—piece by piece—of the block where the original adobe home still sits. This block became known as the Sherman Library and Gardens.
In addition to the lovely gardens, the Sherman Library is a research library and houses 25,000 books and pamphlets about the development and history of the Pacific Southwest. The library is open to the public for research by appointment.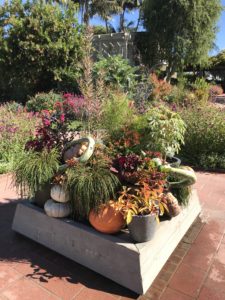 My fellow IFWTWA (International Food, Wine & Travel Writers Association) writers and myself found ourselves visiting this bucolic setting for a pleasant day of touring the garden with a docent and then having lunch at the Café Jardin, a charming French-inspired café with Chef Pascal Olhart at its helm.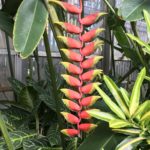 The Sherman Gardens are composed of many small gardens. The Central Garden resides at the foot of a water feature and focuses on seasonal plants. We found gourds, pumpkins, and other fall plants showing off the splendor of autumn colors.
One of my favorite areas is the Koi Fish Pond with a small waterfall with koi circling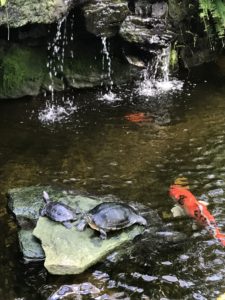 rocks covered by turtles in a lush, tropical garden area. Beside the pond palms,
anthurium, and ginger create a cool and private area for these creatures to live. Also, in this tropical conservancy over 25,000 species of orchids are rotated as they bloom for visitors to see and enjoy.
In the adjacent Specimen Shade Garden, you see begonias, impatiens, fuchsias, and unusual palms. There are hanging baskets displaying unusual varieties of these flowers for visitors to enjoy.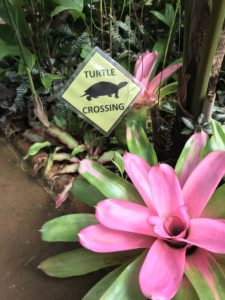 The Succulent Garden, a place manicured and designed by a former intern, shows off how creativity in rockscaping and the sloping of ground area can add variety and interest to a succulent garden. The beauty of this area offers a lesson for many Southern Californians on how to add charm to a succulent garden.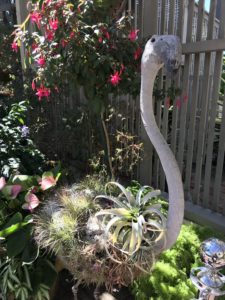 Around the corner there is a small but wonderful bench full of plants known as the Sensory Garden area where guests are invited to touch and crush the leaves of the scented geraniums and herbs. In addition to these plants, there is the Mimosa pudica, commonly known as the sensitive plant, a plant whose leaves fold when touched and then reopen in a short time.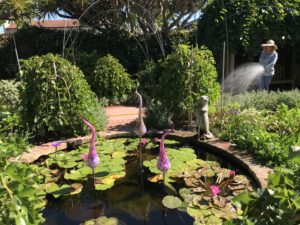 Another area young children find interesting is the Carnivore Garden, home to flowers who eat insects for their nutrition. The Venus Flytrap is the best known, as well as a variety of Pitcher Plants.
Of course, everyone loves rose gardens, and the Rose Garden at Sherman Gardens is set around a bubbling fountain where 27 varieties of roses display their beautiful and scented blooms year round.
The Sherman Gardens require a $5.00 admission fee to help maintain this lovely place. It is home to flower making classes, weddings, teas, plein air painting classes, and the superb restaurant,  Café Jardin.
To read more about this small Eden in the center of a city, see their website at:  http://www.slgardens.org/