What makes a truly wonderful dining experience? A visit to Umi (meaning "sea" in Japanese) Sushi & Oyster Bar at Pechanga Resort & Casino in Temecula, California, showcases what it is. They have mastered the art of fine dining so well that Umi Sushi & Oyster Bar was chosen as the second best casino restaurant in all of America and given the USA Today's prestigious 10Best.com award.
Do not think this restaurant is just another casino buffet. This elegant and understated restaurant anticipates a diner's every need, and their culinary creations are shown by the elegance with which they present every sushi roll, every cocktail, and every surf and turf.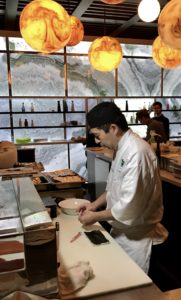 The star of the show is Chef Kiyokuni Ikeda and his fellow sushi chefs. Using pieces of fish handpicked by Umi's buyers and delivered with precisely-cold temperatures at rapid speed, Chef Ikeda is a sushi master like no other.
He was self-taught when he left school at 10 to take over his ailing father's restaurant in Tokyo. After learning the fine art of sushi making, he came to America and practiced his craft at high-end sushi restaurants. Eventually he worked at Morimoto under Iron Chef Masaharu Morimoto. Now that's a master teacher for sure.
I know what a delight Umi is because two fellow writers and myself were invited to an evening at this marvelous restaurant.
We were greeted by a gracious server holding an ipad from which we could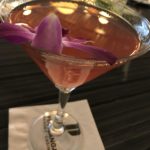 select from a creative variety of cocktails, wine, beer, and sake. My cocktail selection was the Cucumber Cilantro gin cocktail and the other beautiful cocktail was the Chimera Martini of plum sake and blueberry vodka. Both were perfectly made and elegantly presented.
Of course, sushi was on our mind to pair with these cocktails. Spicy tuna roll is always a choice of our group. When it arrived, it was fresh and classically plated. We also decided to try the unique Poke Nachos made of raw Ahi tuna, cucumber, avocado, wakame, and sesame oil. It was topped with wasabi cream, jalapenos and  shrimp chips. Chef Kiyokuni surprised
us with a special creation of a sushi roll filled with crab and topped with a slice of scallop and a small shrimp with a small, crisply fried shrimp tail (shown at the top of the article.) It was so perfectly plated, and the taste of the sea exuded from this dish.
Do not miss the salmon carpaccio appetizer of the most tender and thinly sliced salmon covered with soy, wasabi, smoked balsamic, red onion, and micro greens. Two times Chef Kiyokuni requested that an appetizer  plate be returned to the sushi bar so that he could more perfectly present it. This is the watchful eye with which he guides Umi.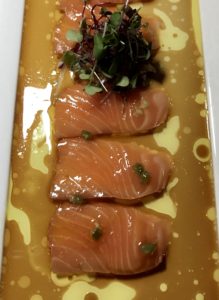 Those who are not sushi fans, you will find such unusual appetizers as pork belly sliders, Robata (which means cooked over hot coals) street corn and Okonomi Fries (special waffle fries) to pair with your beverage.
For the main course, we decided to share a plate of the Chilean sea bass which was jalapeño pepper and miso marinated and served with rice and seasonal vegetables. The sea bass made all those taste buds in our mouths come alive with its fresh and delicate flavor. The vegetables in themselves were notable because of the variety of cauliflower, broccoli, and peapods. They were not under cooked or over cooked—just perfect.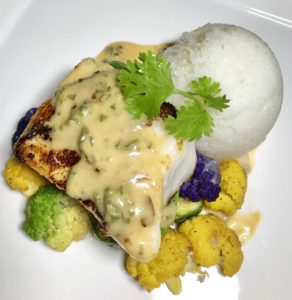 We thought we were finished, but Chef Kiyokuni urged us to try the 45-day, dry-aged ribeye steak served with white corn polenta, seasonal vegetables, with uni butter and demi-glace. Of course, we agreed, and what a delight. This steak was melt-in-your-mouth tender. I am from the Midwest, and I can attest that I have never had a better steak. For those of you who are not seafood lovers, this should be your go-to main course.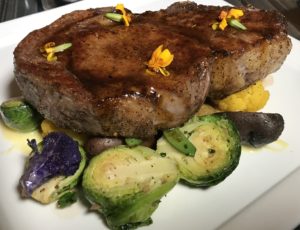 Umi Sushi & Oyster Bar is open every day of the week from 5:00 pm until 10:00 pm. It is located at 45000 Pechanga Pkwy in Temecula, California. Free valet parking is available. To read more about Umi or to make reservations, the website is https://www.pechanga.com/eat/umi-sushi-oyster-bar.
As is customary in this industry, we were hosted by Umi Sushi & Oyster Bar, but we found it worthy of its illustrious award.