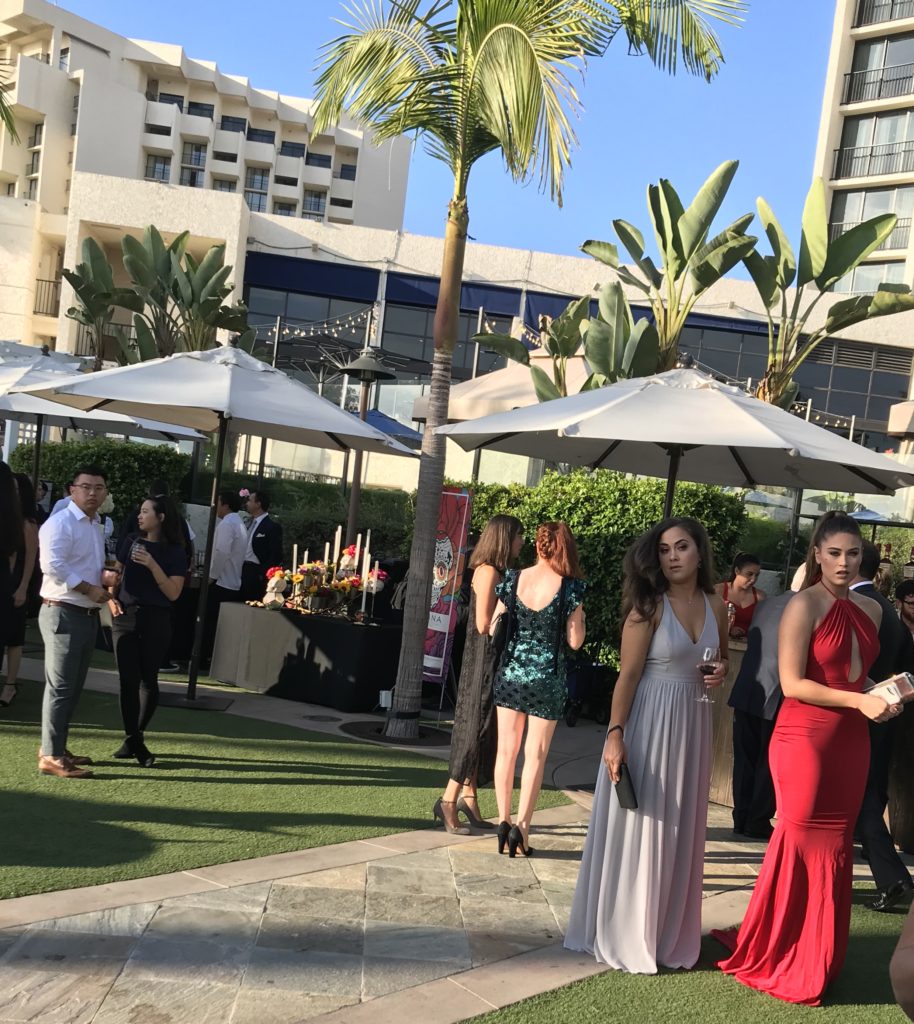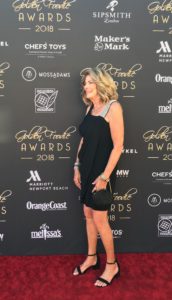 Glamour emanated from every corner of the 7th Annual Red Carpet Gala of the Golden Foodie Awards on September 30, 2018 at the Newport Beach Marriott Hotel & Spa.  For the food and beverage industry in Orange County, this event is similar to the Academy Awards.  It even includes the awarding of golden statues to the winners.  Selections for the People's Choice Food Awards honor outstanding culinary art. Food lovers around Orange County vote during the month of August for their favorite independent chef, as well as best libations and cuisine.
When we walked down the stairs to the spacious outdoor patio, we were greeted by a red carpet and Golden Foodies backdrop for photos. I felt very Hollywood-like. It was such a delight to witness all the glamorous attire worn by guests who were present to truly enjoy a special evening.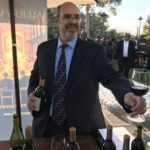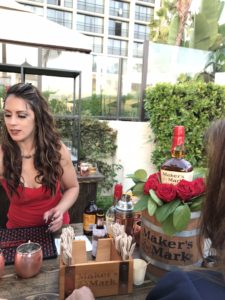 For the next hour and a half we were offered perfectly made cocktails of Maker's Mark Bourbon Whiskey, Sip Smith Gin, and Hornitos Tequila. For those who prefer wine, guests could select from Picket Fence Wine or Merryvale Wine. Beer lovers were not forgotten with the presence of a beer station of Towne Parke Beer.
Of course the highlight of the reception was the food stations by those amazing Orange County independent chefs.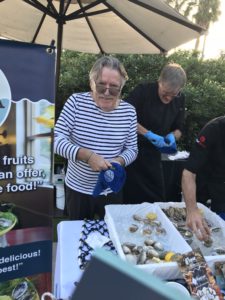 It was a pleasure to see Chef Pascal Olharts shucking oysters for the crowd,  acting in his role as ambassador for Baja Shellfish Farms.
One of my other favorites was Filomena's Italian Kitchen where Chef Linda Johnson offered pasta dishes as well as beautifully prepared confections. Mix Mix  Kitchen Bar Chef Ross Pangilinan offered the crowd sushi. His globally inspired menu has won him numerous awards and later in the evening he was awarded the Rising Star of the Year, a well-deserved award.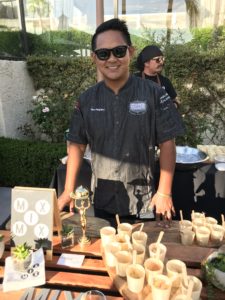 Legado Bar + Kitchen in Laguna Niguel displayed their creativity with a Chicken Curry Salad on Watermelon and Short Ribs on Risotto. Villa Roma partners Teresa and Leo Roza shared cuisine with pasta smothered in sauces displaying the three colors of the Italian flag. "Delicimo" describes the flavors.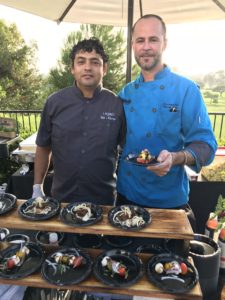 Guests experienced cuisine from around the world, including empanadas, gnocchi, tacos, wood-fired pizza, and Baja clam cocktails.
After all this grazing, we gathered in the ballroom filled with stunning blue and purple lighting that set the stage for the awards ceremony hosted by Food Network's Simon Majunder and Neil Saavedra, the Fork Report on FKI AM 640.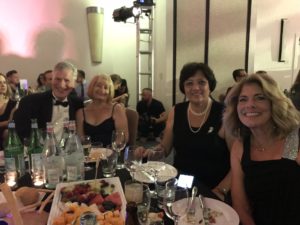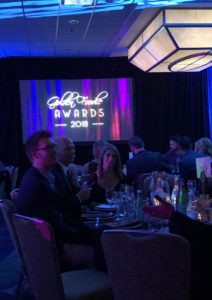 Noah von Blöm  and his wife, Marín of Arc Food & Libations were presented with the  Chef of the Year Award.
Blind Rabbit, a speakeasy-style bar in Anaheim's Packing District, took home the most awards from a single establishment, with three: Bartender of the Year (Lynette Lim), Best Bar Program and Best Cocktails.
Always on my mind is great wine, and Selanne Steak Tavern in Laguna Beach won Best Wine Program.
A restaurant to check out is Olea in Newport Beach that was awarded  Best New Restaurant.
As I mentioned earlier, Ross Pangilinan of Mix Mix Kitchen Bar took home the Rising Star Chef of the Year award.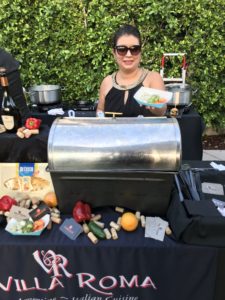 Javier Cuadra (Urbana Mexican Gastronomy and Mixology, Anaheim), and Teresa Razo (Cambalache Grill in Fountain Valley) tied for Restaurateur of the Year.
Event proceeds benefit the Laguna Niguel-based Golden Rule Charity, which helps hospitality industry workers in times of need.
Anyone who has been affiliated with the food and beverage industry knows what long hours and arduous work these owners put into their business for the enjoyment of the public. The Golden Foodies Awards are a great way to thank them for all their effort. I hope to be invited back again to this gala evening next year.
To see more photos from this year's event, go to the Golden Foodie Award Facebook page: https://www.facebook.com/goldenfoodieawards/.