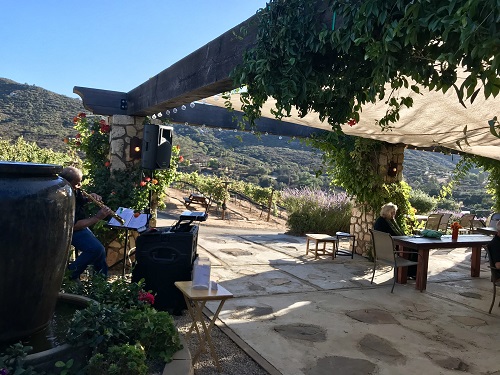 The holidays are quickly approaching for all of us, a time to enjoy being together with friends and celebrating. Ramona Valley Vineyard Association has planned three weekends of fun to celebrate the joy of the season. On the first three weekends of December, eighteen wineries who are members of this association will be opening their doors with all kinds of goodies and delectable wines.  One winery, La Finquita, will even have Santa in their wine cave.
A fellow writer and myself wanted to find out just what activities will happen at these wineries by visiting several to learn all about this creative event.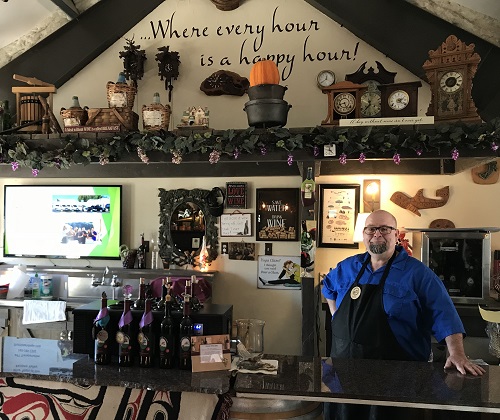 Our first stop was Hatfield Creek Vineyards and Winery, a very small and intimate winery with a lot of history. Eddie, our gracious wine pourer, told us some interesting historical bits of information found on the Hatfield Creek Winery location. One of those historical finds is an Indian grinding rock at the bottom of the vineyard with 3 metates (a ground stone tool used for grinding grain) in it. Be sure to ask what other discoveries abound on this property.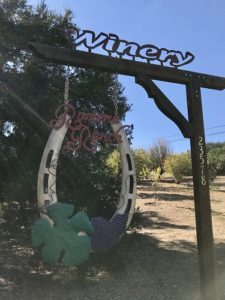 Hatfield Creek will have gourmet snacks and chocolate as well as hot mulled wine and discounts on their wines. This winery specializes in red wines that are estate    grown or in the  adjacent Ramona Valley AVA.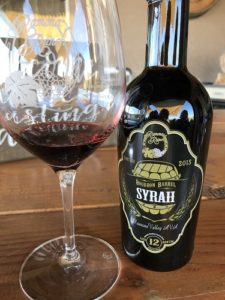 To get your fix of true Western atmosphere, venture to our second stop of the day. We explored Ramona Ranch Winery, a pick-up spot for guests of the event to check in and get their complimentary wine glass for the Holiday Wine Trail and a small gift.  Both white and red wines will be poured and there is a 10% off of bottle purchases. The winery will offer complimentary samples from food vendors as well as acoustic music and the "Outlaw Secrets," a local line of  Western-inspired gifts. Ramona Ranch Winery is the first San Diego County vineyard and winery to receive the Certified California Sustainable Vineyard & Winery award.
Chosen as the #2 Best Small Winery in America by Travel & Leisure magazine, Vineyard Grant James should not be missed. This was our third stop for the day. The ambiance on the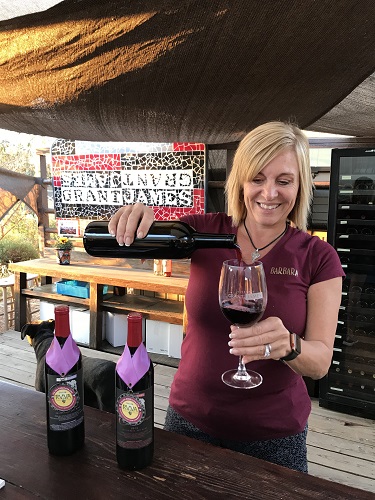 outdoor patio with views of the vineyards and flowers in abundance provides a truly relaxing atmosphere. On December 1 at 5pm will be a holiday tree lighting. Each weekend there will be music as well as vendors and a winemaker bottle signing. In addition, there will be a Port and Chinato (a liqueur by blending numerous herbs and   spices with aged Barolo wine.)
When you are out in the Ramona wine country and need a good lunch, be sure to try Marinade on Main in Ramona. Chefs Travis and Jessica Slama offer a delightful breakfast or lunch with a gourmet twist on their menu items. I had the Southern Belle Salad of fried chicken, caramelized peaches, candied walnuts, cranberries, and goat cheese atop mixed greens. My cohort chose the Harvest Cobb consisting of Romaine, blue cheese crumbs, hard-boiled egg, turkey,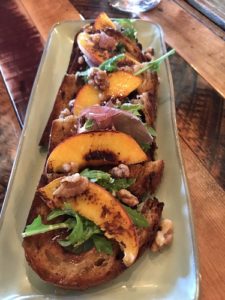 tomatoes, bacon, chives and avocado. Both were delicious and so large we each took half home.
All of the participating wineries will be decked out in full holiday regalia to delight their guests. The opportunity to donate to the local Ramona animal rescue, Saving Animals and Healing Hearts, will be available during the holiday event.
To learn more about the Ramona Holiday Wine Trail, go to: http://www.ramonavalleyvineyards.com/hwt/