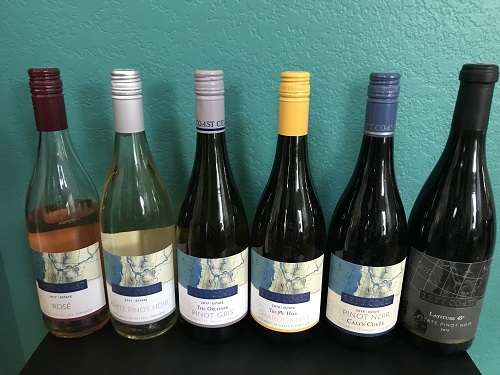 Left Coast Cellars from the Willamette Valley of Oregon gives wine drinkers something to celebrate this season. The vineyard is on a 490-acre estate where the owners live and farm. They pride themselves in their sustainable farming practices to preserve this land for future generations. They have also earned the Salmon Safe award as well as preserving their stand of 450-year old oak trees. In fact, USA Today awarded Left Coast Cellars Oregon's Top Tasting Room of 2017.
Left Coast Cellars produces a collection of delectable wines. This was the consensus of the group known as the Wine Council who met to sample wines from this vineyard and to pair those wines with food.
The 2017 Rosé ($20.00), rated 88 points by Wine Enthusiast, consisted of Pinot Noir, Pinot Meunier (a variety of black wine grape most noted for being one of the three main varieties used in the production of Champagne) and Pinot Blanc. This rosé came across as crisp and bright with flavors of grapefruit, strawberry, and a little minerality typical of the Willamette Valley. We paired it with vegetarian egg rolls. The richness and fattiness of the egg rolls balanced the crispness of the rosé.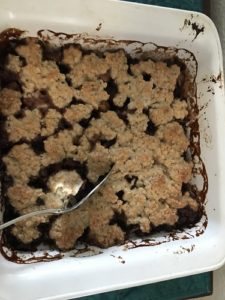 The next sampling was the 2017 White Pinot Noir ($20.00) and rated 88 points by Wine Enthusiast. We immediately noticed the very light straw hue of the wine which had been aged in all stainless steel. Our group tasted nutmeg, peach, honey, citrus with some pear on the mid-palate and definitely a mineral finish. The perfect pairing was the Apple-Blackberry-Pomegranate Crisp that mimicked a lot of the flavors of this complex white.
The group was curious about the 2016 Orchards Pinot Gris ($18.00), a wine that can vary from vineyard to vineyard. One sip showed off a bite of ginger as well as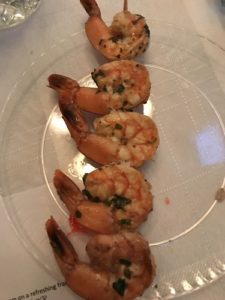 pear, peach and melon. The wine had a nice mouth feel. It was paired with fried rice, adding a fatty richness to balance this fruity crisp wine.
Chardonnay can be a wine that varies so much depending on where it is grown and how it has been bottled. The 2016 Truffle Hill Chardonnay ($24.00), rated 89 points by Wine Enthusiast, offered a crispness and minerality with aging for 10 months in French oak that didn't overwhelm the delicious fruit flavors of butterscotch, lemongrass, apples, and pears. The chardonnay plants used for this wine came from Dijon clones. The wine came across as a true Chablis. Shrimp  marinated in a habanero carrot sauce seemed a great fit for this flinty wine.
Cali's Cuvée Pinot Noir, 2016 ($24.00), named after the owner's daughter, was aged in all stainless steel. The Cali's Cuvée Pinot Noir has been rated 90 points by Wine Enthusiast. The group consensus was this wine showed off what grapes taste like grown in this part of our country. Full of black cherry flavor, bitter chocolate and spices, with a freshness true of the Northwest, this wine is a great value and full of deliciousness for anyone who loves Pinot Noir.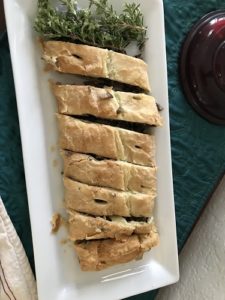 Our final wine was the 2015 Latitude 45° Pinot Noir (named because the vineyard is located at the 45th parallel) and rated 92 points by Vinous. The wine was a "wow" from our group and also described as "a horse running uphill."  Grown from 100% Dijon clones with lots of leather, as well  as clover, cinnamon, cherry and black tea, our palates were delighted. The mouthfeel lingered and gave us a delightful minerality. The pinot noir called for the bold flavor of gingerbread crisps spread with chèvre and currants.
To learn more about Left Coast Cellars, go to their website at: https://leftcoastwine.com/. All wines are available online and will keep you joyous throughout the year.