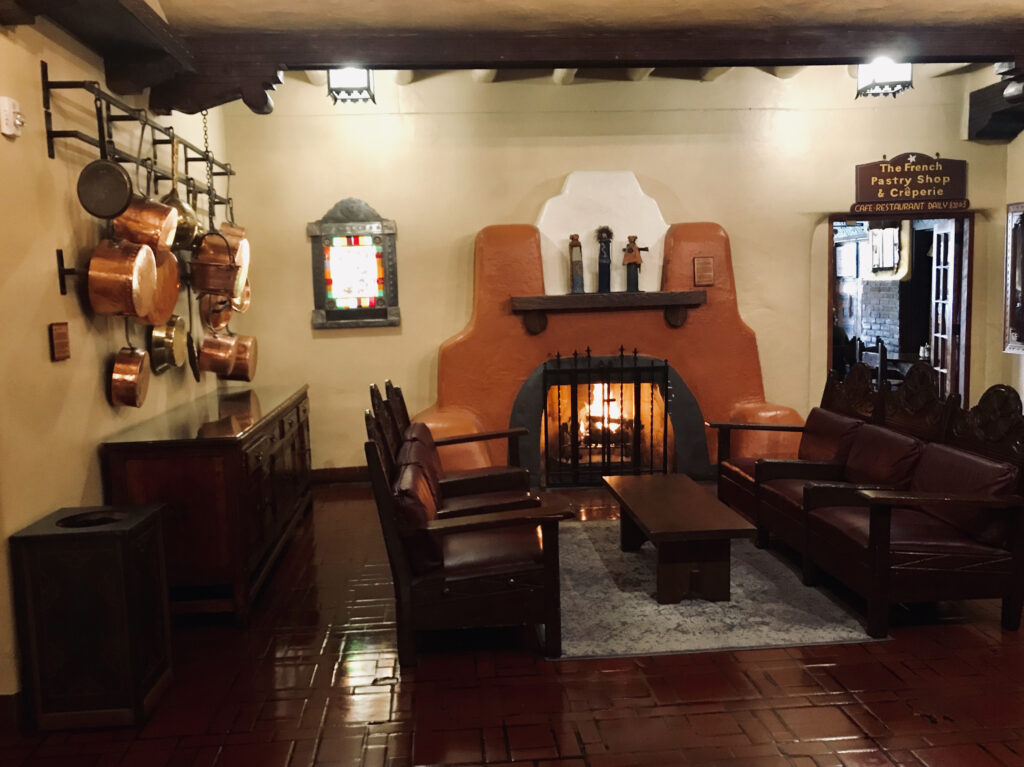 Can a historic hotel provide luxury accommodations? That was what I wondered before staying at La Fonda on the Plaza in Santa Fe.
Before I was lucky enough to attend the International Food, Wine & Travel Writers Conference in Santa Fe, I had heard a little about La Fonda. I knew it was a Historic Hotel of America and that it was originally opened in 1922. I found out it was owned by the Atchison, Topeka & Santa Fe Railroad and leased to Fred Harvey in 1925, famous for his Harvey House Hotels. I also had learned that La Fonda sat on the site of the city's first inn when the city was founded by the Spaniards in 1607, making it the oldest hotel spot in America.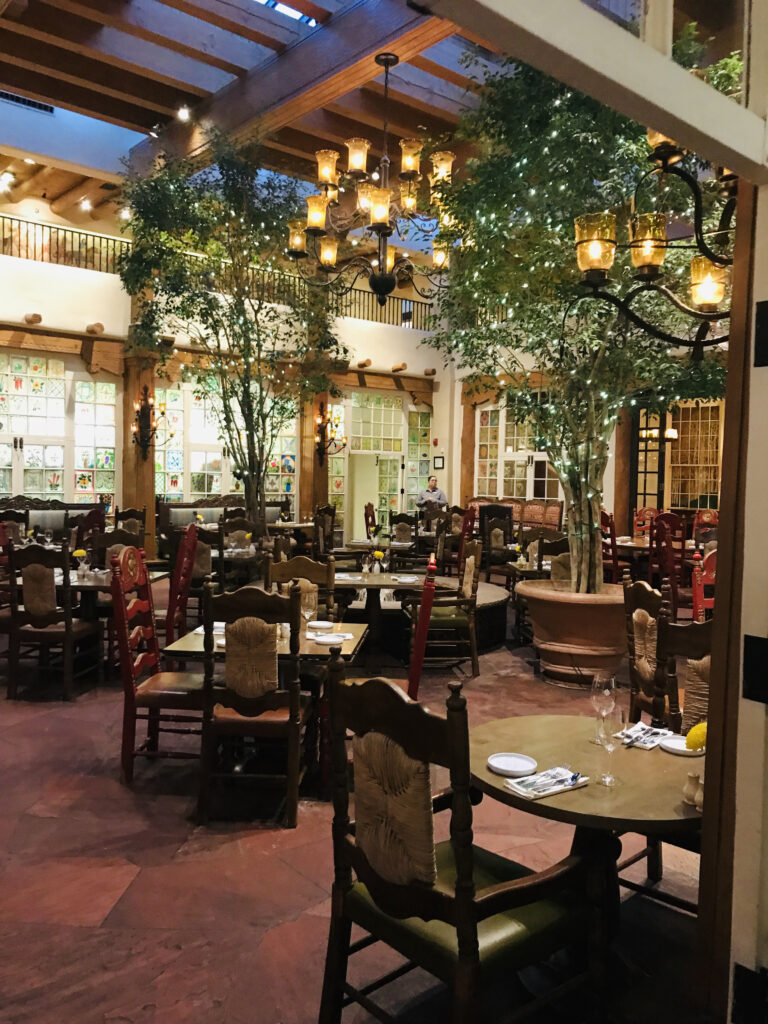 On my way from the Albuquerque airport, I was clued in on some folklore of the hotel by my driver. The central courtyard restaurant, La Plazuela, was originally an open courtyard known as a placita. My driver told me that before New Mexico became a state, there were many types who stayed on this site at la fonda (meaning "the inn.") since it literally was the end of the Santa Fe Trail. There were trappers, traders, soldiers, merchants, pioneers, prospectors, and politicians. According to my driver, one of these gambling men lost his life at the end of a rope in the placita after a judge became suspicious of this man's good luck at the gaming tables. There is another story about a guest who lost his money while gambling and ended up drowning himself by jumping into the placita well.
He also shared with me that there are rumors of ghost spottings at La Fonda, and if I happened upon one, I should tell that ghost that I wasn't afraid of him and to be kind to me. (As a matter of fact, someone in our group did have a spotting of a flashing white light in a hallway while we were there.)
But, what I found when I walked through the doors of this hotel, built in the Pueblo style, was authentic beauty of thick wood-beamed ceilings like you would find in adobe construction, tin and copper lighting fixtures, and brightly colored tiles.  I found hand-painted furniture and wrought iron banisters. I discovered that La Fonda oozes of charm and character.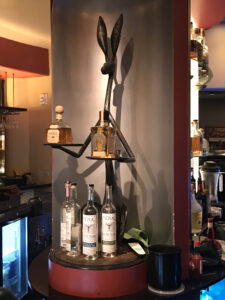 One of my first stops with friends was at La Fiesta Lounge, a comfortable and welcoming bar with a page full of delectable margaritas and live music every night. I was amused by the ironwork jackrabbit holding bottles of tequila awaiting measured shots for those creative margaritas.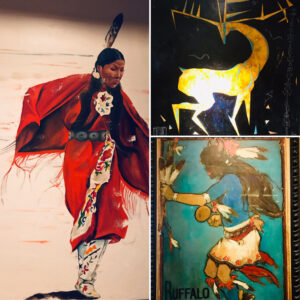 As I walked down the many hallways, I saw artwork both current and from the early 1900s. I was later told that La Fonda has had three owners. Usually, when a hotel is sold, the artwork goes with the former owner, but in the case of La Fonda, all the artwork remained with the hotel. The hallways are literally art galleries with art of the area. Even the French doors opening to La Plazuela, the courtyard restaurant, are hand painted by Ernest Martinez. The paintings on the glass panes are whimsical with native plants and Native designs. There are a total of 460 painted panes that can be seen from this restaurant.
Along with the beautifully appointed restaurant, I discovered a quaint pastry shop down one of the hallways called The French Pastry Shop and Creperie. This eatery is a charming nod to the French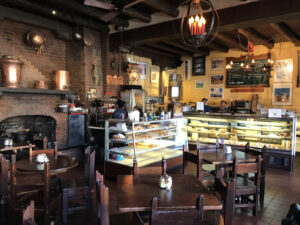 countryside and home to some extremely delicious pastries. If you visit, try the peach-filled custard Danish which I couldn't resist on several mornings. In one of the hallways leading to this amazing eatery there is a charming seating area with copper pots hung along one wall next to a fireplace. (The article's top photo captures this seating area.) In fact, when La Fonda was built, Mary Colter, one of the very first female architects in her day who designed for the Fred Harvey Company, insisted on as many fireplaces as possible in the hotel. Another one of those fireplaces is at the Bell Tower Bar, an open-air bar with sunset views on the fifth floor. Unfortunately, they had closed this bar a week before we arrived because of the brisk weather.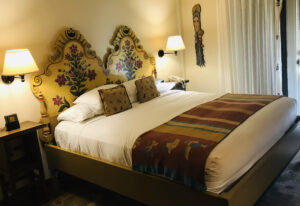 With all of this Pueblo charm at every turn, I found my room to be deluxe. Each room features a hand-painted headboard and original artwork. I was thrilled to find a Nespresso coffee maker in my room as well as a large shower and all the electronic conveniences I love. I even had a small balcony looking out at the activity on the street below.
A friend and I were escorted on a personal tour of the latest addition to the hotel called The Terrace at La Fonda, 15 luxury suites on a private concierge floor. This seemed like it would be the perfect romantic hideaway, but I wanted to know what awaited me out the doors of La Fonda.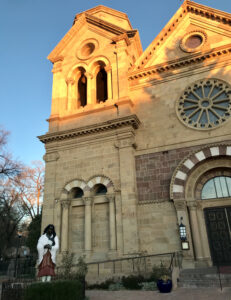 La Fonda on the Plaza is the only hotel on the historic plaza. It is within steps of some of the best restaurants, shopping and architecture like the Cathedral Basilica of St. Francis of Assisi. Besides a stunning church, I found a sculpture of Kateri Tekakwitha, the first Indian of North America to be promoted a saint. In addition, the hotel is walking distance to the Georgia O'Keeffe Museum, home to her life, art, and legacy.
If you are fortunate enough to travel to the quaint and beautiful city of Santa Fe, "The City Different," I would highly recommend a stay at La Fonda on the Plaza, a place of beauty with a warm, accommodating, and welcoming staff. My stay was at a reduced conference rate, but this hotel offers such a pleasurable experience that I don't hesitate to recommend it to all travelers.