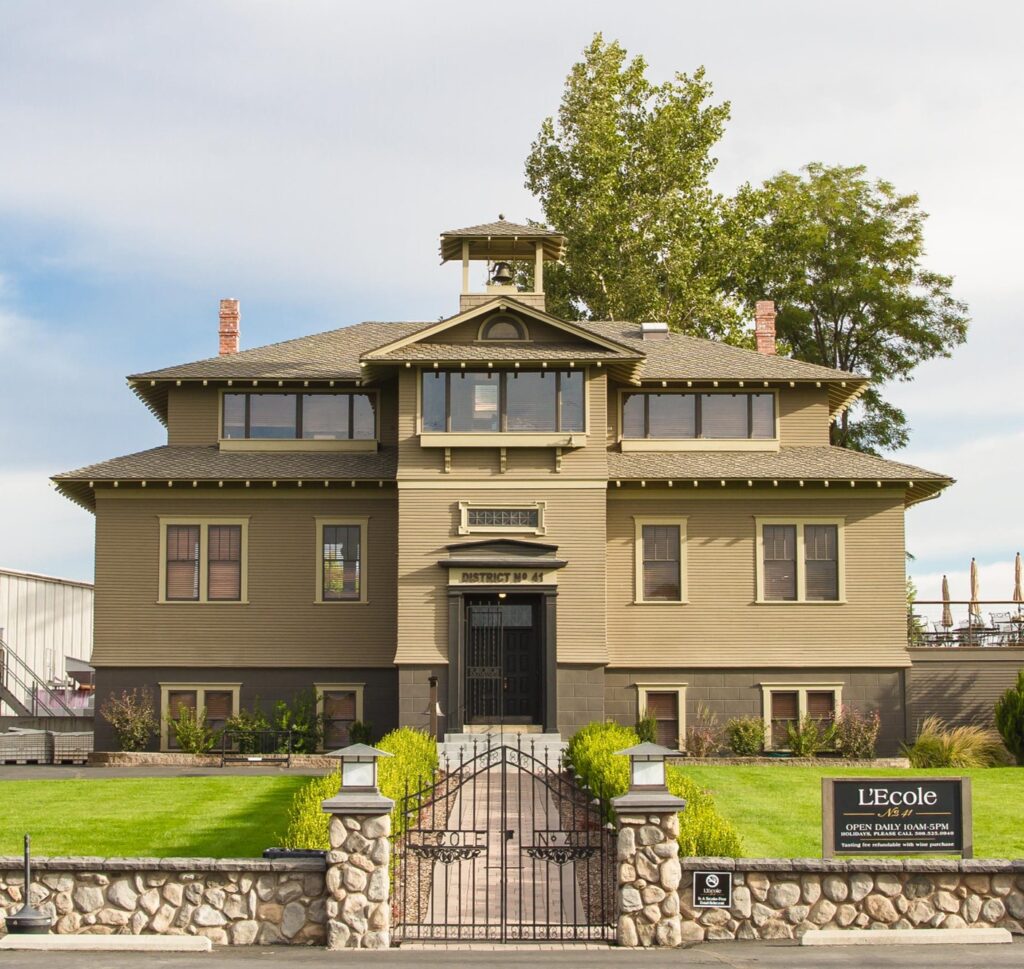 When you think of Washington State's climate, most people think of a whole lot of rain interspersed with some glimpses of sunshine. But journey east over the Cascade Mountains, and you find a completely different world. You see, those Cascade Mountains form a rain shadow desert on the eastern portion of the state with only 8 inches of rainfall a year. This is where you can find some of the best wines our country has to offer.
The International Food, Wine and Travel Association webinar led by Marty Clubb, Owner and Managing Winemaker; Constance Savage, General Manager and COO; and Marta Timóteo, the Marketing Manager, introduced us to L'Ecole No. 41 Winery in the Walla Walla area.
First off, you just have to love saying Walla Walla. Walla Walla was named after the indigenous people of that area. The word "Walla Walla" means "land of many waters" because of its location to the Snake, Columbia, and Walla Walla Rivers, and it benefits from water runoff from the Blue Mountains to the east. The city is located in the southeastern part of the state.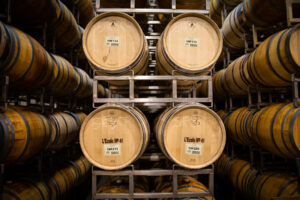 L'Ecole (meaning school in French) Winery is located in an historic schoolhouse in the small community of Frenchtown just west of Walla Walla in a building erected in 1915. The No 41 stands for District 41. It still has the original chalkboards and light fixtures and even has a children's water fountain in the cellar. On each bottle of L'Ecole wine you will find a painting of the schoolhouse based on a photo from 1915. Of course, some expansion has taken place on the back side of the schoolhouse with a lush green lawn and back deck.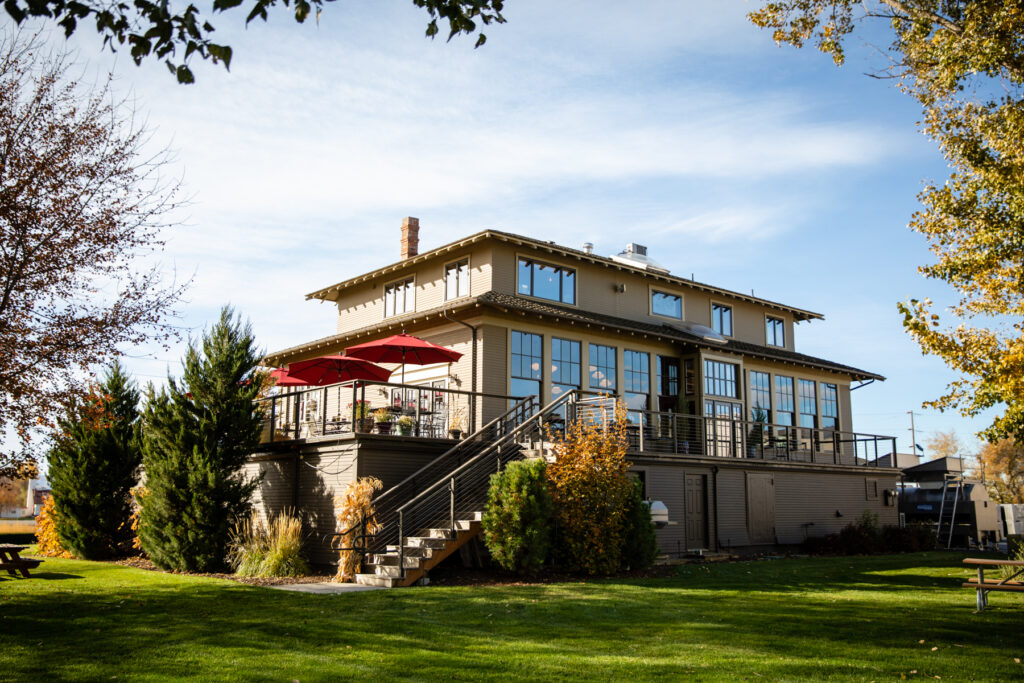 The Walla Walla AVA was established in 1984 and spills partly into Oregon. This AVA sits at one of the highest latitudes in the world where it receives around 17 hours of sunshine in the summer and a cooler winter that helps protect the grapes from fungus and pests. L'Ecole was the third winery established in the Walla Walla Valley. There are approximately 140 wineries in the Walla Walla AVA, plenty for a serious wine tasting adventure.
The philosophy of the winemakers at L'Ecole is to create clean, aromatic, and stylistically expressive wines. L'Ecole is certified for sustainable farming as well as certification for being Salmon Safe, a very important certifications with its location close to both the Columbia and Snake Rivers.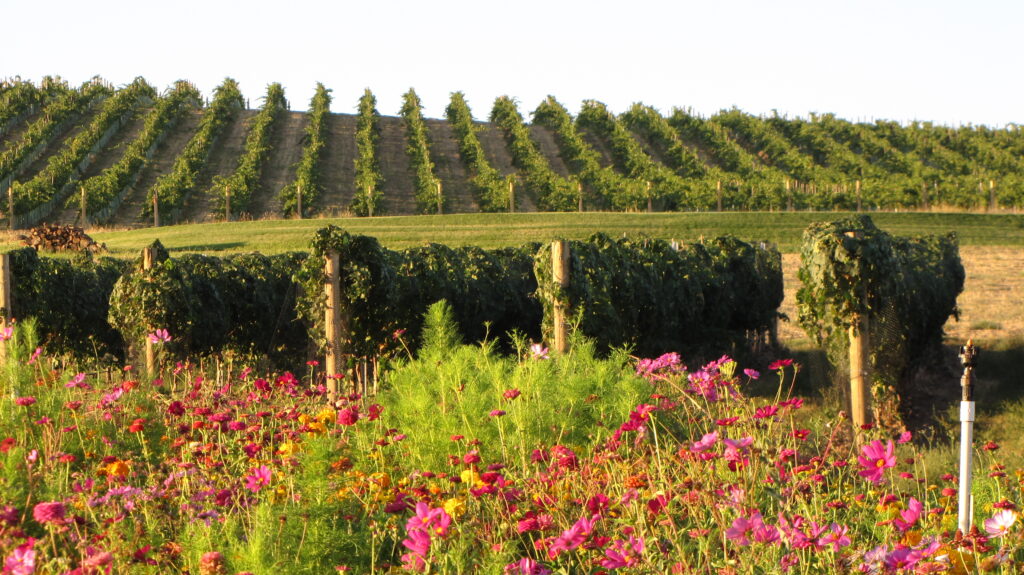 Wine Enthusiast Magazine columnist, Paul Gregutt, writes, "L'Ecole produces consistently fine wine over many years and vintages across a wide number of varietals and blends." This is lofty and well deserved praise for this fine winery. In fact, L'Ecole has been selected 15 times by Wine & Spirits Magazine to be a top 100 Winery of the Year, and Decanter awarded their 2011 Estate Ferguson the International Trophy for Best Bordeaux Blend in the World.
The first varietals grown by L'Ecole were Semillon and Merlot. Then came Chenin Blanc, Chardonnay, Syrah, Cabernet Sauvignon, and Cabernet Franc as well as blends. L'Ecole focuses on French varietals.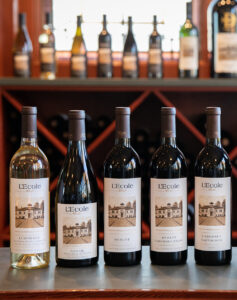 Luckily for us, we were each sent a bottle of wine from L'Ecole to sample and share our opinions of the wine.
Chenin Blanc is a rarer varietal in the United States. While it can be dry to sweet and still to sparkling, the L'Ecole Chenin Blanc, made in the Vouvray style, comes from Yakima Valley and has a beautiful mouth feel of creaminess, bright acidity, stone fruit flavor and an aromatic nose. It goes well with spicy food as well as food with a complexity of flavors like Indian food. This is a great buy at only $17.
We also had some members of the group try the Semillon, a Bordeaux style of wine, from the Columbia Valley. L'Ecole thinks of this wine as "sunshine in a bottle." It has notes of lemon, fig, apricot, vanilla, lots of honeysuckle, and minerality. Interesting to me is its weightier mouth feel (that almost oily feel) that comes from glycerol which happens in the fermentation process. That glycerol is important because it gives a silky mouth feel and weight that helps smooth off a wine's rough edges and can bring a slight sweet sensation to wines.
The Walla Walla AVA is perfect for this varietal because of the dryness of the region that gives this thin- skinned variety more concentration of fruit and more minerality and acidic retention.
This Semillon is perfect with goat cheese because of its tartness and tanginess that balances the Semillon.
The Walla Walla AVA is the perfect place to grow the Merlot varietal. It was L'Ecole's first red in the early 80's and the winery is known as one of the premiere producers of Merlot. Wine grapes love to live in stressful conditions, and this thinner skinned variety does well because of the windy conditions that thickens the skins. Merlot can look more like Cabernet Sauvignon is this part of the country. The 2018 E'cole Merlot we tasted came from the Ferguson and Seven Hills Vineyards. Interestingly, the Seven Hills vineyard has fans to help in the fall and spring to alleviate frost problems. Wine & Spirits calls Seven Hills one of the top 10 vineyards in the world.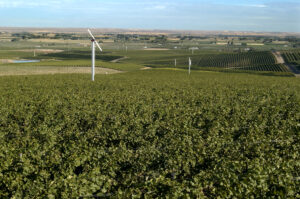 I tasted the Merlot and found it to be very elegant with a floral nose and flavors of cherry, blackberry, tobacco, figs and cedar with lots of structure. This is a beautiful wine. For $36, this wine would make a great addition to a wine cellar.
The 2018 Syrah, made in the northern Rhone style, was full of dark, rich, spicy, and savory (almost like an olive tapenade) flavor. It was lush, dry, and peppery. If you love Syrahs, this is one that has a lot of complexity and displays a great tannin balance. It sells for $36.
Last, but not least of our tastings was the 2018 Cabernet Sauvignon from the Walla Walla Valley. The wine shows off a blend of four primary microclimates, adding to its complexity. On the nose there are aromas of rose petal and blackberry. On the palate are dark black fruit and espresso coffee, as well as some savory notes. It's not a heavy wine even though it is a big wine. The 2018 Walla Walla Valley Cabernet Sauvignon sells for $39 and is cellar worthy.
I have been in love with the wines from this region for many years and was thrilled to receive a bottle to sample and learn about L'Ecole No. 41 Winery. I'm hoping for a tasting adventure in this region, and L'Ecole No. 41 will be first on my list.