Bucolic is the best word I know to describe the wine country of Paso Robles. In the distance along windy roads,  cattle graze on the grassy rolling hillsides among the native cottonwood and oak trees. Every few miles a vineyard pops up. These are the sights you see as you drive through the countryside.
The three of us, Susan, Kristin, and I, along with a driver, journeyed across the hills to celebrate an important birthday. This was truly the place to get away and immerse ourselves in nature. And, in fact, we planned to spend a lot of our trip enjoying some good wine, too, to help with the celebration.
Day One of Celebration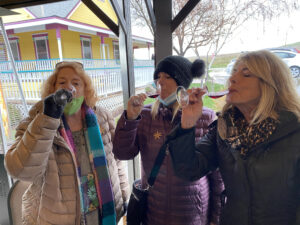 Our first stop was Tobin James Wine Cellars which is strategically located about 10 miles outside the town of Paso Robles. With one of the largest wine club memberships in the country, it's a fun stop to begin wine tasting. We were ready to start the party. We tasted outside, but there is a small amount of tasting inside what appears to be a Western saloon. Wines are poured from behind a magnificent antique 1860's mahogany bar. Zinfandels are award winning and a big deal here, but they also have some delicious whites. Names of the wines like "The James Gang" and "Notorious" add to the fun of the place.
A recommendation for dinner was the Alchemist's Garden in Paso Robles. What a treat this place is. Alchemy is the process of transforming something ordinary into something special. This is what happens at this bar/restaurant. For all of us, small plates and great cocktails are about as good as it gets, and this place masters both.
Just for fun, they offer a Zodiac Cocktail. A tarot card with the zodiac sign of the time of the month you are there as well as a special cocktail awaits you. Since it was Kristin's birthday, and she is a Pisces, the drink arrived in a glass shaped like a fish with an orchid atop. It was as delicious as it was special. I was impressed with the presentation and taste of my Booker's Bourbon Old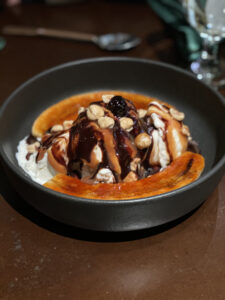 Fashioned that arrived smoked in a wooden Booker's Bourbon box. For small plates, several ones we ordered were the Cast Iron Fondue with Crispy Potato Dippers, the Portabella Mushrooms in Marinara Sauce, and the Beet Juice Pickled Deviled Eggs. We couldn't resist the Brûléed Banana Split.
Day Two of Birthday Celebration
The next day we woke up to cloudy skies and cold weather. However, we came prepared with heavy coats and blankets. Nothing was going to deter us from wine tasting.
Our first stop of the day was Tablas Creek. We were told that sheep, llamas, and alpacas wander around Tablas Creek and through the vineyards. These animals, as well as two donkeys, add to the biodynamic environment (regenerative agriculture) of the vineyard.
This vineyard was created by the merger of two families into a wonderful winery. The Perrin family ran Château de Beaucastel, one of Chateauneuf-du-Pape's great estates. Robert Haas developed a reputation for being an excellent wine taster and convinced Perrin to let him become the exclusive importer of Perrin's wines. The two became friends and found the land at Tablas Creek to be the perfect spot for a vineyard. The rest is history.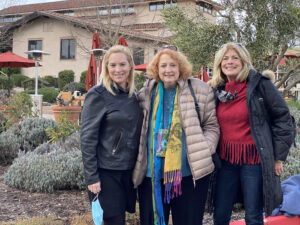 Two of us are white wine lovers, and I enjoy a glass of it, too. We found some wonderful whites at Tablas Creek, and I found a 2017 Esprit de Tablas (Mouvedre, Syrah, and Grenache.) My favorite white was the Vermentino. We felt very lucky to have Troy as our pourer who already has his first level as a sommelier and will soon complete his second level. He had so much knowledge to share.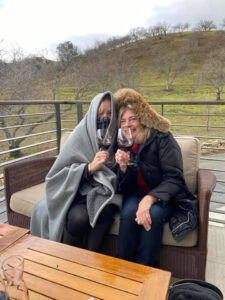 Adelaida Vineyards & Winery was our second stop for the day. The weather had turned increasingly worse.
In fact, we had hail while we were tasting which is why we needed hoods and blankets for cover. But we found some really good wines. I chose a bottle each of the Zinfandel and the Cabernet Sauvignon. I opened the Cabernet recently and was transformed back to all the lusciousness of this winery.
Our last stop for this day was Daou Vineyards. Two brothers from Lebanon, George and Daniel Daou who studied at UC San Diego, set off to find the best spot for growing Cabernet Sauvignon. They settled on what they have named Daou Mountain, the home of what was Hoffman Mountain Ranch Vineyard. Hoffman Mountain Ranch Vineyard was the first gravity-flow winery in America. The beauty of gravity flow in wine making is that gravity allows wine to be moved much more gently.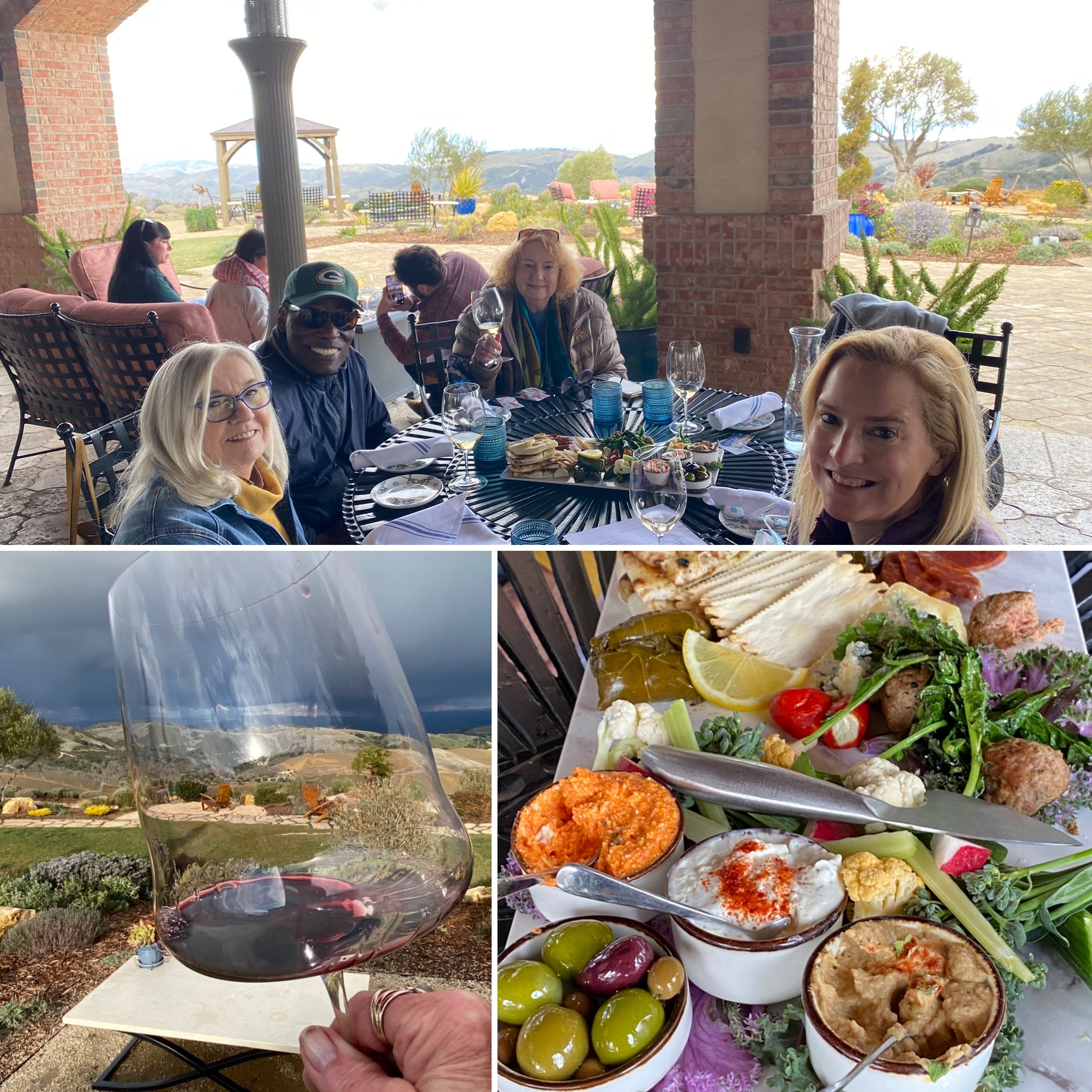 An amazing charcuterie board awaited us the day of our arrival to be shared and paired with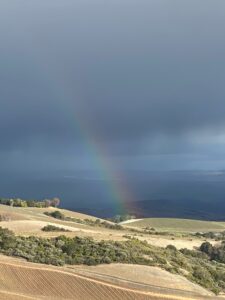 wonderful wines. I brought home a Cabernet Sauvignon and a Pinot Noir which I will save for special occasions.
We were so lucky to have a wonderful day, and we were blessed with a rainbow while we were on
top of Daou Mountain admiring the valley below.
Dinner was a celebration for our birthday companion at Fish Gaucho. "Keep it Clase," the top shelf margarita was both delicious and festive because it is served in a signature clay vessel made from the tequila bottle of Clase Tequila. Ahi Crudo made with sushi grade ahi, avocado, and cilantro tasted as great as it looked. Enchiladas de Mole Camaron was a great fit for me because it had gulf shrimp and butternut squash topped with their secret mole sauce. Our birthday girl was treated to delicious flan that she shared with all of us.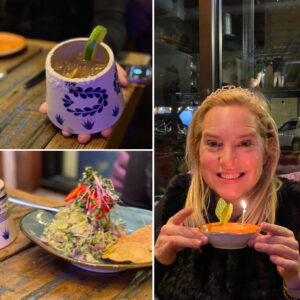 Day Three of Birthday Celebration
On our last day of tasting, we mixed it up by heading to a very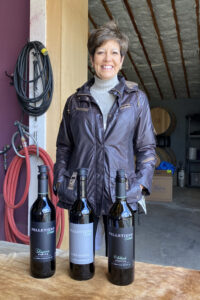 small winery where Susan had been in the past. This place, Pelletiere Estate Vineyard & Winery, was one of the highlights of our trip. We loved the small size and hominess of this winery. We also were thrilled to meet the owner, Janis Pelletiere, and to find out that both her vineyard manager, Caitlin Pierini, and winemaker are also women. This is still very unusual in the wine industry, and we thoroughly embraced it. We also got to meet Ginger, her small Maltese, who kept watch of the estate and welcomed us with dog kisses.
Pelletiere wines are grapes grown to make Rhone-style wines. Amy Butler, the winemaker, creates elegant and refined wines. These wines have a velvety mouth feel with round edges—nothing sharp to them. She does a cluster fermentation which enables us to drink the wines younger.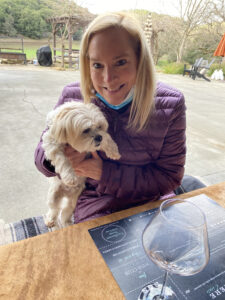 Another specialty of this vineyard is the label for a wonderful chardonnay called Dorothy Jean—the combination of Amy and Janis's middle names. On the label is artwork by Erin Hanson, a well-known artist in this area. This chardonnay is made in 30% new oak and the rest is a neutral oak. It has a nice crisp finish and a toffee flavor. My purchases were Tievoli (Sangiovese and Zinfandel blend), Viognier, and a bottle of Dorothy Jean Chardonnay.
Talk about some delicious wines. We found some at Oso Libre Winery. Winemaker Michael Barreto made our visit very special by spending time with us telling us about their winemaking process. Grapes of Primitivo, Mourvedre, and Cabernet are grown on this estate. A plentiful charcuterie graced the table while we sampled some delicious wines. Oso Libre practices sustainable farming and has 43 head of free range Angus beef as well as alpacas that scare away coyotes. The wind and sun supply 100% of their energy needs, creating a zero carbon footprint.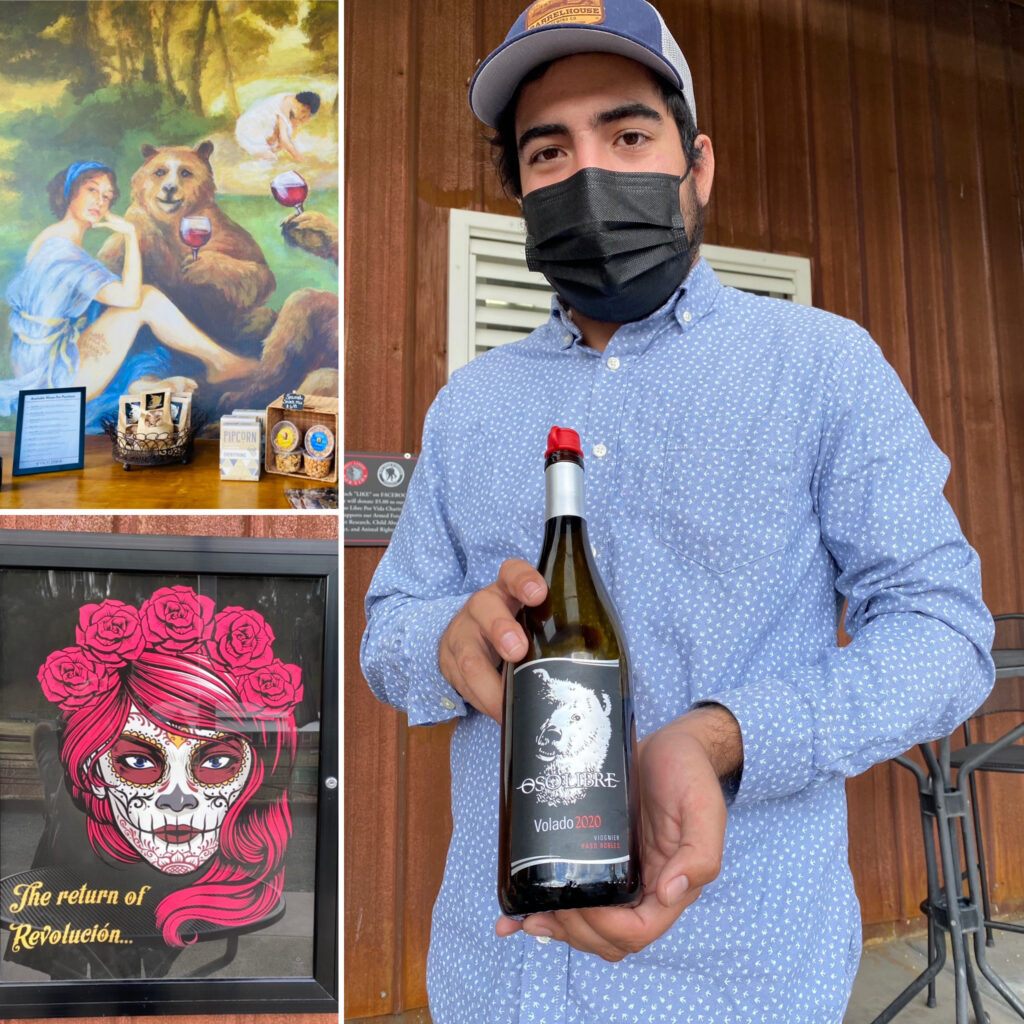 But the wines are what it is all about. I had to bring home a bottle of the Volado Viognier as well as the Querida (Cabernet and Merlot,) and the Revolución (a blend of petite sirah, tannat, and tempranillo.) Of course we couldn't leave this charming winery without feeding the alpacas.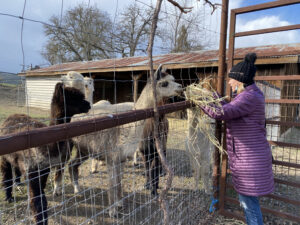 To say that this was a trip and birthday celebration to be long remembered is an understatement. Paso Robles we love you. We thank all those wineries who hosted us and helped us to learn more about your wines.