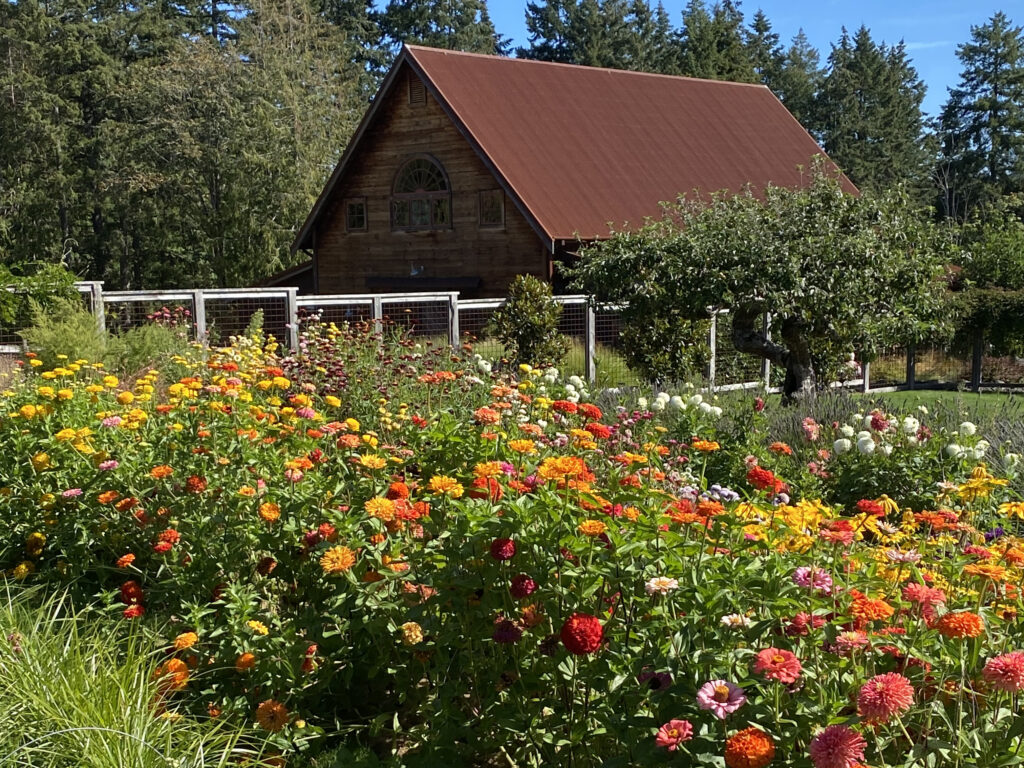 Heyday Farm, a True Working Farm
Drive around the corner and glimpse a perfectly manicured lawn with Adirondack chairs and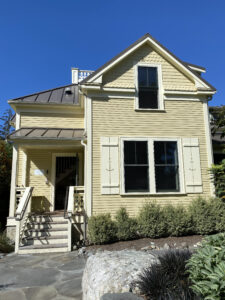 stunning flowers on the southern end of Bainbridge Island, Washington. On a trip several months ago to the Kitsap Peninsula, we immersed ourselves in a truly beautiful farm environment inside the iconic cream colored farmhouse for lunch. This house includes a dusting of gingerbread trim along the pointed gable.
Farm fresh creations is the perfect description of our lunch. Most everything at the farm lunch we enjoyed comes directly from the 6-acre farm homesteaded in 1897 and located in southeast Bainbridge. Heyday Farm promised us a delicious lunch, and that was just what we got. This was such a beautiful setting with perfectly prepared food.
As we pulled up to the farm, we all joyously headed to the side of the house to absorb the myriad of colors and sizes of the asters, zinnias,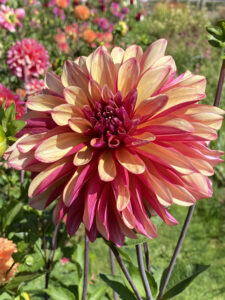 and dahlias as large as a dinner plate in a brilliant display of hues that nodded their heads to us in the warm sunshine.
The recently new owners, Tadao and Tifanie Mitsui, offer up a true farm experience where they grow the food on their sustainable farm, and if they are unable to grow everything, they insource products as locally as possible from other farms and foragers who support sustainability.
Heyday Farm is known for handling weddings or private celebration parties in addition to professional and family retreats.
In addition, they have Weekly Community Dinners on most Thursday and Friday nights. Reservations are required. All seating at this time of the year is indoors at a communal table. Upstairs, they can handle individual groups. Make sure you check out how to make a reservation by going to their website.
Wines of the Kitsap Peninsula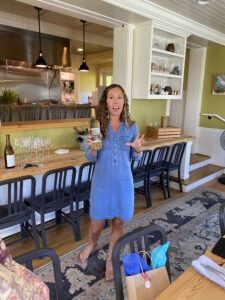 Luckily, during our lunch we sampled an assortment of Washington wines. Brooke Huffman of Social Sip brought these wines so that we could experience them and shared information about each of them.
The first wine I had not tasted in the past was from Perennial Vintners. It was a Melon de Bourgagne estate grown dry white wine. This grape is originally from the Muscadet region of the Loire Valley. I found it to be light and refreshing, not sweet and cloying like I expected. It is a great accompaniment to seafood. It was perfect with our flaky white fish topped with a basil pesto sauce and served on top of a Greek risotto loaded with vegetables (fresh from the garden.) We tried the Eleven Winery (on Bainbridge) 2021 white Mouvedre, a golden pink hued wine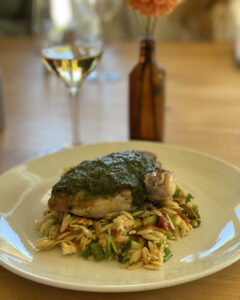 that also paired well with the fish. Eagle Harbor Winery's Merlot (which spent 36 months in French oak) from grapes grown in the Columbia Valley was my choice to enjoy with the dense and rich flourless chocolate cake. Washington State has a wide variety of wines due to its vastly differing climates. I appreciated the opportunity to try wines from across the state.
One look at the Heyday Farm website, and you will see that they have an online Farm Store full of wonderful products ranging from 8 Grain Pull Aparts to Heyday Farmhouse Granola (which I can attest to the quality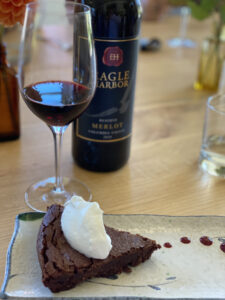 because we were graced with a bag to take home.) You can also find bacon and sausage as well as turkey and chuck roast.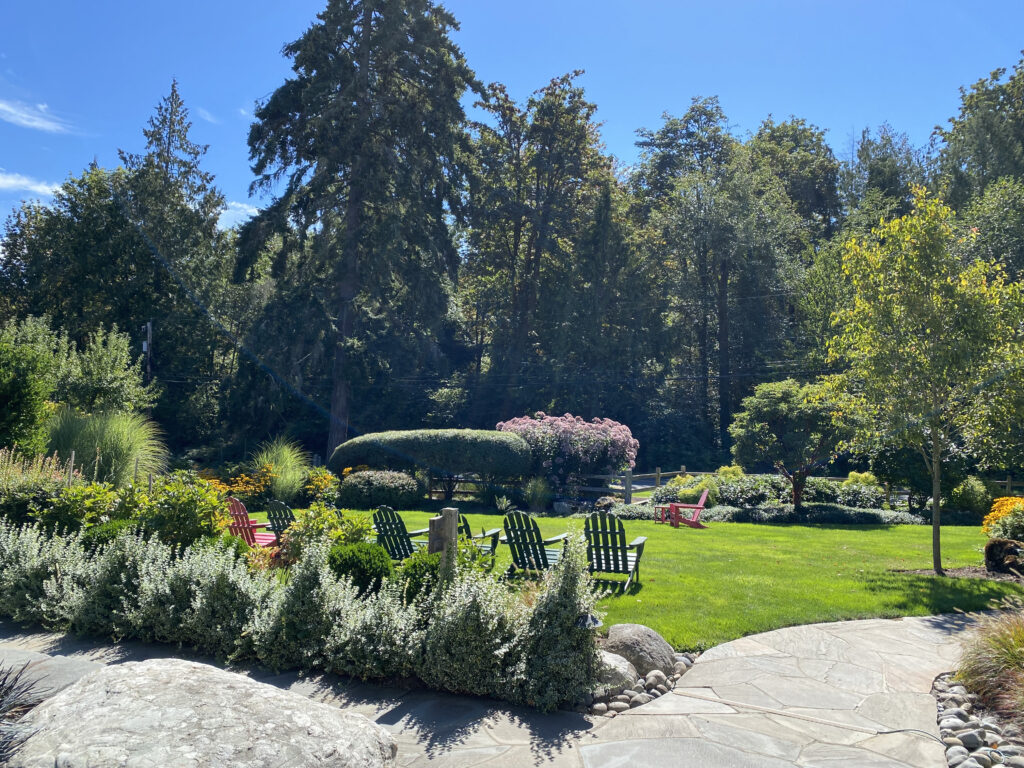 When we reluctantly left the house, we stepped outside to the front yard graced with the Adirondack chairs, multi-hued shrubs, flowers, and giant firs in the background. This farm is the real deal. What a treat to enjoy perfectly prepared sustainable and farm fresh food in the pastoral setting of an old farmhouse. Make sure to check their website to see when they are serving meals. Heyday Farm is also a warm and beautiful spot for a small wedding.