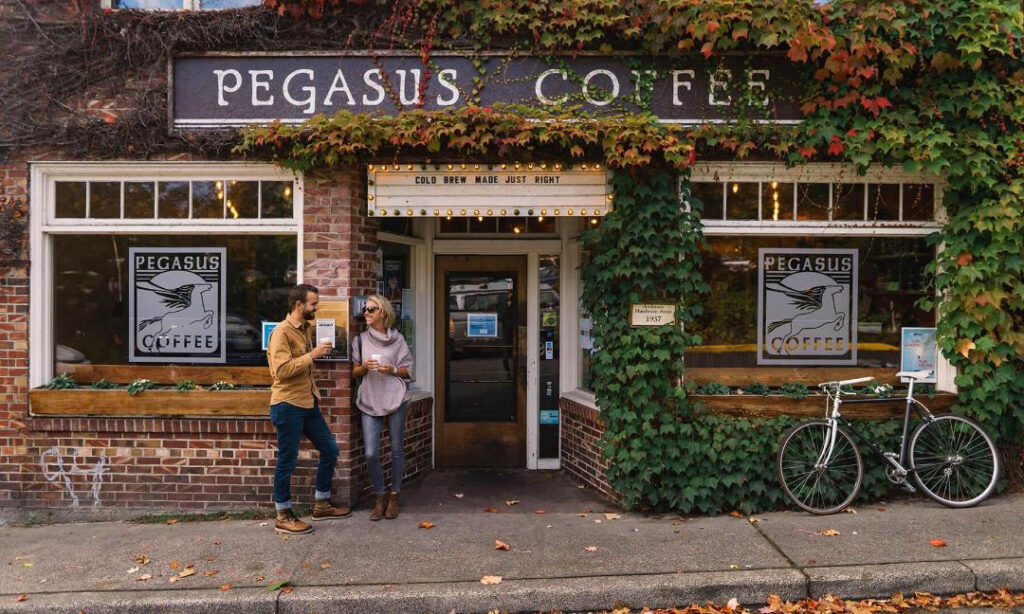 Waking up to a great cup of coffee is where most of our minds go first thing in the morning, and I know just where to get that great coffee. Pegasus Coffee was voted as one of the best coffee shops in the world as chosen by independent readers of the Financial Times One of the Best Independent Coffee Shops in the World. That's right, and this is an article all about Pegasus Coffee.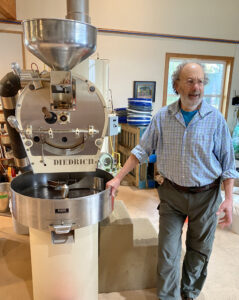 Our group of travel writers for the International Food Wine Travel Writers Association met with David Adler, head of coffee and roasting operations and part owner, as well as Matt Grady, the primary owner, of Pegasus Coffee. We gathered at the roasting location for Pegasus Coffee to learn in depth about that drink I cherish first thing in the morning.
This coffee house has an interesting and unique history. David Dessinger, the founder of Pegasus Coffee Company (with a PHD in molecular biology,) started making coffee out of a garage at Eagle Harbor, WA, under the tutelage of  Alfred Peet (of Peet's Coffee) in 1979. He drank Peets Coffee while attending Berkley in the 60's which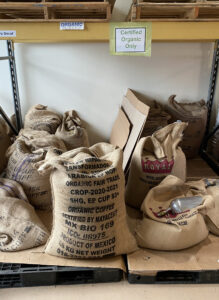 is where he was first inspired to make coffee.
Prior to opening, David and his wife traveled to Nicaragua and found the sister island, Ometepe, in the middle of a very big lake. They tasted the rich coffee of this island and realized they could sell this coffee. As a gift to this relationship with the farmers of Ometepe, all profits from a specific coffee go back to that community. (They also have a non-profit that works with Haitian coffee growers.) He then opened his first coffee shop at Winslow Harbor in 1979.
Coffee is part genetics, terroir, processing, and that aroma that draws in the coffee drinker. Pegasus Coffee buys once a year from Ometepe Island. The green beans are delivered once a week. One sack is 150 pounds with 20% loss so 120 pounds of roasted coffee is what one bag makes.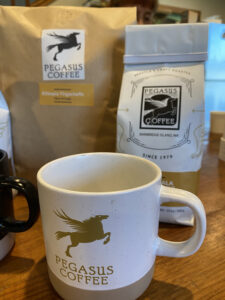 Once delivered, the roasting begins. The first crack (that sounds like popping corn) and the second crack (a medium roasting) take place. French roasts are pushing what would be the third crack and after that it becomes fire roasts. However Pegasus does a light roast to start to see what the taste is really like. None of their coffees have a burnt taste to them. The molecular biology background certainly creates perfect coffee.
The house blend is a 43-year old recipe comprised of several bean types blended together. One sip of the house blend brings out the flavor of nuttiness with brown sugar, cocoa, dark cherry, dark chocolate, and cinnamon. In fact, we learned coffee is double the complexity of wine.
The Guatemalan blend tastes fruitier with light cherries, citrus, and earthy tones like cedar. You taste more aromatic and spice notes but not as much chocolate.
I love a cup of espresso. Pegasus Coffee uses an organic Peru bean that is roasted darker to create their espresso.
One of my favorites was the Ethiopian where lots of florals come across and lemon flavor. For the Ethiopian coffee they use a washed process rather than sun dried like most of their beans. Ethiopia was the birthplace of coffee and is a very traditional coffee because of the district profile where it is grown. This coffee would fight if you added milk to it. It's an elegant coffee to be served in porcelain cups. In Ethiopia they have coffee ceremonies, and this coffee is worthy of that ceremony.
We learned there is a very specific way to make good coffee. They suggest a cone where water at 205 degrees (just below boiling) is poured over the coffee. A rule to follow is the darker the roast, the lighter the temperature of the water. There can be a 10 degree less temperature for darker coffee. They sell Baratza grinders which is what David recommended and can be found on their website. We were told that the lifetime of good ground coffee is only 20-30 minutes because it stales so quickly.
Coffee beans should be stored in a cool dark place and not in the refrigerator because of the condensation and moisture that is the death of the coffee. Freezing isn't the way to go, either.
The goal of Pegasus Coffee is to make coffee that tastes as good as it smells, and I can testify to that. Matt told us that the world doesn't need more coffee shops. It needs better coffee shops.
Pegasus Coffee ships all over the world. Their coffee is sustainably grown and farmer focused. Coffee is environmentally beneficial to the ecology as shown by more varieties of birds in the area where it is grown. The farming for Pegasus Coffee is biodiverse.
I have heard for some time about wine profiles, but there is actually a coffee profile, too. The Coffee Taster's Flavor Wheel, originally published in 1995, is the largest and most collaborative piece of research ever created on coffee flavor. It is available through the Specialty Coffee Association.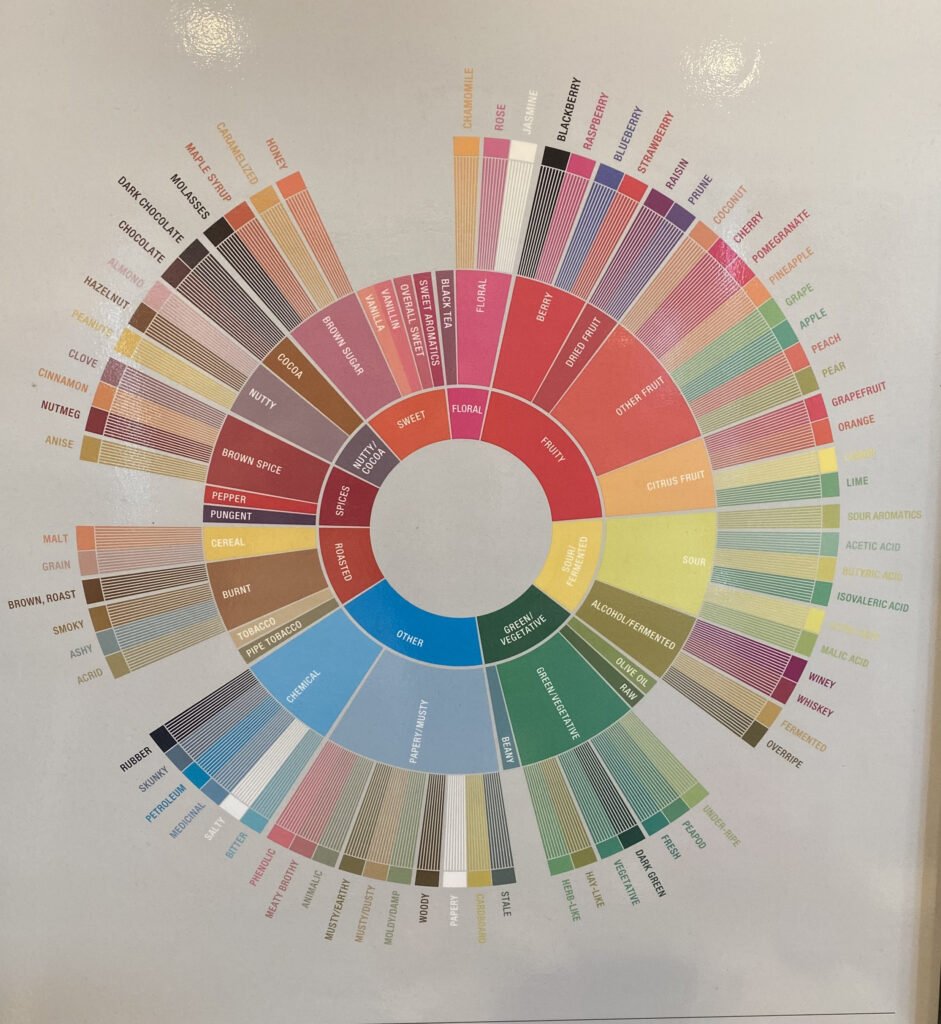 On our last day on the Kitsap Peninsula, we met at the coffee house for Pegasus Coffee, originally a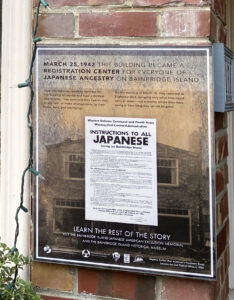 hardware store built in 1937. This historic home of Pegasus Coffee opened in 1980 in this ivy covered brick building on Bainbridge Island. When they opened, they were the first coffee company in the Seattle area to serve espresso over the counter.
One unique piece of history is that this building was used as a registration center for those of Japanese ancestry on Bainbridge Island. The original sign and instructions for these Japanese Americans is still posted for historical remembrance of an inhumane event in our country and a reminder to never let it happen again.
Coffee drinkers around the world have voted Pegasus Coffee as one of the best in the world.  I challenge you to find a better cup of coffee anywhere which is why once you get off the ferry on Bainbridge Island, run to the Pegasus Coffee Shop.