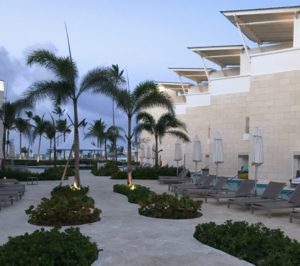 All-inclusive resorts provide a unique experience and are wonderful for families with younger children or for adults who just want to "hang out" and totally relax without planning each day. My daughter, her husband, and my two grandsons, ages 16 months and 4 years, accompanied me to a wonderful vacation spot that could accommodate all of our interests, Nickelodeon Resort Punta Cana.
Opened in June 2016 by Karisma Hotels & Resorts as their first international property and this resort still squeaks with newness. The rooms are deluxe, stylish and spotless as are the grounds, restaurants, and pools. You can choose from seven styles of suites that include either a balcony or a patio. In addition, there are four villas.
One of the beauties of the design of this resort is that one side of the resort consists of low-buildings with beautiful swim-up pools along the sides of the buildings as well as lush palms. From these rooms, guests are within close proximity of the infinity pool and the beach full of cabanas and lounge chairs. Accessible by roaming golf carts (which appear continually to take guests to the other side of the resort) is Nickelodeon Place, a land of Aqua Nick, a lazy river, and large water park as well as Just Kiddin' kid's club. This layout is perfect for both kids and adults. As a grandmother of two little boys, I loved the opportunity to see them play, but I could also return to the peaceful side of the resort to just relax. By the way, mom and dad appreciated being able to return so easily, too. We were greeted with a cool, refreshing face cloth and either a glass of sparkling wine or a slime drink. A lovely touch!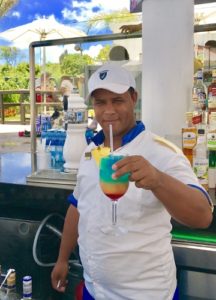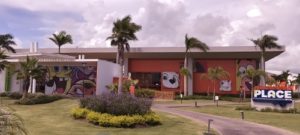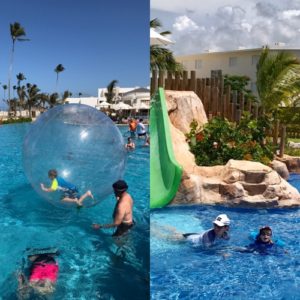 A Real Character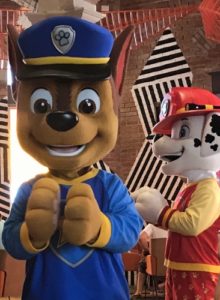 One of the draws to this resort was the promise of Nickelodeon character appearances. Do not expect them to be on site frequently; there may be four or five characters at the most each day for a brief time and that's it. Be sure to sign up for the character breakfast prior to arriving at the resort to make sure you have the opportunity to take photos with the characters. This is your best means of letting your young travel partners see and interact with the characters.
I had the opportunity to speak with the executive chef, José María Mejía Reyna, who brings a wealth of knowledge from his culinary experiences in  Mexico City and the Karisma Playa del Carmen Resort. He started his career at the Mexican Culinary Institute in Mexico City. Chef José prepares the menus and sources the ingredients himself from local food. Vegetables arrive every day at 6 am; a driver brings everything to each kitchen. He insists that nothing be buffet-style but rather cooked at the moment, and believes in doing more "honest" food with less emphasis on garnish and more on the basic techniques.  Because of his belief in getting back to honest food and not specializing in garnishes, I believe the terminology of gourmet is confusing to some of us. The food was definitely tasty and well prepared. Chef José told me that when he asks others who is the better chef, your mother or a professional chef, invariably people answer that it is their mother because she cooks from the heart.  He tells his staff that they need to do the same and "cook from the heart."
As far as cleanliness, all restaurants are inspected continually to meet international standards by two different companies. In addition, all kitchen staff have a medical every six months. Chef José stressed how important it was for them to be cautious of germs in such a warm and humid environment.
There are nine restaurants at Nickelodeon as well as a wonderful coffee shop called Doppio which offers pastries, chocolates, and a few sandwiches. In addition, there are several swim-up bars and a lounge for wine and music. Four of these restaurants require reservations—Verdello, Spacewalker, BRGRS.PH, and Wok Wok. Make reservations ahead of your visit because restaurants requiring reservations fill up quickly. If you do not do that, I would contact the concierge upon arrival. If they do not have space for a restaurant you might enjoy, I suggest you visit the restaurant itself and ask if there is room for your party. That worked for us on three occasions.
The Machete Burger
We enjoyed the BRGRS.PH restaurant for its kid-friendly atmosphere (reminiscent of a food truck) where the specialty was a Machete Burger, large enough for the whole family.  If you have children in the group, I would highly recommend you visit the Spacewalker restaurant. It is out of this world! The restaurant is a space capsule where everything is orange, silver, and white. Even the servers wear silver outfits with purple hair. While the food itself isn't a strong point, it's an interstellar experience for the entire family.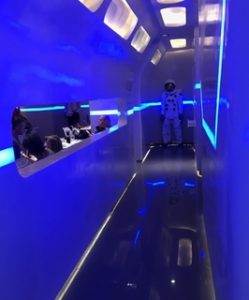 Sugarcane restaurant ended up being one of my favorites. You can actually see how fresh everything is because the chefs are continually cooking as you wonder around selecting from the myriad of choices. While I was choosing a chocolate croissant, the chef was replenishing other pastries fresh from his nearby oven. Juice machines abound with tropical smoothies as well as mimosa and bloody Mary stations. One of my favorite items was the croque madame, whose sunnyside-up eggs I witnessed being perfectly prepared as I briefly waited.
If you look carefully, you will find dishes characteristic of the Dominican Republic such as honeyed sweet potatoes, plantains and mangu (mashed plantains), squash, paella, yucca, rice pudding, empanadas, eggplant, red beans, and sancocho (the national dish of the Dominican Republic, a meat stew.) Dominican cuisine is derived from the French, African, and pre-Columbian Taino Amerindian cultures as well as a heavy influence of Spanish cuisine.
Doppio coffee shop became my regular stop in the morning before breakfast to pick up a perfectly made cappuccino (with an extra shot) to carry to Sugarcane for breakfast with the family. In the afternoon, I would stop by to get a cup of a frozen espresso and cream beverage. One afternoon I was delighted to walk inside Doppio and find an entire island covered with all kinds of chocolate delights. Ask the servers when you are there if they plan to do something like this during your visit. Who doesn't love chocolate!
A must for our stay was Kitchen 23 by Le Chique where culinary creations and originality abound. Both molecular and traditional dishes with interesting presentation techniques delighted us.  Our welcoming cocktail was a champagne glass filled with a foamed mojito. You can find out all about Kitchen 23 in my article: http://life-uncorked.com/food/the-science-of-molecular-gastronomy-a….  This restaurant does have a surcharge, and you definitely need to reserve a place early. If you are a "foodie", this is the perfect restaurant for you.
One Hiccup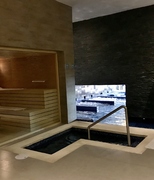 While we didn't have time to experience the 14,000-square-foot Vassa Spa , I would suggest taking a day to enjoy the herbal steam room, dry sauna, chromo therapy showers, bubble beds, whirlpool and arctic and warm water pools. Then choose a massage to finish off the day.
I encourage my readers to decide ahead of time exactly what they want to do before a visit and make reservations ahead of time. Then, when asked in an email what services they can provide you, let them know specifically what you are hoping to enjoy such as the character breakfast or dinner reservations.
The only other hiccup we had was that the resort states it's excellent at assisting their guests with food allergies. When you arrive, you are given a card that is to alert each restaurant that you have allergies. Unfortunately, most of the places where we ate didn't understand what that meant or what ingredients were in items they purchased that were already prepared, such as hamburger buns.  My daughter speaks Spanish, which helped, but you still need to monitor what they bring you and be cautious. We did find at Sugarcane restaurant, the largest, every dish was marked with a label for those with allergies, and we really appreciated it.