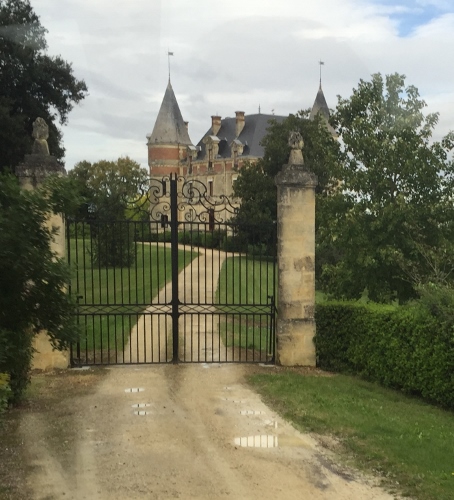 Grand Cru, Medoc, St Émilion, Bordeaux Left and Right Banks – all terms of which I was aware, but wanted much more information. That's the beauty of a river cruise with wine as its main topic (and the wine isn't bad either, to put it mildly!). We were about to embark on an eight-day UniWorld boutique wine river cruise along the Garonne river – an area settled by ancient Romans and once ruled by the English, but every bit a French region.
Each evening of the cruise started by imbibing in the "cocktail of the day," followed by all 108 passengers choosing from several appetizers, main courses, and desserts, all spectacularly plated. We experienced gastronomic delights each meal of this cruise. Specialties of southwestern France such as duck confit, oysters, and caviar d'Aquitaine, were carefully prepared by Michelin-two-star chef Philippe Etchebest. Oh, did I mention that lunch and dinner were accompanied by both a red and a white local Bordeaux wine?
Dinner was followed by music and dancing. Little did we know this evening of dancing (to music by Uniworld's own traveling musician) and partying would set the stage for the rest of the trip. We met what we fondly referred to as the "Alabama contingency," comprised of five couples who had cruised together before and who welcomed us into their group.  As many of you know, those Southerners love to party and dance, and we were not to be outdone.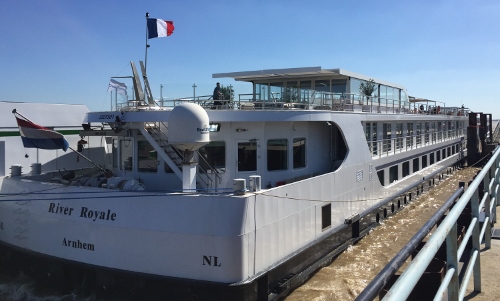 Each day after breakfast (including cheeses, pastries, cappuccinos, prepared-to-order omelets, and even two types of bacon—soft or crispy) we divided into three buses and set off for events designed to envelop us in the culture of the area.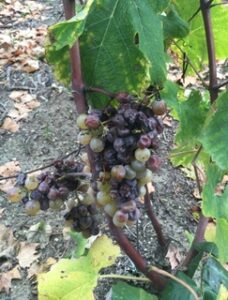 One of the highlights was an artisanal lunch and wine pairing at Château D'Arche near Cadillac in the Sauternes region where we learned the wine must have good levels of botrytis, the "noble rot" which causes the grapes to be partially raisined to bring out sweetness.
Our lunch began with ribbons of smoked salmon with a creamy center, elegantly presented alongside a Château La Bouade 2010, a pale golden wine with acidity and flavors of honey and peach.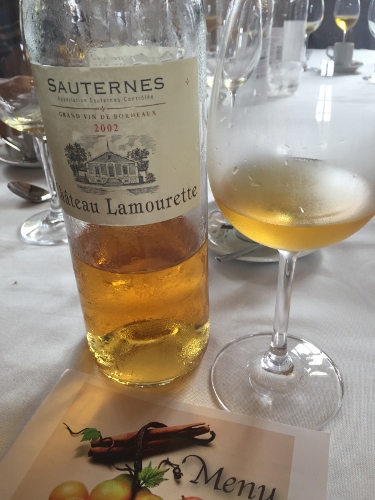 Caramelized hen with mushroom pastry and asparagus tips arrived with Château Filhot Sauternes. Its concentrated flavor and nicely balanced acidity enhanced the musty and gamey flavors of this course.
Most Americans think of Sauternes as paired just with desserts, but this tasting provided much conversation about how well they pair with all courses.
The following day, our trip found us in one of the prettiest of Bordeaux's wine towns, Libourne, perched atop the steep limestone slopes where many of the region's finest vineyards are situated. First stop was Saint-Émilion Church, the underground hermitage and monolithic church (carved out of one piece of stone in the hillside
Down steps from the market square lies the hermitage. This is the cave where teenage Émilion fled the notoriety that accompanied miracles he had performed in Brittany.
Our next stop was the Premier Grand Cru estate, Chateau Franc Mayne. We sampled the Grand Cru Classe 2011. The predominant grape varietal here is Merlot. This wine displayed medium tannins and was soft and rich on our palates.
The Saint-Emilion area is on the Right Bank of the Gironde River and known for Merlots. The limestone and clay soil adds to the wine's minerality and soft tannins.
On another picturesque trip, we ventured to Bergerac (yes, as in Cyrano de Bergerac).  As we walked the cobbled streets and admired the square displaying a sculpture of Bergerac, we noticed the picture-perfect bed and breakfasts surrounding the square. Bergerac's love story sets the perfect location for these inns.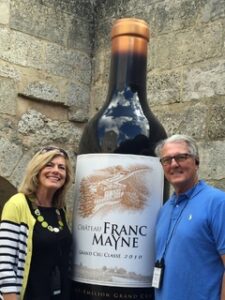 We wandered the cobblestone streets amongst the wine and foie gras shops, ending up at a farmers' market replete with seasonal vegetables, fish, and – to our delight – a stand where we were treated to duck pate and foie gras. What a fun experience!
Next stop: Château de Monbazillac, built in 1550, with turrets, a moat, and battlements. Rows of the "liquid gold," Monbazillac's famous sweet wine, reside at this château. The views from outside stimulate imagination of days gone by when those in the château could gaze across the miles to protect themselves from invaders.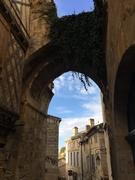 Dinner that evening was served in the Blue Fox Café – such a treat! Our appetizer was a visually enticing array of tapas (below): an oyster, a pungent cheese with jam, tomatoes, and prosciutto with pickle. This was followed by succulent Beef Wellington cooked to perfection. Our dessert was four small taste treats—a chocolate tart, a chocolate-covered strawberry, a cream puff, and a Mai Tai shake. Magnifique!

After we boarded our bus the next day, we journeyed to the famed Médoc region. In 1855, when Napoleon III asked for a classification of the best wines of France to be labeled Grand Cru, 60 of the 61 total wines chosen were from the Medoc region (and my taste buds agreed.)  As our bus took us along this storied road, we saw the châteaux of Margaux, Latour, and Mouton Rothschild.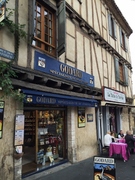 Fortune provided us an opportunity to visit the Grand Cru winery Château Lagrange of Médoc. We learned this region is known for its Cabernet Sauvignon because the rocky soil is perfect for this grape.
As we arrived, the splendor of the château (below) amazed us – a swan on the front lawn, a garden of roses, and a lake out front. We knew we were in for a treat.
Of course, our visit wasn't complete until we sampled a Grand Cru 2008 as well as a 2014 Bordeaux. These wines ooze aromas of plum and taste of dark fruits. Luscious! As our guide, Polène, would say, "oh, la la!"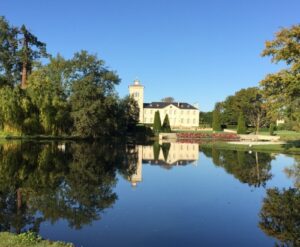 That evening, we embarked on a panoramic bus tour of Bordeaux. The city was awash with lights of many colors, displaying the intricate architecture of buildings, arches, cathedrals, Ferris wheels, and shopping alleys, as well as the Pont de Pierre br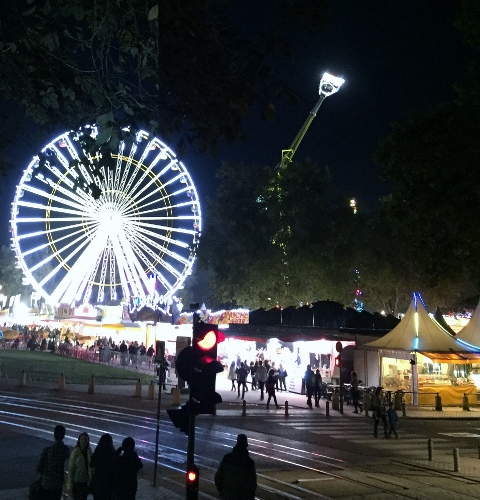 idge. Beautiful!
Our last day was spent exploring UNESCO World Heritage Site Bordeaux, "La Perle d'Aquitaine."  We hopped on a tram headed to the heart of Bordeaux's "Golden Triangle." Our first stop was the Church of St. Louis, its Gothic spires looming over the area.
All of this sightseeing made us excited about our next stop at Pâtissier David. At this pastry shop, we witnessed beautiful handmade chocolates – however, the highlight was when we sampled the lightest cream puffs imaginable.
The next stop was Chocolaterie Saunion, home of chocolate decadence. The colors of the fruit glacee under domed stands visually wowed us, while the whimsical light fixtures amused us and the owner (below) charmed us so much that one of our group wanted to take him home.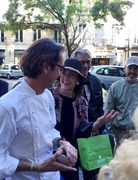 Bordeaux, a truly elegant city, reminds me of a smaller and more easily accessible Paris. No wonder Bordeaux was chosen as the number-one destination by European Best Destination 2015.
Our last night at the captain's dinner was bittersweet. Our journey was coming to an end, but we reveled in the knowledge that we had the opportunity to explore the world-renowned Bordeaux wine region in all its glory aboard a first-class operation.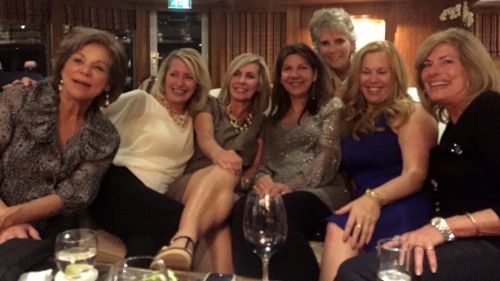 However, the night was still young, and after yet another impressive dinner, we had time for some brandy, dancing, and the chance to talk to newly made friends about where we were going to travel on our next Uniworld cruise.
Uniworld, we will be back!, là là!"