"Best Side Outside" is an official tag for Punta Gorda, and it couldn't be more true. Punta Gorda, set along Charlotte Harbor with boat access to the Gulf of Mexico, offers great outdoor adventures. And, I am happy to say, they have survived a hit by Hurricane Ian and are open for those who want to be outside surrounded by ocean breezes and a tropical oasis.
Follow me as I tell you about our time, a group of media members of the International Food, Wine Travel Writers Association, as we soaked in all that is Punta Gorda.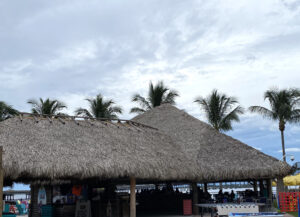 Our stay was at Four Points by Sheraton at Punta Gorda Harborside, striding the vast Charlotte Harbor. I highly recommend the food served in the casual atmosphere of the hotel's restaurant. Since I know grouper is one of the fish highlights of Florida, I salivated once I was presented with the Grouper Oscar served with hollandaise and asparagus. It was flaky and so fresh, and made my soul happy.
One of the busiest places at the Four Points by Sheraton is the open air tiki bar striding Charlotte Harbor and on the 18 miles of bicycle and pedestrian trail. The unique design of this 3500 square foot tiki bar with no supporting bar in the center allows for large groups who can come either by foot or by boat. Our group met with the Punta Gorda Convention and Visitors Bureau to relish appetizers and tropical cocktails before heading to dinner in the Fishermen's Village.
If you have spent any time in Florida, you know the rain can come in a torrential downpour which is what happened our first night there. We were supposed to take a sunset cruise on Charlotte Harbor with King Fisher Fleet, but nature changed our plans. This tour is something any visitor should add to their list.
Instead, we laughed and sidestepped from one covered area to the next at Fishermen's Village slipping in and out of the shops on our way to The Captain's Table. Spectacular views of a pink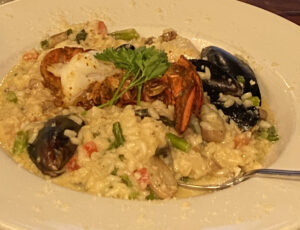 sunset awaited us as we feasted on seafood risotto, lobster ravioli, and snapper piccata. Having difficulty choosing which dish for my dinner, the Captain's Platter encompassed grouper, shrimp, scallops, and crab smothered in a lobster cream sauce. I was not disappointed.
I would describe our trip to Punta Gorda as "food, water views, and nature." With those in mind, we walked a short distance for breakfast the next morning to Perch 360 at the Wyvern Hotel. Perch 360 is a rooftop restaurant providing al fresco dining while we were awed by the vast water view of the harbor in a relaxing umbrella-covered deck setting (adjacent to the pool) with a centrally located bar around rattan cabana seating.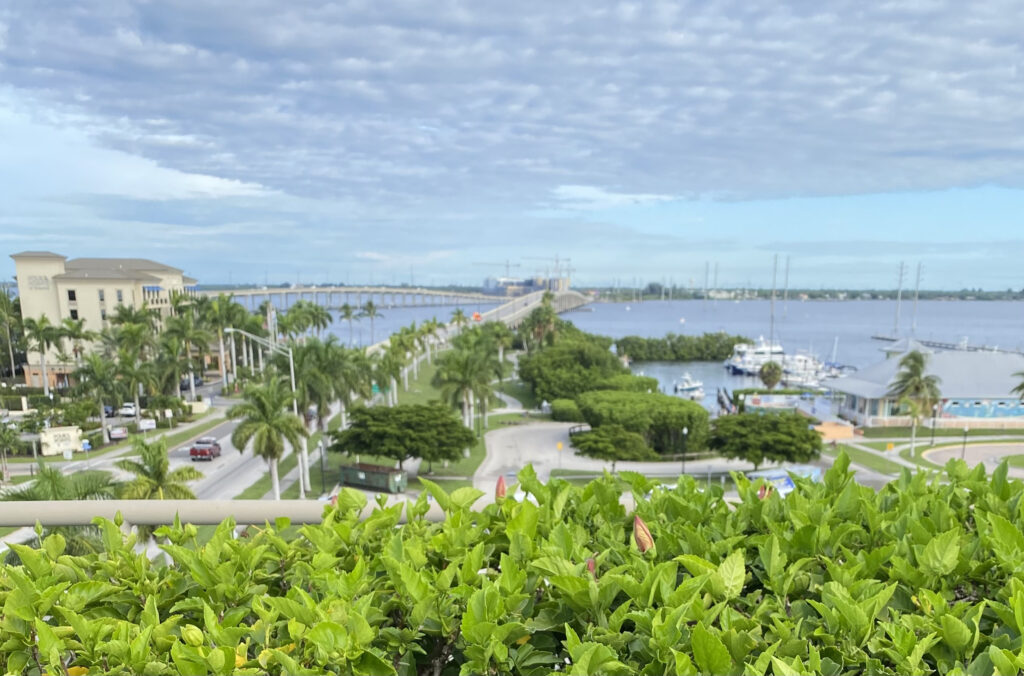 We noticed the rooftop herb garden where seasonings for the wide variety of dishes, including tapas, produce, meats, and fish were enhanced by these herbs.  Perch 360 has something for everyone whether you want organic, Non-GMO, or gluten free. Being a crab cake lover, my dish was the Eggs Benedict served with a crunchy crab cake. Yum!
If you are lucky enough to be in town like we were on Saturday, don't miss the Downtown Punta Gorda Farmers Market, voted the "Best Small Market in Florida." The stacked piles of bread goods drew us in. The rainbow of bright colors of the fruits and vegetables begged to be purchased. We also took in artwork from local artists from jewelry to paintings.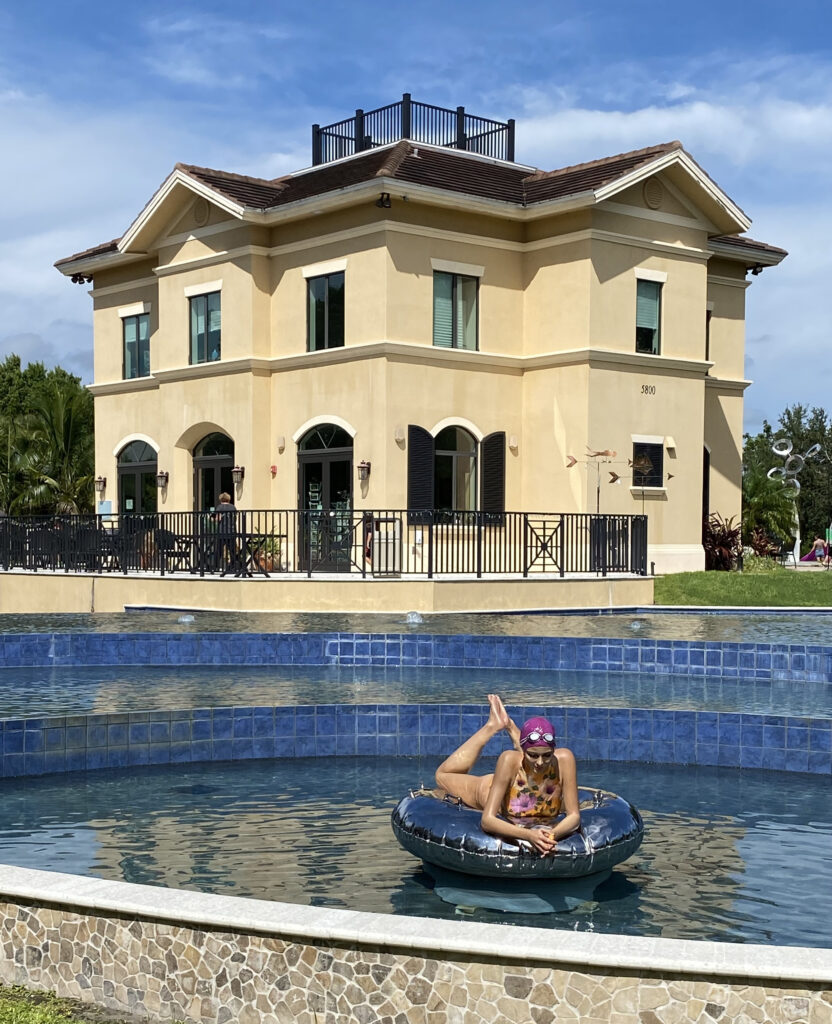 Add the Peace River Botanical & Sculpture Gardens to a fantastic place to take in nature and art.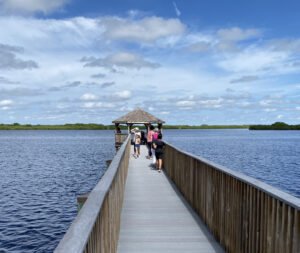 Lush plants surround the large vibrant grassy green area where children and parents were playing among the metal sculptures when we visited. The entrance's contemporary sculpture, called "Metropolitan Ostriches," created by Yu Zhaoyang, gave us a glimpse to the type of sculptures awaiting us inside the gate.
When I think of Florida seafood spots, small roadside restaurants with a true Southern atmosphere is the picture my mind paints. Lunch was at this kind of place called Peace River Seafood & Marketplace. To read about this classic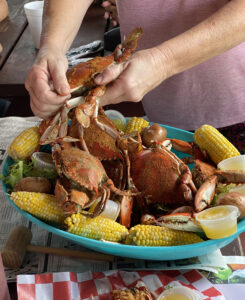 Florida seafood restaurant and see how to eat blue crab boil, go to my article: http://bit.ly/3U4H821.
Voted "#1 Thing to do in Punta Gorda" by Trip Advisor was a stop we could all get behind. Alligator Bay Distillers, owned by brothers Alexander and Benjamin Voss, make rum the old fashioned small batch way  using black strap Florida molasses. They double distill the rum in a copper pot still and finish in a copper pot column still. Alex Voss offered us tastes of some of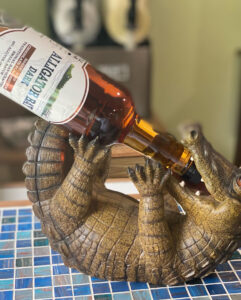 their rums. My preference is the aged dark rum, perfect for sipping. These guys even offer unique cocktails to see how perfectly their rum works with mixes. Free tours and tastings can be booked online and are offered on the hour every day of the week except Sunday.
Walking into The Perfect Caper restaurant immediately felt like a fine dining experience was at hand. And it was. Chef Jeanie Roland starred on Beat Bobby Flay and won. Her culinary expertise came from an early beginning sampling her mother's cookie dough laden with butter. Butter adorns all dishes created by Chef Jeanie, and how could that be a bad thing. Not only are her dishes full of flavor (from that butter,) but they are expertly plated to delight the eye when they are presented on the table. Our biggest problem was deciding what to order.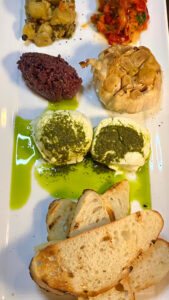 The Warm Goat Cheese in herbed oil, roasted garlic, kalamata olive tapenade, caponata, and roasted garlic made us sigh with delight when the plate arrived at our table. The Pork Belly Tacos with Salsa Verde got approval from all, too. For the main course, a couple of dishes we loved were the Pig & Fig Jam, a perfectly cooked pork chop in a fig jam wine reduction (and I'm sure lots of butter, too.) I chose the Crabby Scallops, scallops topped with Brulee of Jumbo Lump Crab on a bed of Forbidden Black Rice and topped with an Apricot Beurre Blanc. Succulent and full of so many flavors, I could not find a better meal. Contemporary and dimly lit with high backed upholstered benches, this makes the perfect date night spot.
Our tour of the Punta Gorda area took us the next morning to Englewood, an adjoining small beach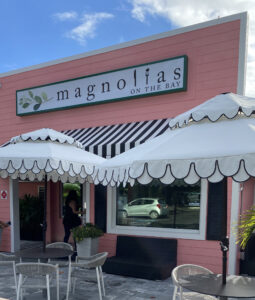 community. The minute our van arrived, we felt like we were in one of the old Florida beach communities with that beach vibe that tourists come to Florida to enjoy.
Does it sound like we did a lot of eating? Indeed we did! What could be more quintessential in
Florida than a pink stucco building with beach umbrellas adorning the entrance to our brunch location of Magnolias on the Bay. As we entered the restaurant, we could see all the way to the back green area with Adirondack chairs and a dock on Lemon Bay. By boat would be a great way to enjoy this iconic Florida restaurant. And the food—the food! When we were there, we had brunch. However, they are now open Tuesday through Sunday with a great Happy Hour starting at 3 p.m. and dinner from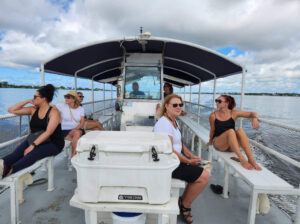 4 p.m. until 9 p.m.
When you are in Florida, the water just draws you in. It was a perfect day for a nature cruise with Lemon Bay Dolphin Tours on beautiful Lemon Bay. Captain Bruce LaMotte, a longtime Englewood resident and naturalist, had stories for us and was able
to point out dolphins before any of the rest of us knew they were there. Elation is a great way to describe seeing those mammals arch and gracefully sail out of the water. The fresh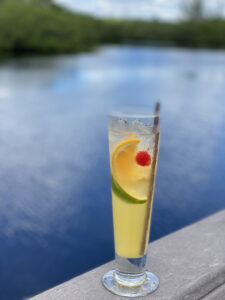 air was just what we needed.
Super hosts Keith and Laurie Farlow greeted us at their restaurant, Farlow's On The Water for a succulent lunch on their outside patio overlooking beautiful Lemon Bay. To Learn more about that wonderful dining experience, go to my article: http://bit.ly/3H87ptx.
The Punta Gorda area affords visitors the opportunity to get out on the water to see wildlife and experience the fresh open waters as well as some of the finest restaurants in the state. Take in all that is "Best Side Outside.".