Make room Southern California beach towns because there is a new kid in town. Bring your surfboards and beach towels along with your love of great restaurants and brew pubs. Pack your curiosity because this city has lots of gems to explore and plop your suitcase down at Mission Pacific Hotel.
One short trip to Oceanside, California, just 40 north of San Diego and 50 miles south of Orange County, opens your eyes to all that this city has become. With 3.5 miles of beach and a 1000 boat harbor, Mission Pacific Hotel and its sister resort, The Seabird Resort, are perfectly situated to embrace this spectacular offering for water lovers.
These two hotels comprise the largest beachside development within the last 20 years in San Diego County. It took two decades of planning. Mission Pacific Hotel was voted #1 Hotel in San Diego in Conde Nast Traveler 2022 Readers' Choice Awards.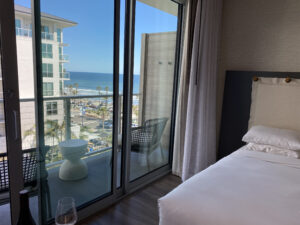 Come along with us, my friend and writing partner, Kris Grant, and me, as we explore the new and revitalized Oceanside and the luxury of the Mission Pacific Hotel.
As we check in at Mission Pacific Hotel, we take in its bohemian-chic décor. We open the sliding glass doors in our room to the spectacular ocean view and the Oceanside Pier that beckons us for a walk after dropping off our bags. The pier is the longest wooden pier on the western United States coastline. Next to the wood walkway we see the Junior Seau Pier Amphitheater where we have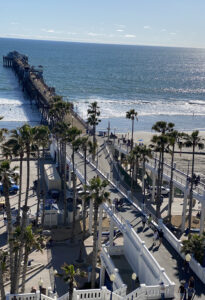 been told numerous events are hosted throughout the year. However, we only have two days and a lot to explore before leaving this city so events will have to wait for another time.
A Queen Anne Victorian 1887 cottage, now a pie shop, as seen in the 1986 Tom Cruise blockbuster "Top Gun", is plopped right in the middle of the two sister hotels. No pie for us on the trip, but we did venture inside this tiny house to take in the photos from the movie and admire the motorcycle from the movie propped up out front.
Talking about food in Oceanside, we had heard about the Mission Pacific breakfast at the High/Low Restaurant with its interesting and wide ranged menu. We couldn't resist trying the Cardiff Crack Hash, a plate of black pepper tri-tip, carmelized onion, poached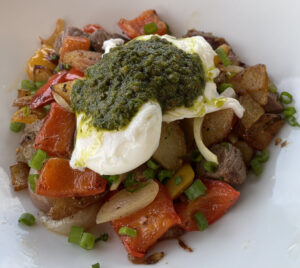 egg, and chimichurri.
Many of the restaurants in Oceanside range from fresh seafood to upscale Mexican and Balinese. You can find almost any kind of food to please your palate. Many are housed in redesigned industrial buildings and are walkable from the stunning beachfront boardwalk and hotels.
There are many hidden gems in the revitalized Oceanside. We peek in at The Switchboard Restaurant inside the Fin Hotel. The Fin Hotel, originally the Hotel DeWitt and Keiser Hotel, was home to a communication center during WWII in support of the war effort. We gaze in amazement at the switchboard panel used to help our soldiers while we see guests sip a Hawaiian drink.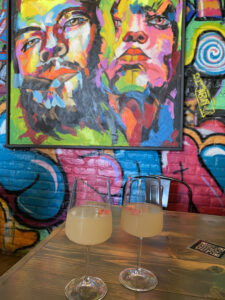 We are hungry and imbibe in Balinese cuisine at Dija Mara, chock full of vibrant wall art collected by the owner to enhance that tropical vibe. Dija Mara, known for being a Michelen Guide restaurant, draws us to brunch with flavorful and creative dishes. We chose Roti (an Indian flatbread) served with a spicy dipping sauce, Charred Eggplant with tomato sambal, and Nasi Lemak (rice cooked in coconut milk topped with a fried egg, and anchovy sambal). (Sambals are Indonesian pastes or sauces of chilies with any other ingredients for dipping.)
From our lunch at Dija Mara, we walk to the Blade 1936 Italian Restaurant housed in the old Blade Tribune and News building. We were told the renovators found old rolled-up 1950's newspapers stuffed inside the walls and part of a printing press buried under the floor. These are displayed as a tribute to the building's original history, but authentic Italian cuisine is on the menu. We had no room for more food but loved the restoration of this historic building.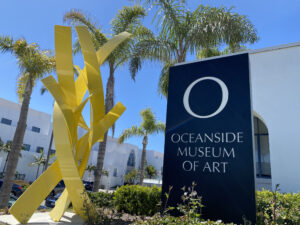 We walk to Oceanside Civic Center, a beauty of contemporary architecture with outdoor seating, palm trees, and fountains, and marvel at its grandness. Just next door on Pier View Way, we see the Oceanside Museum of Art.
The bright metal sculpture, Offshore, by Matt Devine greets us as we enter the Oceanside Museum of Art. Inside we find the massive and awe-inspiring painting called "The Elephant" by Robert Xavier Burden. Robert is busy working on his latest piece that he says has taken him 1800 hours so far to create. He tells us it will take another 900 hours to finish this work. His intricate and bold pieces contain images of childhood toys such as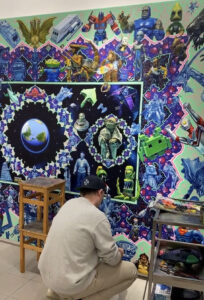 Transformers and Power Rangers.
We walk to the Tremont Collective to find local shops not found elsewhere. One of our favorite shops is Brixton. Brixton, started out of a garage in Oceanside by a group of friends with the creation of a hat called the Hooligan, a newsboy cap. Inspiration for the hats and clothing comes from musicians, artists, craftspeople, and artists. We watch as we see the old craft of a hat being shaped to fit a customer's head.
Artist Alley, close to the Oceanside Civic Center on Pier View Way, delights us with its cool outdoor murals along the alley. Inside we see shops with soaps, Ikigai Artifacts jewelry, and a gift shop.
We walk to the west side of the underpass below the Coaster train tracks and see The Last Wave of the Day, a metal sculpture, by Steven Rieman. After all, the city of Oceanside is all about surfing, and this sculpture speaks to that sport.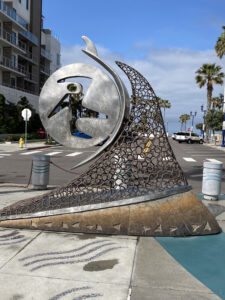 Walking down Pier View Way, we check out The Brick Hotel, a small boutique hotel of 10 rooms in what was originally a hardware store built in 1888. The rooftop bar, the Cococabana, looks west all the way to the ocean. We plan to spend some time at this casual tropical bar on our next trip to Oceanside.
The California Surf Museum is also on Pier View Way. We decide we should venture inside since this museum showcases the roots of Oceanside. What we discover is a display showing the courage of Bethany Hamilton, a young surfer who lost an arm to a shark and continues to surf today. Reading about her and watching the video about her love of the sport is inspirational.
Longboards dating back to 1953 of balsa with a wood fin as well as Duke Kahanamoku's personal surfboard from 1925 that he used to save eight lives in Corona Del Mar lean against a wall.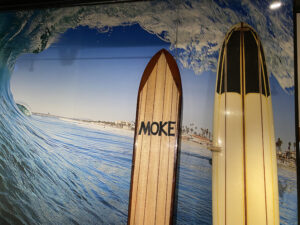 To show us just how much Oceanside has changed and how it has renovated old buildings, Jane Schmauss, historian and co-founder of the museum shares a photo of the original building housing the Surf Museum which was a strip club and a photo of the remake of the current building with its changed roofline that echoes a wave.
Once we did all of this exploring, it was time for a cocktail at The Rooftop Bar . For a bit of trivia, we smile at the list of drinks at The Rooftop Bar (located at Mission Pacific Hotel) with names like Buccaneer and Bird Rock, famous surf breaks along the San Diego coast.
We sit around the rooftop pool with a cocktail from The Rooftop Bar and soak in the sun, hear the pounding surf, and feel the breeze. This is the magic of what escapes are all about.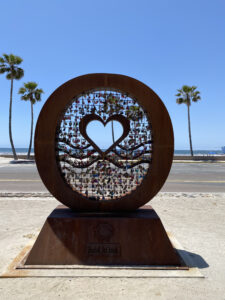 Day two of our trip we head to the harbor area to find a couple of hidden gems. We see a metal sculpture, Love Lock. Luckily for us, two sociable bicyclists tell us this sculpture is the backdrop for weddings on the beach where those married place a lock on the metal heart sculpture. Initials of the married couple are carved on these locks.
Close by, we see two totem poles carved by a local Tiki artist, Anthony Senvisky. These totems are inground Mexican fan palm tikis he created for the love of the city and the water.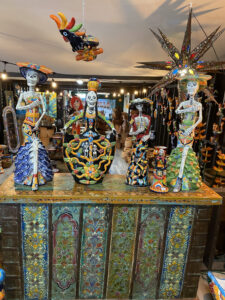 Before we head back home, we stop at Carillo Pottery, a most interesting shop that
drew us in with their Día de los Muertos (Day of the Dead) pottery pieces. We purchase oilcloth tablecloths in bright colors that are made locally. We will both be back to this shop.
Along our drive, we see Bagby Beer Company. Since Oceanside is known for its breweries, we decide it is only fitting to stop for a sampling. This brewery offers so many choices, but we settle on a sampling of pilsner, brown ale, and a lager. A giant pretzel seems fitting to really set the tone of the tasting. Perfection!
We were gifted our stay at Mission Pacific but we encourage you to head to Oceanside for a stay at Mission Pacific to enjoy a perfectly relaxing getaway where the Surf's Up.