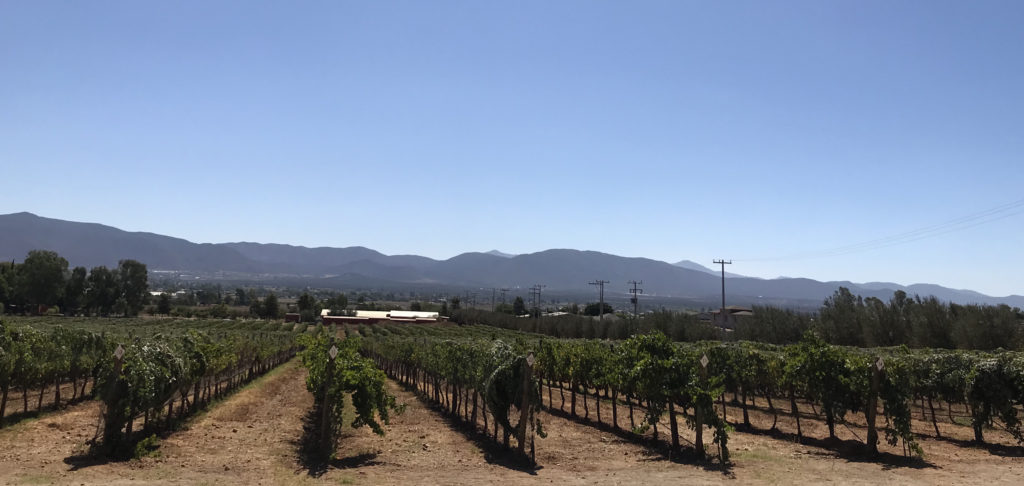 After pulling up to the U.S. side of the border, we all gathered our suitcases, rolled them through security after producing our identification, and trod across the Tijuana border to be picked up by our tour bus. The adventure of wine and food in the Valle de Guadalupe began.
One of my favorite stops on the way is La Fonda Hotel & Restaurant in Ensenada, and we were destined for lunch on their patio. If you go to La Fonda, be sure to order their piña colada. The food was very similar to what you find at most American Mexican restaurants, but the piña colada and the view are exceptional, and the place is very fun. Listen to the thunderous roar of the waves crashing on the large rocks below. You can even take a paragliding ride from the restaurant.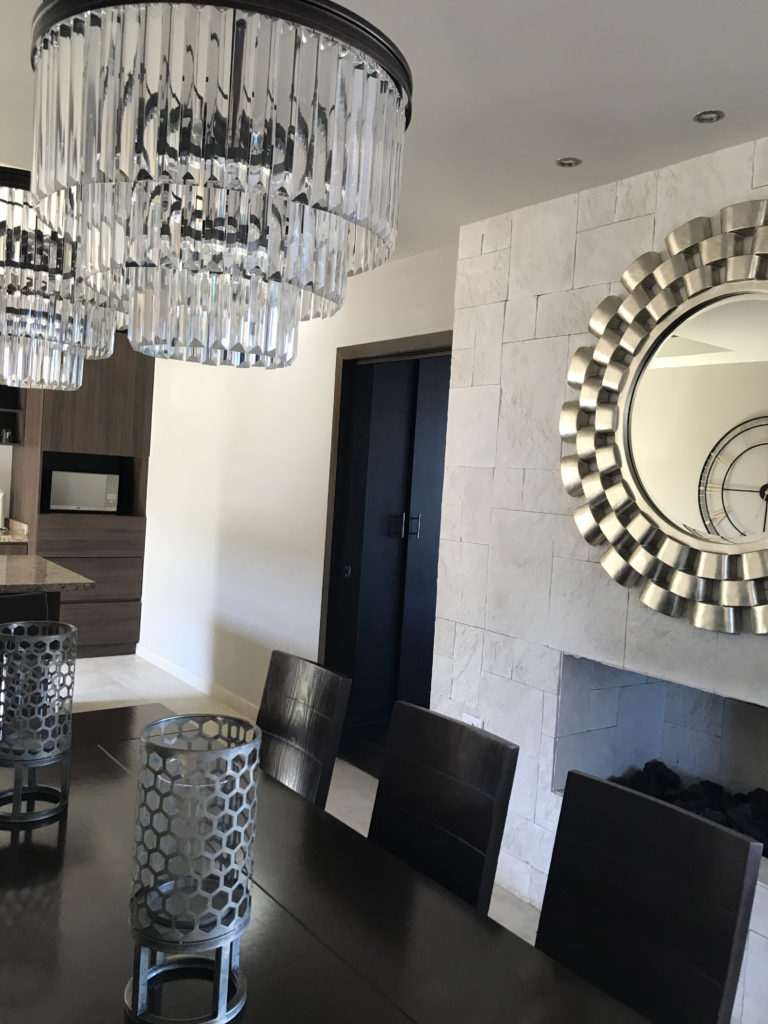 Our first stop in the Valle de Guadalupe was El Cielo Winery & Resort where we were staying for our trip. Spectacular is how to describe the complex. We toured the winery and then checked into our rooms. You can either stay in a very large bedroom suite in the top half of a villa or reserved the downstairs portion with a huge master suite (complete with a walk-in rain shower experience) and a kitchen with a large sitting area appointed with a foldout sofa bed and another bathroom. We chose the bottom portion and were quite comfortable during our stay.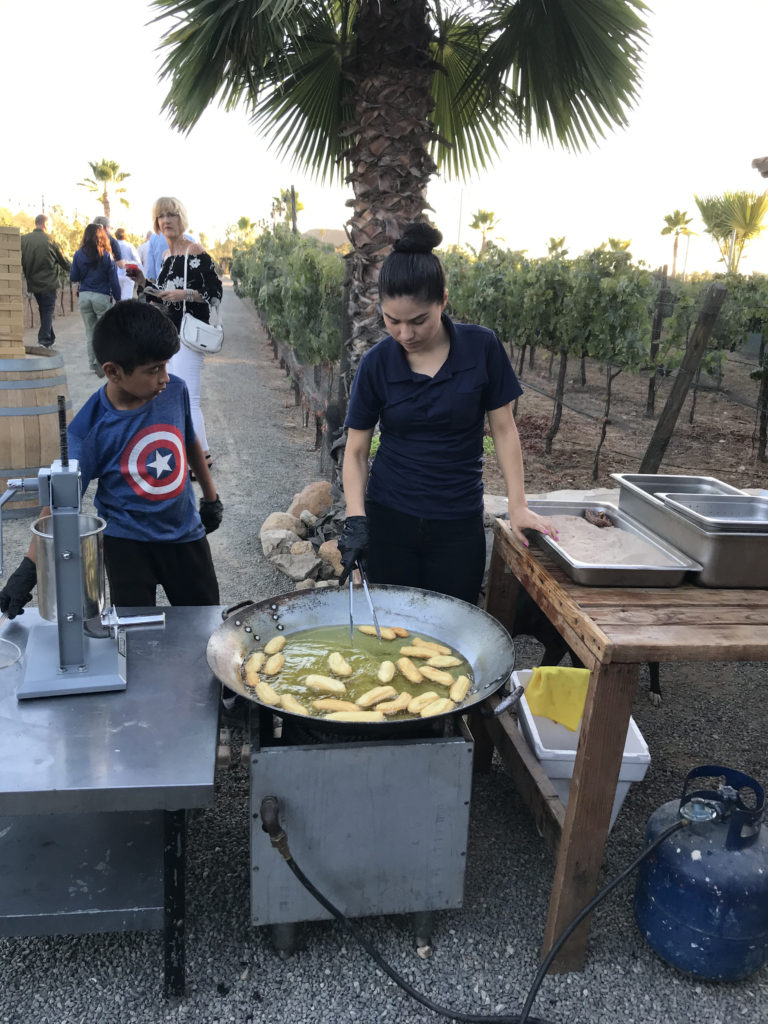 Lechuza Winery was the second stop on our tour. This winery is very much a winery owned by a family who has worked to create a special place. In 2002,  Patty and Ray Magnussen rode their bikes from Rosarito to Ensenada.  After making friends with a local winemaker, Ray studied enology at UC Davis and then started planting vines. This was the beginning of the family winery.
Our dinner presentation was outside of the tasting room with stations set up with food and wine pairings. Earlier in the day while in Ensenado we met with Chef Rafa to select seafood to be served for the evening. This, paired with a refreshing wine cocktail and then some beautiful wines from Lechuza made for a perfect outdoor dinner of grazing from station to station. The highlight of the evening was the churros which usually aren't anything I love, but these were amazing.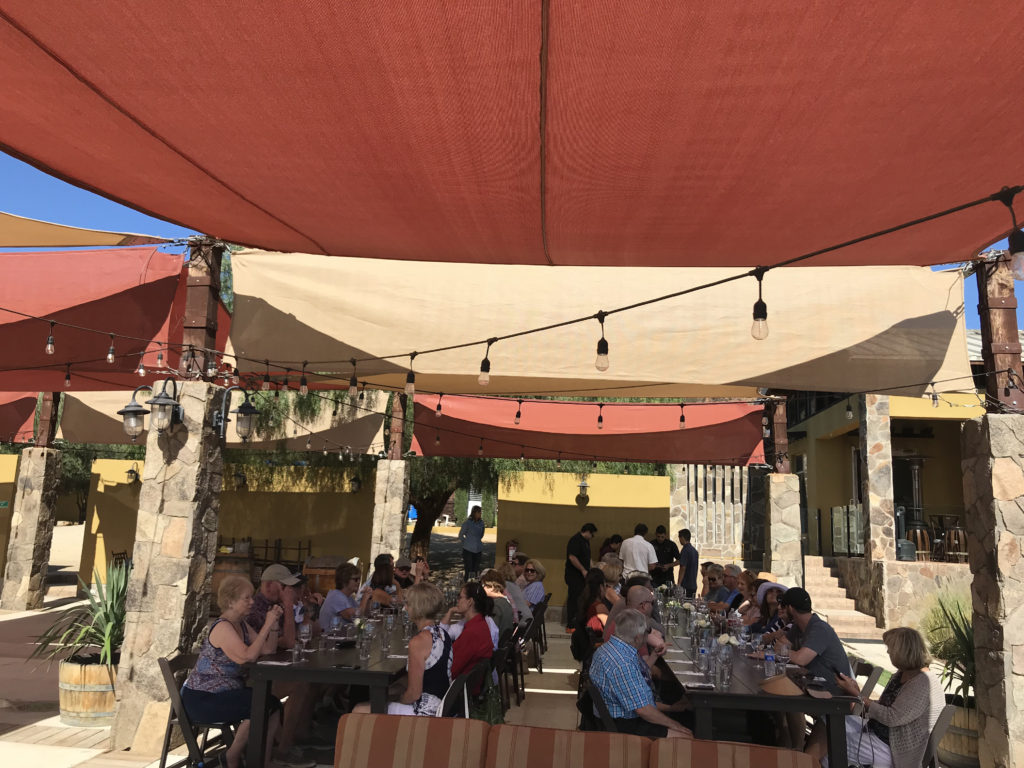 A new winery to me was Bodegas F. Rubio founded by Francesco Rubio and is a family affair. In fact, the "F" in the name of the winery stands for "family" and not Francesco's name. We traveled down a long dirt road where this vineyard sits tucked up against the Sierra Blanca, where there is underground runoff water from the mountain range. As we approached the winery, we loved the orange triangular sun shade sails floating above the outdoor seating, a perfect welcome next to the drought tolerant beautifully landscaped garden.
The winemaker, Alberto Rubio, together with the clay loam soil, allows Alberto to produce elegant wines with Italian grapes of Nebbiolo, Montepulciano, Sangiovese, as well as Palomino, Chenin Blanc, Tempranillo and Malbec.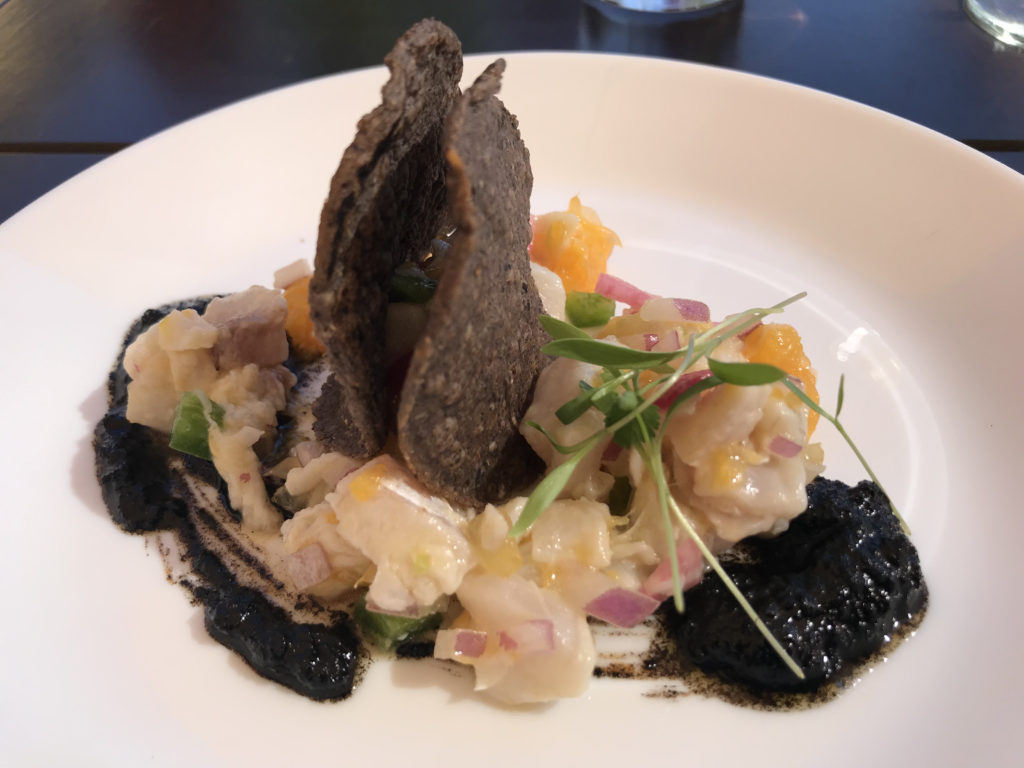 Chef Alex Rubio introduced the wines and food pairings to us. The first thing you notice about the label is that there are always three elephants. Why are they there? Mario explains that Three elephants honor the first three Rubio granddaughters. Elephants represent certain characteristics that Francisco Rubio finds essential in life. He feels these characteristics create a strong and bonded family unit. First, elephants care about one another and stay together. Secondly, they have a very good memory, so Francisco wants everyone to remember the Rubio family wines. Thirdly, elephants take very good care of their young.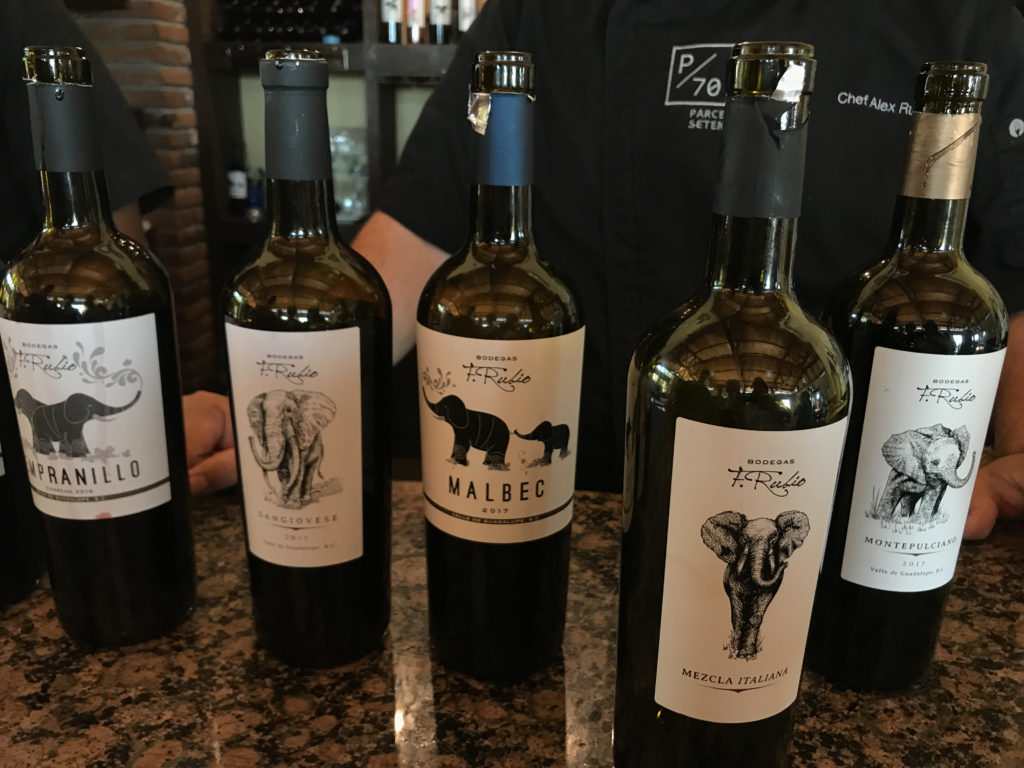 Chef Alex Rubio created some amazing and creative small plates to pair with the exquisite wines. This was my first glimpse of ash as a garnish for small plates. (I have been reading lately that there is a trend towards serving charred food because it brings out the flavor and sweetness in the vegetable.) We were served a perfectly fresh ceviche in mandarin sauce with ashes of bell pepper. Next came a Korean taco of pork with steamed buns. If you are a vegetarian, don't worry. Some in our group were served a steamed bun taco of cauliflower in mole sauce. I could have been a vegetarian here with Chef Alex's creative spin on food.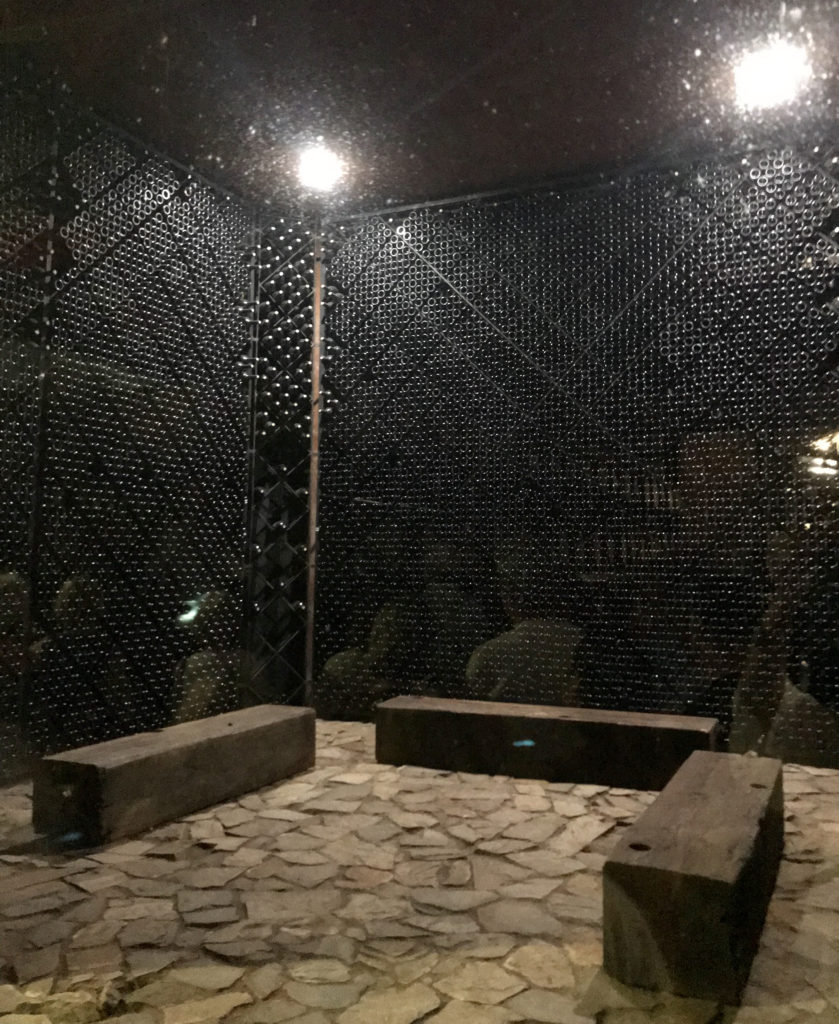 Decantos Vinicola, as the name implies, works by decantation or gravity, eliminated mechanical pumping and just uses gravity. Decantos is the first Mexican winery to completely eliminate mechanical pumping in winemaking, in order to obtain a better structure in color, aroma and flavor. We found Carignon, a grape we saw at a lot of Guadalupe Valley wineries, as well as Chardonnay, Nebbiolo, Tempranillo, and Syrah.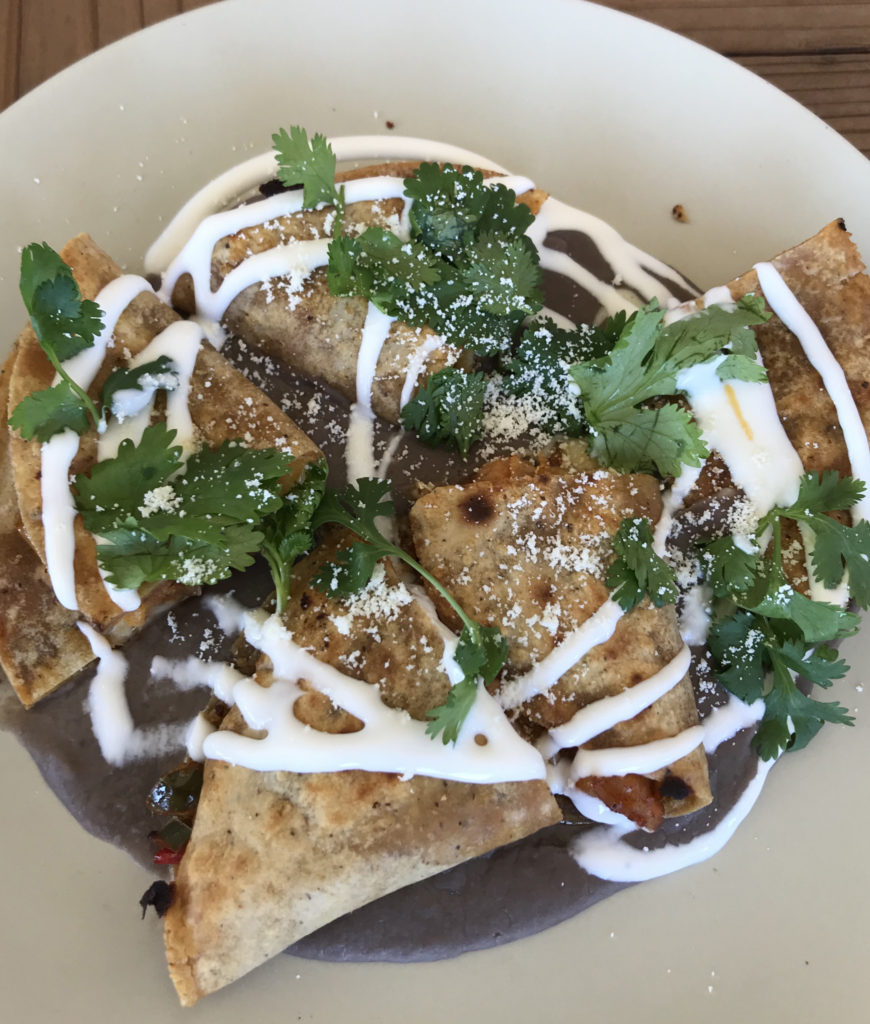 The views from this winery are spectacular with its almost 360 degree wrap-around windows. The cellar is dug into the rock of the area. We found a beautiful glass-enclosed wine cellar with seating inside and a waterfall near the wine barrels to help add moisture to the barrels as the wine ages. One of the large barrels is engraved with the saying "El Arte es una bestia que domina todas las lenguas." I had to translate it, and it means, "The art is a beast that dominates all languages." We found a lot of beautiful art, including the architecture of the winery itself.
We were served small bites again as part of our day of tastings rather than a large meal. Decantos served us ceviche, taco pescador, and teriyaki glazed vegetables. I found it interesting that two of the wineries serving small plates had an Asian influence in their dishes.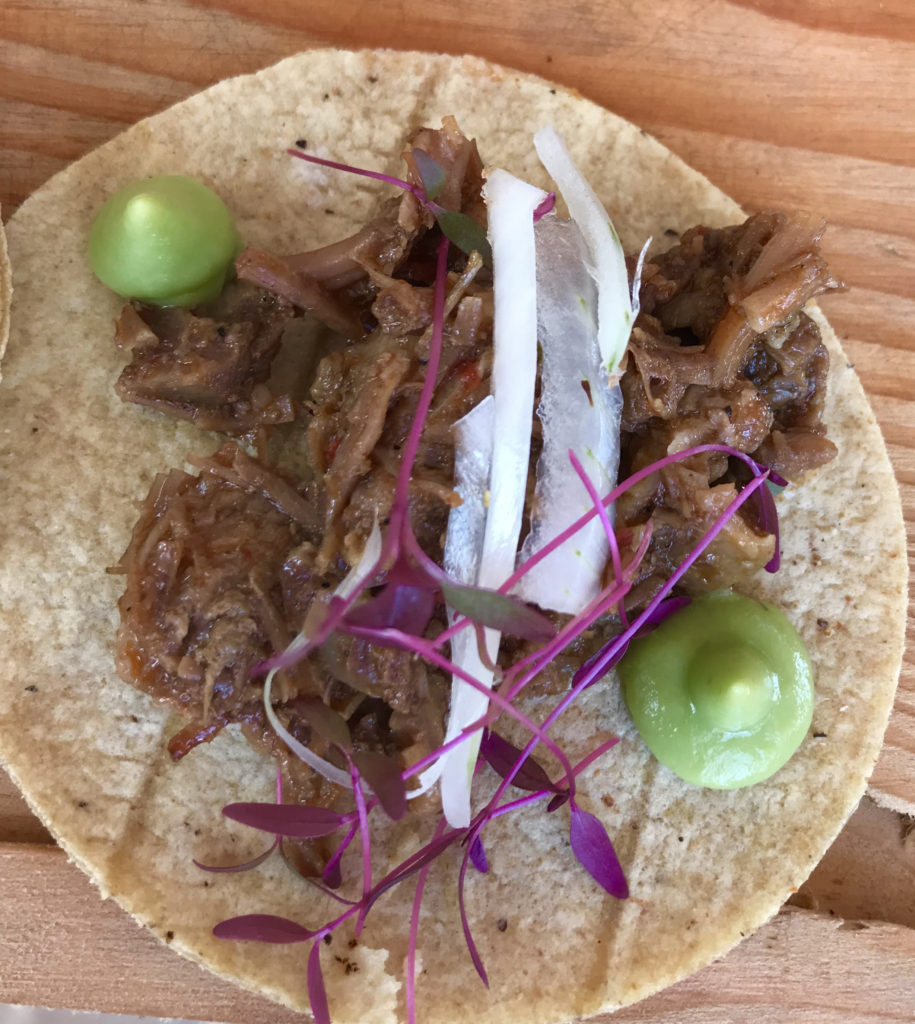 But we were not finished for the day. We were off to Vinos Pijoan for small plates and wine tasting. The owners like to say they have honest wine. We thought they had delicious wine. Pau Pijoan, the patriarch of this family-owned winery, originally was a veterinarian. This science background has given him knowledge of the chemical process of great winemaking as well as classes at La Escuelita, considered a catalyst in the development of Mexican viticulture.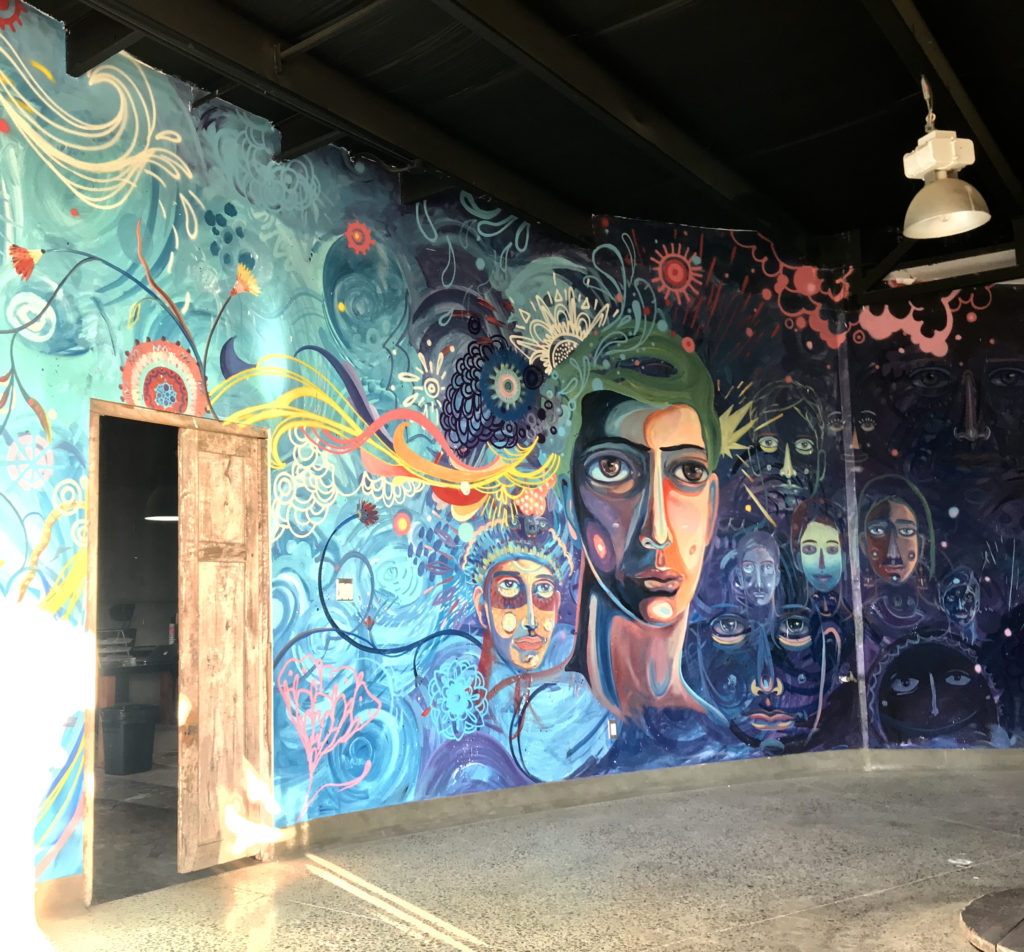 La Lomita Winery, meaning "the hill" was our next stop and where we were going to have a dinner. They have been practicing organic viticulture since 2012. We found Tempranillo, Cabernet, Merlot, Sauvignon Blanc, Chardonnay. My favorite of the evening was the Grenache, made just like I like Grenache—not too sweet, crisp, light tannins, and berry flavored. They also carry a large collection of imported German wines.
When you walk inside La Lomita, there is a tasting bench built in a circle around the open floored two story building where you can see the barrel room. Art surrounds about half of the main floor wall and glass with view of the vineyards made us excited to meander down the trail to the outdoor dining area. Their beautiful wines awaited us on a table to be brought to our dinner.  Our dinner could not have been more perfect with its garden setting next to a small waterfall and sunset view of the entire valley. The vibrant peach and tomato salad topped with a garlic flower was a beauty to behold. Colorful grilled vegetables were plated with a rich mole sauce, waiting for us to devour. The main course of grilled chicken with roasted corn and a cream sauce was simple and mouth-watering. Banana Crème Brûlée completed this most perfect evening. As the sun set, we watched our driver talk to the winery dogs and play "You ain't nothin' but a hound dog" on his phone to them, we could not have asked for more.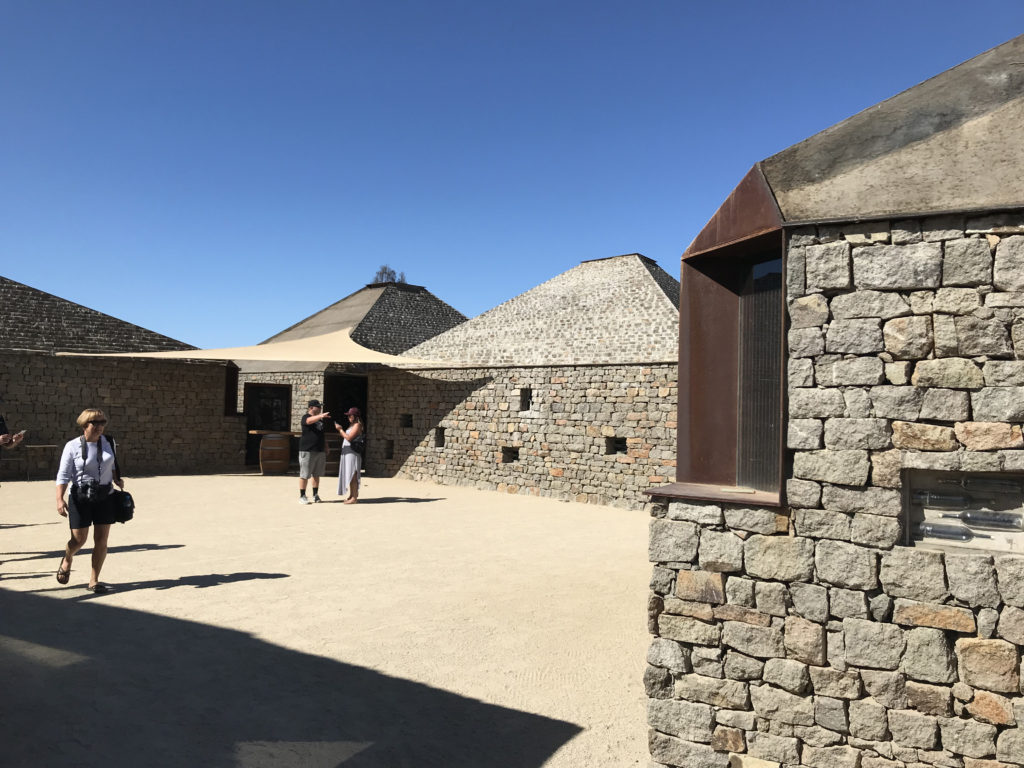 The last day of our trip brought us to what is probably my favorite winery. I love the wines and I love the architecture for its uniqueness. Clos de Tres Cantos, designed by architect Alejandro D'Acosta, known for his niche designing stunning, upscale wineries and having a passion for using reclaimed materials, designed this winery. At Clos Tres Cantos you find recycled furniture with a concrete makeover to walls built from used wine bottles.  Over 90% of all the materials used to build the winery are reclaimed from the region.  The interior of the cellar is lit naturally as the sunlight passes through wine bottles filled with water and alcohol to further enhance the brightness. You can see Clos Tres Cantos from a distance by the three pyramids on the hill, echoing the mountains in the background. Everything about this winery supports what owners, Joaquin and Maria, believe as their philosophy of life.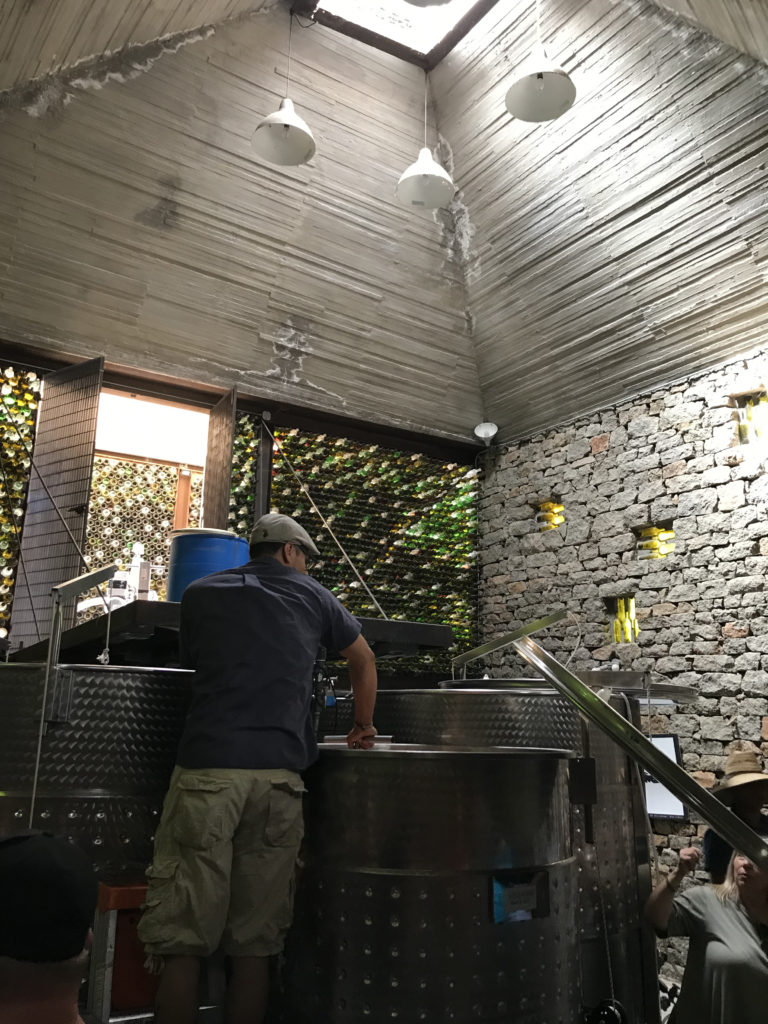 But let's get to the food and wine. All of the wines of Clos de Tre Cantos have unique names such as one of my favorites, "Nada,"a blend of Tempranillo & Petite Sirah, with a stark white label. All the wines have philosophical names. Since it was International Grenache Day, we had to sample a variety of Grenache wines. My favorite that I could not resist bringing home was the TuMismo, a blend of Carignan, Grenache, and Mourvedre. We tasted notes of chocolate and tobacco. My favorite food pairing was shredded and pressed lamb on top of a sweet potato puree with a mild chili sauce.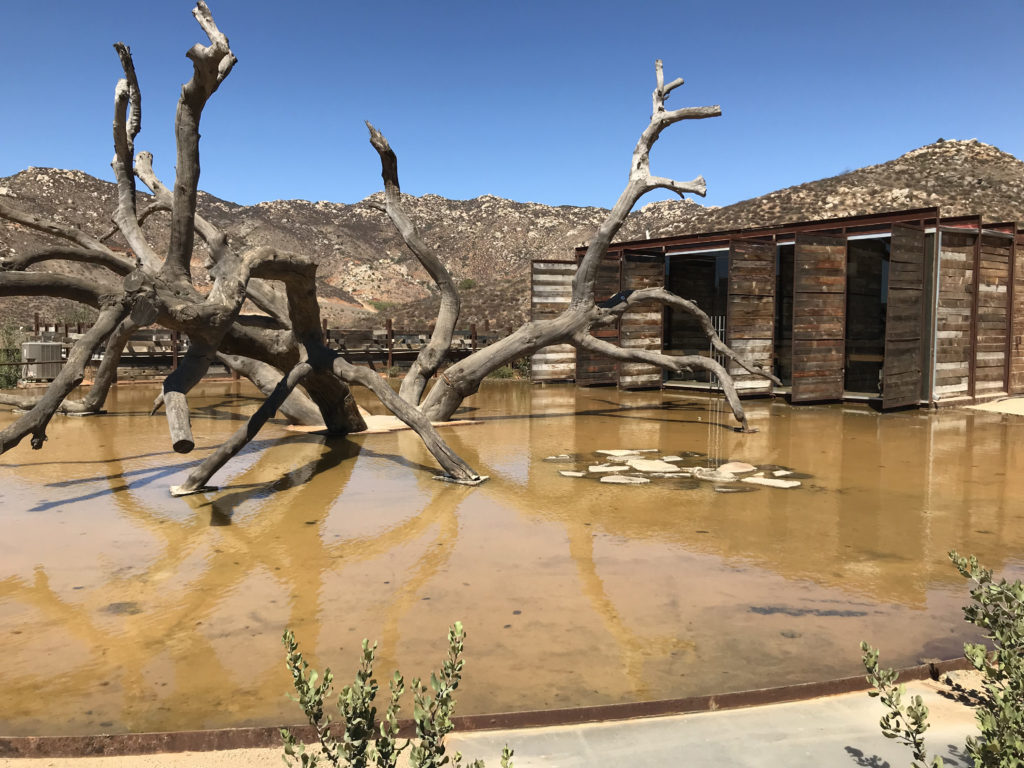 Bruma Winery was our last winery stop and lunch at the next door Fauna Restaurant. This place is a class act. Architect Alejandro D'Acosta. D'Acosta brought his unique artistic vision to Bruma. By using a 300-year old oak tree that had died, he was able to use tons of building material. The branches were cut from the trunk and used as weight-bearing timbers. The trunk is used as the center of the production and tasting room. Atop all of this is part of the tree itself centered in a small pool of water where lights reflect at night creating an other-world feeling. After spending 15 years making wine in the Bordeaux region, winemaker Lulu Martinez returned to take over making wine at Bruma where she blends her Mexican heritage with French culture. Next year will be the first that Lulu's wines will be available, and I am told there will be much excitement when they are released.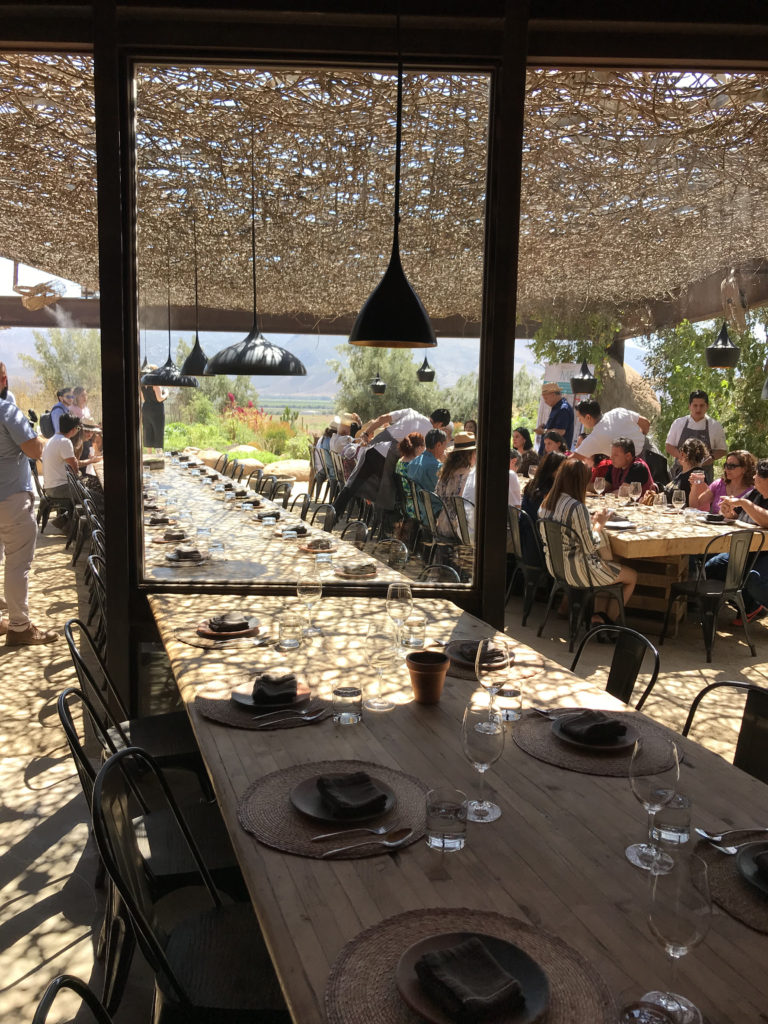 Fauna Restaurant was more than any of us could have expected. A contemporary setting with a table that reaches from the length of the interior to the same length on the exterior and through the glass wall, this restaurant is spectacular. We were greeted with a special cocktail of grapefruit juice, tequila, a little sweet vermouth, and a small amount of lemon. So refreshing and a perfect blend. Service is spot-on.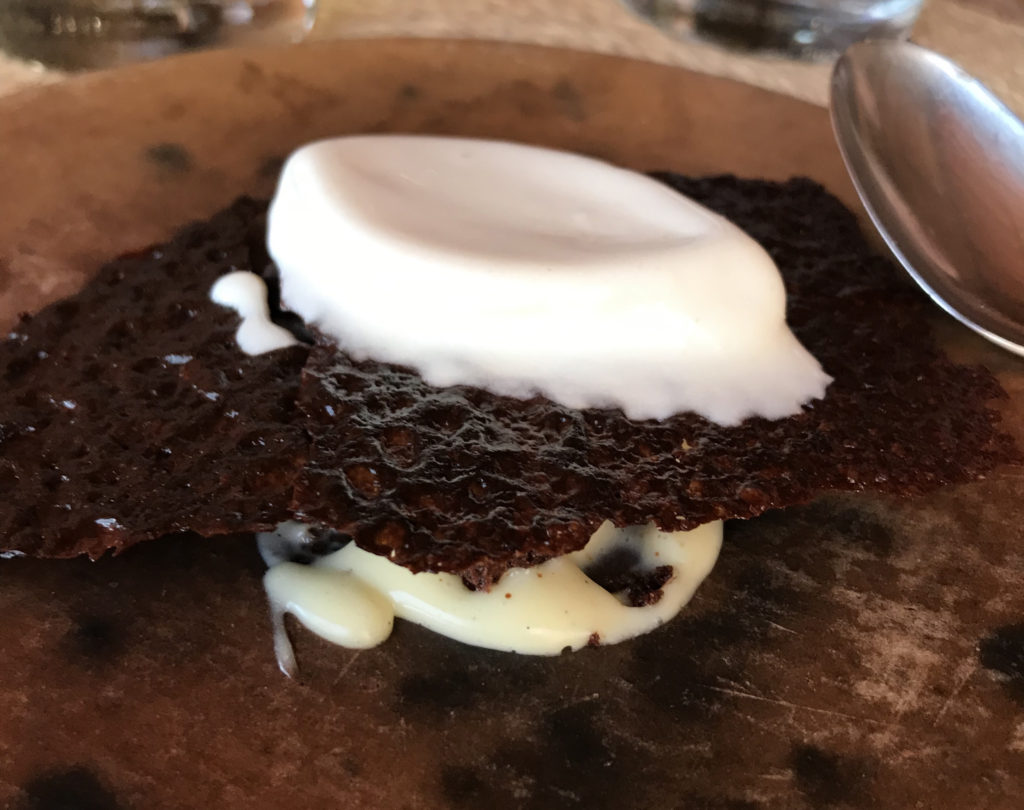 When the food is ready, a troupe of waiters appear at all the tables, meeting every need of the diners. Chef David Castro Hussong and Chef Maribel Aldaco Silva don't apologize for their native cuisine that is constantly in transformation. Our meal ended with a creative presentation of banana ice cream atop a chocolate cookie topping brownie pieces in a cream sauce.
The ruralness of the Valle de Guadalupe is a huge draw for wine lovers. The architecture is so creative and spectacular. The food makes use of local ingredients presented in a special manner. The wines are delicious and speak to the valley and excellent winemakers. All of this makes the Valle de Guadalupe worth being on your bucket list of places to experience.
If you would like to order some of these wines of the Guadalupe Valley,  LMA Wines sells a variety, including Bodegas F. Rubio wines and Lechuza.