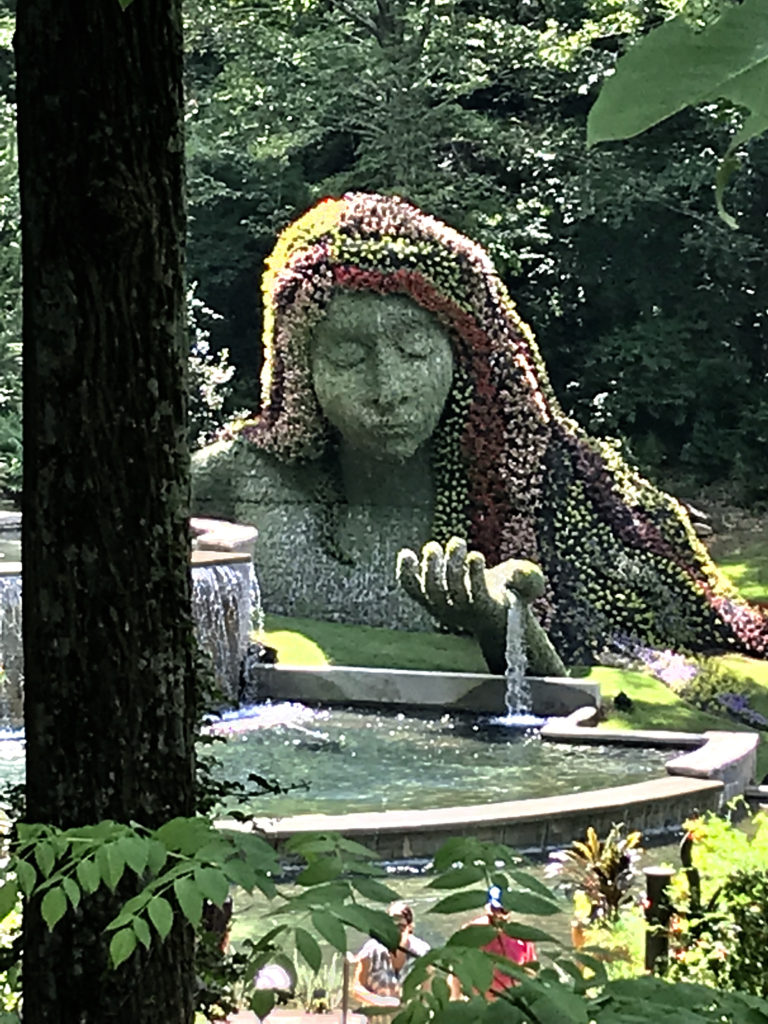 What's with Peachtree and the city of Atlanta? There are 17 streets within the city limits of Atlanta that have Peachtree in their name, but there are no peach trees. This mystery surrounding all the Peachtree streets fascinated our group of IFWTWA (International Food, Wine & Travel Writers Association) as we embarked on our adventure in this city oozing with Southern charm.
Peachtree actually came from a large Creek Indian settlement called Standing Pitch Tree. The Creek used trees with fresh pitch for treaties. "Pitch tree" became "peach tree" to English speakers. We were told by our knowledgeable CVB host, Lindsey Watts, that there is actually one peach tree in Atlanta on top of one of the hotels. That's all there is.
For the Love of Coffee at MODA
To get us off to an early start, Passione Italiana: the Art of Espresso at MODA (Museum of Design Atlanta) was our first stop of this trip. MODA is the only museum in the Southeast devoted to all things design.  On display were espresso machines starting as early as the 19th century when steam was used to reduce brewing time. One of the largest and most beautiful machines was the Gaggia Milano, one of the first espresso machines using steam but also water to extract essential, soluble oils that gave the frothy foam on top known as crema. The next exhibit coming to MODA is Wire & Wood: Designing Iconic Guitars starting June 29, 2019.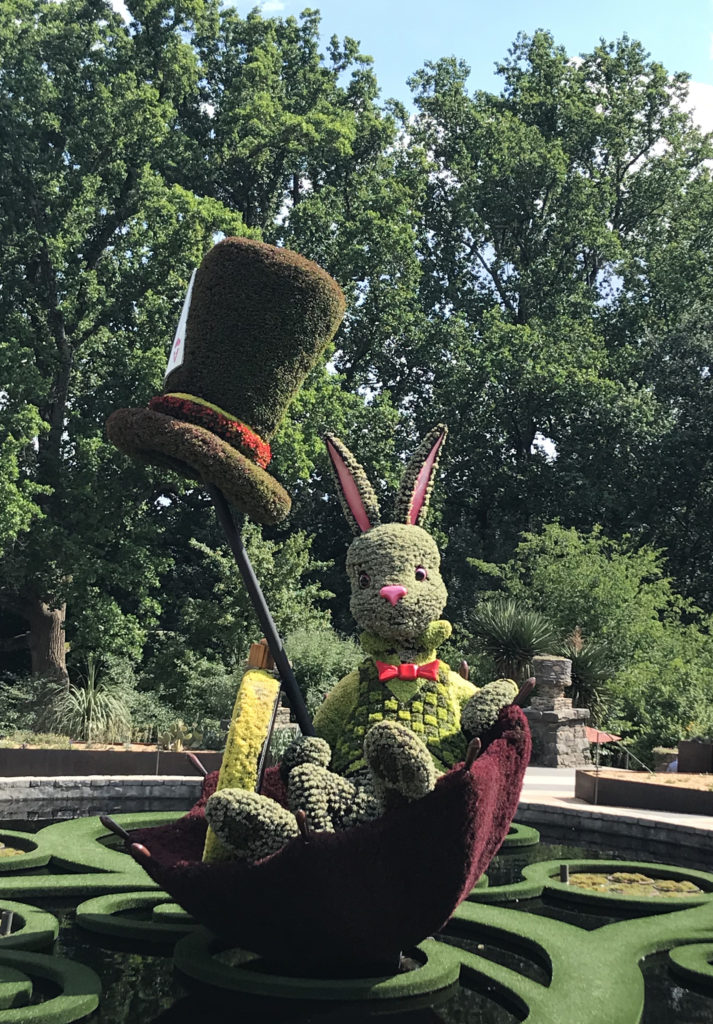 Beauty in the Garden
A highlight of our trip was the 30 acre Atlanta Botanical Garden, the home of the edible garden and all things magical. Imaginary Worlds: Alice's Wonderland, comprised of over 200,00 plants with an intricate irrigation system, is home to a giant white rabbit (27 feet tall) inside an umbrella, a dragon, Phoenix, Pegasus, and camels.
At the end of the garden sits the Outdoor Kitchen with herbs, local Southern row crops, vegetables, and fruits. Some of this produce goes to educational classes taught at the open-air kitchen in the garden. The rest is donated to the Atlanta Community Food Bank to help feed over 750,000 Georgians annually.
Do not miss the Earth Goddess, a 25 foot sculpture made of flowers and plants, sitting peacefully adjacent to a cascading water feature. Luckily for all, she is a permanent display at the garden.
A Tribute to the BeltLine-Local Motives
When we walked into the newly opened Local Motives restaurant, we were met with the visual creativity by local artist, Eric Randall. He created a  69'3" x 9'6" mural which spans six walls, "inspired by transportation and movement" reminiscent of street art around downtown Atlanta and Atlanta's Beltline project which connects the city's neighborhoods.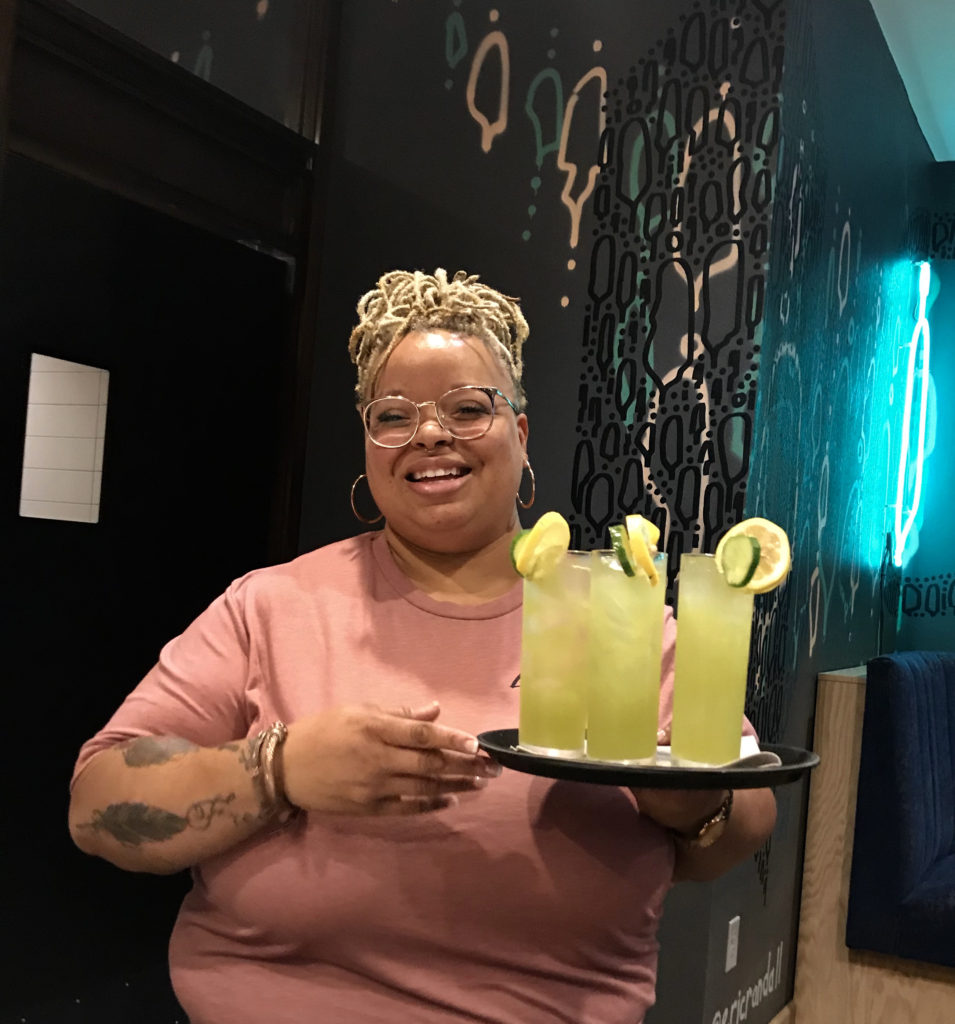 Tenise at Local Motives restaurant at the W Midtown Hotel knows how to make cocktails extraordinaire at this newly opened restaurant. It features a bar, dining area, the café portion with grab-and-go items and local coffee by Docent Coffee, and a private dining room with an entrance inspired by MARTA's (Metropolitan Atlanta Rapid Transit Authority) train doors. On the ceiling is fluorescent lit signage showing MARTA's train lines.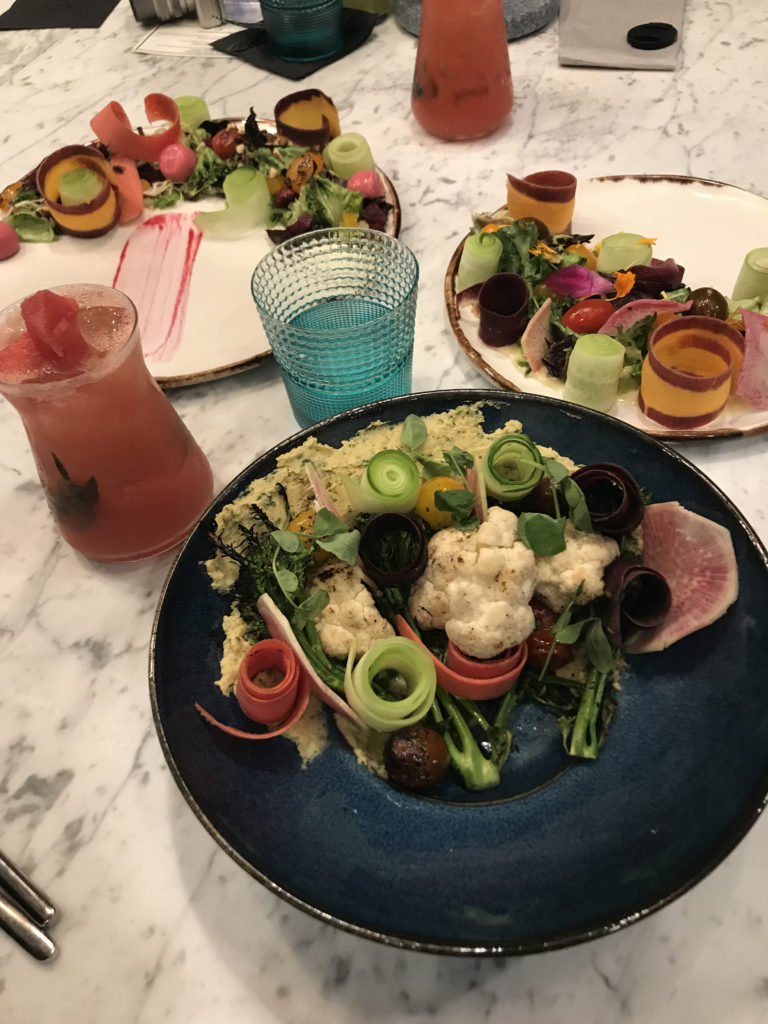 Try the Charred Octopus, Sous Vide (a method of partially cooking and then vacuum sealing for 24 hours) and grilled to perfection. Tenise prepared a refreshing cocktail of gin, elderflower, fresh cucumber juice, lemon, and ginger she calls the Brunchrita to compliment the octopus. Next up was the Beet Salad of beet panna cotta, roasted baby beets and edible flowers. A watermelon cocktail paired well with our salads.
A delicious main is the Vegetable Hot Pot with pho broth, udon noodles, and garden vegetables. We also loved the Fisherman's Stew and the 24-hour braised Short Ribs. Local beers by local breweries went well with these mains.
If you are there for breakfast, I highly recommend the Avocado Toast consisting of avocado, ciabatta, lil moo cheese, and marinated tomato. This is truly the best avocado toast I have tasted. Another hit for breakfast is the CinnaBOMB, a giant cinnamon roll able to feed at least five people.  We were stuffed and delighted by all that Local Motives offers.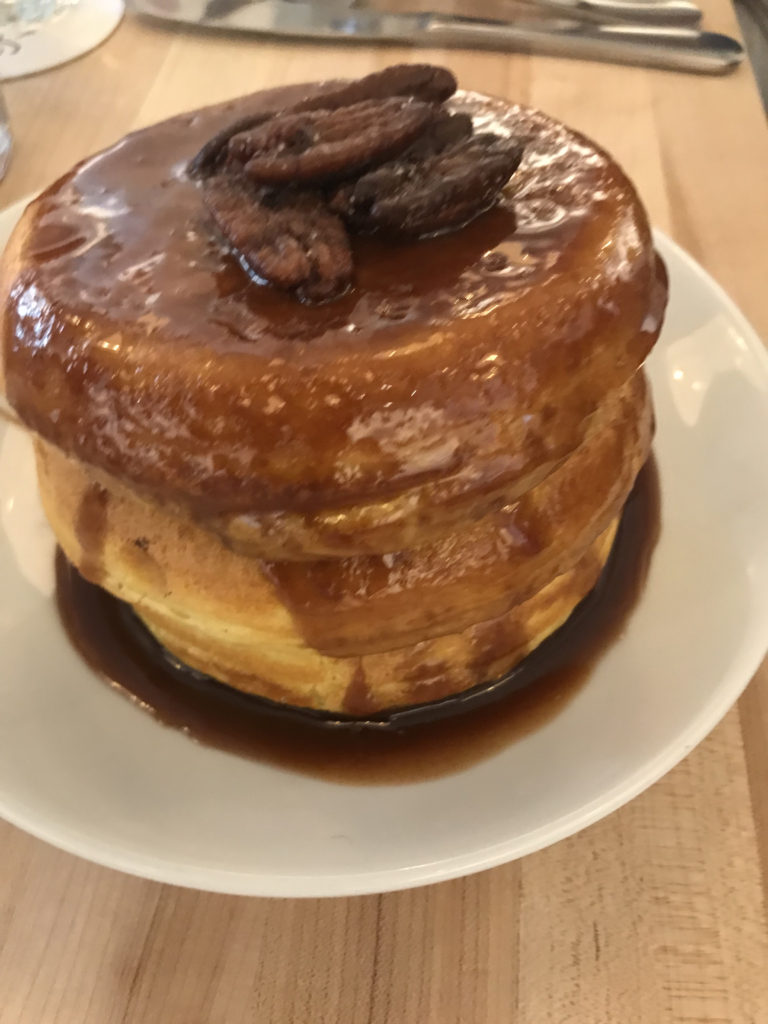 Ponce City Market and Pancake Social
If you love pancakes, be sure to visit Pancake Social at the Ponce City Market. One of the creations you will find by the James Beard award-winning chef, Anne Quatrano, is the Big Pecan Praline Stack, capable of satisfying any sweet tooth. We tried the Crispy Fried Chicken atop the Buttermilk Pancakes which proved to be delicious and so Southern.
After fueling up for the day, wander around the Ponce City Market, the former home of the South's train-stop headquarters for Sears, Roebuck & Co. and linked directly to the BeltLine (a former railway corridor around Atlanta being developed as a multi-use trail. We found chefs and fresh produce and some of us were tempted into purchasing a few clothing items.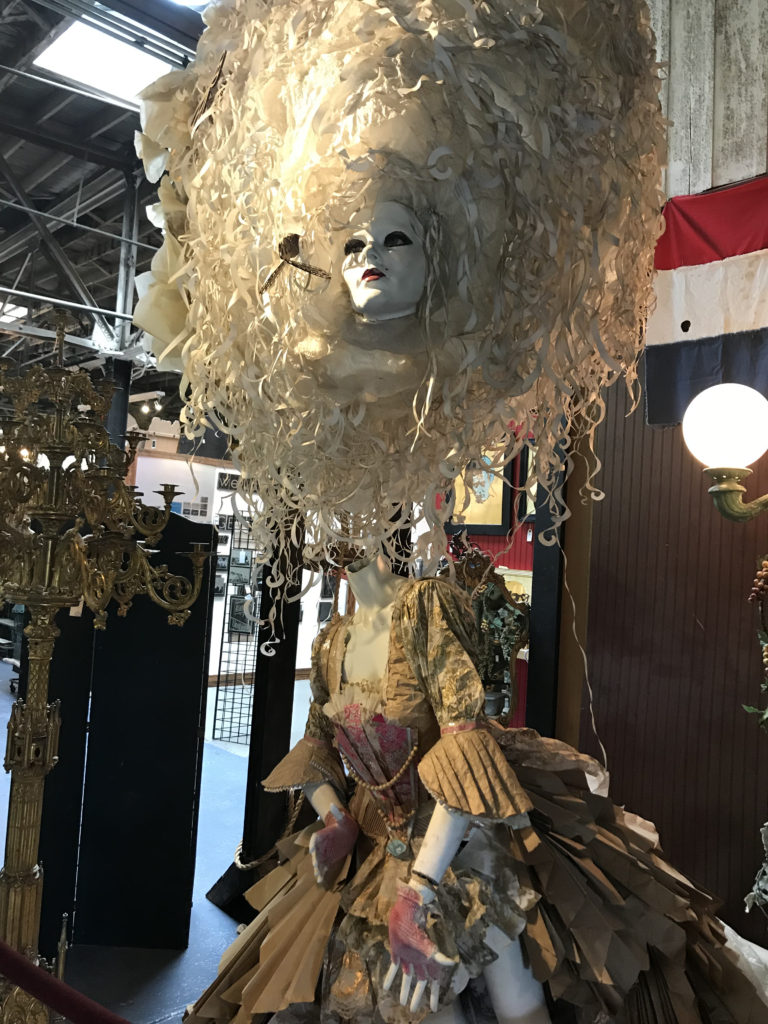 Paris on Ponce
Next stop is Paris on Ponce, over 46,000 square feet of antiques, décor, art and delightful odds and ends. It's a visual delight with a French punch.
Krog Street Market
With all the eating available in Atlanta, a walk along the BeltLine amid parks and green spaces to Krog Street Market is a great idea. This renovated 1920's warehouse lets you choose just what kind of meal you crave with plenty of shops to visit. Some of the items for sale are chocolates, housewares, and wonderfully fragrant candles. Krog Street Market is rated one of the Ten Best Food Halls in the U.S. by Fodor's Travel.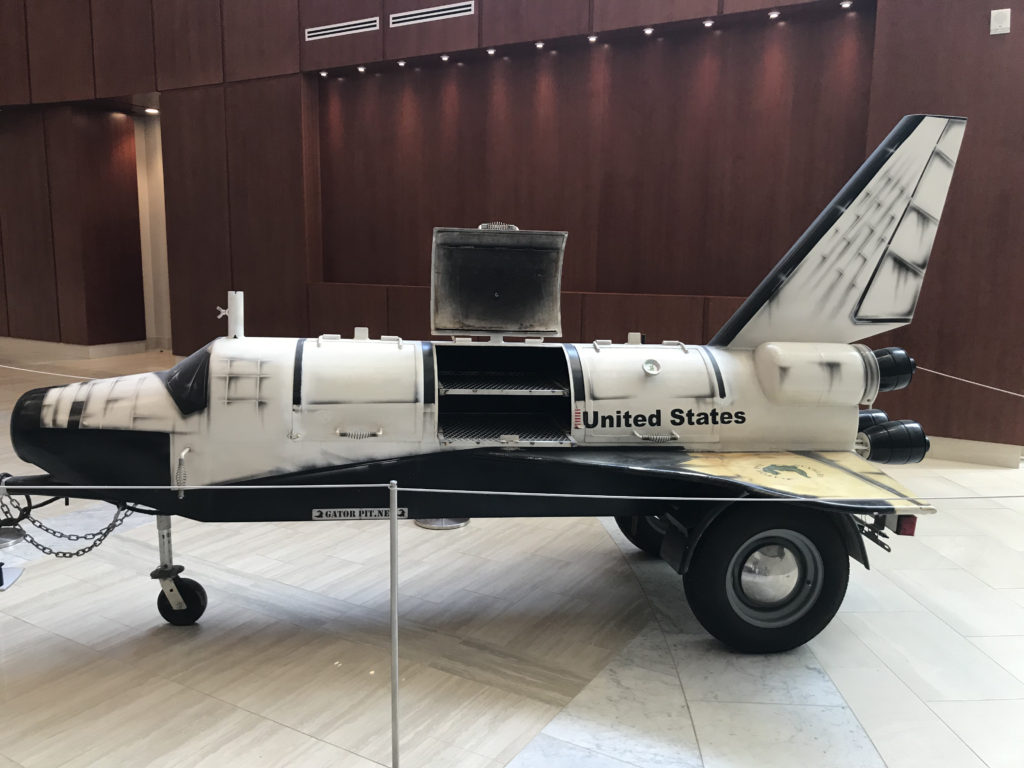 Atlanta History Center
One of my favorite places to visit is the Atlanta History Center. Since we were in the South and home to Bar-B-Que, a trip to Barbecue Nation was in order, a temporary exhibit that will be at the center until September 29, 2019. Fascinating was the Space Shuttle Barbecue Smoker from Gator Pit of Texas. This shows how unusual a barbecue can be. Our guide (who helped curate the exhibit) was Jim Auchmutey.  Mr. Auchmutey has just published a book called Smoke Lore, a Short History of Barbecue in America which would be a great gift for anyone loving barbecue.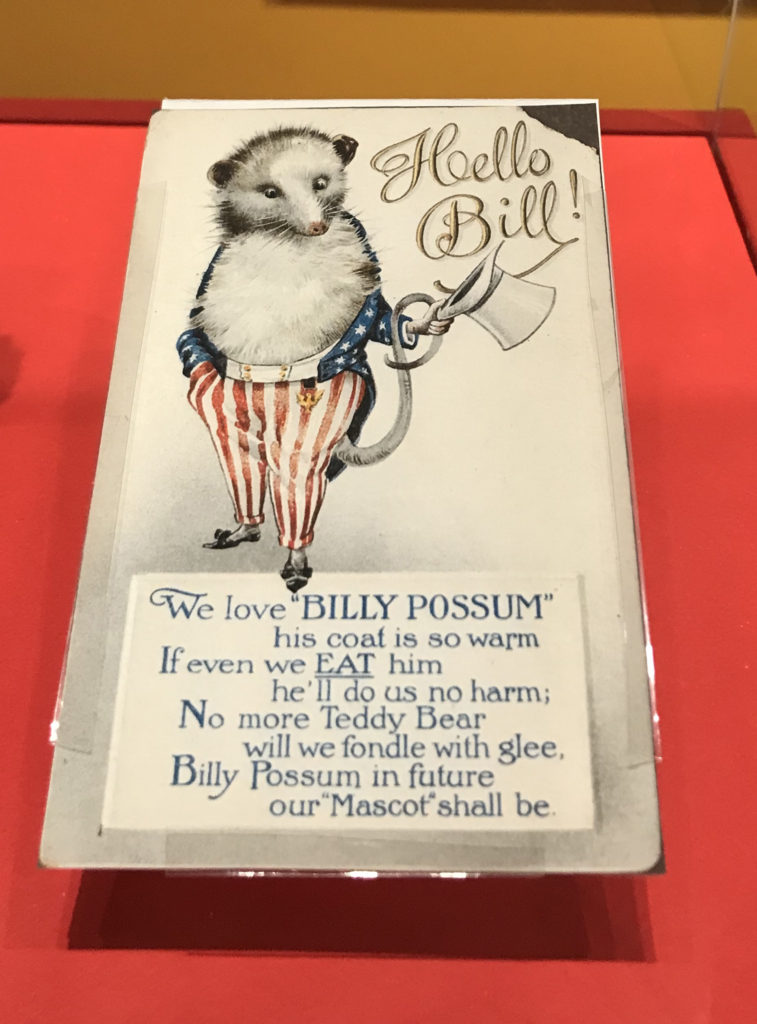 An interesting display was "Billy Possum," a stuffed toy representing the opossum served as a local flavor at a dinner honoring President-elect William Howard Taft, a counter-part to Theodore Roosevelt's "Teddy Bear." Who would have thought this could be on such a menu?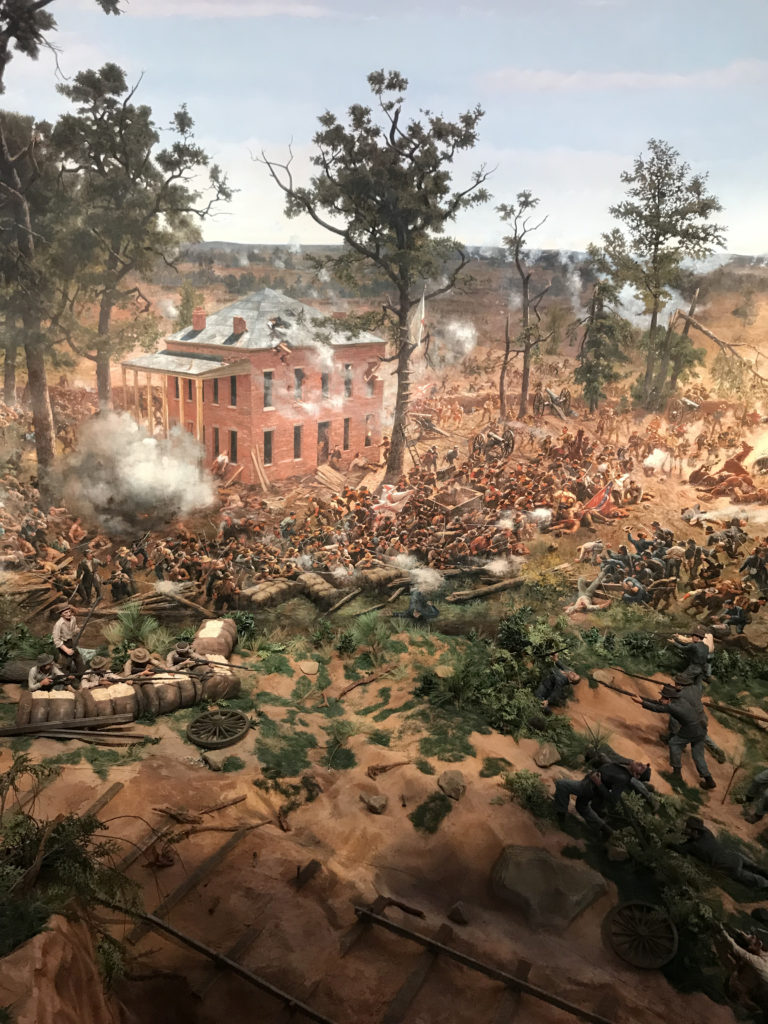 The Atlanta History Center is also home to Cyclorama: The Big Picture, created at the American Panorama Company in Milwaukee by 17 German artists. Cycloramas predated Hollywood talkies and acted as 3-D IMAX movies of their time.
The Battle of Atlanta, a 132-year-old hand-painted work of art that stands 49 feet tall, is longer than a football field, and weighs 10,000 pounds will instill awe in you. It is one of only two cycloramas in the United States. I would put seeing this at the top of my list.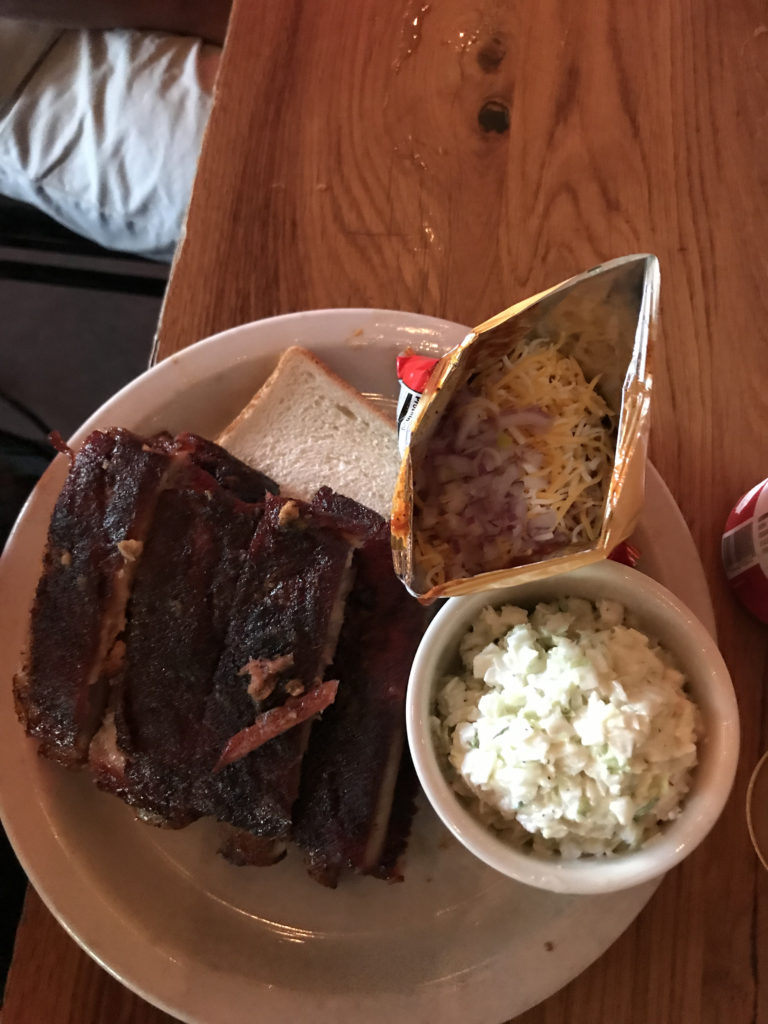 Fox Bros. Bar-B-Que
For a true Southern Bar-B-Que, head to Fox Bros.Bar-B-Que, home to classic Texas-style barbecue with a few interesting twists. On the menu is Fox-a-Roni (macaroni and cheese with Brunswick stew) and Frito Pie (served in a Fritos bag,) definitely must-try items.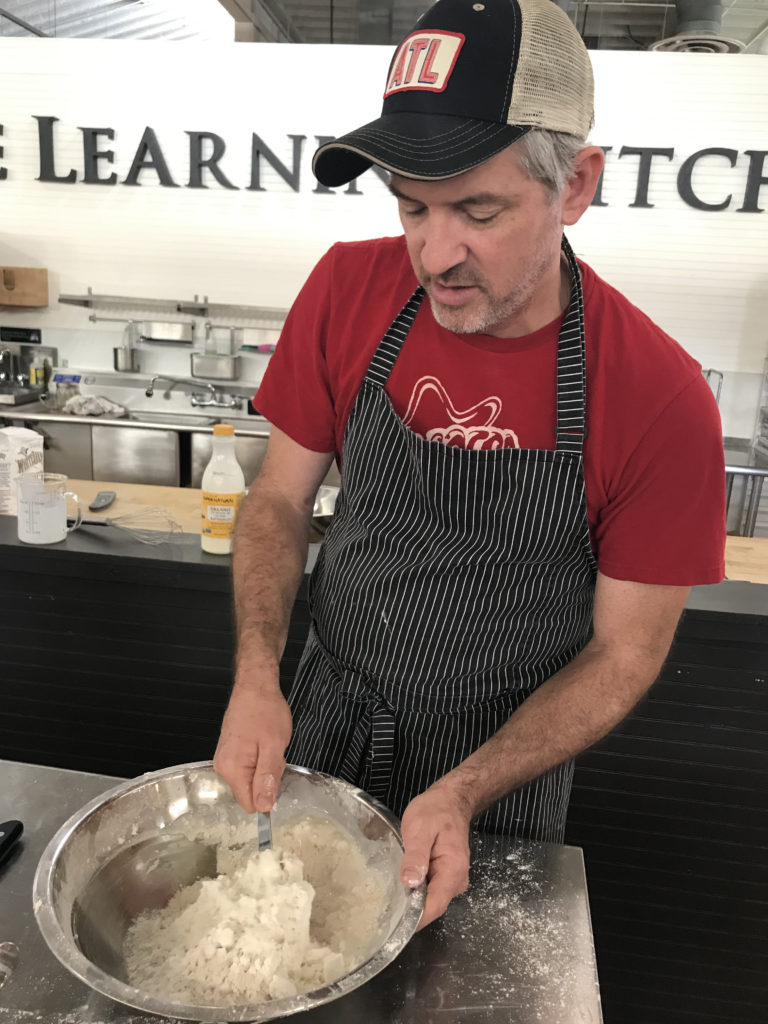 Sweet Auburn Curb Market and The Learning Kitchen
For a truly authentic produce and meat market, check out Sweet Auburn Curb Market, built in 1924 with 30 local businesses. We were lucky enough to take a cooking class at owner Beth Lord's The Learning Kitchen, a testing and teaching kitchen for both kids and adults.
Todd Hutchinson of Hutchinson's Finest (a Sunday morning biscuit and jam delivery service) taught us how to make biscuits. By the way, Todd's biscuit making love goes back to his grandmother who made biscuits filled with honey twice a day when he was a child. If that doesn't make your mouth water, then I don't know what would. If you would like the recipe, just let me know.
We created our own biscuits with coaching from Todd and were served an amazing breakfast of biscuits, grits, collard greens, sugar bacon, and scrambled eggs along with a Bloody Mary. What a way to finish our trip.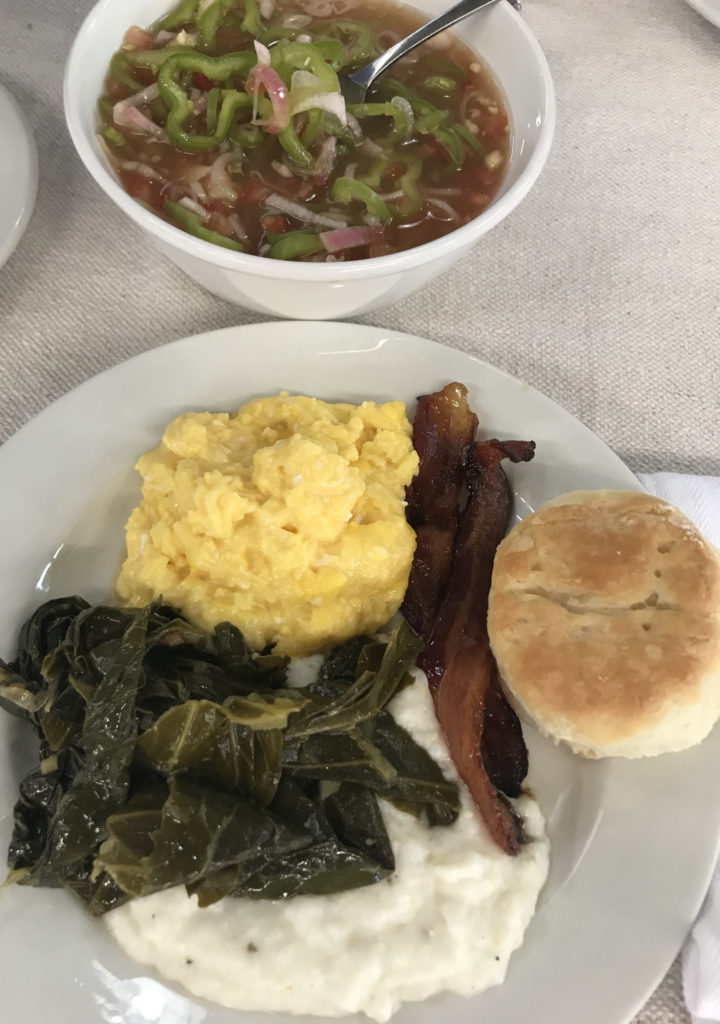 Hyatt Centric Midtown
We stayed at the Hyatt Centric Midtown in the heart of the Midtown art district, a hotel with modern decor and comfort within close proximity to everything we wanted to see.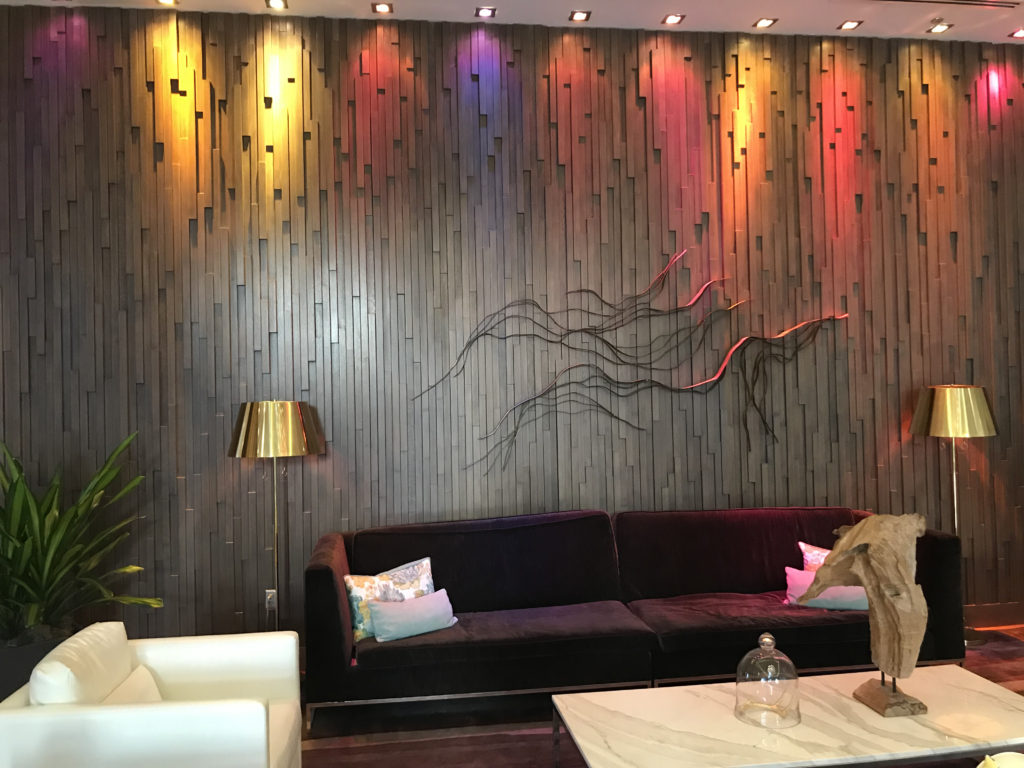 Atlanta has so much to offer visitors. We barely touched on what makes this city so proud and all they are doing to enhance the lives of Atlantans. We were hosted, but everything I mentioned was in my own words and a joy to experience.