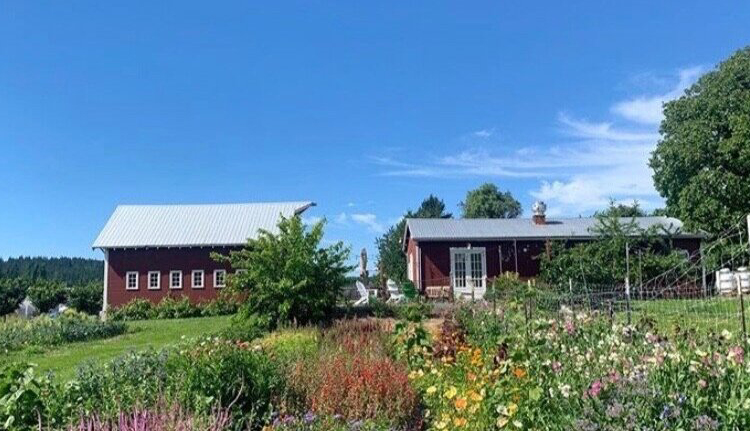 Just pick up a 1971 Betty Crocker's Cookbook, and you will notice how much food trends have changed. There is no mention of kale, kombucha, or coconut milk found in that cookbook. Under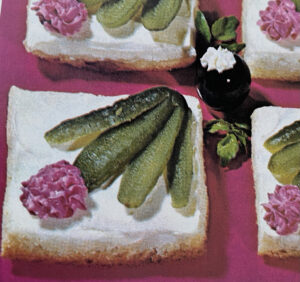 the heading of Appetizers, you will find Dipsy Devil, a spread of cream cheese and deviled ham. Then there are canapés of Petals 'N Pickles (pickle fans on cream cheese.) I still use my Better Crocker's Cookbook for some things like pie crust and a basic quiche recipe, but in general we are not cooking like they did back in the 1970's.
A couple of weeks ago a group of writers from the International Food Wine Travel Writers Association (IFWTWA) were invited to a webinar with chefs from throughout America. We listened to trends that these chefs are following right now in 2022. They were from Whidbey/ Camano Islands in Washington State to the Finger Lakes region of Hammondsport, New York.
Chef Dan Eaton at The Park Inn Restaurant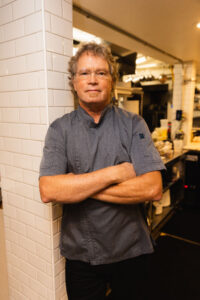 Overall, they are looking towards the future of their restaurants in a similar way and with the same respect for what nature provides them.
Chef Dan Eaton of The Park Inn Restaurant in Hammondsport, NY, prepares seasonally focused and locally produced ingredients in this restaurant located in the oldest building in Hammondsport. In March, there will be kale and spinach on the menu. As it gets more into the summer, there will be berries showing up in June. Chef Eaton staged at New York's famed Bouley and The French Laundry in Napa and hosted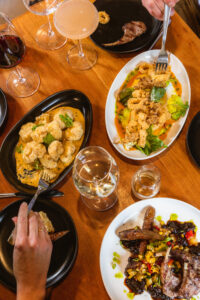 "Cooking at Home" for 12 years and created over 3,000 recipes prior to The Park Inn Restaurant.
Because The Park Inn Restaurant is in the Finger Lakes region of New York, the menu offers wines of the region as well as European wines. Riesling and Cab Franc are wines they often serve. Sometimes they will do a comparison tasting of Finger Lakes wines with European wines and pair all with food. They also host wine dinners with these pairings.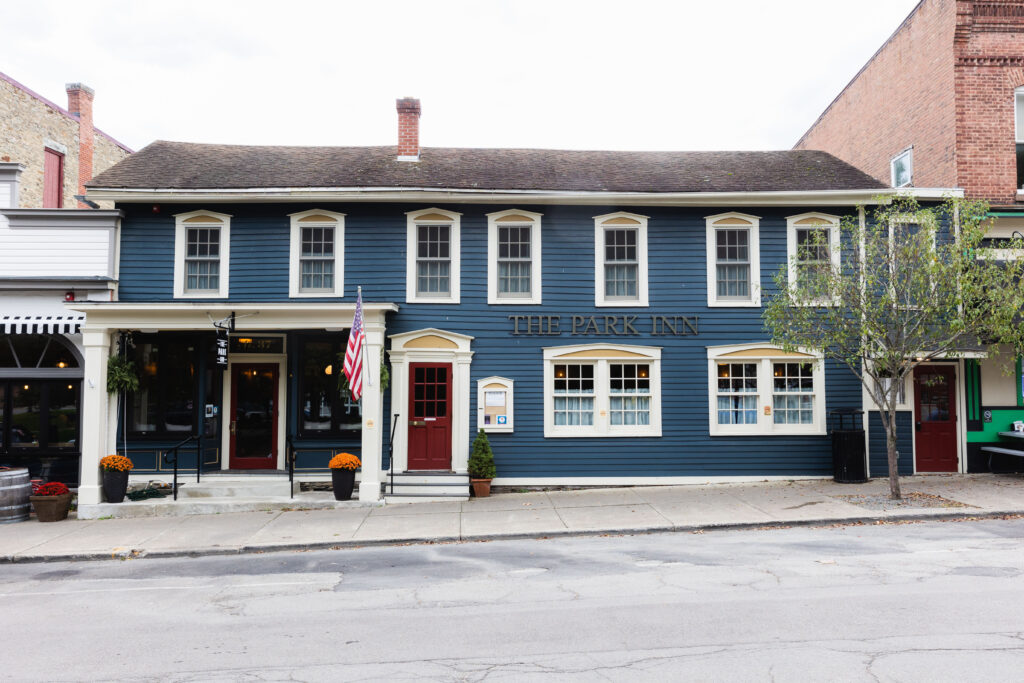 Chef Zane Holmquist at Stein Ericksen Lodge Deer Valley
Chef Zane Holmquist presides over the food and beverage service at Utah's only Forbes 5-star hotel and spa, Stein Ericksen Lodge Deer Valley. The lodge was the first luxury ski lodge in the country and named after Ericksen who is considered to be the godfather of skiing.
Chef Zane, a graduate of the Culinary Institute of America in Hyde Park, NY, oversees both the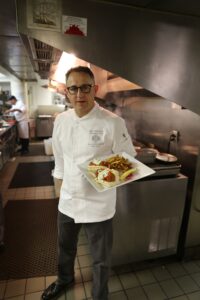 front and the back of the house and has been there for 22 years. The food and beverage sales this year should be around $22 million. Since the lodge is at 8200' it becomes necessary to sometimes source produce from far away. He buys a lot of his produce from Farmer Lee Jones at The Chef's Garden in Ohio, a most interesting farmer who wears overalls with a red bowtie. The bow tie is a symbol of his commitment to regenerative agriculture practices. As the season progresses in mid-July, they literally buy from down the road. Chef Zane likes to showcase both local and organic produce.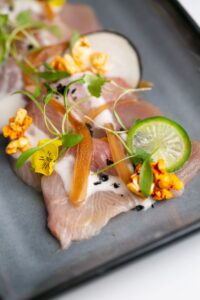 Because of his rich background in all facets of a restaurant, he has become very involved in culinary education. As we spoke, he told us they were having a senior staff meeting that day to work on immigration and housing issues that need to change so there is balance of life where restaurant workers are not expected to work 60-70 hours a week. They are considering whether or not they should close the restaurant for a holiday break for employees some time during the year or if they should hire more staff. He pointed out that the staff in all restaurants has for decades been underpaid. He considers himself a craftsman, and his philosophy is that restaurant employees should be paid like their craftsman counterparts.
As Chef Zane mentioned, Utah isn't known for its local wine, but he does work with both distillers and brewers who are local. He also builds relationships with winemakers from across the country who come for visits because they love to ski or ride mountain bikes.
Premier Butcher Michael Puglisi at Graze and Gather Meats and Provisions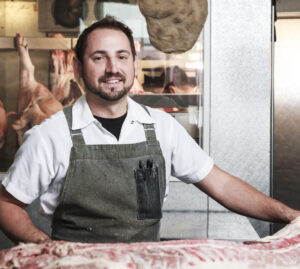 Michael Puglisi of Graze and Gather Meats and Provisions in Claremont, CA, brings a whole new prospective as Executive Sous Chef and butcher. He brings knowledge from being the head butcher at the Fountainebleau Hotel in Miami Beach for their nine restaurants in his prior experiences.
His passion for sourcing came from reading everything he could get his hands on to a trip to Italy where he saw the way the community ate. It was very different than in the United States. As a country, he found us to be very disconnected from the meat we purchased. He vets his ranchers and farmers by going to their ranches to tour them. For his family to have an understanding of agriculture, his girls have even sheared sheep.  It took him two years to find a farmer to offer him a full carcass of beef and sheep where they were grass fed with no hormones and grow with regenerative farm practices.
He is very particular about his beef being responsibly sourced without requiring them to travel far to be processed. His livestock is processed less than 10 miles from the farm that produces the animals.
What he learned in Italy was about having no waste. In an effort to maintain only one-half pound of waste a day, he even provides bone broth to a local children's hospital. He is now working on a fish program with only fish caught with rod and reel.
His belief is similar to Chef Zane's in that he believes there should be a balance between the hospitality industry and family. Butchering was where he was able to find this balance in life.
Chef Vincent Nattress at Orchard Kitchen & Farm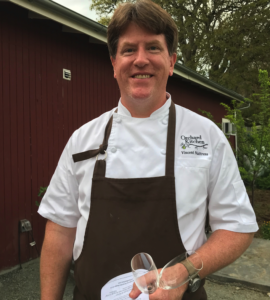 We heard from Chef Vincent Nattress, both chef and owner of Orchard Kitchen & Farm on Whidbey Island. Chef Vincent is a native of Whidbey Island. However, he traveled several times to see how restaurants in Europe are run with a three-month internship at a Michelin-starred restaurant in Provence. These experiences gave Chef Vincent a unique perspective about food. Then, he worked at wineries in Northern California as a chef and came back to his native roots on Whidbey Island in 2015. Here, he and wife, Tyla, opened Orchard Kitchen, a teaching kitchen and dining room. The two wanted their restaurant to be grounded in the soil and what farming looked like in their part of the world on the remaining five acres of a cattle and hay farm.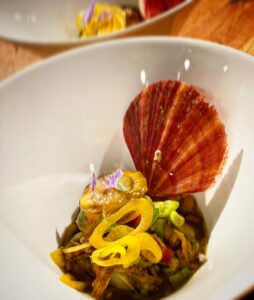 Chef Vincent and Tyla wish to impart a message to those disconnected from their food where they could understand the source of their food and learn about food and farming. The experience of eating here is more like being at a dinner party than a restaurant. The menu is chosen for you from what is growing right outside the dinner table and in season. They consider themselves to be an omnivore's dining experience set in the heart of an organic farm.
In summary, I would say in 2022 these chefs consider what is good in their restaurants is being as true to the place as they can be with a menu based on what can be harvested locally. They also strive to educate their diners about where the food comes from and how to be more connected to the soil.