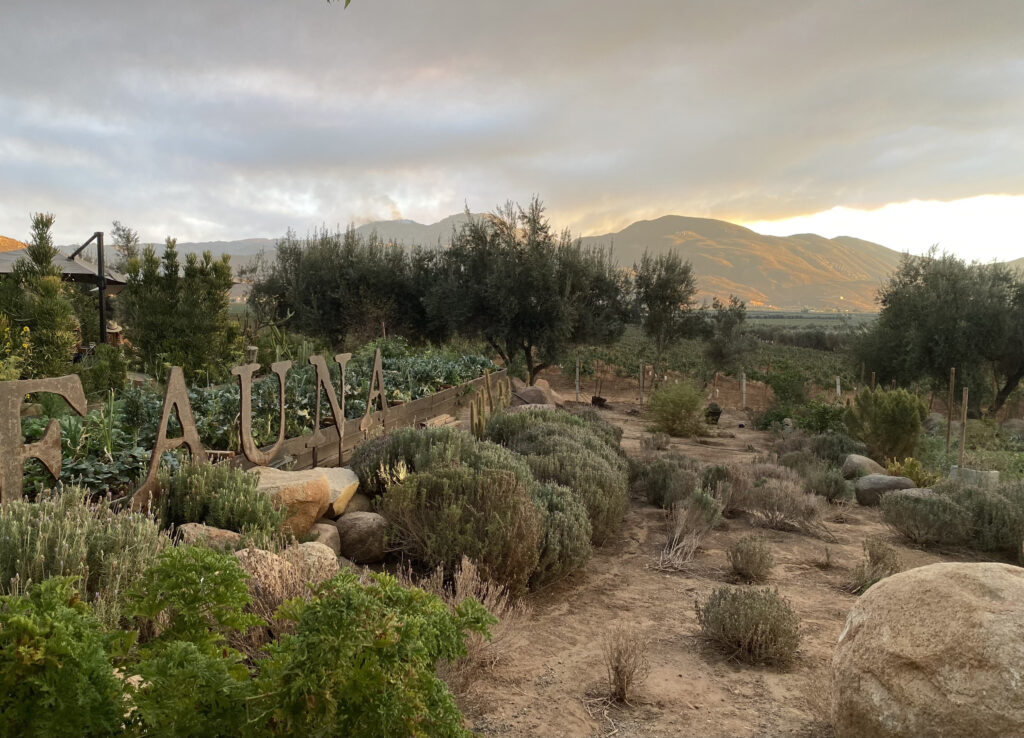 The Guadalupe Valley of Mexico has a way of beckoning you back to its beauty, spiritual awareness of its environment, unusual and carefully planned architecture, great wines, and superb food.
It had been a few years since I last visited the Valle de Guadalupe where I really wanted to share all that this area has to offer with friends and my sister and brother-in-law.
Luckily for all of us, I located Scott Koenig who calls himself "A Gringo in Mexico" as a guide and planner for our trip last fall.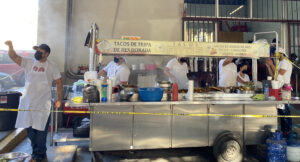 There would end up being 11 of us as well as Scott and our driver and tour guide, Fernando Cuevas. We would only be in the Valle for 3 days and 2 nights, but we were able to cover a lot of wonderful places.
We started at the San Ysidro border crossing where we walked across into Tijuana to be picked up in a spacious van driven by Fernando. Since most of us hadn't had much for breakfast, our first stop was right at the crossing where we could buy a couple of tacos (some very spicy) to tide us over.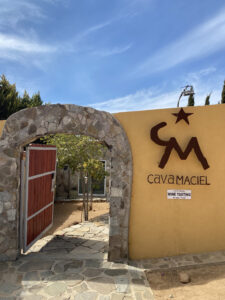 Our first winery stop was Cava Maciel. Most all of the wineries we visited, including Cava Maciel, have large kite-like coverings with magnificent views of the mountains in the background. After Jorge Maciel's trip to Italy, he returned to start producing wines in his country which became Cava Maciel. According to Jorge, the story of how to make wine became like stargazing. We sampled the Chardonnay, Merlot, and Petite Sirah grown in nearby vineyards. Interestingly, the reds available were all well aged, some from 2014. A pleasant surprise, along with delicious wines made in the Italian style, were the clams, olives, and local cheese pairings.
We were off to another winery owned by Paolo Paoloni, a native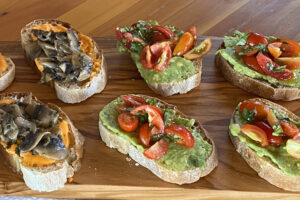 Italian and now a Mexican citizen. Paolo imported his vines for his vineyard from Italy. The winery, Vinos Paoloni calls itself "Mexican Wines with an Italian Heart." We had both vegetarian and traditional crostinis paired with our wines. Some of my favorite varietals were waiting for us to try—Sangiovese, Nerone, Nebbiolo, and Nero d'Avola. These wines made for a very great tasting.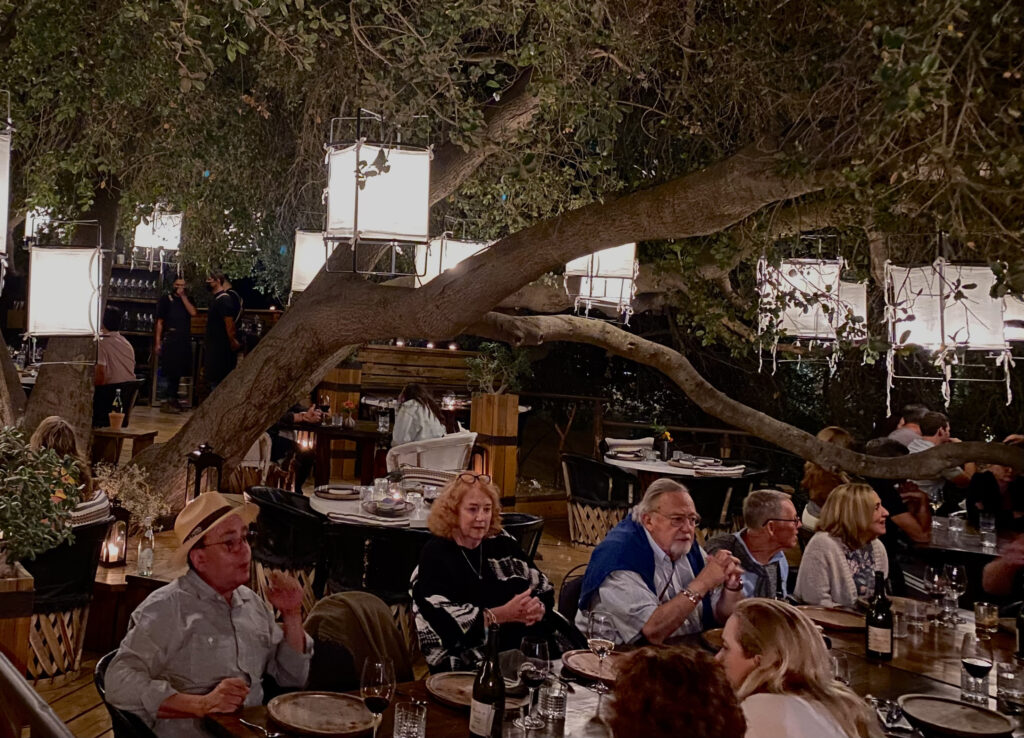 Animalón, Chef Javier Plascencia's restaurant under a 200-year-old oak, has quite a reputation, and dinner the first night showed us why. To see just how special the menu is at this magical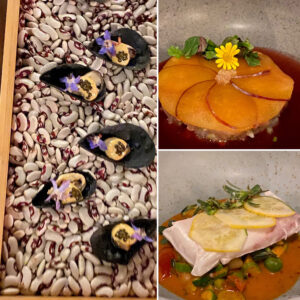 outdoor setting with floating lights hung from the oak, check out Animalon Baja. One spectacular dish followed another as we gazed at the beautiful presentation and enjoyed the creative blend of flavors. Our starter was an Aguachile de Ciruela (similar to ceviche with plum sauce,) followed by Catch of the Day with summer cassoulet, sea urchin, beef short loin, a cleanser of sorbet, chocolate banana sorbet, and a tray of macarons. These were gourmet courses at their finest.
The following morning was Sunday. We arrived in the ranch land of El Porvenir which translates to "the future." Settlers to this part of the Valle de Guadalupe envisioned the area as the place where they could raise cattle on the plains at the foothills of the Sierra Blanca Mountains. It is also home to  La Cocina de Doña Esthela.
My first visit here was in 2015 where we found a small home with a tortilla oven inside. Fast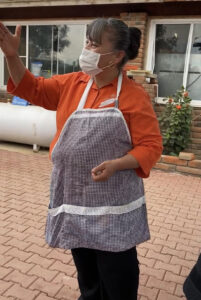 forward to Dona Esthela's fame, partly brought about by Anthony Bourdain making her Borrego Tatemada (lamb cooked underground for hours) famous, and now her cocina has undergone a huge expansion. Sunday here found lines of cars backed up for at least an hour. I urge you to put La Cocina de Doña Esthela on your must-try list because you will find no better traditional homemade Mexican food than here, but do it on a weekday if possible. Luckily for us, our guide Scott's friendship with Doña Esthela enabled us to avoid the lines.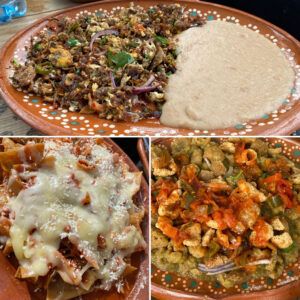 Doña Esthela's warm greeting makes all her guests feel like they have just stepped into her home. Steaming mugs of Café de Olla (Mexican coffee with a little dark brown sugar and cinnamon) were brought to our outdoor table. Of course, we had to try the Borrego Tatemada. That was not all. The dishes, served in hand crafted Mexican pottery, just kept coming. Red and green chilaquiles, machaca, omelettes, and Beef Birria Tatemada were some of what we shared. One of the group's favorites was the Pancakes de Elote. The fluffy corn cakes with butter smothering the slightly sweet cakes made us all begging for the recipe. La Cocina de Doña Esthela was one of the highlights of the trip.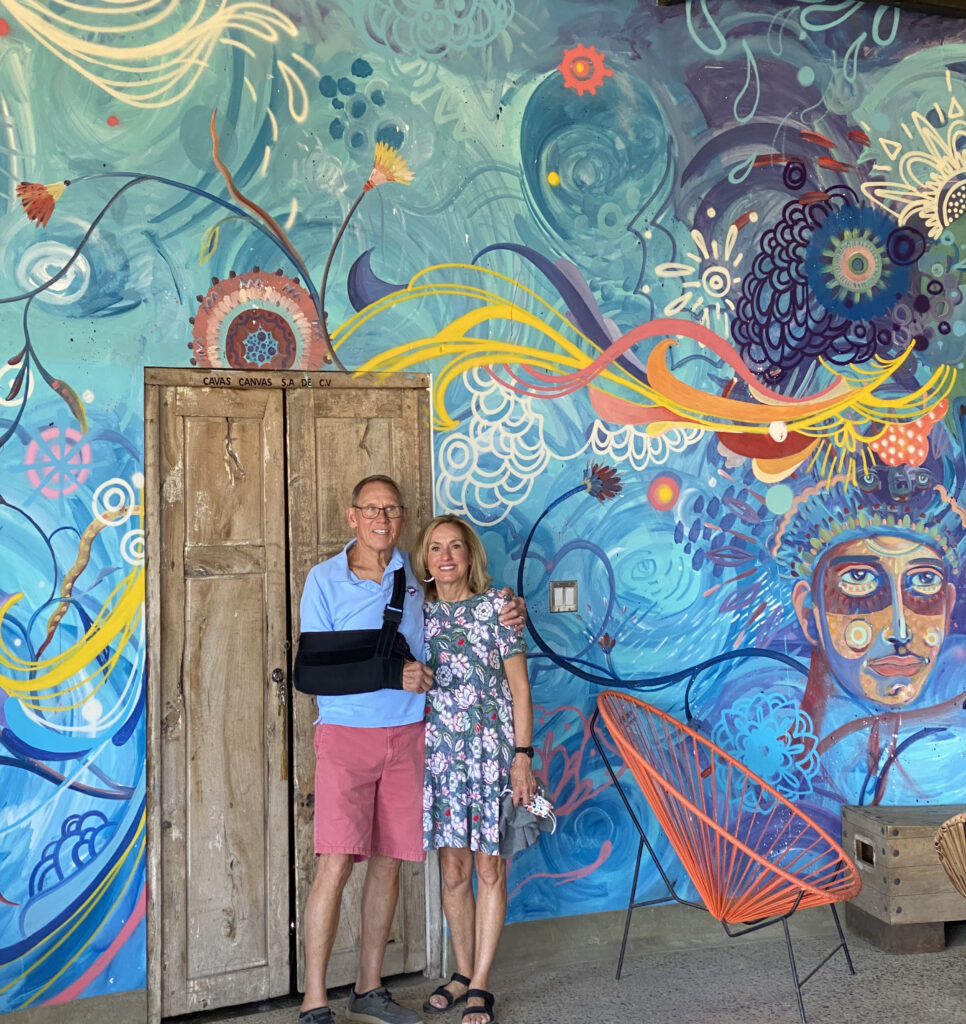 Just up the hill from Doña Esthela's is La Lomita Winery, a favorite of mine for a variety of reasons. The murals painted on the curved walls by Mexican artist Jorge Tellaeche make a visit worthwhile. The massive wooden bar with a large skylight above overlooks the barrel area below and provides the perfect spot to sample their dry Chardonnay. The wine labels show off more artwork. When I look at the stash I brought home, I was obviously very impressed with La Lomita's wines. I purchased a Grenache, a Cabernet Sauvignon, and a Cabernet Sauvignon/Merlot blend.
Another highlight for me is Clos de Tres Cantos with its biophilic design (occupant connectivity to the natural environment) of its tasting room. Wall-sized glass doors open to the patio. Quartz walls line the sides of the room with glass windows on the opposite wall overlooking the mountains and vineyards. The pyramid-shaped buildings surrounding the patio echo the mountains in the background. I always come home with wine from Clos de Tres Cantos. This trip I fell in love with Noesis, a Tempranillo, as well as Nada, a blend of Tempranillo and Petite Sirah. My only regret is that I can't bring them all back with me.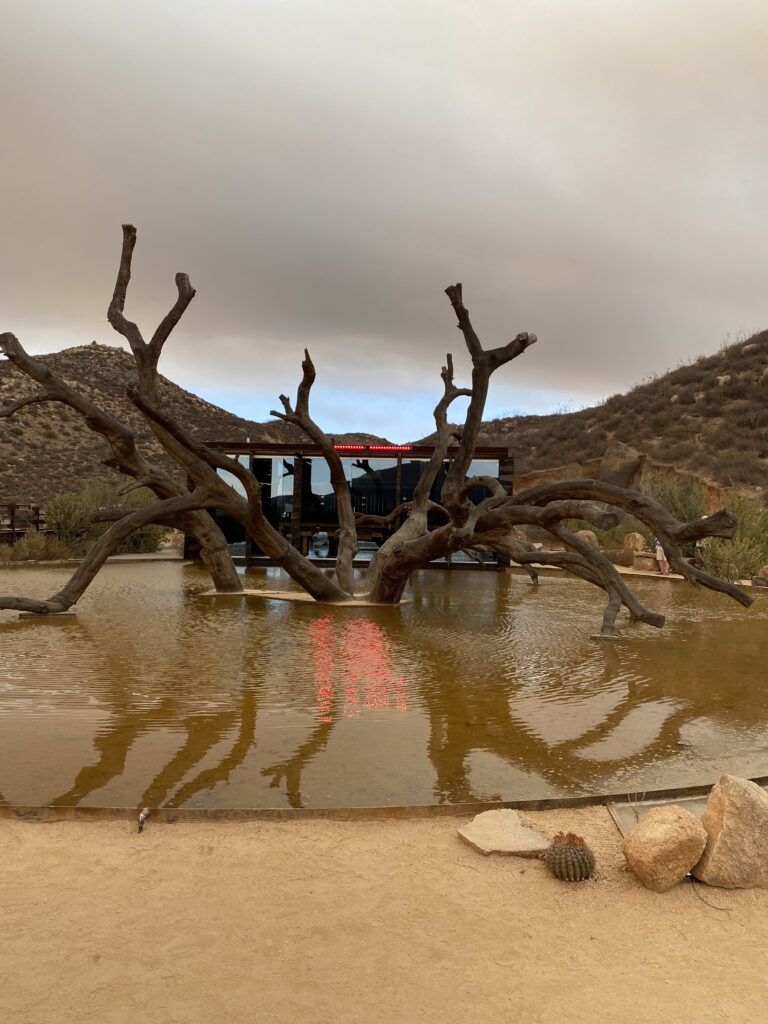 This day was a day of architectural study. Our next stop was Bruma Vinacola. As we approached the winery, we eyed an oak appearing to grow from a pond. Once inside and below, we gazed upward at the eight branches that support the underground tasting room and wine storage facility. The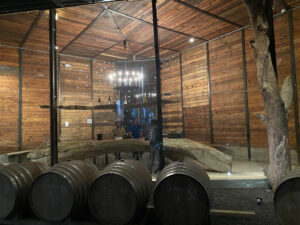 significance of the eight branches is that there were eight partners who started Bruma. Famous female winemaker, Lulu Martinez Ojeda, has created some spectacular wines for Bruma. Bruma says all their wines are created to achieve an experience of the senses. Smelling the wines, seeing the wines in the glass, and tasting the wines confirms what a good winemaker she is. Grenache, Carneros, and Sangiovese grapes are used to produce three very unique rosés. I loved the Cabernet Sauvignon/Petite Sirah, a masterful blend of flavors of black fruits, licorice, herbs, chocolate, and coffee.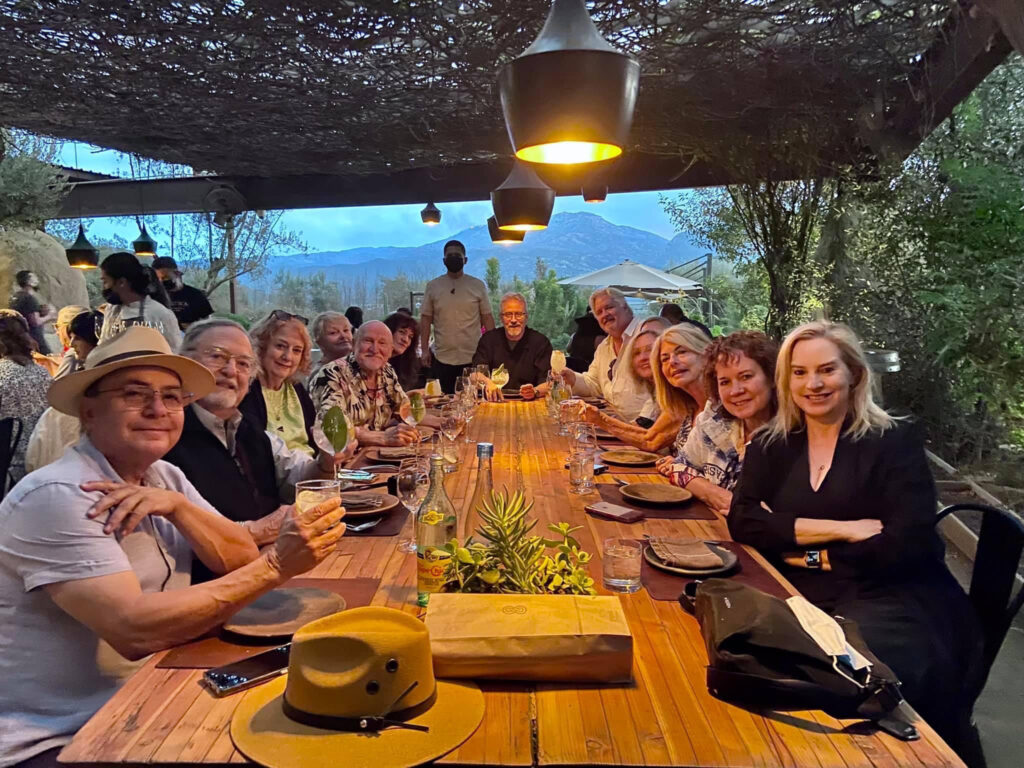 Our final dinner was at Fauna Restaurant, Bruma's creative and acclaimed restaurant that provides an experiential tasting experience led by Chef David Castro Hussong. The restaurant is set up as a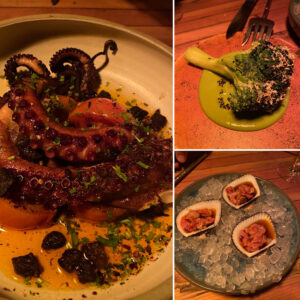 communal dining experience with a grand long table that flows from inside seemingly through the large glass wall to the outside. At Fauna we found a fusion of Asian and German cuisines (as well as Mexican) that embraces local fish and seafood. One of the more unusual dishes was a smoked broccoli topped with black sesame seeds, and shredded lemon peel. The blue fin ceviche in a brown butter emulsion proved to be a highlight. Of course, a melt-in-your-mouth plate of octopus arrived garnished in all its splendor. Desserts are always a highlight here, too. We were awed by the honey semifreddo topped with milky ice cream and salty blue corn flakes.
For a luxurious stay, I recommend Maglén Resort Master Suite. When staying here, a beautiful villa sitting high up in the hills with a charming garden, pool, and restaurant greets you every day.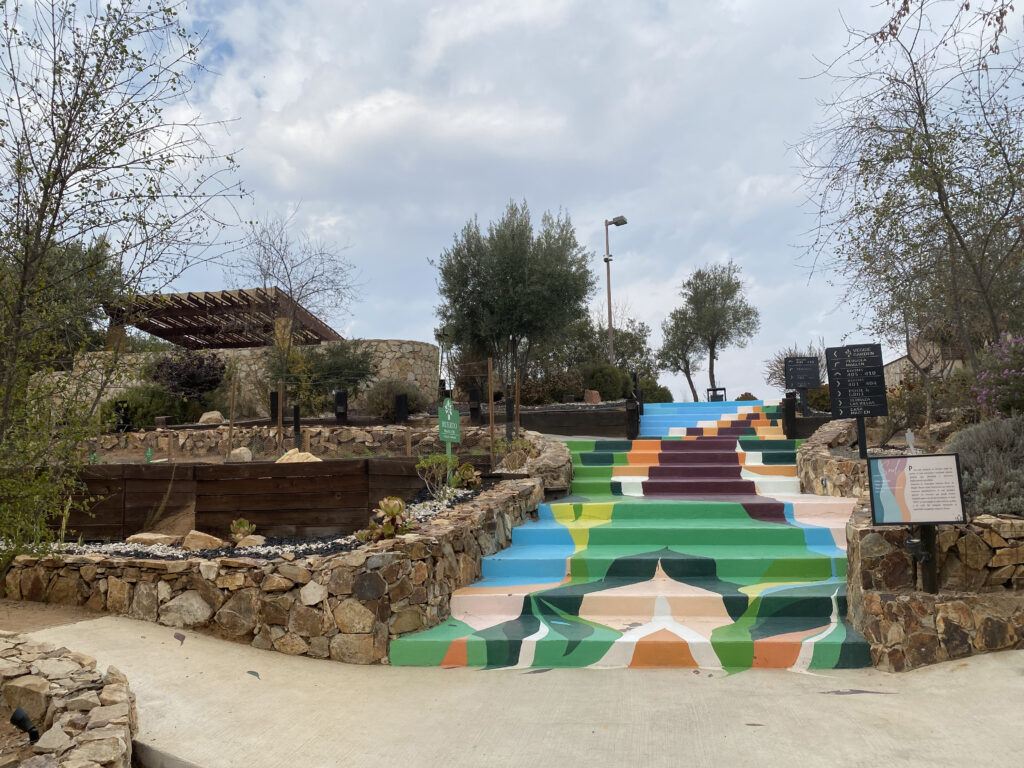 As we leave the Valle de Guadalupe, we all vow to come back to spend many more days to enjoy its magic.
+