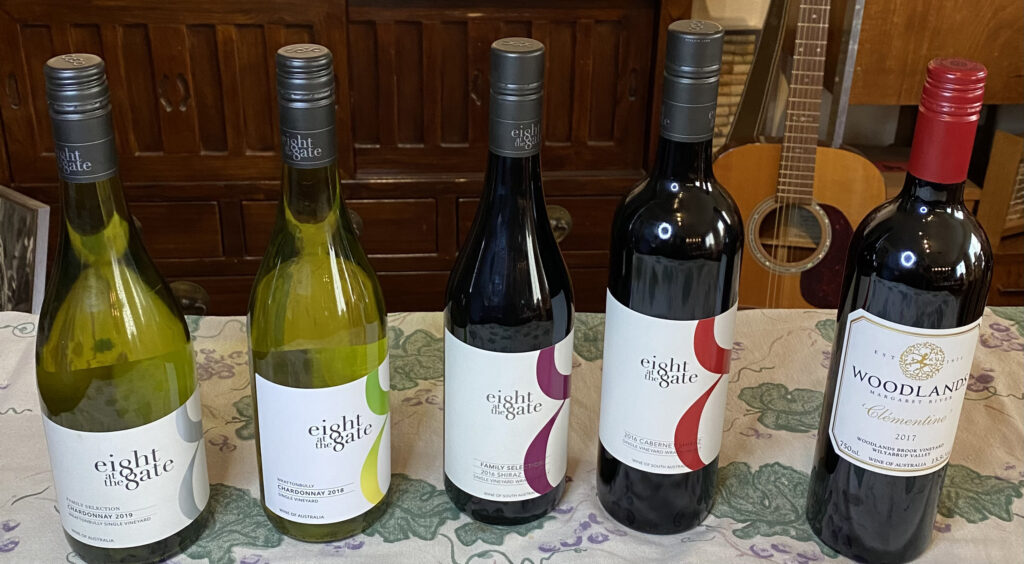 Our Wine Review Council met to try wines from two unique wine regions in Australia. The region of Wrattonbully (what a great name) was a newer region to our group from which to sample wines. We were impressed.
This region is halfway between Melbourne and Adeliade on the southeastern side of Australia. The combination of maritime and temperate climate with gentle slopes makes this region ideal for grapes. Ancient seabed soils covered by volcanic activity and the diurnal swing (difference in temperature from daytime to nighttime) add to the quality of the grapes.
Because Wrattonbully's climate is similar to France's Bordeaux region, both Cabernet and Merlot do well here. Of course, Australia's Shiraz will always remain the sweetheart grape of Australia, and Chardonnay does well here, too.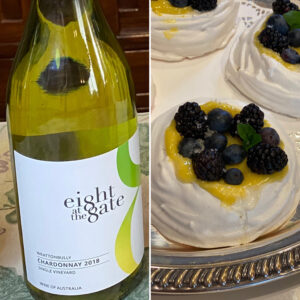 Four of our wines came from Eight at the Gate Winery. The interesting name comes from the sisters' eight children who hung off the farm gate watching the two winemaking mothers at work. These sisters set out to give their children a piece of the country life, and the vineyard allowed this environment. Check out the website where the sisters offer free shipping with any purchase of six wines.
Eight at the Gate's Family Selection Chardonnay of 2019 ($38) shows a medium straw color and a nose of citrus with flavors of stone fruit. The brioche flavor coming from aging in oak wasn't overly oaky and was a group favorite. Interestingly, indigenous yeast was used to ferment the grapes. The pairing of the Australian Anna Pavlova dessert with lemon curd and berries complemented the citrus flavor of the wine.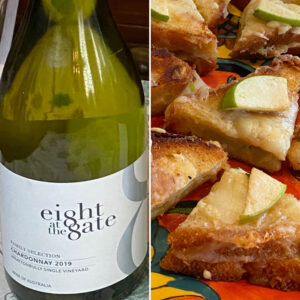 2018 Single Vineyard Chardonnay ($18) was a light Chardonnay with a pale straw color and
minimal oak treatment. Clean, crisp, and dry with notes of white peach describes this wine perfectly. Our group paired it with a Gruyere, White Cheddar, and Apple Grilled Cheese Sandwich that enhanced the Chardonnay because of its richness but didn't overwhelm this light Chardonnay.
Grab a bag of popcorn and the Eight at the Gate Cabernet/Shiraz blend. Cabernet dominates the varietals of red grapes grown in this region. We sampled the 2016 Single Vineyard Cabernet/Shiraz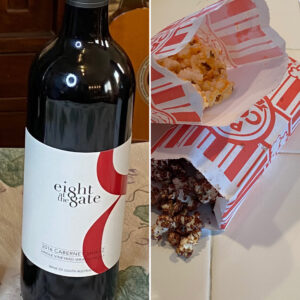 ($28) and found this to be a great buy. With flavors of berries, cherries, plums, and herbs, we really enjoyed this wine. The blend displayed a small amount of tannins balanced out beautifully with acidity and a long finish. The richness and acidity of this wine was fun to try alongside some cheddar popcorn and some chocolate popcorn. Our group voted for the cheddar popcorn being the most compatible.
Of course, no Australian wine tasting would be complete without a Shiraz. We tried the 2016 Family Selection Shiraz ($48) with its deep ruby color that showed off blackberry, cedar, and vanilla with some spice to add to the warmth of this wine. It is well balanced and smooth with a long finish. The Shiraz, being big and bold, stood up well to the pairing of a fusion of Pork Tamales with a Mexican and Texas BBQ sauce.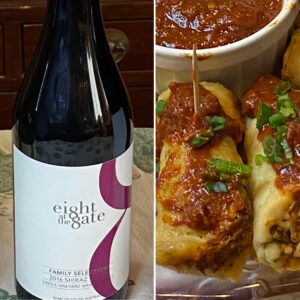 The last wine of the day was from the Margaret River region. This region is along the southwest coast of the state of Western Australia about three hours from Perth. The Margaret River region used to be home to surfers and dairy farmers, but in the 50s and 60s, grapes started growing extremely well here. Today there are more than 150 wineries in the area, and it is considered a region producing premium wines.
Woodlands and Woodlands Brook are the two vineyards in the Wilyabrup Valley where Woodlands Wines grow and harvest their grapes. The vineyards are dry grown and maintained by hand, including weeding, cane trimming, and hand picking.
The bottle we sampled was shared by a Wine Review Council member. It was the 2017 Clémentine, a gorgeous blend of 56% Cabernet Sauvignon, 16% Malbec, 13% Merlot, and 9% Petit Verdot, and 6% Cabernet Franc. We found depth and complexity to this wine with a deep color and flavors of cranberry, tobacco, spices, and raspberry. The wine is smooth with a big mouth feel. The Lamb Stew with Sourdough Toast was the perfect accompaniment to this big wine.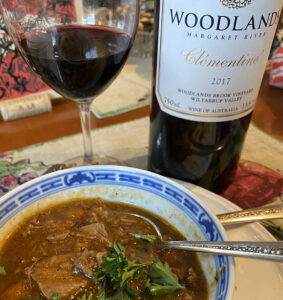 Currently, you can purchase six bottles for $30/bottle which includes delivery, an amazing value. With Wine Spectator saying the Cabernets from this region stand "in the top rank of the world" and with a 96-point score, we should all be online ordering right now.
While we were gifted these wines, we all concluded these wines were some of the best we have sampled at our Wine Review Council. I suggest you order some of these special wines to fill your wine cabinet and pair with some of what we tried. Down Under knows how to grow grapes and produce wines!