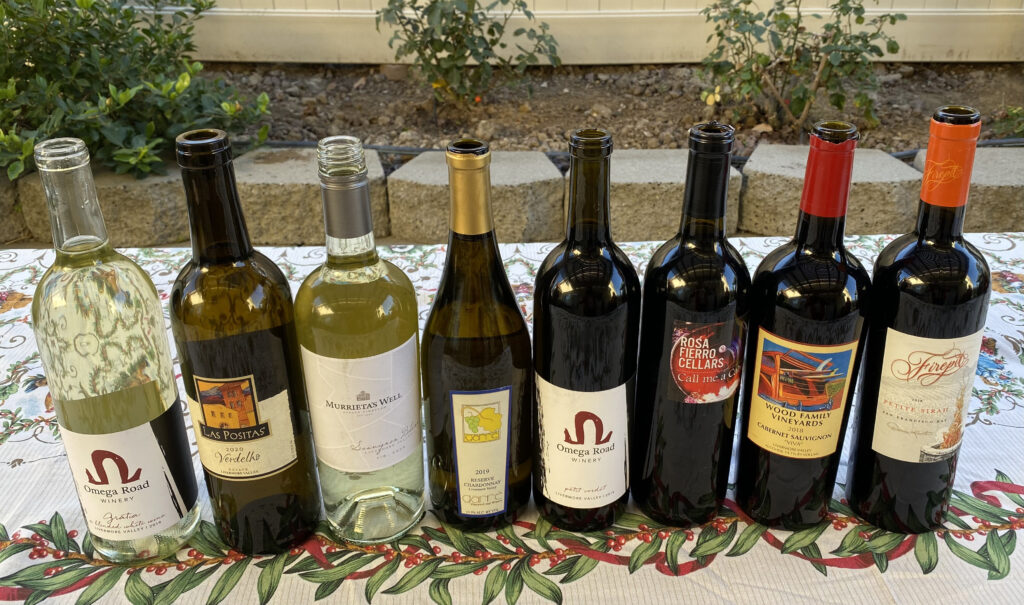 When our Wine Review Council met to do some serious wine tasting, we had the holidays in mind. The table was set in a Christmas plaid, and the wine and pairings were excellent. The wines we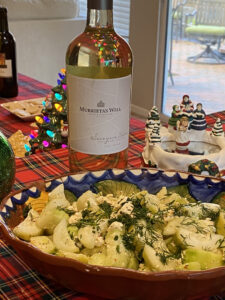 tasted today were from the Livermore Valley in California, a region that produces very fine wines.
The first wine was from one of my favorite wineries where I had the opportunity to visit and taste. Murrieta's Well started in the 1800s and is one of the original wine growing estates in California. The vineyard began with cuttings from Chateau d'Yquem and Chateau Margaux in Bordeaux. We sampled the 2020 Sauvignon Blanc ($50) with some barrel aging that gave it some layering of flavors on my palate. True to Sauvignon Blanc, I tasted lime, green apples, and kiwi. My nose picked up some floral notes. The Baked Cucumber with Feta and Dill (a Julia Child recipe) provided just the right amount of zest for the citrusy Sauvignon Blanc.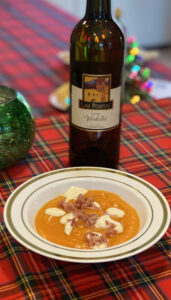 Next was an estate Verdelho, a variety associated with Madeira fortified wines from the Portuguese island by the same name. Las Positas Vineyards 2020 Verdelho ($35) surprised our palates with its bright and acidic flavor that woke up our palates. We really enjoyed it and thought it was well worth its price and one the group would definitely purchase. What I noticed were flavors of pear and apple with a nose of honey. The perfect food pairing was a Sweet Potato & Pear Soup topped with maple cream and prosciutto. Wouldn't this be a nice first course of a holiday meal.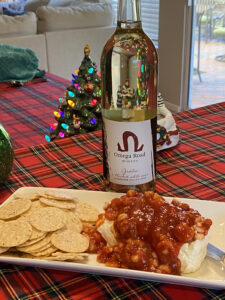 Sauvignon Blanc, Chardonnay, and Torrantés (an Argentine grape) varietals went into the next tasting of the 2019 Gratia ($23) from Omega Road Winery. Omega Road likes to blend different varietals when producing the Gratia, and the grapes used vary from year to year. The wine had a deeper yellow color than the first two wines with flavors of lemongrass, green apple, and citrus with a nose of flowers. Shrimp on Cream Cheese was the pairing chosen by our group.
Our final white wine was the 2019 Chardonnay Reserve ($42) from Garre Vineyard and Winery. The Garré chardonnay was lightly oaked which created a nice balance for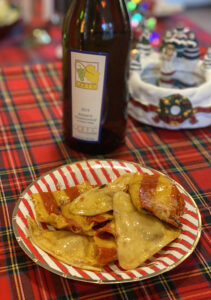 those who like oaked and those that prefer no oak. I found a slightly buttery nose and toast aroma with a wonderful creaminess and medium acidity and flavors of apple and apricot. This was my pairing, and I was looking for something buttery with seafood. I chose both Butternut Squash Ravioli and Lobster Ravioli in a Sage Brown Butter Sauce for that touch of creaminess but not the sharpness a red sauce would have been.
Petit Verdot is often used as a blending wine, but today we sampled the Petit Verdot from Omega Road Winery ($38). The wine had a pleasant nose and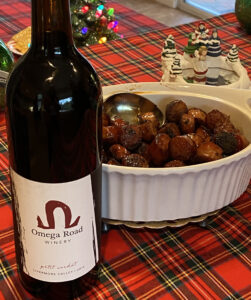 lots of tannin (which is the reason it is often used for blending, an addition to wines not having many tannins.) I tasted a lot of boysenberry as well as spices and black cherry. Because this wine is full of tannins and can handle bold flavors, the pairing of Blackened Sweet Italian Sausage in a Coconut Soy BBQ Sauce paired really well.
We had two Cabernet Sauvignons for our tasting. The first was the Wood Family Vineyards 2018 Viva Cabernet Sauvignon ($38.) We found this Cabernet to be drier than our second Cabernet and softer in structure. The color was a very deep red (described as looking like a jar of boysenberry jam.) Notes of cassis and pepper were present. I tasted currant and cranberry.
Our second Cabernet Sauvignon was from Rosa Fierro Cellars, a winery named after the owner and winemaker. This 2016 Cabernet is called Call Me a Cab, priced at $40, and was a group favorite. We found it true to typicity with flavors of pepper, leather, and cassis. The wine is described as assertive yet elegant which is what we found. The tannins were present but smooth and not too overwhelming. Interestingly, once the fruit was hand picked and crushed, it was cold-soaked with dry ice for five days prior to fermentation. It was then aged for 32 months in French, American, and Hungarian oak barrels, imparting different flavors from each oak.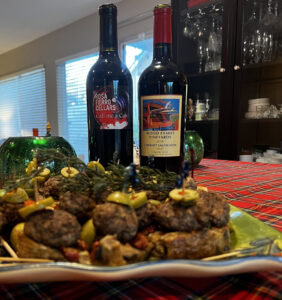 These Cabernet Sauvignons could stand up to big flavors in food and were paired with Mediterranean Sliders of Gyro Lamb and Beef with a Rosemary Butter and Sundried Tomatoes, a perfect combination.
The last wine was a Firepit Petite Sirah from Darcie Kent Vineyards and Winery. On the nose, I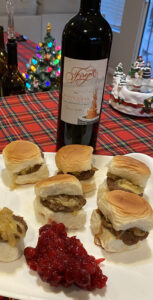 found blackberry and a toastiness to it along with some baking spices. In tasting the wine, I found that same blackberry as well as blueberries and a bit of herbs. I found tannins, but they weren't overwhelming because they were nicely balanced with acid. Turkey Sliders of turkey sausage with Dukkah (a Moroccan spice) as well as smoked paprika, fennel, and yellow onions made up the patties. Alongside the sliders was a cranberry sauce of cranberries, apples, dates, and Grand Marnier. This dish had bold flavors that paired nicely with the Petite Sirah. This would make a nice pairing for a holiday party, adding a bit of festive color from the cranberry sauce.
It is not always that we enjoy every wine we sampled, but that was the case for this tasting. Any and all of these wines would be a great addition to your holiday preparations.
We were hosted with the wines which is typical in this industry. When you are looking for your next outing for wine tasting, heading to Livermore would be a great idea. These wines are all available online, too.