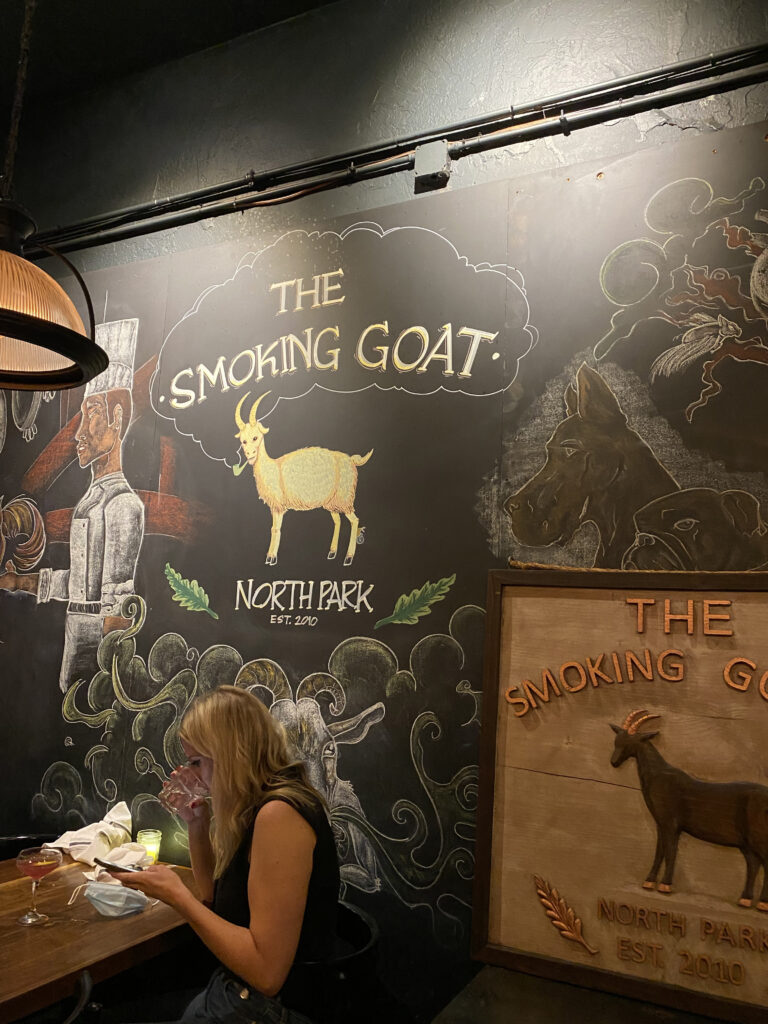 Warm, rustic, inviting, chic. Those would be great words to describe The Smoking Goat in the North Park area of San Diego.
French food can be overly rich or it can be sustainable with an emphasis on local produce set in a bistro atmosphere. This is the type of food we found at The Smoking Goat.
Chef Fred Piehl opened The Smoking Goat in 2010 when North Park didn't have a whole lot of good restaurants. Chef Piehl started his career with a business degree and then moved on to study in Paris to earn a degree from Le Cordon Bleu where he studied both cuisine and patisserie and earned a Grand Diplôme, the most comprehensive training program offered at Le Cordon Bleu. Prior to opening The Smoking Goat, Chef Piehl worked at several top-notch restaurants in San Diego which offered him a flavor of what San Diegans seek in restaurants.
Walking into The Smoking Goat made us feel like we were in a small French bistro in one of the finest dining cities in the country with its casual and warm atmosphere.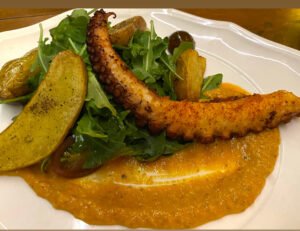 We had been treated to some amazing food all day long so we decided to focus on appetizers, my favorite part of any meal.
The Crispy Spanish Octopus served with Romesco Sauce was a delight. Sometimes octopus is overcooked and becomes tough and very chewy. This was very tender with a quick flash of cooking under a grill to add a small amount of crunch to the outside. The Romesco Sauce was the perfect accompaniment.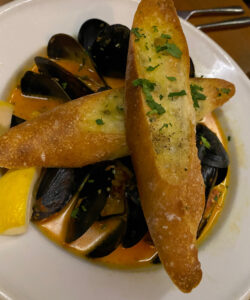 PEI (Prince Edward Island) Mussels–mussels from clean waters and showing off what good sustainable farming produces—were our next choice. Could there be anything better than properly prepared mussels floating in a garlic tomato broth with a touch of chorizo added to up the flavor! So succulent!
Of course if you are eating in a French bistro, we decided a person needs to order French Onion Soup. Floating atop the veal bone broth and laden with onions were two croutons smothered in melted Swiss Cheese. This French Onion Soup lived up to the best of them.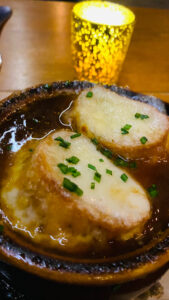 More and more we have seen Duckfat Truffle Fries on a menu, but we knew these would be special and had to indulge. These fries were sprinkled with pecorino romano and served with a mustard aioli. Not a fry remained on our plate.
Last, but not least, was the Duck Liver Pate of liver purée so silky and smooth it tasted like a mousse and was accompanied by Pt. Reyes Blue Cheese alongside both Fresh and Poached Pears with Croutons. This plate was so beautifully presented that I am saving the photo for the next time I make a charcuterie.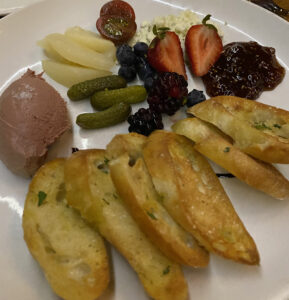 In 2016 Chef Piehl opened a restaurant appropriately called One Door North that sits right next door to The Smoking Goat. According to Chef Piehl, the idea for One Door North came from a three day hike with freshly picked raspberries and his love of the outdoors. We were told the menu is
more casual than The Smoking Goat. We wondered next door after our dinner and found tents where patrons can dine. Then, our thought turned to the outdoor firepits where guests can share a S'More Platter. Wouldn't this make for a fun ending to one of the best dinners available at The Smoking Goat.
I cannot wait to return to The Smoking Goat to try more of the wonderful menu with its wide variety of interesting wines from both France and California. The Smoking Goat is definitely one of the finest restaurants in the San Diego area. Typical of this industry, we were treated to this meal, and what a wonderful surprise it was.