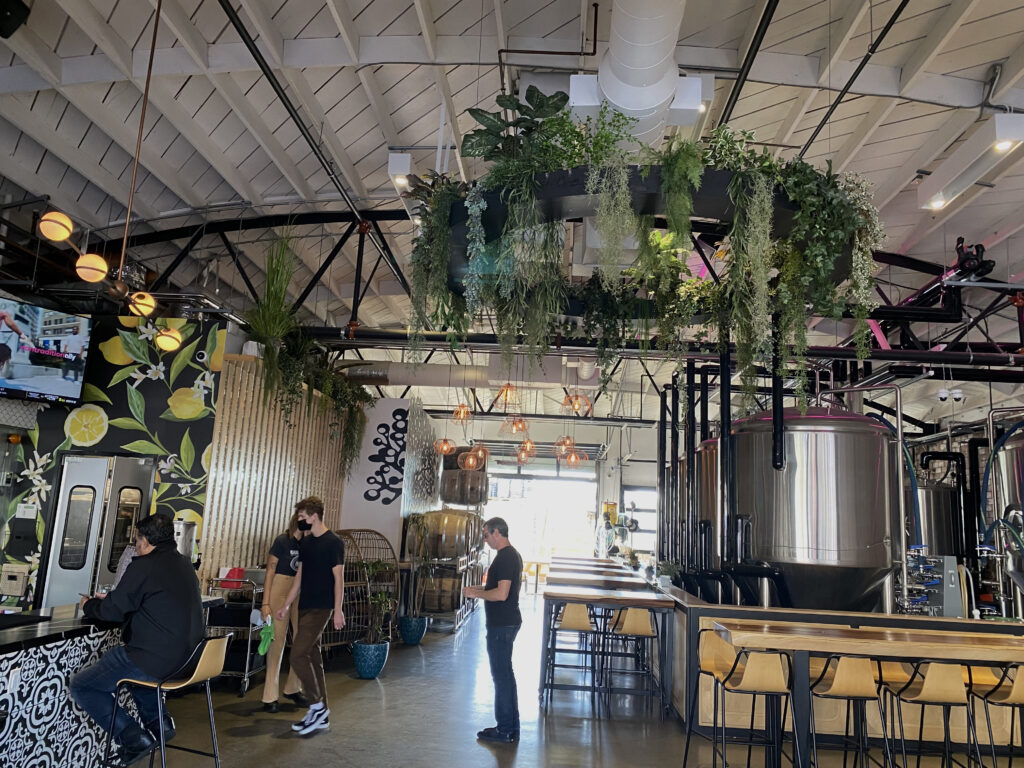 You can't grow lemons without water. That's the lesson James Hartley learned when he tried to start a lemon orchard in the North Park area of San Diego. His original settlement was 40 acres purchased in 1893. Once he wasn't able to grow lemons, he subdivided off the land in 1928. It's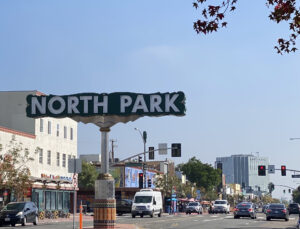 from these roots that North Park grew. It became a center of commerce because street car lines met in the area.
Ingenuity certainly existed in the area as proven by the way in which the original North Park residents raised money for the North Park sign. Bake sales were held to raise enough money, and that was the beginning of North Park having its own official sign.
To get a feel for the original architecture of the area, check out The Observatory North Park, home to live music. It was built in the Italian Renaissance Revival style in 1928. Another significant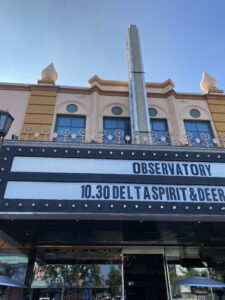 building in the area is the Masonic Lodge, an example of "zig zag" style of Art Deco. It was built in 1931 and designed by the Quayle Brothers.
Today North Park is a thriving and revitalized area thought of as a place for the trendy, the hipsters, young professors, and students. And, it's home to some of the best breweries in San Diego.
Fellow writer, Jim Farber, and I set off for the day to check out these breweries ( and a ciderworks) with some of the great eats to be found in the North Park area, too.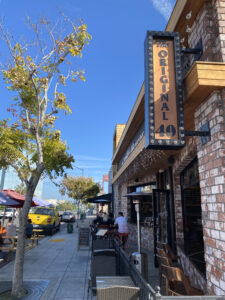 Named after the 40 acre plot that was the roots of North Park, owners Steve and Patricia Billings opened their brewery, Original 40 Brewing Company in 2019. They brew all their own beers and seltzers. In addition, they have a full kitchen where they prepare both lunch and dinner seven days a week. This kitchen turns out some amazing food.
Walking into Original 40 Brewing Company feels like it belongs in San Diego with its light and airy interior (as shown in the first photo.) A trip into the ladies restroom shows the humor of the owners with its framed paintings of their pet dog (a surprise from Steve to his wife, Patricia.)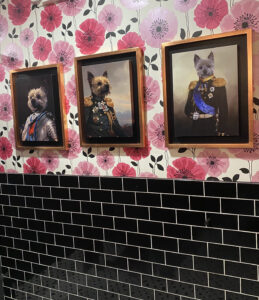 We were here to sample the beers made by brewmaster, Cosimo Sorrentino, known around San Diego who fine tuned his knowledge of beer by working in Copenhagen.
Some of what we sampled were Original 40's two flagship IPAs: Juice Maze (hazy with stone fruit, and winner of the Sore Eye Cup, an award given to San Diego's best Indie Beer) and Glowing Sunsets, a West Coast IPA that isn't as bitter as a lot of IPAs and has notes of tropical pineapple. Of all the beers we tried, Juice Maze was my favorite.
With a name like "Ashes from the Grave," we also had to check it out. This beer is a smoked brown ale. This ale is in collaboration with Bill Batten of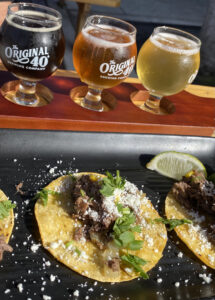 TapRoom and winner of the World Beer Cup Gold Medal. Ashes from the Graves shows off its flavors of smoked malts, maple, and hazelnut.
Pairings for these beers were all delicious. A couple of my favorites that we tried were the Giant Bavarian Pretzel with House Made Beer Cheese and Braised Short Rib Street Tacos with Poblano Crema. This place doesn't mess around with preparing your typical bar food.
Did I mention there are a lot of breweries in North Park?
Our next stop was Mike Hess Brewing Company, the first brewery in the center of town. What a fun entrance this brewery has with its sky bridge over the production facility.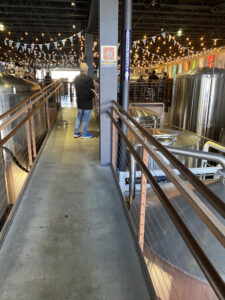 We met Hannah Legacy, Tasting Room Manager (dressed for our Halloween visit.) She mentioned that Mike has embraced trying to make some beers that are wheat free for those who can't tolerate gluten.
A couple of my favorites were Into the Sunset (blood orange made with orange puree and a best seller,) Hop Cloud Hazy IPA (juicy and tropical and low in bitterness units) and Clarita's Kolsch (a hybrid of ale and lager that took the Gold Medal in the International Beer Competition.)
Jim and I both were intrigued by the Vietnamese Coffee Stout, a pastry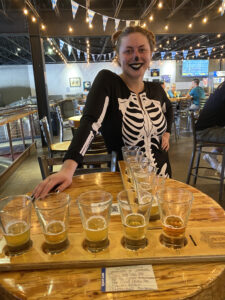 stout meant to be a dessert drink. The coffee used to make this beer is from Calabria Coffee, a North Park roaster. The flavor profile was a strong coffee
with macadamia nuts on the back side. Hannah suggested adding a scoop of vanilla bean ice cream and a drizzle of an espresso shot on top. I brought this dessert to a dinner party recently.
We had one more beer tasting in us for the day at North Park Beer Co. where we sat down with Mac McCallister, an experienced master of beer who told us all about head brewer and owner, Kelsey McNair and his theory on creating his brewery. Kelsey spends 4-5 hours a day working on recipes for his beer. North Park Beer Co.'s  brand is to match hospitality with a great product. We certainly felt that here.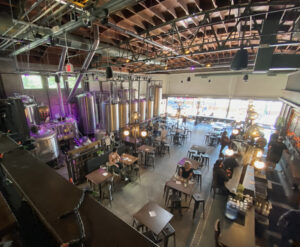 Some of what we sampled were Bird Park, a Czech Pilsner made with a pilsner malt, McNairs, a Scottish amber loaded with a bold malty flavor, and Art is Hard IPA, a 2021 GABF Silver Medal winner with flavors of tangerine, orange, and pineapple.
One look at the giant cheeseburger at the next table told me they make great food at North Park Beer Co. to pair with their wide variety of beers.
But beer isn't the only game in the North Park area. Bivouac Ciderworks (meaning a temporary camp used by mountaineers) is home to owner Lara Worm who is an adventurer first and a cider producer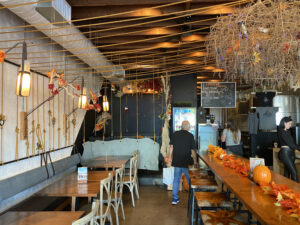 secondly. Walking into Bivouac we saw a wall of knots used by sailors on one wall and sat at a table supported by a rope swing. All the ciders are hand-crafted in house with the hope they deliver the freshness of the outdoors.
Both apples and pears are used to make these ciders. One of my favorites was "Locals Only," a pear based cider with tangerine and lemon flavors. Another popular and delicious cider was the "San Diego Jam," with a crisp blackberry flavor.
What knocked our socks off was the Rosé cider, a blend of Riesling and Cabernet Sauvignon with cider. We found this cider to be light and refreshing. It would be great to bring along on a picnic.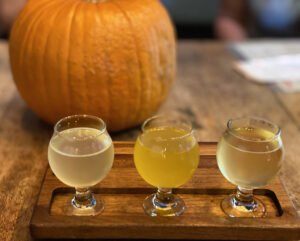 We couldn't resist trying some of Bivouac's delicious food. What could be better than Campfire Chicken Wings (served with a sweet and spicy cider glaze.) We both dug right in to the California Burrito Tacos made of carne asada, fire roasted house-made salsa and served with a jalapeno crema. Last, but certainly not least, was the Pumpkin Spice Crème Brûlée, a rich and creamy delight.
Lara's brand is "Rugged meets refined. Embrace your adventure"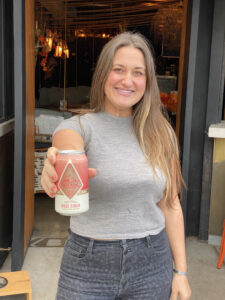 and we definitely enjoyed the adventure.
We had dinner at The Smoking Goat Restaurant in North Park. I will be doing another article about this charming restaurant soon.
North Park has made lemonade out of lemons in this trendy and fun part of San Diego and offers some great tastes and delights for a day.
As is typical in this industry, I was treated to this great day of tastings. However, the comments are my own and express what a warm and friendly place North Park has become.