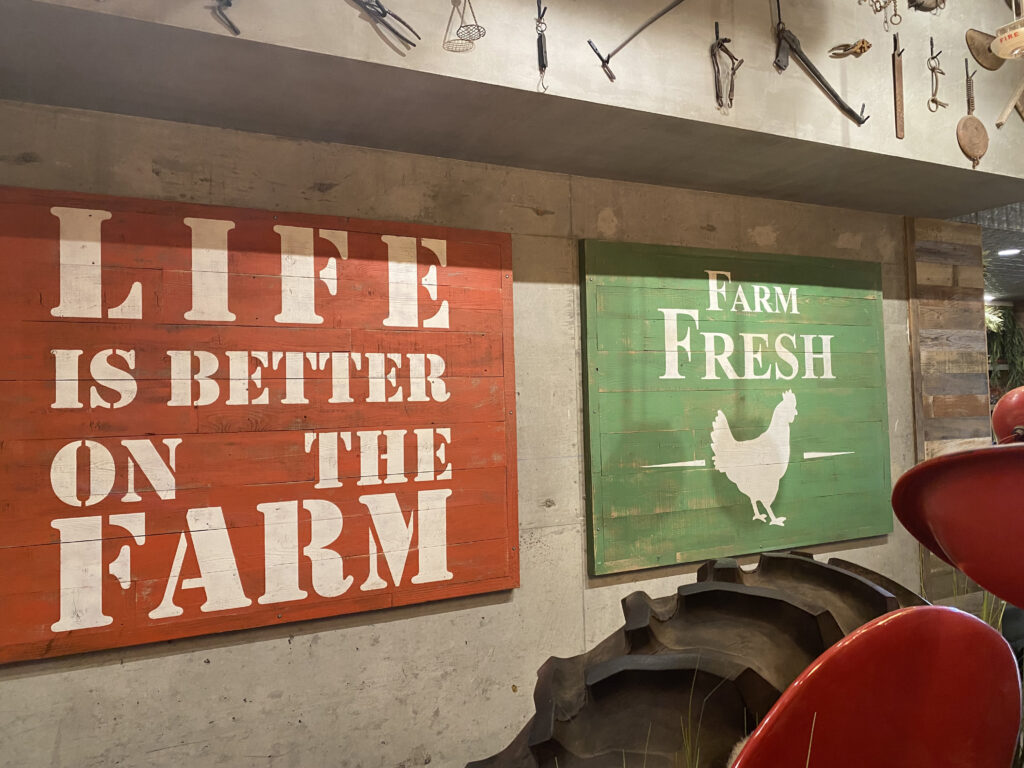 It's that time of the year again when diners get the opportunity to try new restaurants in San Diego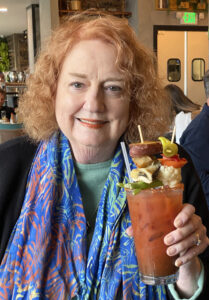 during San Diego Restaurant Week. From April 3-10, diners can select from a long list of restaurants all over San Diego and try their specially-priced menus.
A fellow writer (and girlfriend) and I tried Farmer's Table in Little Italy, and what a treat it was.
The Farmer's Table surprised and delighted us. Step inside to a very large and authentic décor (80% is reclaimed material) featuring a 1940 Farmall tractor, a wall mural of chickens, a light fixture of an old plow chandelier (shown in the bar photo), a clock tower wall painted with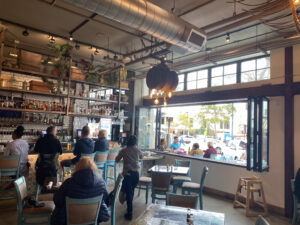 sunflowers, and a table supported by wheels from a piece of farm equipment. There are also several walls of plants to add to the rural atmosphere.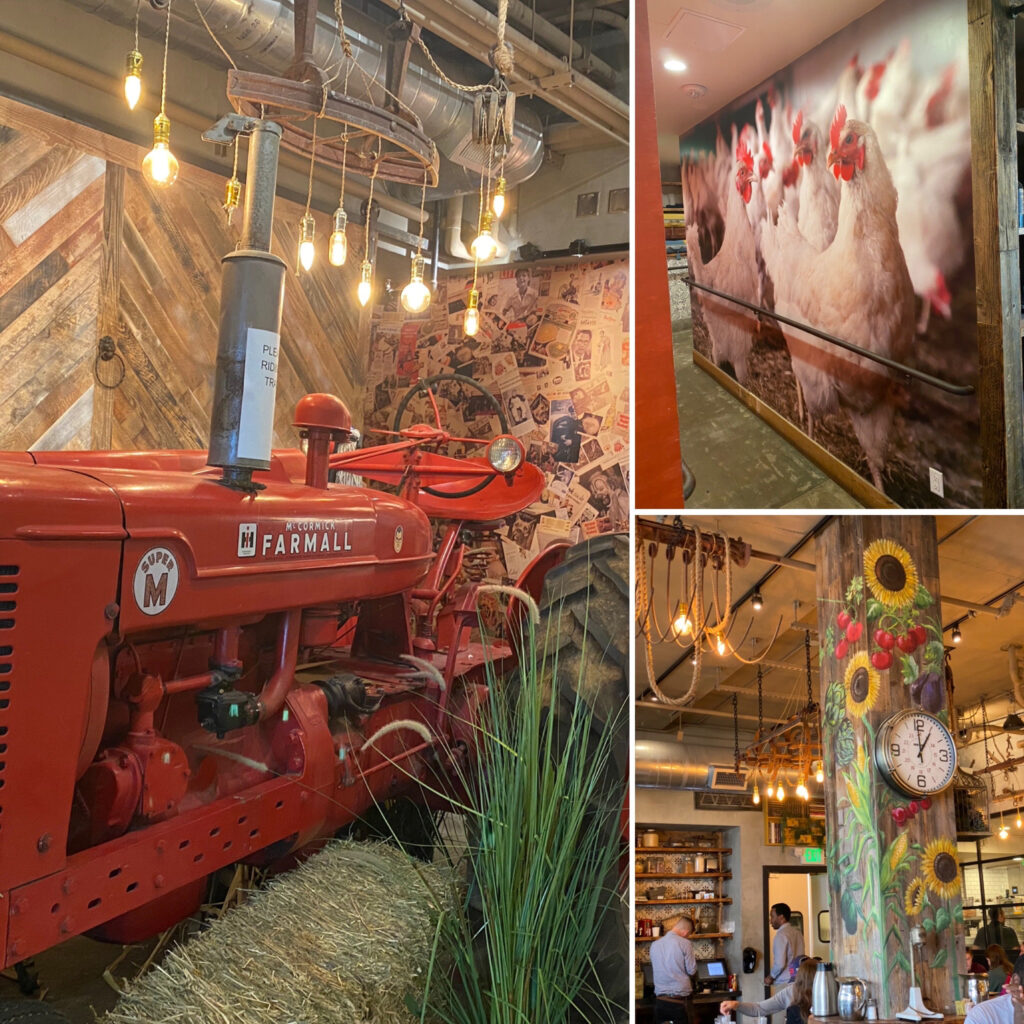 You might think that with all of this emphasis on  décor, the food would be lacking in freshness. Not so. In fact, the food is locally sourced from San Diego area farmers which allows for farm-to-fork freshness. All of the food served is organic. This restaurant is family owned and shows off the Sicilian roots of that family as well as their American home. They even have a wood-fired pizza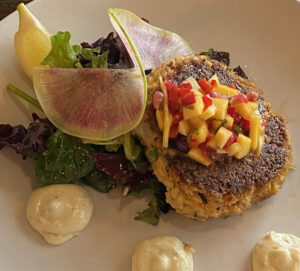 brick oven imported from Napoli. To the delight of parents of all kinds, they have a dog menu and a kid's menu. There is an emphasis on gluten free, vegetarian, and vegan menus with reassurance that these items are prepared in a safe prep area.
The Restaurant Week menu, served only at dinner time, was full of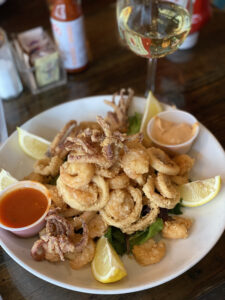 great choices.
Susan, my friend, selected an appetizer of Crab Cakes topped with a
mango/pomegranate salsa and tarragon jalapeno aioli. I chose the
Calamari and Shrimp with spicy tomato sauce and chipotle aioli. The crab cake was chock full of crab and light on breading which delighted her. The perfectly cooked Calamari and Shrimp appetizer was large enough for three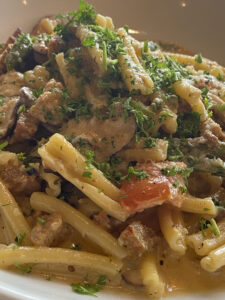 people and ended up in a To-Go box.
Next on the list were the entrées. This was a difficult choice. Listed were Penne Fennel Sausage with peas, mushrooms, and roasted tomato in a
light cream sauce. Other choices were the Pan Seared Salmon with mashed potatoes, and broccolini; an 8-oz. Filet Mignon in a cabernet reduction with mashed potatoes, and  broccolini (for an additional $8 charge); and a Wood Fire Roasted Chicken served with brussel sprouts,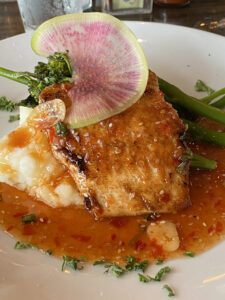 and fingerling potatoes.
Desserts available on the Restaurant Week menu were Tiramisu or Limoncello Sponge Cake. I chose the sponge cake and am now looking for a recipe so that I can try to duplicate it. So delicious.
The price of this menu is $40, a great value for such perfectly prepared and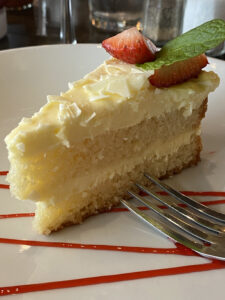 fresh food.
Farmer's Table offers a very large selection of wines and cocktails. It is known for its Bloody Marys. There is a choice of five unique ones like the Tijuana Maria of bacon wrapped hot dog, Mexican style street corn, and pickled veggies.
The most outrageous one, a 48-oz. one served in a water pitcher and designed for four people is called The Barn Yard. In it you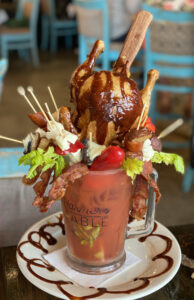 will find a whole roasted BBQ chicken along with bacon and a ton of vegetables and cheese. This drink has, along with the farm to table approach, been featured on CBS News and Eater San Diego.
I would suggest calling for reservations at 619-255-0958. The Farmer's Table is located at 550 Date Street, Ste. #A, San Diego, CA 92101.