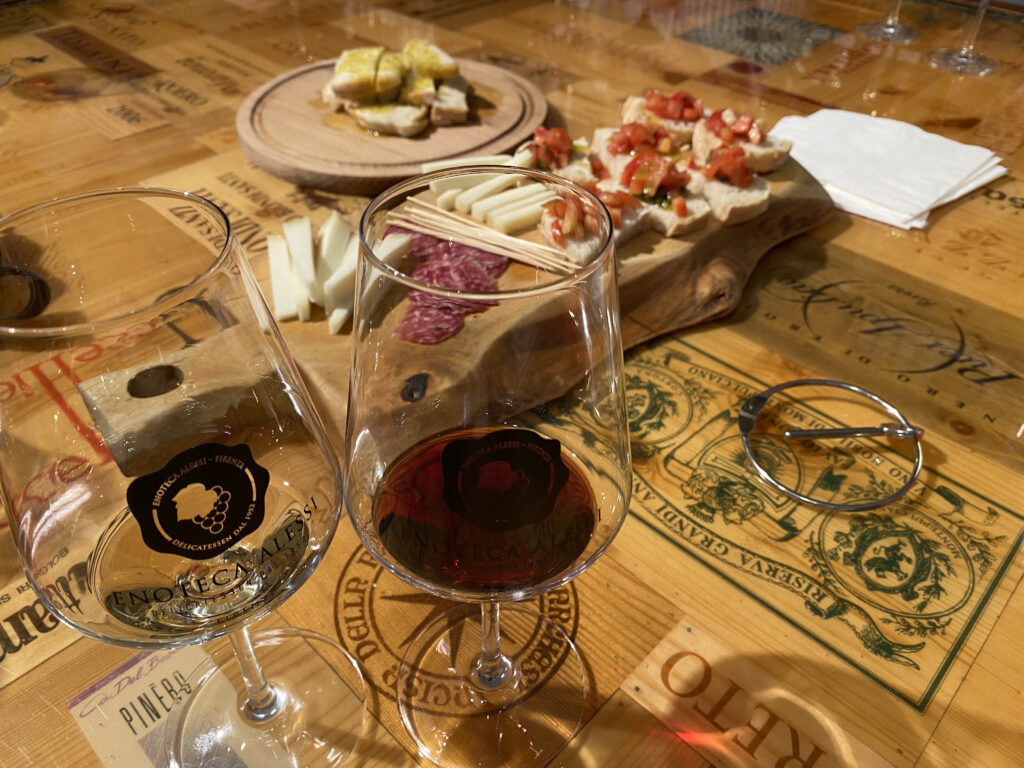 One of the first things you think of when you think of Italy is food. Aw, the food! I traveled solo to Florence, a city in Italy that I had never visited, and knew food was at the top of my list. My sister and brother-in-law, foodies themselves, told me a food tour was a must. I chose one with Small Group Florence Food Walking Tour. What a fun experience this was!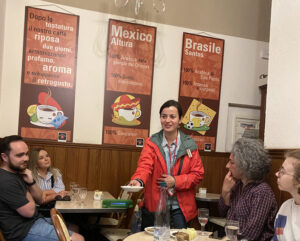 First stop was Chiar Oscuro Mokaflor for a sample of a robust Indian espresso and a 100% Arabica Brazilian espresso. We were then powered up for the rest of our tour.
How about a soft panini with truffles and fois gras? Our next stop was at Procacci Panini Tartufati for just that. Our guide explained to us that in Italy they use dogs to locate truffles rather than pigs because they are less harmful to the environment. I could probably

live in this shop with all of its glorious pastries, wines, and spirits.
We didn't sample any of the Florentine steaks but were told the city is famous for them. They come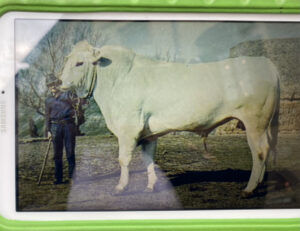 from the Chianina breed, a very large cream colored animal. This steak is usually 3-4 fingers high and serves 2-3 people. Chefs in Florence will only be cook it charbroiled and rare. The name on the menu is "Bistecca alla Fiorentina" meaning "T-bone steak from the kitchen." It's a porterhouse steak consisting of sirloin on one side of a T-bone and fillet on the other. A good wine to drink with this steak is a Brunello. One of the famous restaurants known for this steak is Buca Lapi. Buca Lapi is one of the oldest restaurants in Florence serving Tuscan fare since 1880. Prices can range from 60-120 euros per person.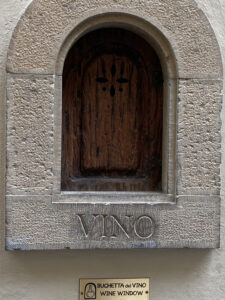 A curiosity unique to Florence are the small decorated openings in the outside walls of palaces called Buchette Del Vino that date back to the Medici family in the 16th century. These openings are wine windows. The small windows had knockers on them so that patrons who wanted a glass of wine or their jug filled could knock on the opening that led to the cellar where the wine was stored and for some coins, they would receive their wine. This was a way for the wine growers to make more money than selling elsewhere.
Forno Pane Dolci & Salati, a sweet and savory bakery, is where we were treated to a fried bread like an unsweetened donut with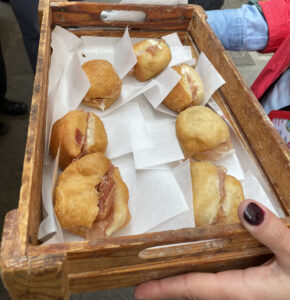 prosciutto and soft cheese.
On our way, we passed through the Mercato Nuovo, also called the "porcellino" market because of the bronze pig whose nose has been rubbed smooth by tourists hoping it will bring them back to Florence. During the Renaissance, the wealthy shopped for gold and silk here. Now the alleys are lined with leather goods. We were told that not all leather goods in this area were of good quality.
As we walked further, we stood before a grand building called the Mercato Centrale, part of the San Lorenzo Market that is comprised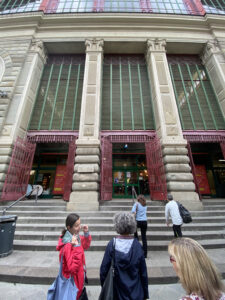 of the indoor food hall and the outside leather goods market.
As we entered, we saw a small butcher shop called Bambi, home to tripe and lampredotta (cow's fourth stomach) that are delicacies to Italians. To prepare it, it is rinsed and then boiled with tomatoes, onion, parsley, and celery. It is served with chili oil or salsa verde on a saltless roll. Originally the food of the poor, today it is an institution in Florence.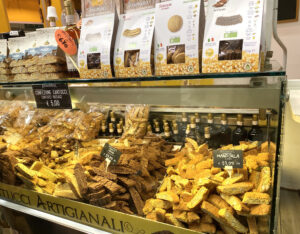 Pan da Lory in the Central Market is home to South Tyrolean bread and focaccia, but it is where we found some delicious cantucci (that we call a
biscotti which is any cookie in Italy.) These come in so many flavors like chocolate, lemon, and amaretto. We tried dunking them in a sweet white dessert Chianti. Delectable!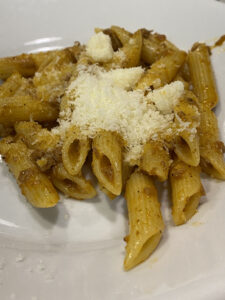 Of course no food tour in Italy would be complete without pasta.  Nerbone served us a ragu with very little red sauce (the way they serve it in Florence) and noodles that were cooked to the perfect al dente.
To wash this richness down, we were off to Enoteca Alessi, an amazing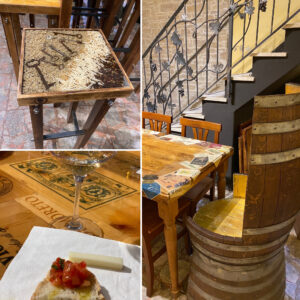 spirits and wine bar with some wonderful crostinis for pairing. The wine cellar is huge and so unique. Many of the tables and stools have keys and
grains epoxied on top. There are also seats made out of wine barrels. If you can't find a wine you like here, you can't find it anywhere.
Pasticceria Sieni overwhelmed us with a display case in this Pasticceria full of small and exquisitely decorated pastries. We were hosted to a sparkling
prosecco with two perfectly delightful pieces of some of the best this shop has to offer.
Last, but not least, was Perche No!, a gelato shop that I had found on my own because of its location between Piazza della Signoria and Piazza della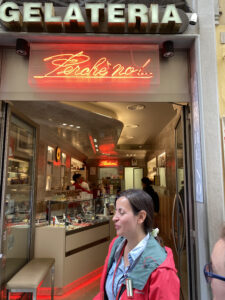 Repubblica which are near where I stayed. The story behind Perche No (which translates to "Why Not") is fascinating. Established in 1939 during WWII when there was a lack of ingredients and a lack of electricity, Perche No!
started experimenting with using egg whites to make a light spumoni. They also experimented with a wide variety of flavors. This is why their gelato is so creamy today. My only problem was trying to decide which flavor to try. Luckily I had several trips to try several dishes.
When you are in Florence, book a food tour for yourself. This traveling food show is such a great way to try everything Florence.
For more of what I saw in Florence, go to: https://bit.ly/3TyxghO