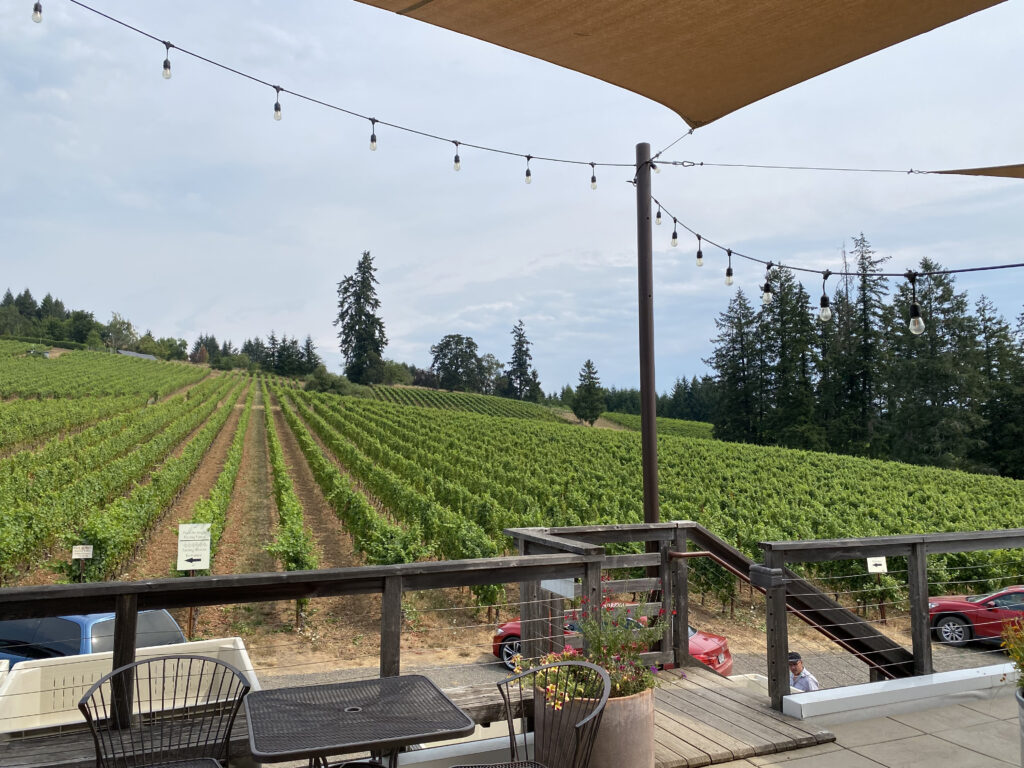 The Willamette Valley was my home for over 40 years, but wine didn't dominate the valley during most of that time. When I travel back to Portland, I always want to visit a couple of wineries. Pinot Noir calls my name.
On a recent trip to Portland, I visited two wineries I hadn't experienced in the past. Two of my wine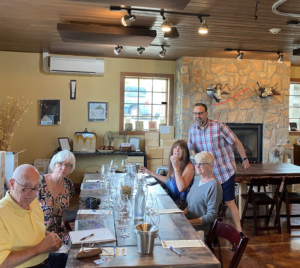 loving friends, Sandi Siler and Stephanie Sparkman (and one well behaved black lab named Gucci), accompanied me when we met up with our wine host, Carl Giovanni, and two fellow International Food Wine Travel Writers Association members, Pamela and Gary Baker.
Lenne Estate Winery
Our first stop was Lenne Estate Winery. Lenné is actually the name of Karen Lutz's father whose gift of an inheritance inspired the couple, Karen and Steve Lutz, to name their winery after him.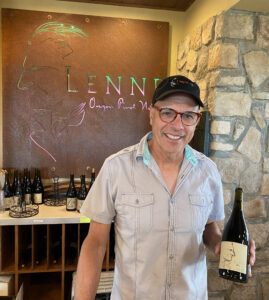 Knowing that poor soil produces good wines, Steve found some of the worst soil in the Willamette Valley. After losing thousands of vines, these two finally got a taste of the Pinot Noir wine from grapes that have suffered and struggled. They tasted the wine, and it was delicious.
On the day we visited, we started with their 2020 Lenné Chardonnay. An interesting fact about this wine is that it was aged in French Oak Puncheons (2.5 times the size of a barrel) that allows for some oak flavor but keeps the wine from becoming overly oaky. Your nose picks up some of the brioche aromatic that is typical of oak aging, but it is minimal. Steve stressed to us that he didn't want tropical flavors in his Chardonnay. He wanted pear which is what you taste in this Chardonnay. It's a really nice wine and sells for $55.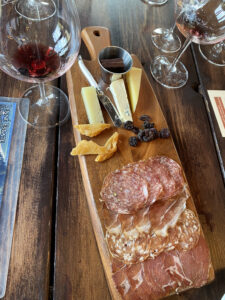 Then, we were up for sampling a group of Pinot Noirs. I always love trying wines from different years to see if I can distinguish the nuances.
The 2011 Eleanor's Pinot Noir ($75) is made from the coldest year ever since Lenné has been producing wine. This year produced high acid wines for that reason and are finally becoming ready to enjoy. We tasted lots of raspberry flavor and a smooth finish at the end.
In comparison, the 2018 Eleanor Pinot Noir ($60) was more approachable with both raspberry and mocha flavors with just enough acidity to make your mouth water.
The 2019 Sad Jack Pinot Noir ($55) is a blend of different barrels of their 777 clone. It produced a delicious wine with black cherry and mocha aromas. It has a nice long finish with pleasant acidity.
Then there was the surprise, although not a pleasant one, in 2020 of fires that produced a Pinot Noir with smokiness creating a flavor of black pepper and smoked meats. This 2020 Pinot Noir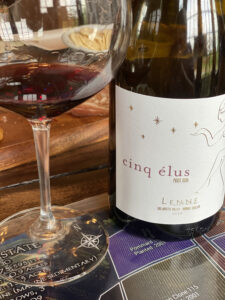 sells for $35.) It should mellow out in the next 5 years.
Lastly, but certainly not least of all, was our tasting of the Cinq Elus, a blend of only the finest of years from all five clones in the vineyard. This blend is rich and smooth and a wine that could be aged for up to 10 years. The best of the best would be a good description.
Something good to know is that this winery offers an Airbnb above the winery so that you can sample away and enjoy the lush wine setting of the vineyard for a night.
Potter's Vineyard
A very unique winery, the Potter's Vineyard, was our next stop. Potter's Vineyard is a very small winery which is the way owners Bill and Sandy Sanchez wish to keep it. With a small winery that only produces 1,000 cases a year, the couple is able to talk with everyone.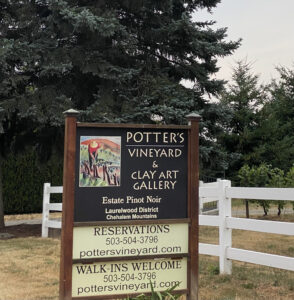 Appointments are necessary to facilitate this.
Potter's Vineyard is located in the newly formed Chehalem Mountains Laurelwood District AVA. The vineyard has a Bee Safe certification, a Salmon Safe certification, and a LIVE certification (showing environmentally and socially responsible vineyards) in addition to being organic. You might say wanting to have these certifications came from Bill's study of the nutritional sciences. His wife, Sandy, brings the Italian heritage to the winery with her knowledge of good food and wine.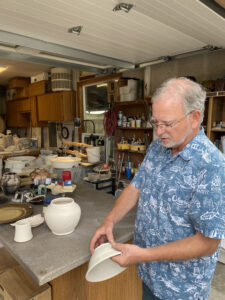 The 2021 Rosé of Pinot Noir($25) had a flirty bright pink color that was from grapes picked two weeks prior to the other Pinot Noir harvest which gave it the brighter color and dry taste that rosé drinkers are now preferring. The Laurelwood soil also brings out more color for a rosé.
Their 2020 Chardonnay ($38) (of which just 92 cases were produced) came from Rattlesnake Hills AVA near Yakima, Washington. Here's a new term for all wine lovers. This Chardonnay was báttonaged. That means when it was fermenting, the lees were stirred back in after settling to add texture and complexity to the wine. This Chardonnay was kept in oak for a year and then moved to stainless steel for six more months. I liked this Chardonnay because it had complexity from the oak but wasn't heavily oaked.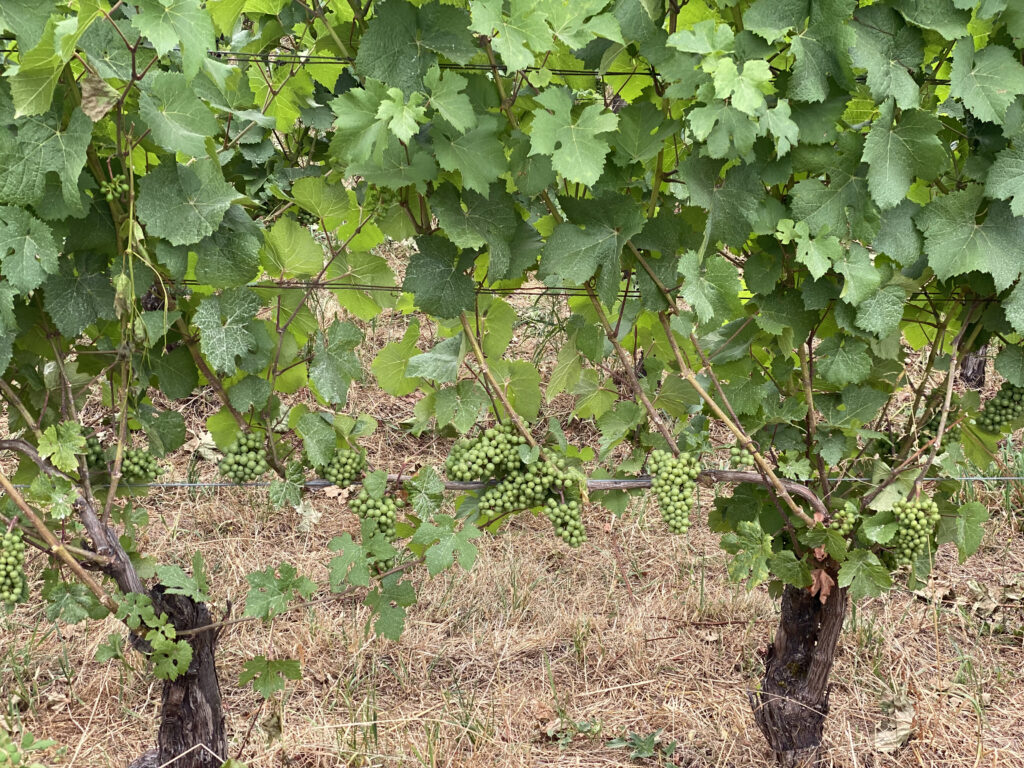 Our next tastings were two Pinot Noirs. The first was a 2019 Dario Estate Pinot Noir ($35) with cherry and baking spice aromatics. It had a medium body with a rich black cherry flavor. A truly delicious Pinot Noir.
The 2019 Estate Reserve Pinot Noir $58) (which is a new release) tasted of ripe red cherries with herbs and minerality. It has a long finish, always a good thing for fine wines.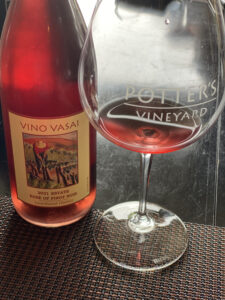 Our last tasting was the 2018 Cabernet Sauvignon ($45) (platinum and double gold medals) made with grapes from the Konnowac Vineyards in the heart of Washington's Cabernet Sauvignon region. This Cabernet was aged in neutral French oak for 18 months. Again, this wine shows off all the beauty of a wine that is made in the classic Bordeaux style.
No trip to the Potter's Vineyard would be complete without a visit to the studio where Bill produces his clay artwork. This is a working studio with a kiln and green ware. Such a nice touch to the winery visit.
On your next trip to the Willamette Valley, schedule an appointment to visit these two unique wineries producing some amazing Pinot Noirs. Leave time to take in all the beauty of the area.