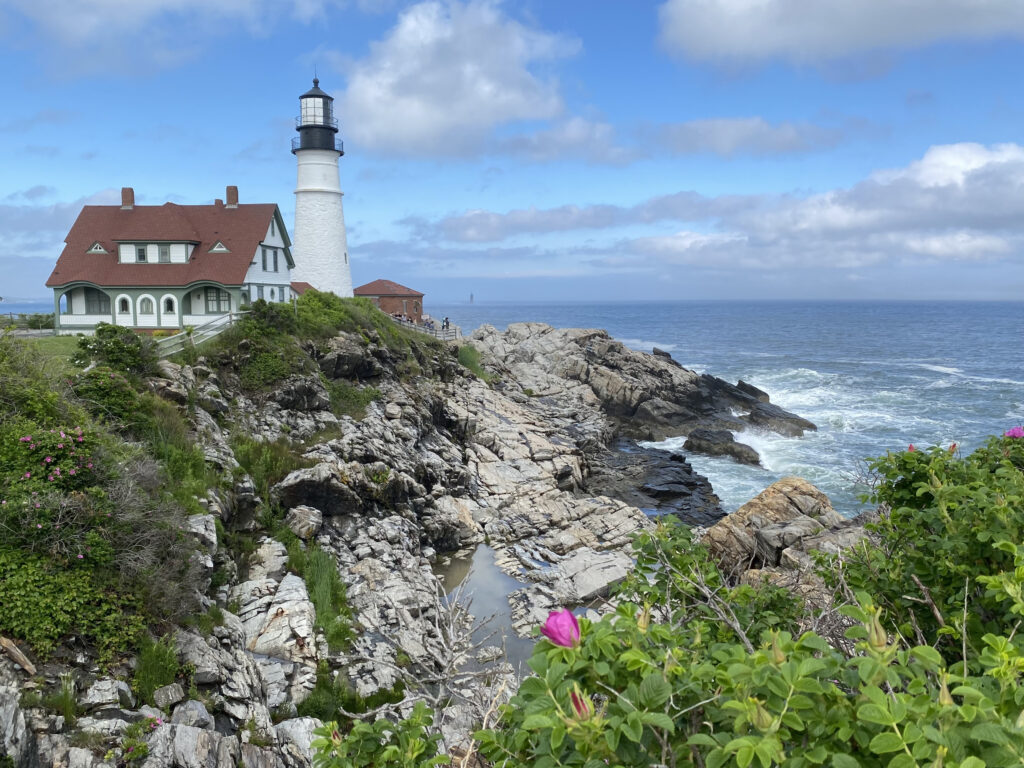 The state of Maine's nickname may be "the pine tree state," but I would call it the "lobster state."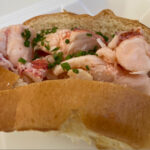 Granted, it is known for its spectacular rugged shoreline, its lighthouses, its lush greenery, its rich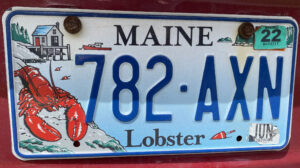 history, and beautiful Victorian homes. But, for me (and their license plate says it all,) it's all about the lobster and that lobster roll is what I wanted to enjoy.
At the beginning of June, I visited a couple who live in Cape Elizabeth, Maine. I have known this couple since my son was a preschooler, so we go back a long ways. I had never been to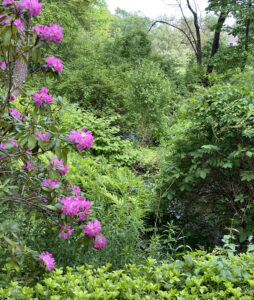 Maine, and it was on my bucket list as well as visiting Meg and Tom.
Since they live only five miles from Portland, Maine, Maine's largest city, we spent our time in Cape Elizabeth and Portland.
Cape Elizabeth
I was amazed at the lushness of growth like the rhododendrons, azaleas, larkspur, irises, and wild roses and the sense of  nature being so happy in this place. Meg and Tom had a beautiful garden where they harvest a lot of what they eat.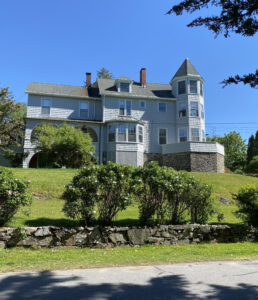 One of my favorite walks from their house took me past old Victorian homes not far down a road where I could look over the churning ocean against jagged rocks. This sense of being so near the ocean is a very calming feeling. I spent some time on the Adirondack chairs overlooking that body of water. The view mesmerized me as I gazed at the lighthouse and boats coming and going in the distance.
Rich West's Bungalow with Container Garden is a must-see. He originally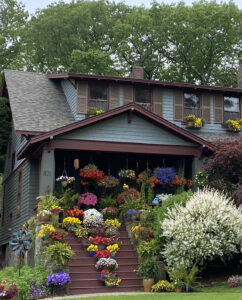 hung all the pots to distract the eye from the 1904 fixer upper needing repair. It has since become a lavish container garden. Traffic often slows to admire the beauty. No need to worry, though, because Rich loves to talk to those stopping by and can offer some gardening tips. This home was featured in Maine Homes by Down East Magazine.
The Rosemont Market and Bakery in Cape Elizabeth carries Winter Hill Farm products and was a stop on our first day to get a cup of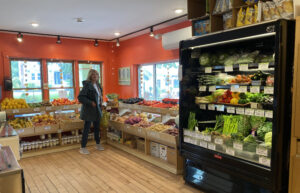 coffee and pastry. This small little shop seems typical of the more rural feel of the area.
Remember that what I really wanted to eat in Maine was a lobster roll.  C Salt Gourmet Market in Cape Elizabeth provided just that perfect stop. Nothing, to me, is better than the taste of lobster that isn't overly garnished when it is served in a soft roll. That roll made me very happy! And it is a great stop for gift items, too.
No trip to Maine would be complete without visiting lighthouses, and Maine has so many. They are all so spectacular.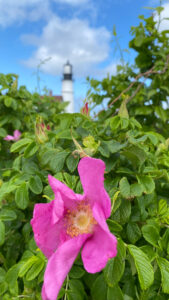 The best known in this area is the Portland Head Lighthouse. I love standing next to them and feeling that salt air pounding up on the rocks.
Portland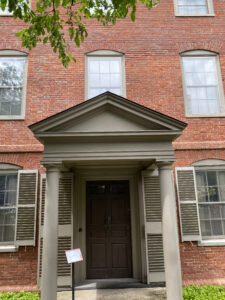 There is a lot of history in the city of Portland. One of those special historic places is the home where Henry Wadsworth Longfellow grew up that was built in 1785. It was the first brick home built in Portland and is the oldest standing structure on the peninsula. This was a rather large home and had a third floor added to the brick structure so that three generations of the family could live here. Obviously, the Longfellow family were no paupers.
Portland Museum of Art is home to artwork by N.C. Wyeth, father of Andrew Wyeth, and an acclaimed artist in his own right. Andrew Wyeth,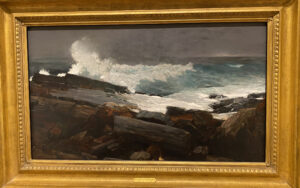 Winslow Homer, and Pierre Bonnard all have paintings displayed at the museum, too.
The Eastern Cemetery, established in 1668, is the city's oldest historic site. The oldest known burial stone in this cemetery is from 1717. The Receiving Tomb interested me because this was where bodies were stored underground if they died in the winter when the ground was too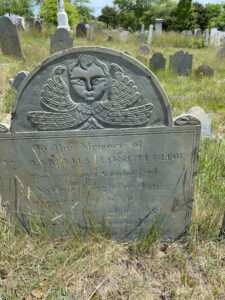 frozen to dig a proper grave. Once the spring thaw came, the deceased were given that proper resting place.
The Portland Observatory, not to be mistaken as a lighthouse, is the only remaining maritime signal tower in the country. In 1807, Captain Moody ordered the construction of this observatory so that with his powerful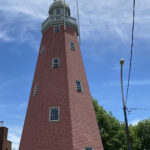 telescope he could announce the arrival of ships from as far out as 30 miles. As they were coming into the harbor he raised colorful signal flags. When I climbed the steps (which were many,) I was rewarded with a 360-degree view of the city and the harbor.
The Portland Farmers Market is open every Wednesday and Saturday. A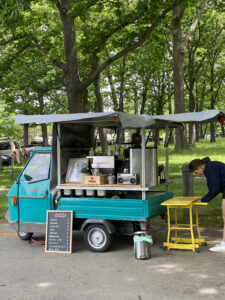 stroll through the market at Deering Oaks Park, listening to sidewalk musicians and taking in all the colors of the flowers and vegetables along with the tiny little cart selling coffee made for a perfect way to start one of our mornings.
Portland Restaurants
The Green Elephant, an Asian inspired vegetarian bistro in Portland shows what a chef with talents in fusion food can prepare. The chef has melded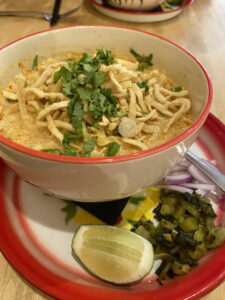 flavors from Thailand, Japan, Malaysia, and China to bring freshly prepared interesting food. This is a score for those loving unique and fresh food.
As we drove from Cape Elizabeth to South Portland, I spotted Cape Whoopies. I know this may not actually be a restaurant, but some might like to enjoy what is made here as if it were. I remember something similar to these whoopie pies as a child, but I never knew that this cake-filled delicacy had its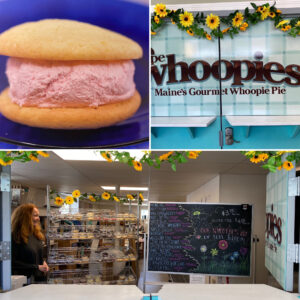 roots in Maine. My friend, Meg, told me she remembered as a child when she and her friends would get Whoopie Pies. We did stop, and I brought a couple home to share with friends.
Fore Street Restaurant, a restaurant described as rustic and chic, serves locally sourced and hand prepared food based on the products their farmers, fishermen, and foragers bring them. Everything is cooked over either an open wood fired grill or in a wood fired oven. This restaurant has won numerous awards, among which is being named by Gourmet Magazine as a "Top Fifty Restaurant in the U.S." The night I was there, I had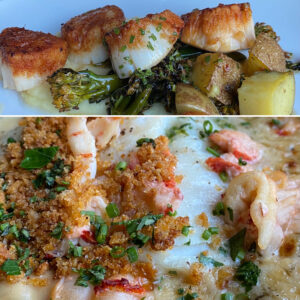 Haddock topped with Lobster Chowder. Another dish we had was the Scallops with Bagna Cauda and Broccolini. So delicious!
Portland's Old Port District
We had a day planned in Portland, and Portland's Old Port District was where we headed. A stop at the historic 1800s Harbor Fish Market to check out—you guessed it—the lobster as well as the local clams and fish. The day I was there, the lobsters were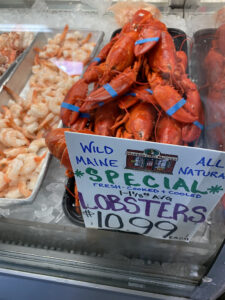 $10.99 each.
Next door is a shop called Sea Bags. Sea Bags is home to bags and accessories made from old sails and sewn in the shop right there in the Old Port District on the waterfront. Made by world class designers from top notch design schools, these bags are sewn by skilled seamstresses that you can watch at work creating bags. They even have a vintage collection. The wine bags were a necessary purchase for me. With these bags, you write your name on the bag when you give a gift of wine and then that person passes it on to a friend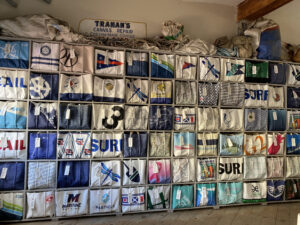 of theirs. The bag's journey continues. I loved the idea.
A trip to Casco Bay Ferry Lines at the Maine State Pier that crosses the waters of Casco Bay was our stop on the waterfront. The Casco islands range somewhere between 120-700 islands, most of which are only accessible by private boat. We boarded a sailboat for a relaxing Maine Sailing Adventures trip for a Wine Sails led by sommelier Erica Archer.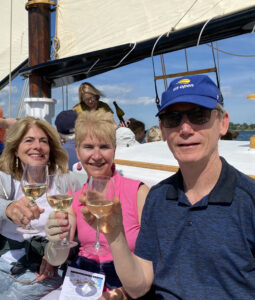 Erica poured French wines on the day we sailed. The winds were up for
our sail, the scenery spectacular, the sun was  out, and the wine flowed. A perfect adventure!
My days of visiting Maine are just beginning, and Cape Elizabeth and Portland were two perfectly great places to begin my travels in getting to know Maine. Thank you, Meg and Tom, for your hospitality.