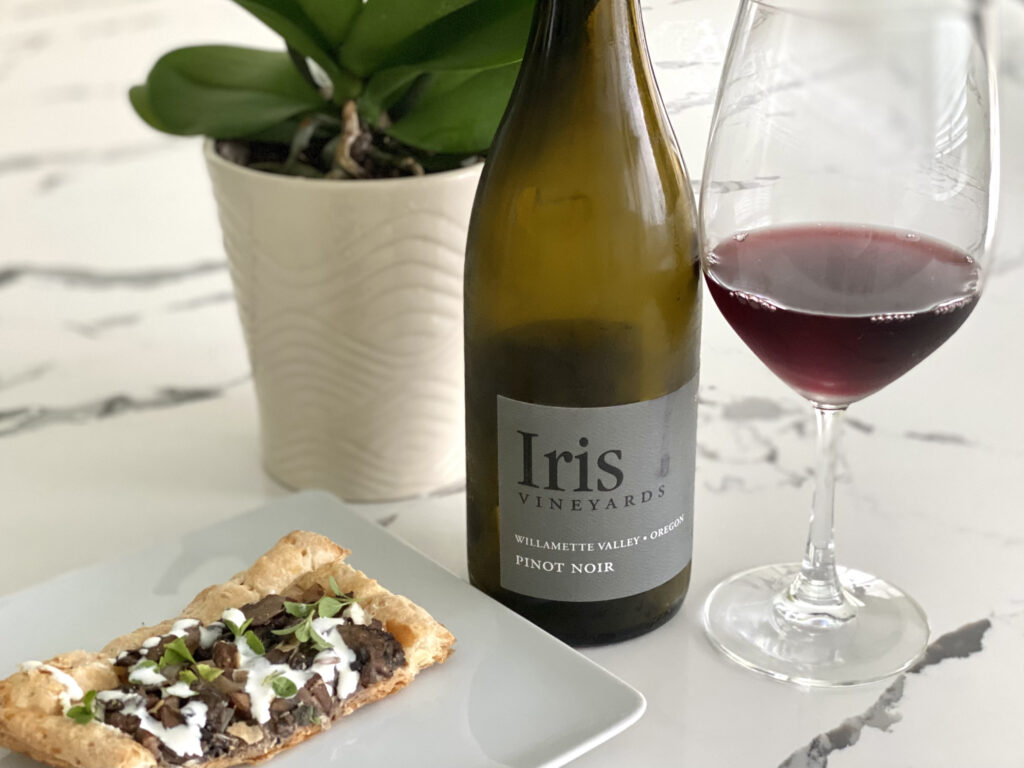 The Pinot Noir grape is a very delicate and finicky grape that loves to grow in areas of the world with both a long spring and fall. As you may know, grapes that create great wines love to struggle in the growing process, and Pinot Noir is one of them.
The color in the glass is a paler red than some like Cabernet Sauvignon and has lots of rich acidity to add to its flavor and complexity.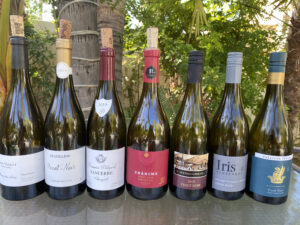 There is much variation in flavors of Pinot Noir, depending on the region of the world where it is grown. This grape is affected more than any other varietal by the region where it is grown.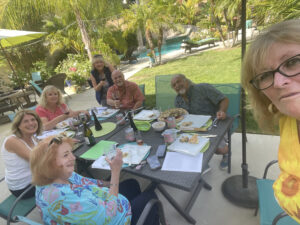 Our Wine Review Council gathered to sample wines from seven different regions around the world to see if what we read about the differences in regions applied to the wines we sampled. Of course, even within a region, there can be big variations to flavors. We paired food with our wines to see what works well with Pinot Noir.
The first wine we tasted was a New Zealand Palliser Estate 2020 Pinot Noir.  New Zealand is known for delicious Pinot Noirs so we were all excited to try this bottle. While the website says $60, our bottle was purchased at Total Wine for $36.
We found this wine to be bigger than some that we tasted. Typically, the Pinot Noir wines from New Zealand will be darker and bigger with more color in the glass. We found layers of cherry and baking spice with a hint of chocolate. Of all the wines we tasted, this was our favorite. The vineyards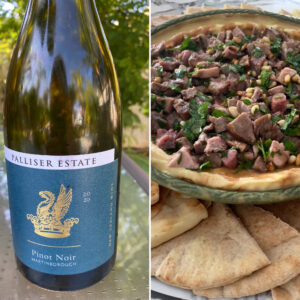 where Pinot Noir are grown for Palliser Estate have all become organic which requires a lot of effort to achieve this certification.
The wine was paired with a lamb topped mezze hummus with confit garlic and pomegranate molasses. The creaminess of the hummus, the meatiness of the lamb, as well as the garlic and molasses paired nicely with the fruit flavors of the Pinot Noir.
Next, we sampled a Willamette Valley, Oregon, Pinot Noir from Iris Vineyards ($23.99.) This 2020 Pinot Noir was given 90 pts. by Wilfred Wong of Wine.com.
The color was lighter than the first one in the glass and more fruit forward with notes of raspberry and plums. We enjoyed this wine and thought it would be a good drinking wine for those warmer summer days.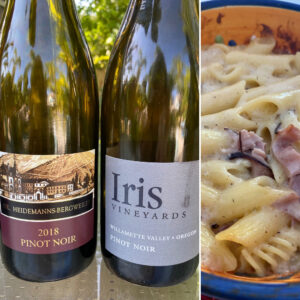 Dr. Heidenmanns-Bergweiler Vineyards in the Mosel region of Germany provided the next 2018 Pinot Noir (called Spatburgunder in Germany.) It retails for $18.99 at Total Wine.
According to the website any place in Mosel you can grow a good Riesling, you can also grow a good Pinot Noir. This Pinot Noir was fermented partly in new oak and partly in used oak which helped round out and smooth the wine. We found this wine to be darker in color than some of our Pinot Noirs with a plum flavor and was sharper on the nose. Pinot Noirs from Germany are supposed to be fruity, but we didn't find that the case with this wine.
Both the Iris Vineyards and Dr. Heidenmanns-Bergweiler wines were paired with a Mac 'n Cheese with some ham and mushrooms. The creaminess of the Mac 'n Cheese balanced out the acid and tannins of the Pinot Noir.
Another good wine growing region for Pinot Noirs is Argentina. We tried the Unanime Vineyards 2017 purchase at Total Wine for $25.99. The grapes are planted at Finca La Mascota at the foot of
the Andes near the Mendoza River. James Suckling gave this wine 91 pts. We thought the color in the glass was darker than expected. We found it to be a bit heavy for a Pinot Noir and not terribly fruity.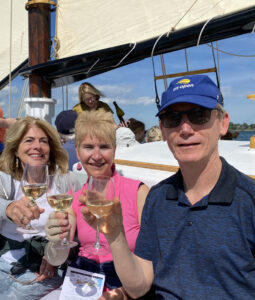 France has long been known for their Pinot Noirs. I brought home a Pinot Noir from the Sancerre region of France in the village of Chavignol, known for their goat cheeses. Domaine Delapporte produces this 2019 Pinot Noir ($36) grown on organic soil. This family business has been handed down since the 17th century.
I bought this wine on a wonderful wine tasting that took place on a sailboat by Maine Sailing Adventures out of Portland, Maine. It was an idyllic day with sunshine and cool breezes that my good friends, Meg and Tom Wolff, invited me to experience.  Sommelier Erica Archer poured the wines as we sailed.  Our group found it to have a bit of a sharp edge with dark cherry flavor and pepper on the palate. I did bring the wine home in my baggage so possibly there was some change that happened in travel. Wine Enthusiast gave this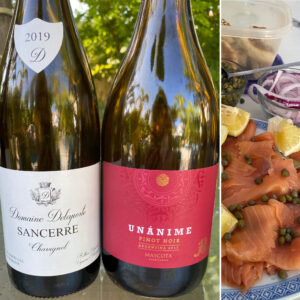 wine 90 pts.
The Unanime and the Domaine Delapporte were paired with smoked salmon with a bagel and cream cheese. Salmon just goes so well with Pinot Noir.
Pinot Noir from Italy (known as Pinot Nero) is similar to the French Pinots but is usually a bit riper. They are usually dark, rich, and earthy. The wine we tried was the Le Colline Limited Edition Pinot Noir 2020 at just $10.99 at Total Wine. Our Italian Pinot Noir was drinkable, with low tannins, light body, and meant to be drunk early. We tasted red fruit of cherry and raspberry. It seemed a bit watered down with not as much depth as some of the others, but for the price point, it might be a nice dry wine for everyday drinking.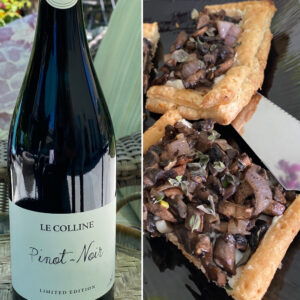 I paired this wine with an appetizer of Mushroom and Goat Cheese En Croute. Mushrooms are another natural pairing for Pinot Noir.
On a trip to San Luis Obispo, I stopped at Edna Valley Vineyard. This winery is located just 5 miles from the Pacific Ocean with a long growing season. If you are in the San Luis Obispo area, be sure to put this winery on your list. It is in a beautiful setting with friendly servers and good wine. We sampled the 2018 Winemaker Series Pinot Noir ($45) with layers of what you would expect from a California Pinot Noir. There was black cherry, nutmeg, and raspberry. It was medium bodied with a long finish. We chose this California Pinot Noir as our second favorite wine of the day.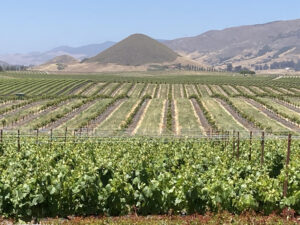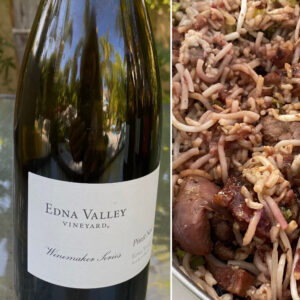 We paired the Edna Valley Pinot Noir with a dish of Chicken Drumettes in rice and noodles with  a
Chinese Plum Dipping Sauce. The richness of the dish and the tartness of the sauce paired perfectly.
We had a good time trying to pick out nuances from different growing regions for Pinot Noir. We also concluded that we have a "California palate" and expect wines to taste like what is familiar to us.
Why don't you try your own Pinot Noir sampling from around the world and see what you think.