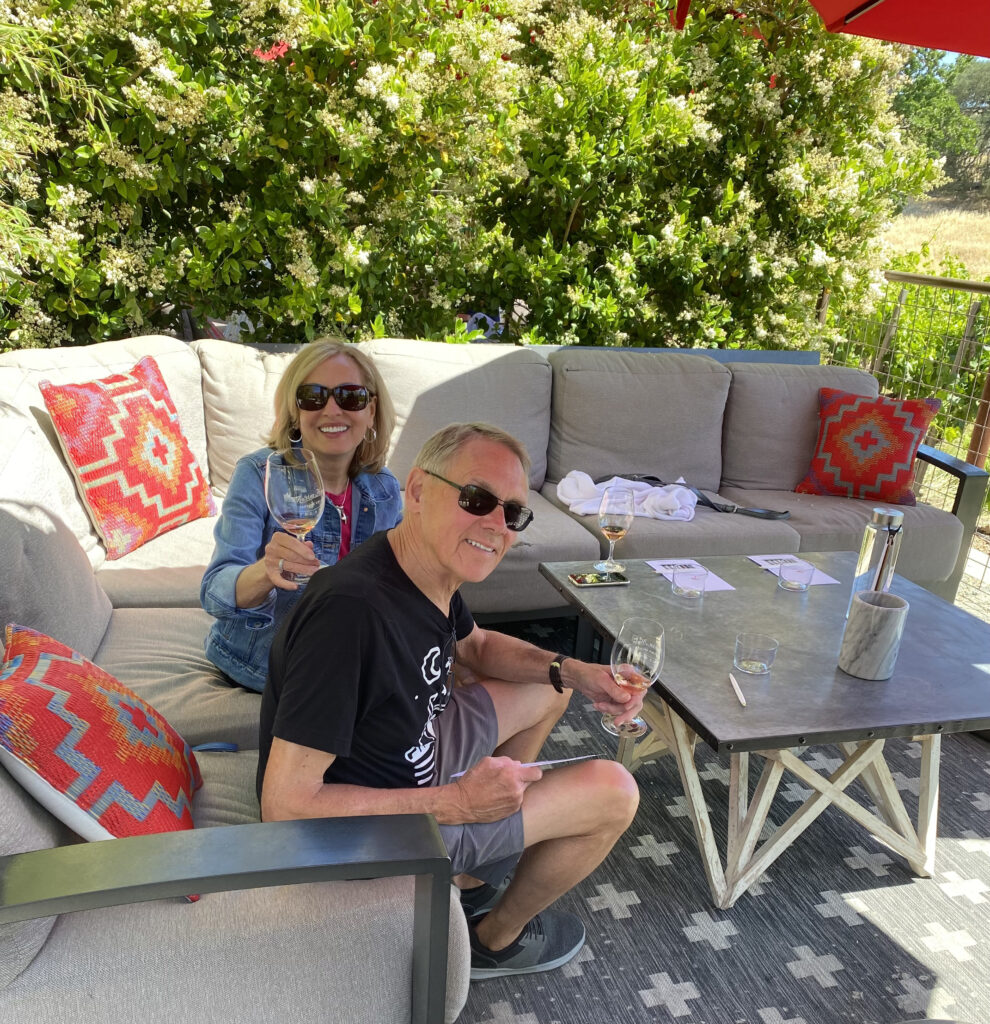 What could be more idyllic than a comfy sectional with a table of wine and a charcuterie surrounded by plants and covered by a large umbrella while you look out at a beautiful vineyard.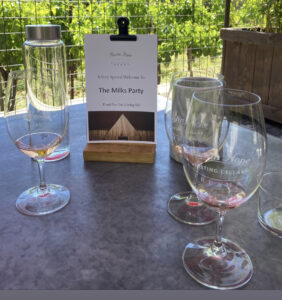 The Paso Robles region of California is chock full of wonderful wineries that I have visited, but it was my sister, Rita, and my brother-in-law, Ken from Omaha, Nebraska, who asked to visit the Hope Family Winery after having a bottle of their Liberty School Cabernet at a favorite restaurant.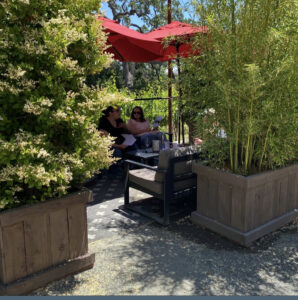 What truly adds to the experience of a great wine tasting is an articulate and knowledgeable staff person who knows the history as well as the tales of a winery. We were so delighted to have CJ pour our wines and share engaging information at the Austin Hope and Treanna Tasting Cellar.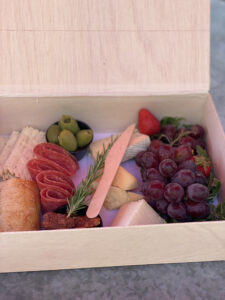 History of Hope Family Wines
Hope Family Wines has been around for around 30 years. That's a long time to perfect wines. Currently Chuck Hope and his son, Austin Hope, own and manage this winery. The land has been in the family since 1978.
Austin was one of the leading growers of Cabernet Sauvignon in this area because he realized the area matches the Rhone Valley and Napa's Rutherford district. Austin set out to make a luxury Cabernet Sauvignon at this family-owned and sustainably farmed winery that is SIP certified (practicing the 3 Ps – People, Planet, and Prosperity and must be certified by a third party organization.)
Hope Family Wines does source from around 50 other growers in the Paso area, but these vineyards must also be SIP certified. This means that the oak trees, so prevalent in Paso, as well as the creek beds are protected. The Hope Family Wines have created corridors for wildlife like deer, quail, and wild boar through their vineyards.
Five Labels of Hope Family Wines
There are five labels used by Hope Family Wines.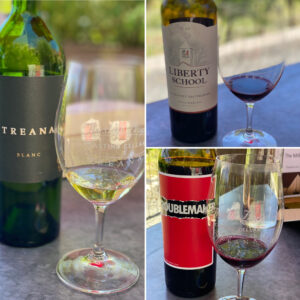 The first wine we tried was one new to me. We sampled the Treanna Blanc ($25), a blend primarily made of Marsanne. When I researched Marsanne later, I found that it is a grape grown in the Rhone region and also in the central California coast region. This wine is a very flavorful white that can handle seafood and creamy dishes. There are notes of pineapple, citrus, pear, apricot, and nuts. In reading about Marsanne, it says it can be a good substitute for Chardonnay because it is a big white.
The second one was Liberty School, the Cabernet Sauvignon that Rita and Ken had experienced. This was the first wine we sampled and found it to be an excellent Cabernet Sauvignon at only $25 per bottle.
The third wine we tried was the Troublemaker Red Blend ($20.) Troublemaker is all about breaking the rules. The label says, "It's a wine made for you and your inner troublemaker." The 2020 was a blend of Syrah, Petite Sirah, Mouvedre, Grenache, and Zinfandel.
The name for Troublemaker came about because Austin was a bit of a troublemaker in his youth. Whenever he got into trouble, his parents would send him to the vineyard to do some hard work. They didn't realize at the time that these experiences would turn into a life-long passion.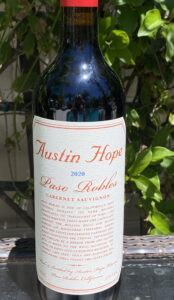 Our fourth wine was the Austin Hope 2020 Cabernet Sauvignon wine. It shows off a deep ruby color with flavors of cherries and blackberries with a touch of vanilla. This is good wine for $44.
Quest was our fifth wine. The Quest label suggests it's a wine that isn't bound by tradition and the norms of winemaking. The 2020 was a blend of Cabernet Sauvignon and Cab Franc ($27.) We found a soft and concentrated flavor with a lot of smoothness.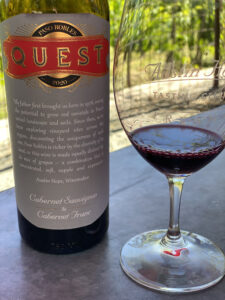 When we were brought the sixth wine, we noticed a rough sketch of a beast on the label. We found out that this 2020 Mouvedre label was based on a 2011 mud painting that Austin's 8-year old daughter, Ainsley, had created in the vineyard. He has a framed copy in his office.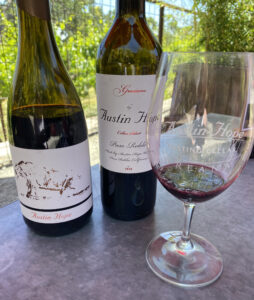 The wine itself is a big, bold wine with a rich, dark color and the aroma explodes of fruits and flowers as you breathe it in. It's a rich and spicy wine. The 2020 sells for $65.
A 2020 Graciano, our seventh tasting, won my heart. This variety originated in Spain in the Rioja region. The grapes have a black skin which pours as a very deep burgundy color. There are aromas of blackberry and mulberry with notes of cinnamon, cloves, black pepper, violets, and cedar as well as those dark berries. The Graciano sells for $85.
The Process of Making an Amazing Cabernet Sauvignon
What goes into making a truly remarkable Cabernet Sauvignon that Wine Enthusiast ranked on the Top 100 List of 2020 and the only wine from Paso Robles to break the top 100 overall? It's not simple.
In 2019, the different lots of Cabernet Sauvignon were aged in a combination of once used and neutral French oak. Then, in 2020, the lots were blended together and continued to age in new French oak. Prior to bottling, the winemaking team tasted and selected individual barrels that displayed exceptional quality and character. Those barrels were combined together to make the Austin Hope Cabernet Sauvignon Reserve. They were then aged another 6 months in new French oak and bottled in 2021. All of these steps are why Austin Hope Family Wines are exceptional.
How Should Red Wine Be Served
A suggestion on how best to serve that Cabernet Sauvignon is that it should be slightly cooler than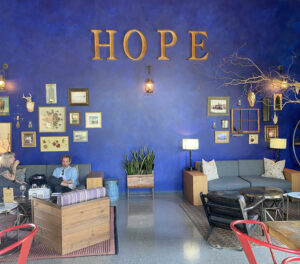 room temperature. Austin believes the ideal temperature is around 57 degrees. If you don't have a wine cooler, place the bottle to rest in your refrigerator for about 30 minutes for the fullest flavor to be attained. Then, the wine should be aerated prior to serving.
Although I was hosted (which is customary in this industry,) I would encourage a visit to Austin Hope Winery for one of the best experiences that Paso Robles has to offer. I know I will visit again.