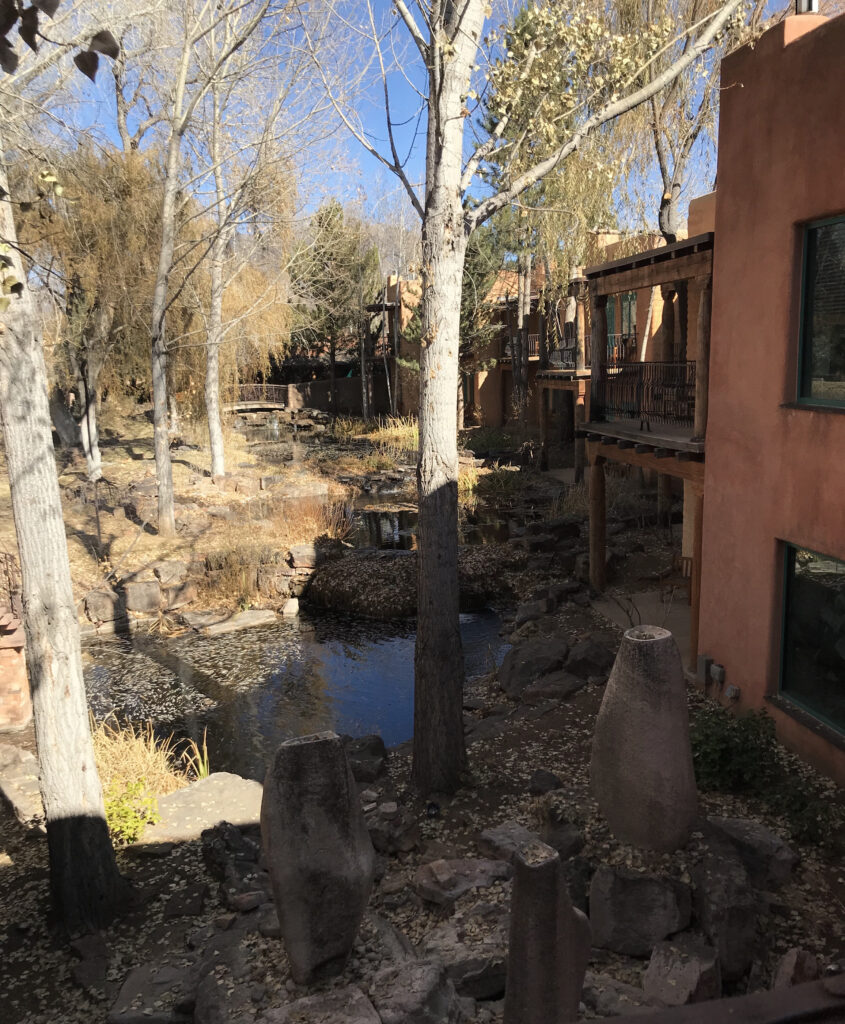 Words cannot begin to express the sense of luxury and serenity I felt upon arriving at El Monte Sagrado (meaning Sacred Mountain) Living Resort and Spa in Taos, New Mexico. A group of writers from the International Food, Wine & Travel Association were blessed with this resort for our stay during our Taos post-trip following our 2019 conference in Santa Fe.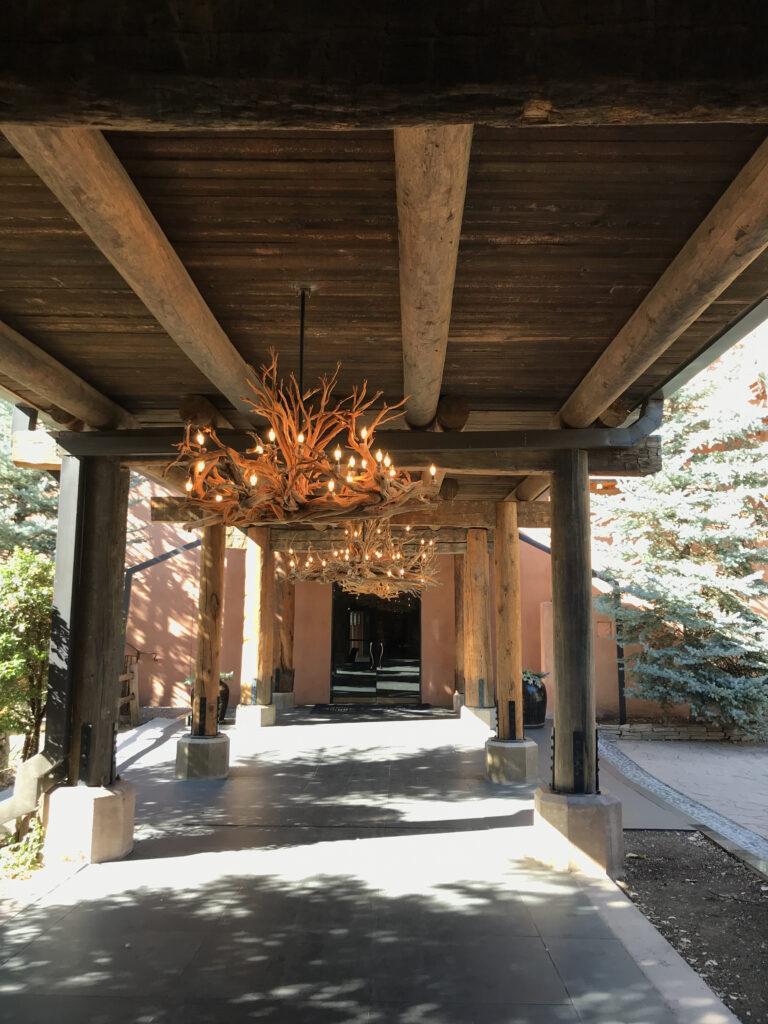 Rustic wood beams on the overhead walkway and antler chandeliers lit our way as we approached the entrance to the central round, high-ceilinged rotunda lobby.  The walls in the rotunda are made in the traditional dry stacking method used in Inca walls. Above in the two-story rotunda hangs an impressive Brazilian citrine quartz—a stone that dissipates negative energy.  In the evening, this ceiling glows from the quartz and lights appear like stars in the ceiling. There is corn ironwork on the walls that form torches,  a massive amethyst stone (a strong healing stone,) and a fireplace that echoes those found in the Pueblo for heating and cooking. The design of this rotunda carefully reflects the Native American culture of the area.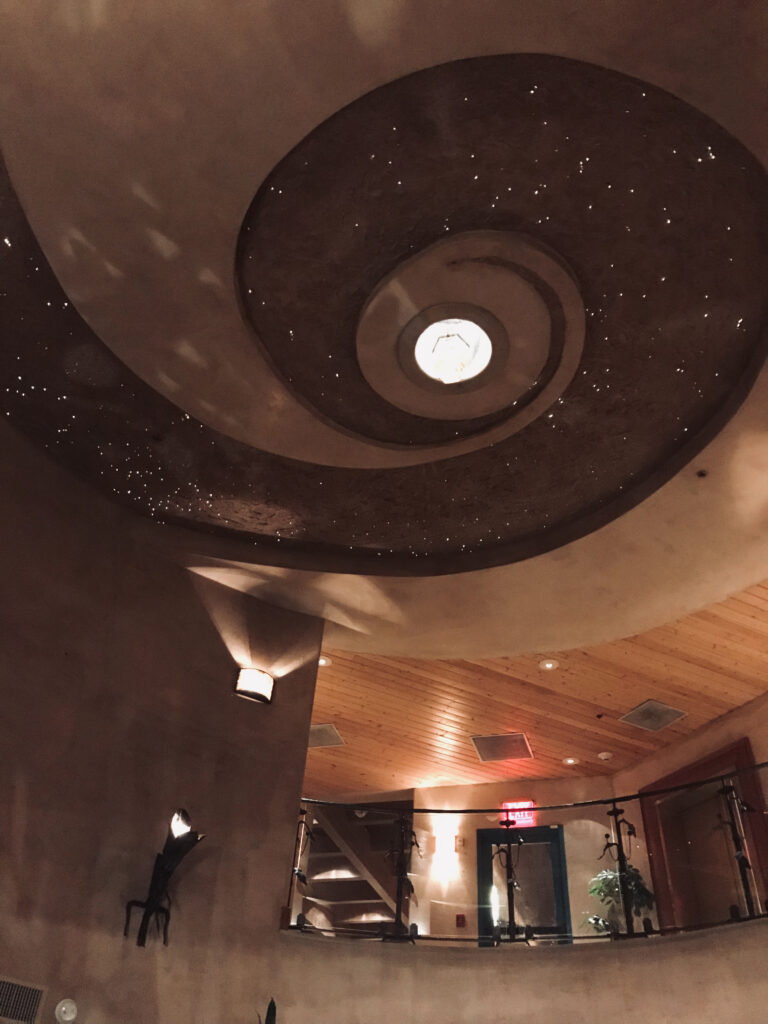 Tom Merrill purchased this property in 2000. He wanted to be off the grid with his own water system and a solar tree as part of that ability to not be dependent on anything besides what was at the resort, making this a truly eco-friendly space. Five spiritual leaders from around the world blessed this place in 2003 when it was completed as it now stands–the Dalai Lama among them.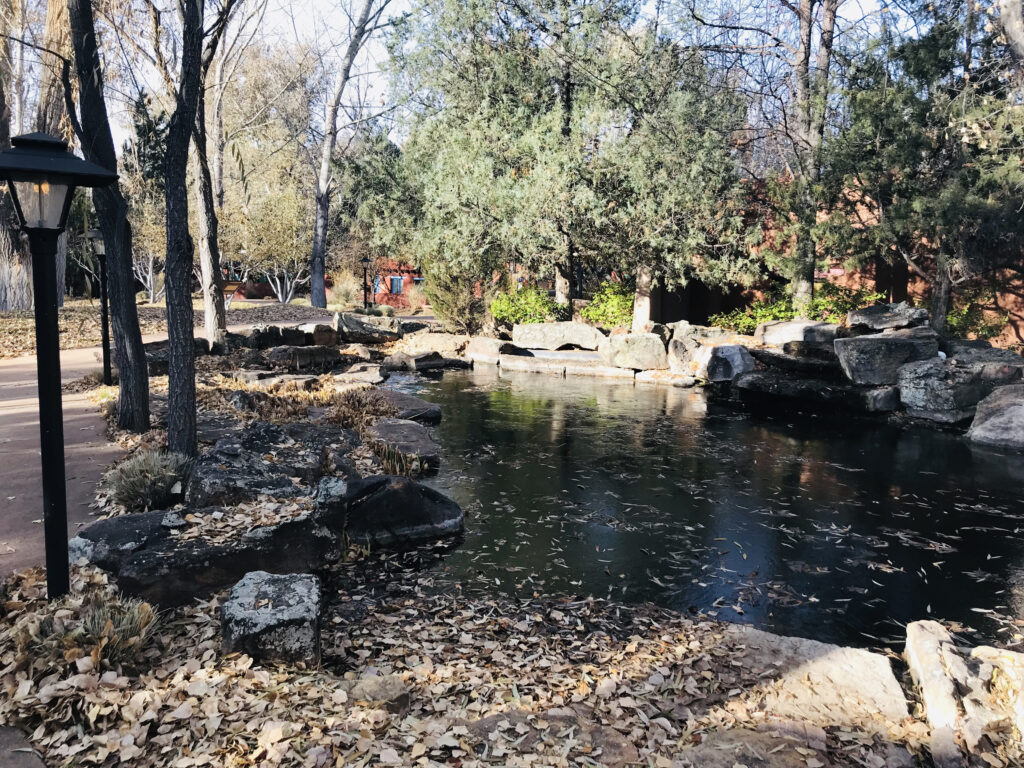 The property was then sold to Richard Kessler in 2007 as part of the Kessler Collection and one of the Heritage Hotels and Resorts. There are 84 accommodations with fireplaces on the property in four different styles, ranging from picturesque mountain view rooms, to eight casita suites, global suites, and hot tub global suites.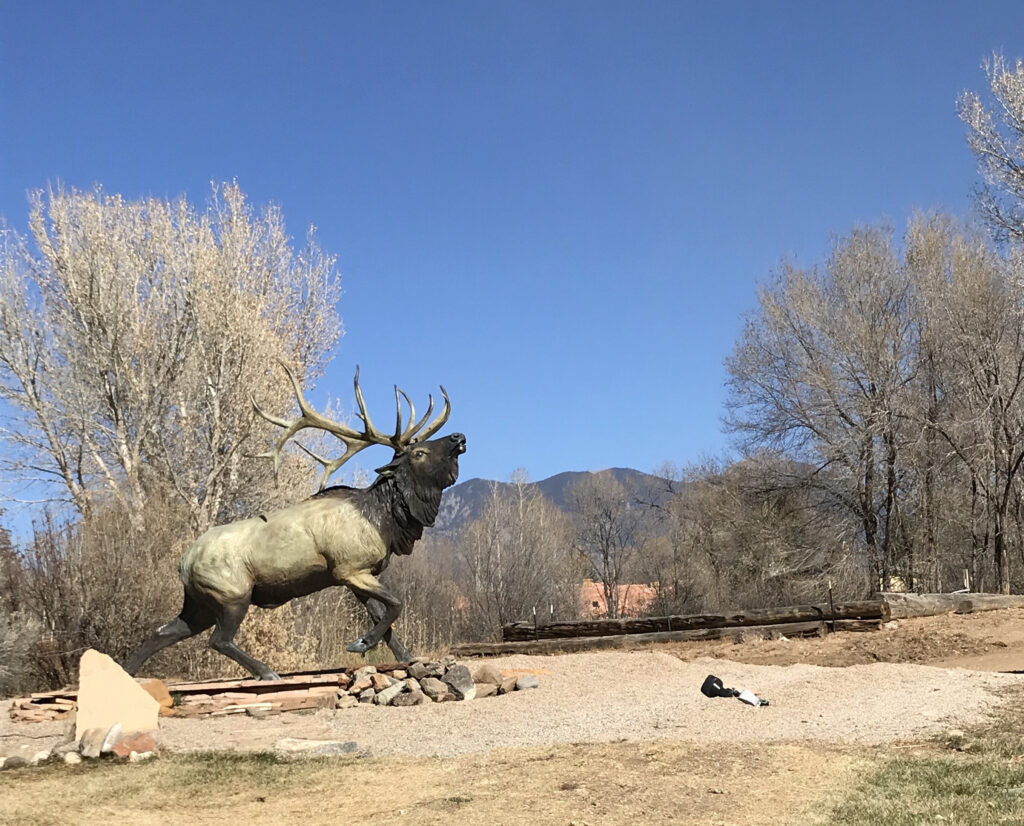 Outside these elegantly appointed rooms sits the Sacred Circle, a relaxation area revered for hundreds of years by the local Taos tribes and adding to that mystical, peaceful environment. There are massive cottonwood trees over 100 years old as well as the relaxing water features of a brook as it flows over a small waterfall and a meandering stream.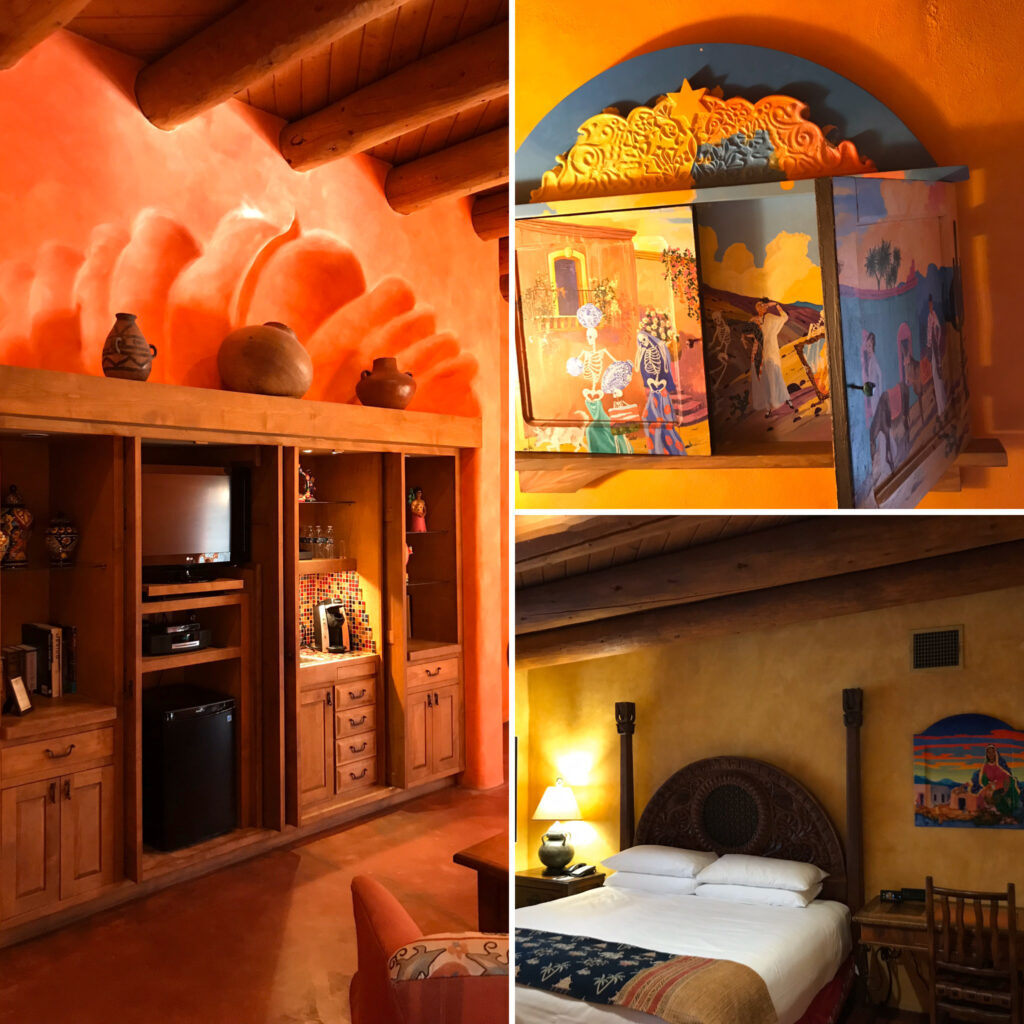 When we entered our rooms, we could immediately see why El Monte Sagrado was ranked as a four-star spa resort. My room was one of the Global Suites with a hot tub and a private courtyard. These suites consist of a living room with two bedrooms and two full baths. Each of the four suites are furnished in the style of the country they represent. Themes are Moroccan, Marrakech, Argentina, and Mexico. Mine was Mexico. Every item of furnishing from the massive carved headboards, the pueblo-style fireplace, the pottery and paintings, and every book in the suite spoke "Mexico." Even the tile used in the adjoining en suites was from Mexico.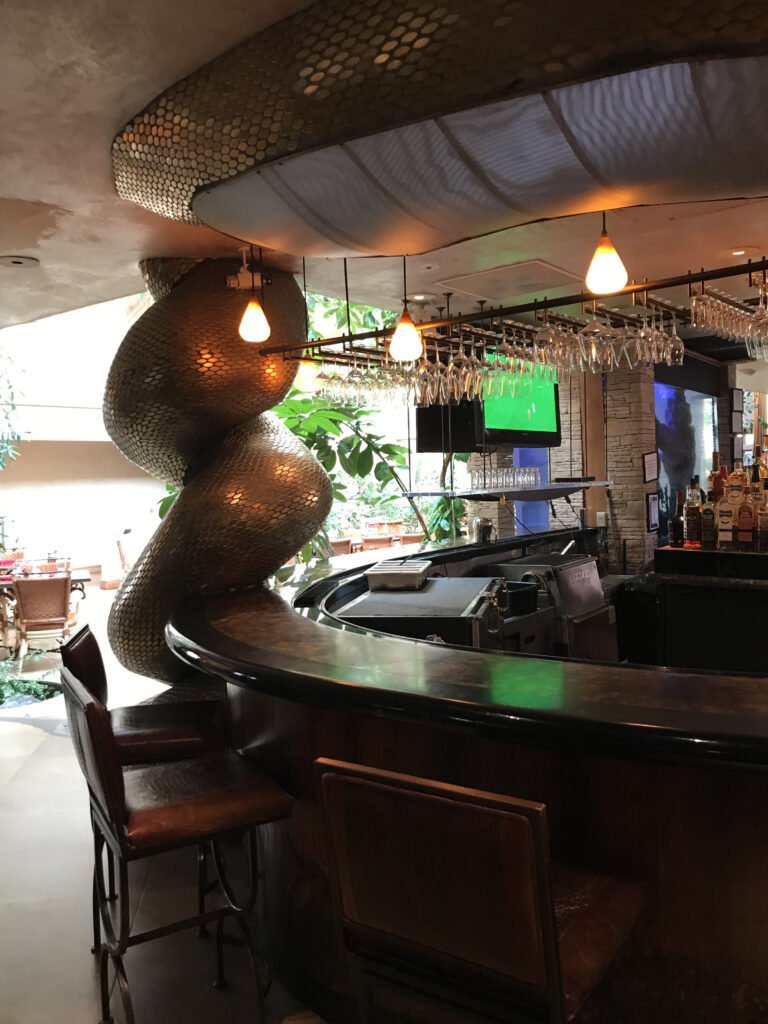 This resort offers more than just amazing rooms. Walk into the main building to find the exotic Anaconda Bar replete with snakeskin drapes and tropical plants next to the massive wood bar with a reptilian gold spiral (made of gold-plated tiles from Italy) at one end spanning from the ceiling down to the counter.  The anaconda was selected because it is the symbol of renewal. The attached link to the Anaconda Bar shows a 360 degree view of the bar.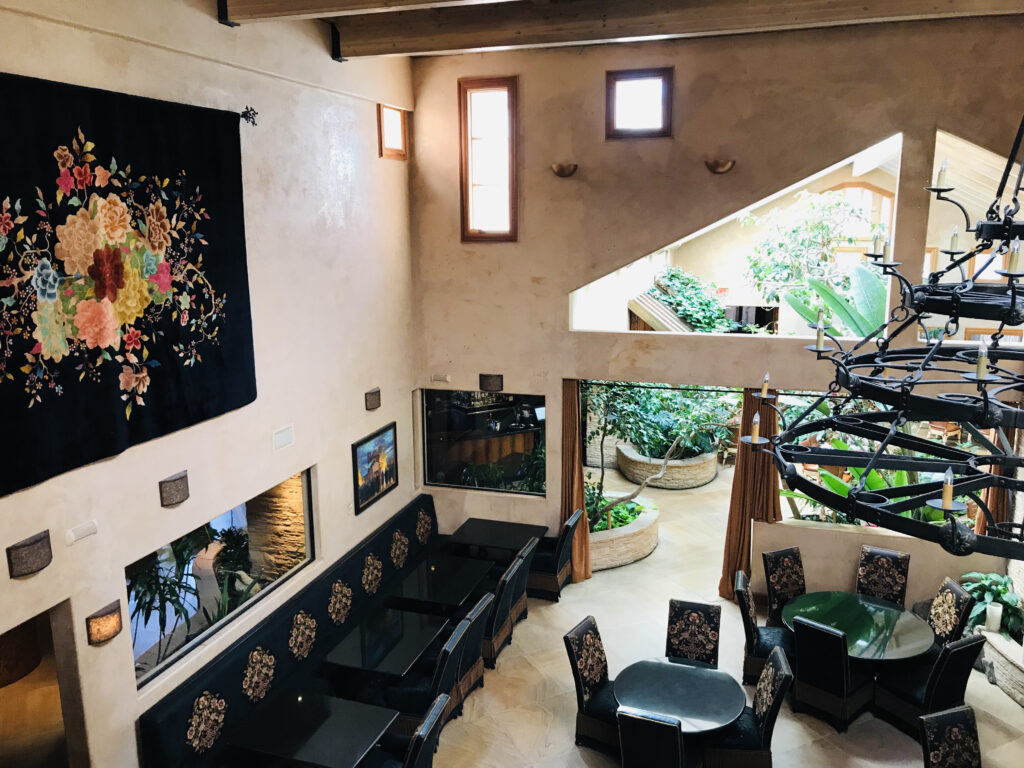 Step into the De La Tierra dining room to find a room full of tapestry and fabric-covered chairs making you feel like you just stepped into your favorite French bistro. (Be sure to click on the link to view this elegant room.) Adjoining is an outdoor garden setting with greenery in abundance if you prefer dining al fresco. Or, if you choose, you can dine in the private and intimate wine room. Chef Christina Martinez who was trained by Le Cordon Bleu in California knows a whole lot about great food. Since I was in New Mexico, I tried the Bison Jemez Enchiladas with ground bison and red chile. Talk about comfort food. Another dish that we all loved was the Whiskey Cured Salmon starter consisting of horseradish cream, the tenderest cured salmon, and marinated vegetables.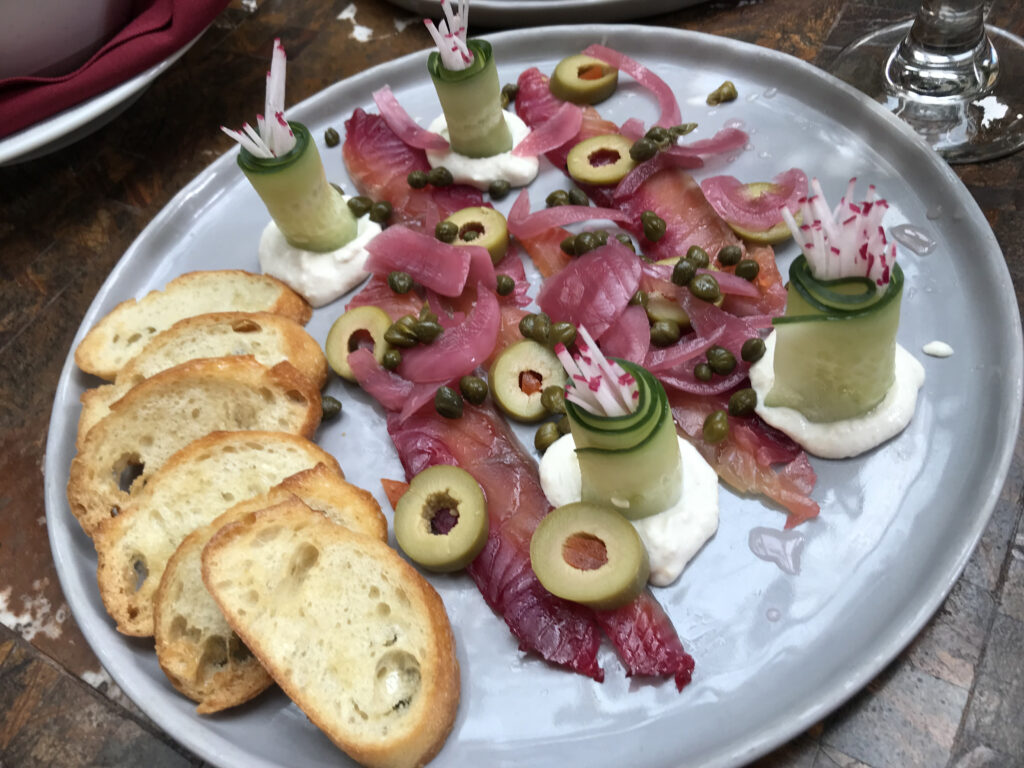 We were out and about with our guide, Angelisa Murray, from Heritage Inspirations, a tour group you can book through El Monte Sagrado. I highly recommend Angelisa and her tours. We were lucky enough to venture on a horno bread baking tour at Pueblo Taos by a Taos tribal member. (I will be writing about this experience in another article.)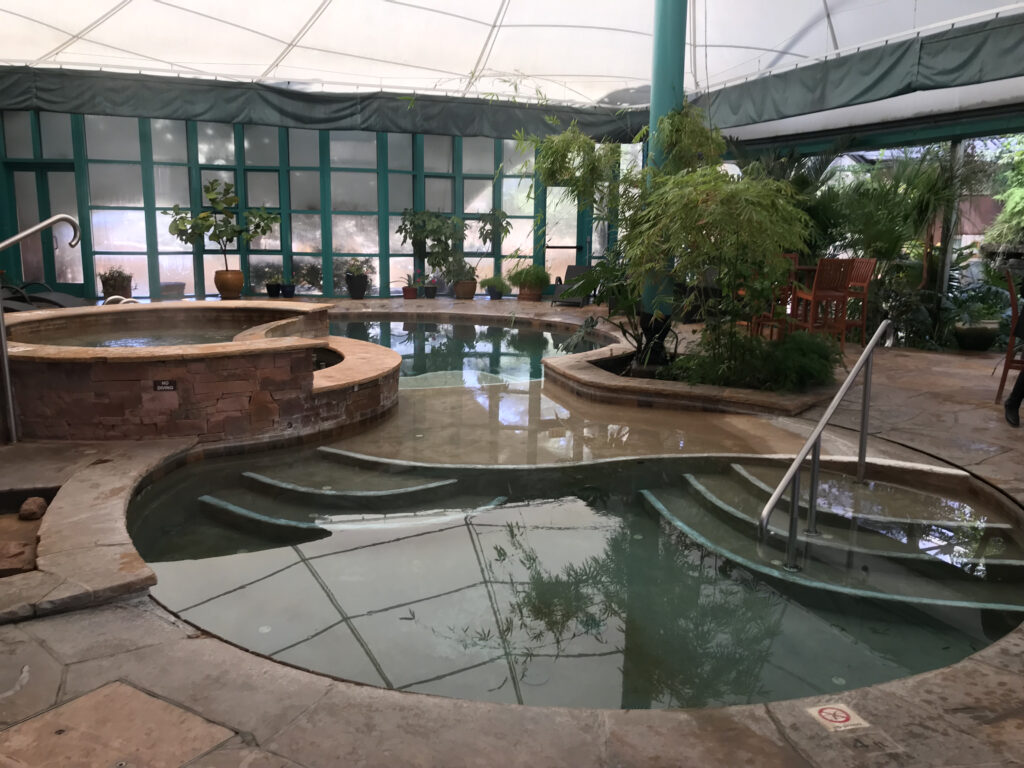 Because we were taking in the sites of Taos, we only had the opportunity to view the indoor spa and pool area. It was spectacular. No wonder it has been chosen by Forbes as one of the Top Spa Resorts in America. The enclosed courtyard comprised of a botanical garden surrounds the salt water pool surrounded by waterfalls and two hydrotherapy tubs. Spa treatments of every kind await a guest and provide a sense of peace. I hope to enjoy this area on my next trip.
Although my group was comped on this visit, I would visit El Monte Sagrado in a heartbeat on my own dime. It is truly a magical and romantic place.