Twice a year San Diego Restaurant Week through the California Restaurant Association and San Diego Tourism Authority offers outstanding specials at a wide variety of restaurants throughout the San Diego metropolitan area. This year it's called Dine Diego with a unique twist. In addition to dining at the participating restaurants, you can get to-go options, too. And, there is an opportunity to win a Year of Dining or a San Diego Staycation Package.  Dine Diego runs from September 15 until October 15.
I have a perfect restaurant for your Dine Diego restaurant adventure. Do not stop and ponder. Head straight to Peohe's on Coronado Island (a Chart House restaurant.) If you want to add to the feeling of escaping to an island, take the ferry from San Diego to Coronado. The Coronado Ferry docks next door to Peohe's so that you are within steps of this delectable restaurant.
Three food writers and photographers chose Peohe's Restaurant as our choice for the Dine Diego event because we had never been to Peohe's, and the regular menu looked fantastic with lots of seafood and also some beef items.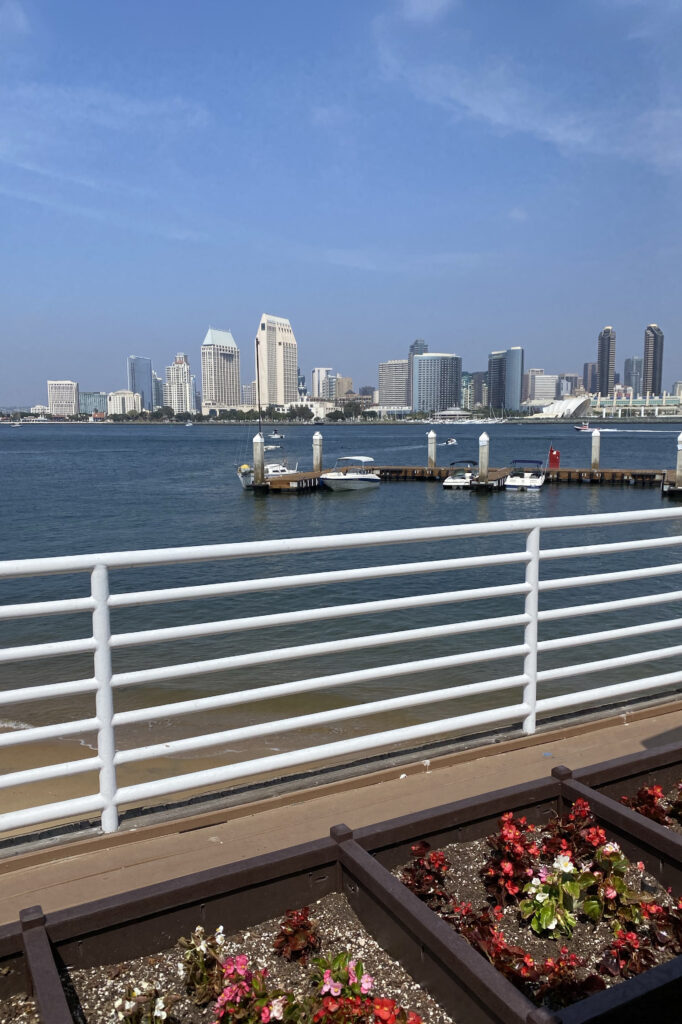 When we arrived, we were not disappointed. We asked for a waterside table to truly enjoy the beauty of this area. We were seated (masks on until we were seated) at a table with a picture-perfect view of the city of San Diego, the ferry coming and going, and lots of water activity in San Diego Bay. This is a restaurant for leisurely dining so that you can enjoy the ambiance.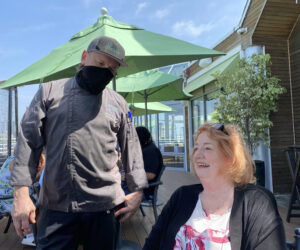 We asked to speak with the chef. Chef Chris Gardner could not have been more gracious. His background could fill several pages. He has been an Executive Chef Partner at Eddie V's in La Jolla as well as Fleming's Prime Steak House in Seattle. While there, he received Chef Partner of the Year award in 2005, 2006, 2007, and 2011. For some variety, he was the Food Services Manager/Executive Chef  for Volunteers of America Southwest in San Diego for 4 years where he prepared 2400 meals daily.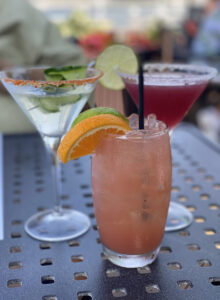 We were here to sample the Dine Diego menu, a three course menu for $35/person and available Monday-Friday for lunch or dinner. This menu has so many add-on options that it was difficult to limit ourselves from ordering too much. In fact, we were all stuffed and had to take home some of the food.
We started with some mouth-watering and interesting cocktails. These are not part of Dine Diego, but it's the perfect way to just relax and enjoy a spectacular view and meal. Our cocktails were the Monarch Margarita (made with blood orange sour and Solerno Blood Orange Liquer), the Fiery Cucumber, a vodka martini made with some Monin Cucumber flavoring, and the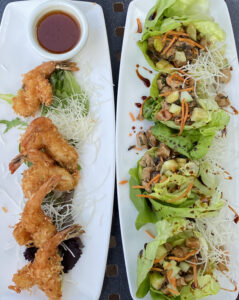 Pomegranate Martini made with Monin Pomegranate flavoring.
We added on to the three-course meal with the Chicken Lettuce Wraps and Coconut Crunchy Shrimp—perfect with our cocktails.
Our first course was a choice of the Lobster Bisque or the Peohe's Salad. For me, the salad was my favorite with its candied walnuts and orange ginger vinaigrette.
Since there were three of us, for our second course we ordered one each of the three entrees on this menu. (There is also a Slow Roasted Prime Rib for an additional $10.)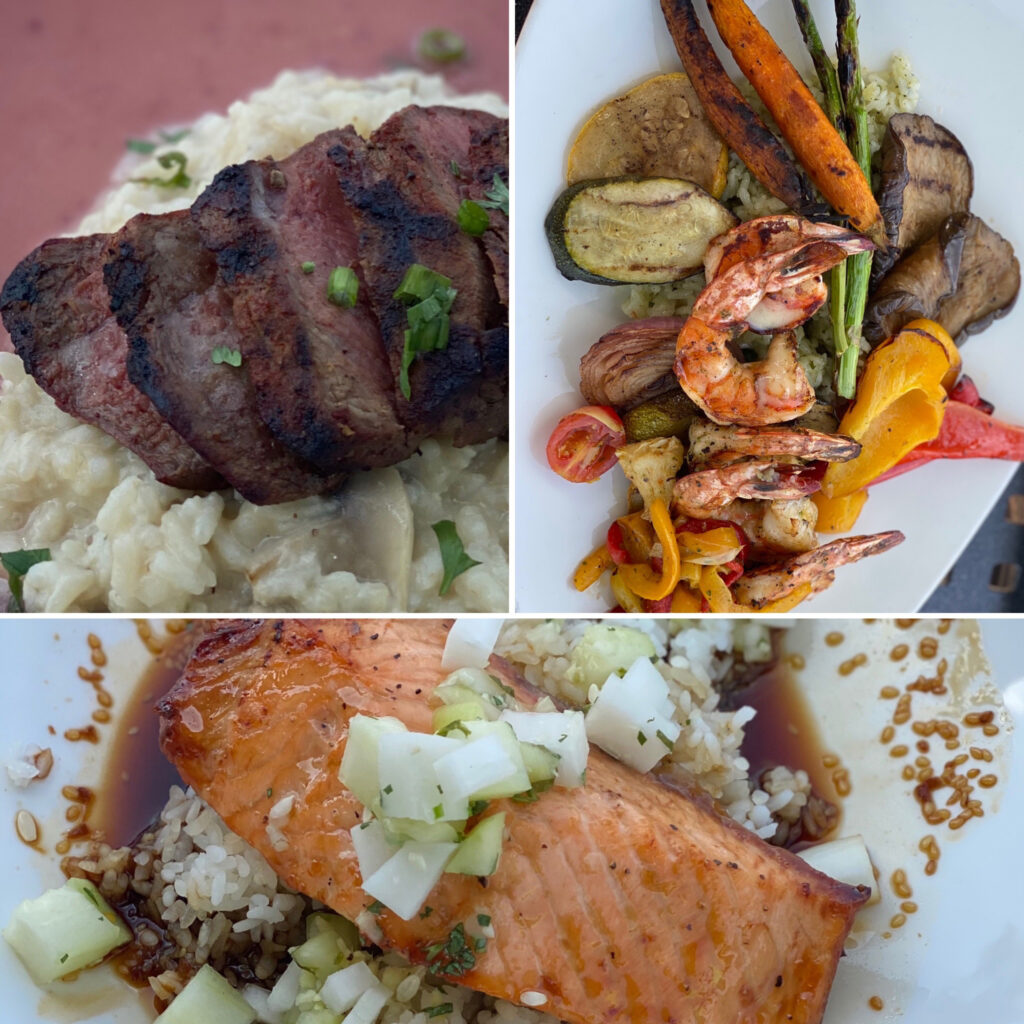 The second courses were all cooked to perfection. I chose the Maple & Ginger Glazed Salmon with a soy glaze and jasmine rice. The salmon was not overcooked which can often be a problem with salmon, and the sauce was scrumptious.
The Shrimp Mezze Plate was beautifully presented and loaded with bright colored grilled vegetables and shrimp accompanied by herbed rice. The artichoke tomato tapenade added to all the flavors of this exquisite dish.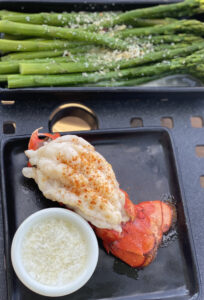 For those liking something hearty, the New York Medallions came with a wild mushroom risotto
surrounded by a Cabernet Sauvignon sauce. The dish was supposed to come medium rare and that is exactly how it arrived. Perfection.
Since the menu had add-ons of asparagus and a 4 oz. lobster tail, we couldn't resist and shared both.
Even though we are adults and were extremely full, we ordered dessert, following the idea of my son as a small child when he used to tell me, "Even though I am stuffed, there is room in my dessert pocket." We tried both desserts offered on the menu. One was the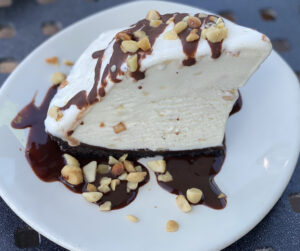 macadamia nut ice cream pie on an Oreo cookie crust with Godiva ganache and topped with chocolate sauce and whipped cream. The second dessert was Key Lime pie sitting in a pool of mango and raspberry puree. We decided you couldn't go wrong with either.
Reservations are highly recommended for Dine Diego. Peohe's phone number is 619-437-4474 or reservations can be booked online at Open Table.
A big thank you to Dine Diego for comping our meals so that we could share the experience with our readers.