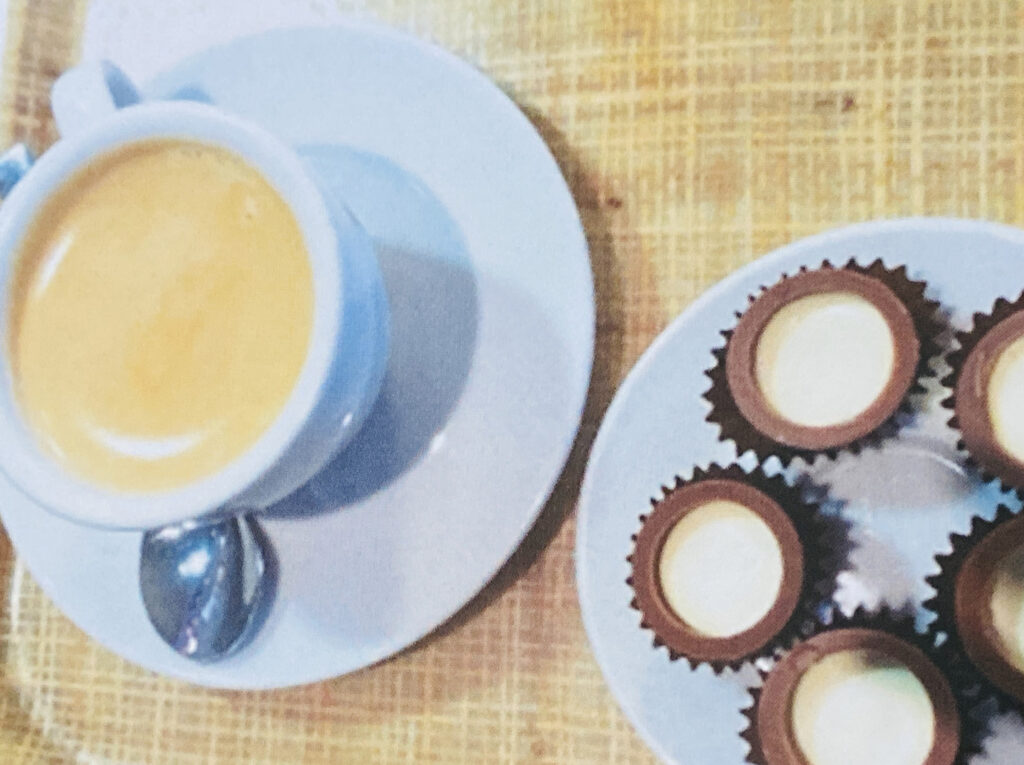 "It is disgusting to notice the increase in the quantity of coffee used by my subjects, and the amount of money that goes out of the country in consequence. Everybody is using coffee. If possible, this must be prevented. My people must drink beer." These are words spoken in 1777 by Frederick II of Prussia. Frederick thought his soldiers would be more reliable to fight battles and endure hardship if they would drink beer rather than coffee.
Americano, Freddo, Granita, Cappuccino—so many ways to drink that all important cup of coffee. We see ads for a huge variety of coffee and espresso machines, and it becomes quite confusing. What did some of the first espresso machines look like?
To learn about espresso machines, Italy is the place to start. I was lucky enough to see a traveling exhibit in Atlanta at MODA (Museum of Design Atlanta) called Passione Italiana, The Art of Espresso.
The bohèmes, the artists, writers, and art lovers, gathered in the 1880's at Café Guerbois on Avenue de Clichy in Paris. Some of those were Claude Monet, Edgar Degas, Pierre-Auguste Renoir and Paul Cezanne. They were sometimes called The Batignolles Group and associated with Impressionism.
In the 19th Century, coffee was huge in Europe at cafes. These customers, however, didn't like waiting as much as five minutes to get their cup. This brought on an opportunity for inventors to come up with a way of using steam machines to speed up the process. It was during the Age of Steam so this seemed like a logical way to pursue getting a faster cup of coffee.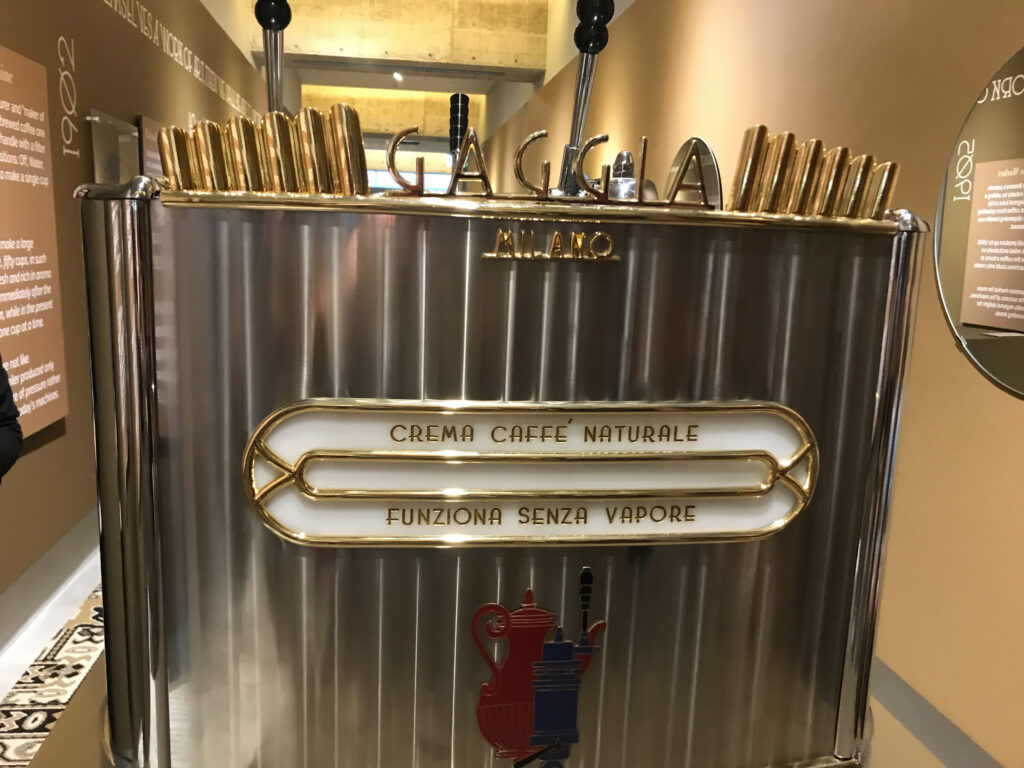 From the steam coffee makers, Gaggia Spagna in 1938 patented a steamless coffee machine designed to be used in his coffee bar in Milan. The new design used hot water pressure rather than steam to make espresso.
Next, Gaggia applied for a second patent in 1947 that used a spring-loaded lever to force a piston through the coffee grounds. The term to "pull" used by baristas to get a cup of espresso comes from the idea of this piston forced down on the coffee grounds. If you have witnessed "crema" on top of espresso, it can be produced in this manner.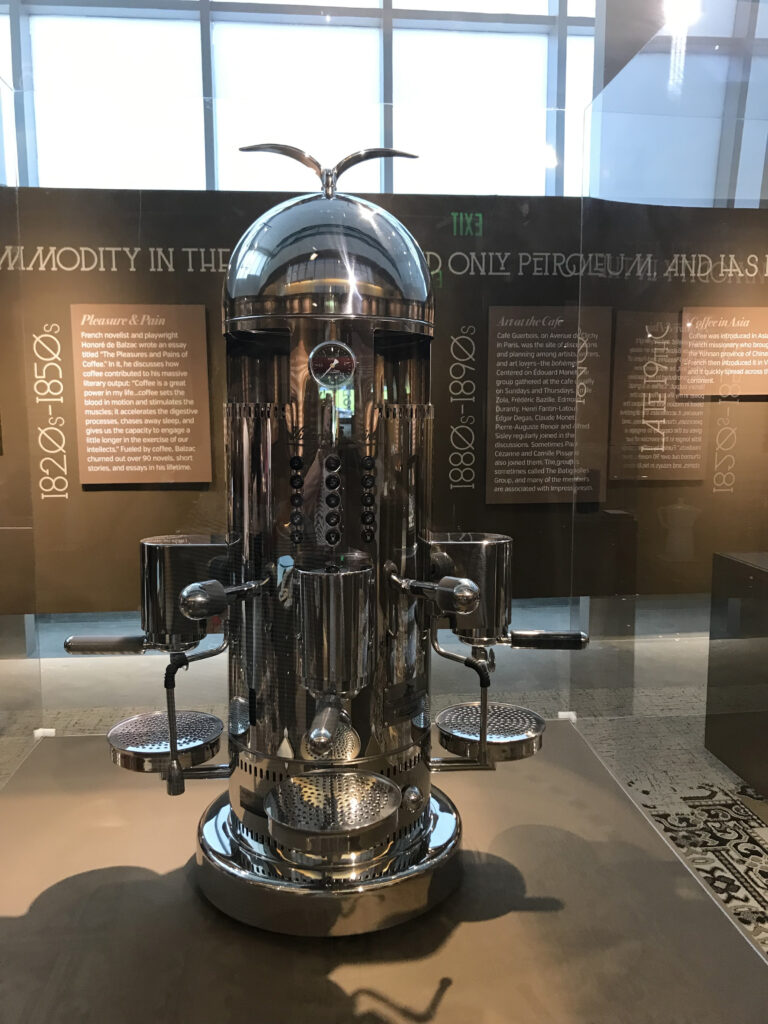 Another interesting espresso machine is the vertical espresso machine designed in 2005, the Victoria Arduino Venus Century to mark 100 years of the Victoria Arduino company. There were only 100 of these machines made, and they are numbered. Number 000 was given as a gift and was blessed by Pope Benedict XVI in a ceremony at St. Peter's Basilica in Rome.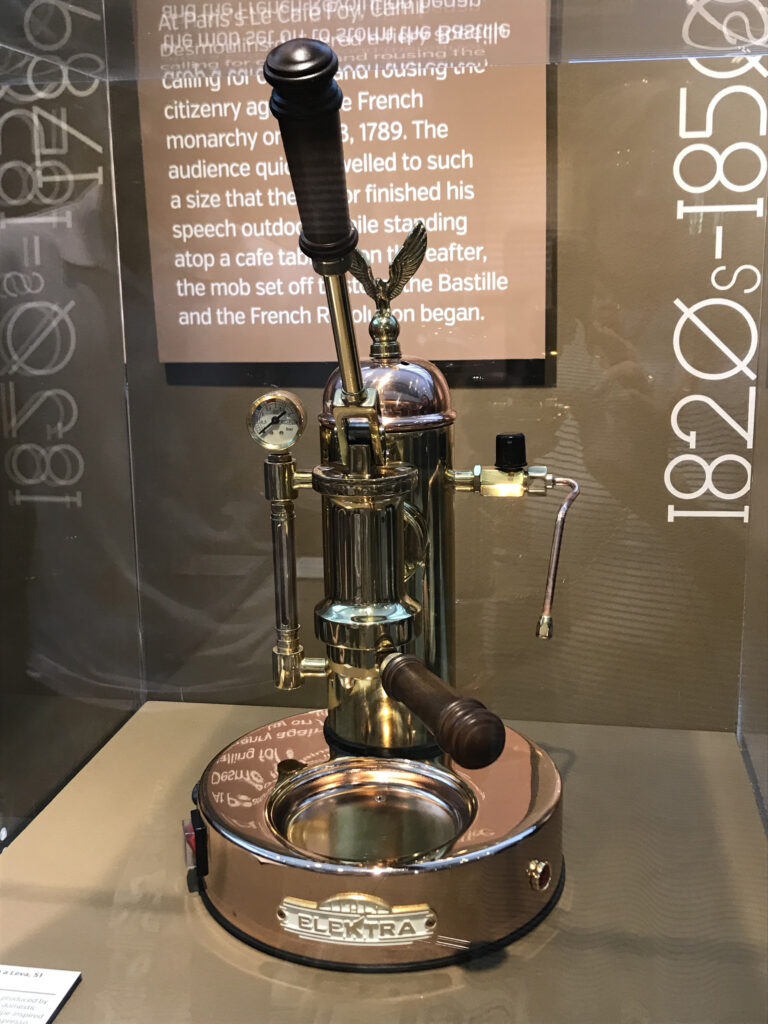 A uniquely designed espresso maker is the Elektra Micro Casa a Leva S1, operated by pushing a lever down to load an internal spring. As the lever rises, water is pumped through the coffee grounds. The shape is retro and reminiscent of the mid-20th century Italian machines.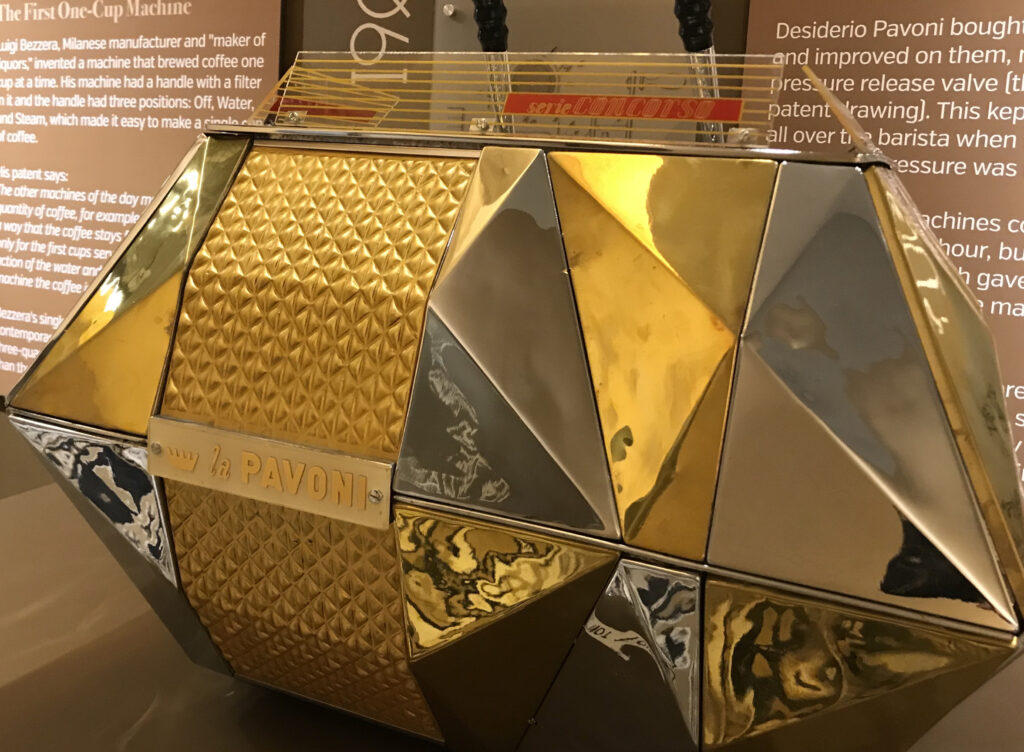 Sometimes the design of the espresso machines got wild. In 1956, La Pavoni began manufacturing the "Concorso" series. This new series enabled the building of espresso machines having multiple independent brewing stations. In these machines, the water first went through a water softener, and then passed into the boiler. When sufficient pressure was built, the water was forced through separate brewing groups, making either one or two cups of creamy espresso.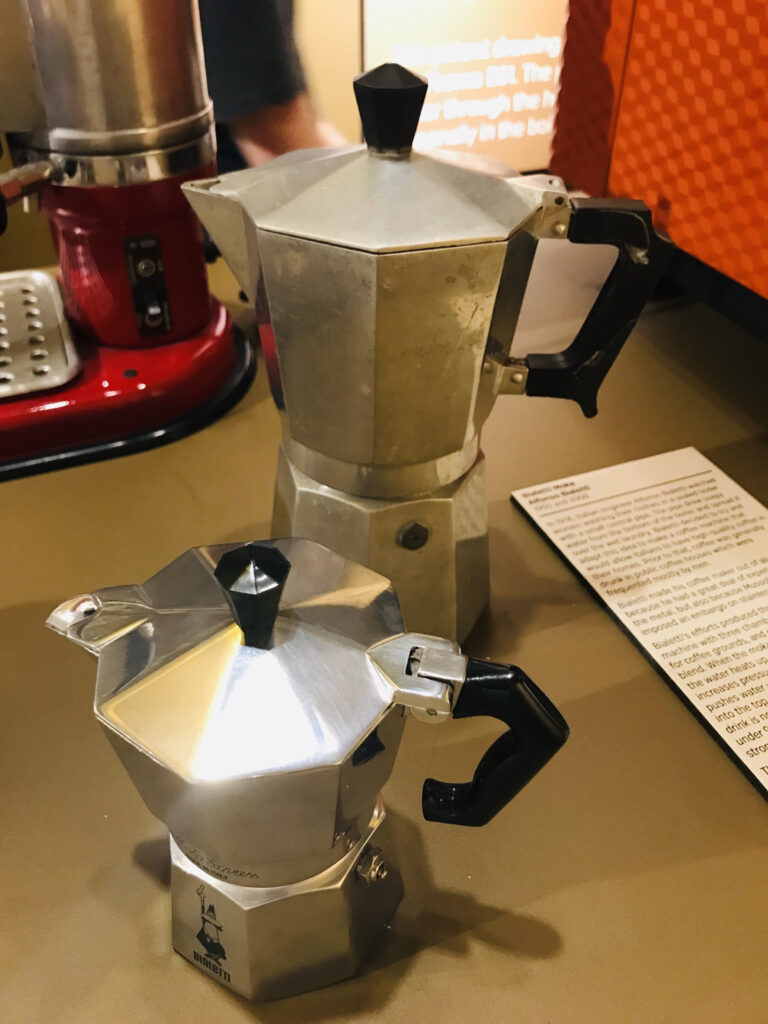 One of my favorite stories about espresso design was one made in 1918 by Alfonso Bialetti, the Bialetti Moka.  He watched women washing clothes in a sealed boiler with a central pipe that drew soapy water from the bottom and spread it over the laundry. Prior to this espresso machine to be used in the home, most coffee was drunk in coffee houses and usually by men. The machine is made of shiny aluminum because Bialetti had experience with that metal and because Mussolini imposed an embargo on stainless steel. The design of this machine is based on a silver coffee service popular in wealthy Italian homes in the 1930s. This espresso machine is the simplest of designs and sits on the stove.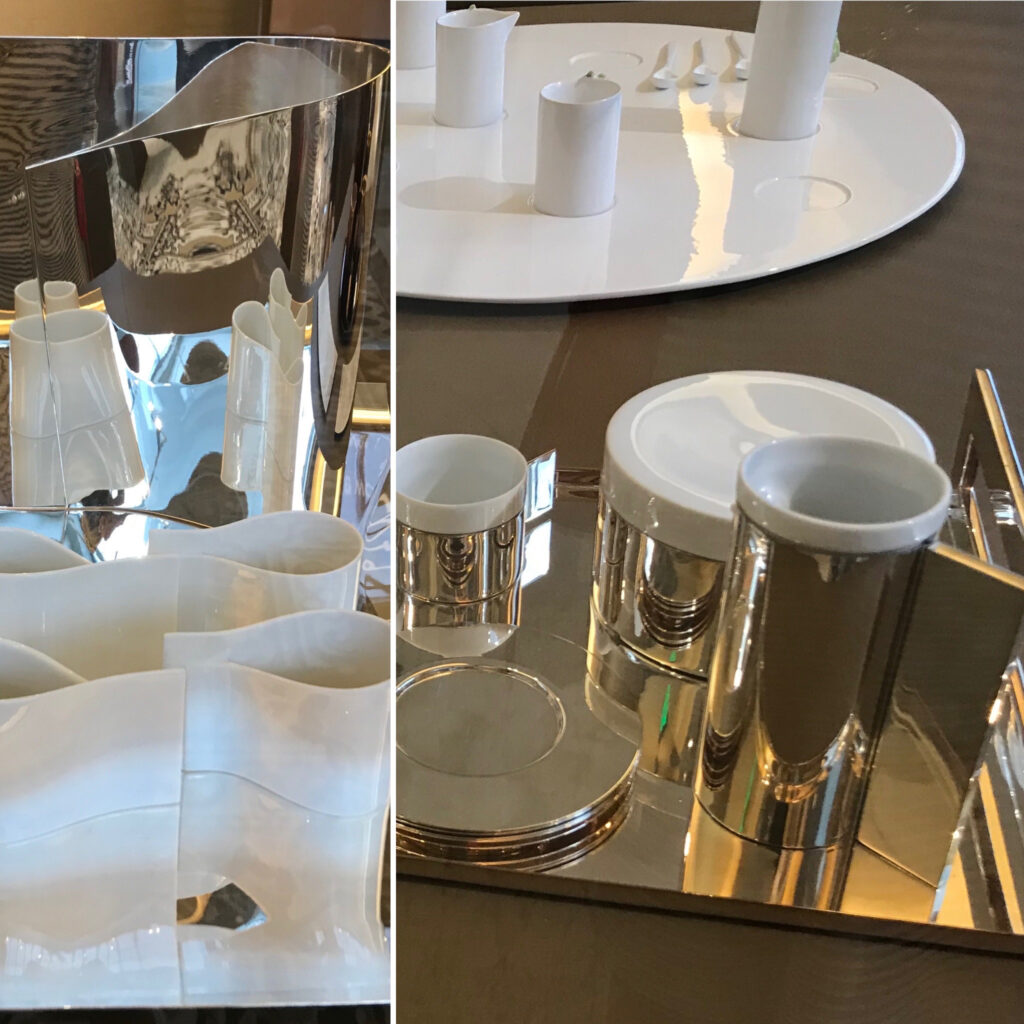 A couple of the unique and ultra-contemporary espresso sets on display are pictured below. I love the clean lines and unusual shapes.
Back to that question of what do the names of different coffee drinks mean (and the terms used to order in Italy):
–Americano-A shot of espresso with a bit of hot water added.
–Coretto-The word means "correct," and in the context of coffee, it means putting a shot of liquor in with a shot of espresso. Common liquors used are Sambuca and Grappa.
–Hag-This is a brand of decaffeinated coffee that's become the general term for decaf. To get a decaf, ask for "un caffe Hag."
–Caffe-This word means "coffee" in Italy, and is the term for a straight shot of espresso. You wouldn't order "un espresso" at the bar. You'd order "un caffe."
–Doppio-The word means "double." If you want a stronger drink, ask for "un caffe doppio" and you'll get two shots of espresso.
–Freddo-The word means "cold." So, "un caffe freddo" is a shot of espresso that's cooled down or been put in the refrigerator.
–Cappuccino-The perfect cappuccino is supposed to be equal thirds of espresso, steamed milk, and foam.
–Granita-A granita combines flavoring with crushed ice. You can order "una granita di caffe" at some bars in the summer.
–Latte-In Italian, this word means milk. Order a "latte" and you'll get nothing more than milk. Ask for "un caffe latte" and you'll get a tall glass of steamed milk with a shot of espresso in it.
My advice is to choose which one you love and have a cup of espresso in the morning and a glass of wine at night. Luckily, we aren't living in the days of Frederick II of Prussia.