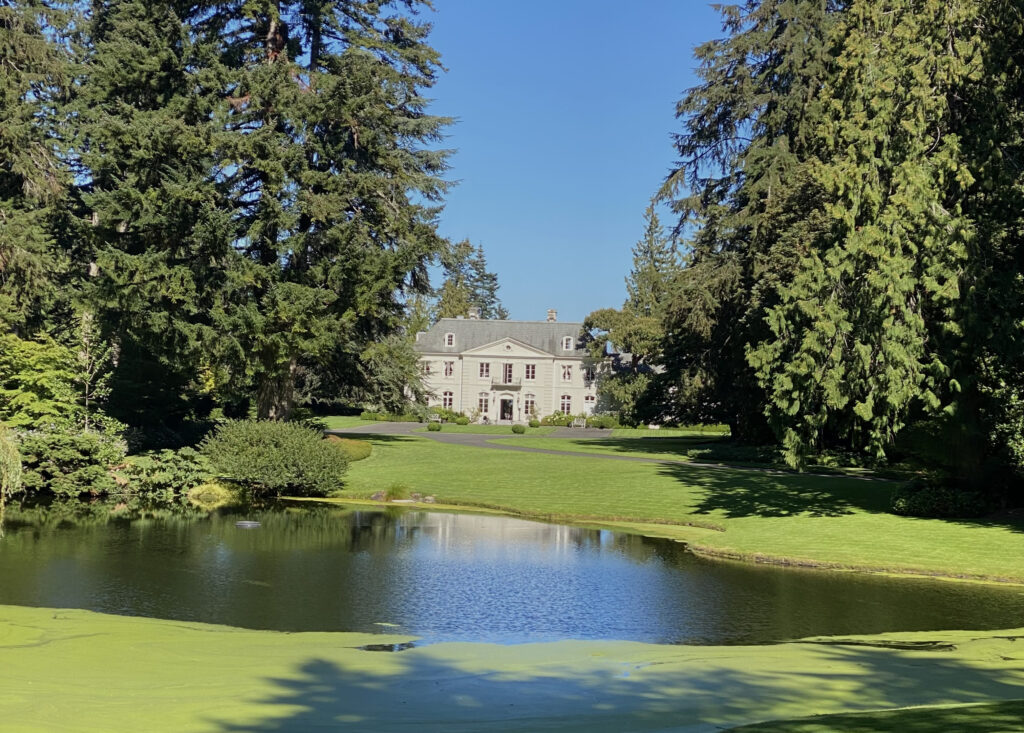 Walk onto the Kitsap Transit Ferry from Seattle for a leisurely ride from downtown Seattle. Enjoy taking in the scenery of Puget Sound and the majesty of Mt. Rainier with a glance back at the looming skyscrapers and ferris wheel of Seattle.
That's exactly what a group of writers experienced recently. Personally, this ferry ride reminded me of the times when my children were small, and we would hop on a ferry just to experience the cool air as we ferried across Puget Sound.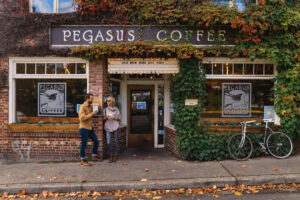 Once we docked at the ferry stop on Bainbridge Island, it was a short walk to the historic district of downtown Winslow. Other means of travel from the ferry stop are by bicycle, busses, and taxi service. Of course, you can drive your car onto the ferry, but this takes more planning.
After your ferry ride, head straight to Pegasus Coffee if you are like me and want that hot cup of coffee after a crisp ferry ride. And I'm talking "good coffee."
When we were on Bainbridge Island, we met with David Adler, head of coffee and roasting operations and part owner, as well as Matt Grady, the primary owner, of Pegasus Coffee. We gathered at the roasting location for Pegasus Coffee to learn in depth about that drink I cherish first thing in the morning. To read more about what we learned, look up my article at: http://bit.ly/3G6r24w
Our first stop (after coffee) was checking in to our hotel for the night, The Inn at Pleasant Beach.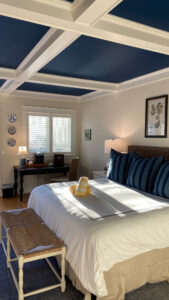 We were in for a boutique hotel experience rich with the Northwest feel. The grounds were laden
with blooms of every shape, size, and hue on perfectly manicured plots. As we walked to our individual rooms, we noticed a pool made for those just wanting to enjoy this peaceful bit of paradise.
Once inside, I found a royal blue and white room with white beams looking down on me from the ceiling and a large fireplace. What a perfect spot this room provided for a luxurious stay. Off the main room was a small deck adorned with a flower basket of color. The pink and mauve sunrise from the deck mocked the colors of the flowers in the basket. The Inn is part of the Pleasant Beach Village, home to a burger place as well as a more formal restaurant, a wine bar, and a marketplace which makes for a "pleasant stay" with all the amenities.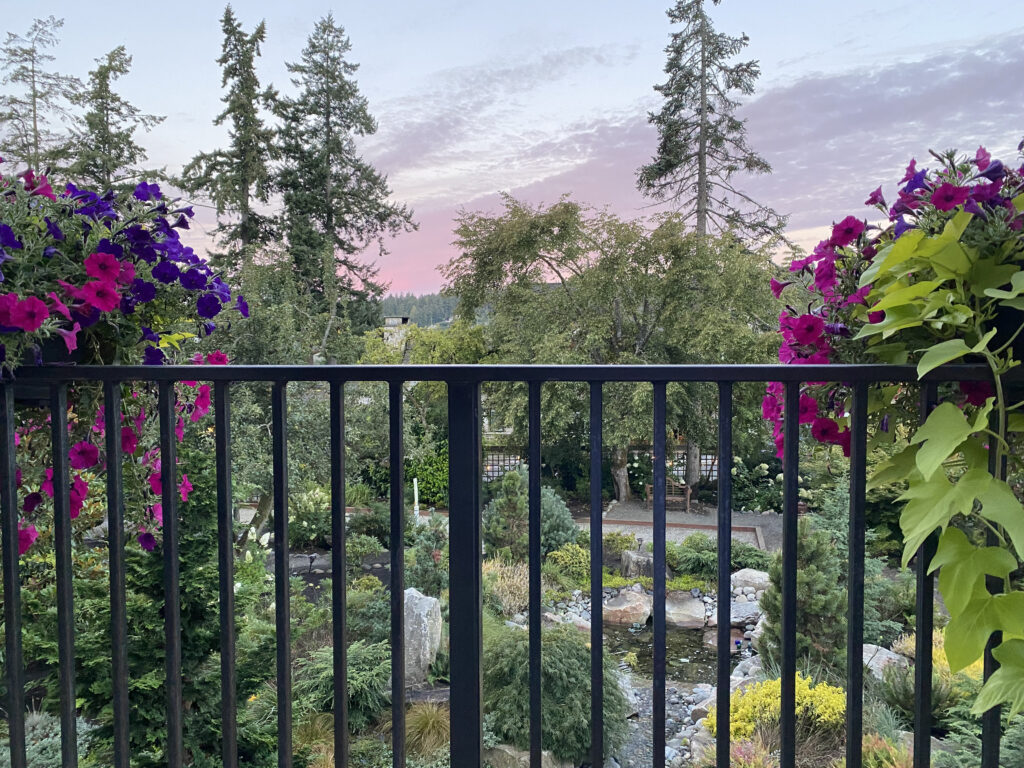 After the ferry ride, coffee, and checking into your room, good food should be on your list. Stepping into Pizzeria Bruciato restaurant, I felt the warmth that I associate with interiors in the Pacific Northwest. Chef Brendan McGill, who learned about pizza in Naples, offers up some unique and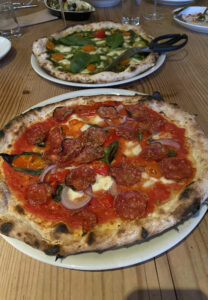 comfort pizzas prepared from his wood fired Neopolitan-style oven. One of my favorites was the blistered crust combo of salty prosciutto and sweet dates drizzled with balsamic vinegar. Meatballs are another cherished dish on the menu with their Sicilian sauce on top. No matter how full you are by the end of the meal, we learned that desserts are worthy. The rich tiramisu was an indulgence worth every bite. I also loved the Mezzaluna, a hazelnut chocolate calzone beautifully presented with a spray of powdered sugar and drizzle of chocolate on top.
The most poignant and memorable visit on Bainbridge Island is the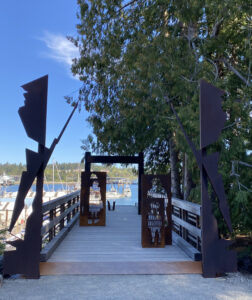 Japanese American Exclusion Memorial, a National Park Historic Site, where we met Lilly Kitamoto, one of the survivors of this horrific and disgraceful American event. To say that we were all deeply moved, is an understatement. I wanted to write an article more in depth about this moving site. You can read about it at: bit.ly/3hv4mAB
Time for a really great lunch of farm fresh creations coming directly from the 6-acre farm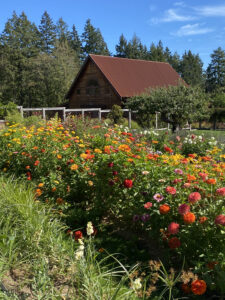 homesteaded in 1897 and located in southeast Bainbridge. Heyday Farm promised us a delicious lunch, and that was just what we got. This is such a beautiful setting with perfectly prepared food. I had to write a separate article about Heyday Farm. You can read about it at: http://bit.ly/3Eqt1PR
Another beautiful spot to keep you in touch with the beauty of the Pacific Northwest is the Bloedel Reserve. Bloedel Reserve is comprised of many unique gardens where one unfolds to the next. There is the Moss Garden, the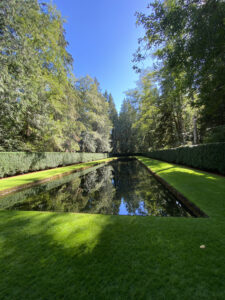 Japanese Garden, and the Reflection Pool to name just a few.
Bloedel Reserve was originally designed by Prentice and Virginia Bloedel around their private residence they purchased in 1951. Mr. Bloedel spent much time shaping the various gardens along with help from landscape architects. Later in their lives, the Bloedels gave the property to the community to establish a nonprofit. In 1988, the preserve of 150 acres was opened to the public. Allow several hours to meander around the distinct natural areas of the grounds.
Highside Distilling on Bainbridge Island was born after family trips to Scotland and a nod to the Pacific Northwest craft beverage culture. The Glenn family pursued their dream of opening a distillery on Bainbridge Island where they could ferment, distill, and age spirits.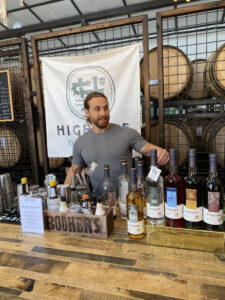 On the day we visited, Matt and his mother, Helen, greeted us and explained their distilling process. It was interesting seeing the pride the two display in their spirits. Our visit not only involved learning about their distilling process, but we were lucky enough to sample several gins they had just produced both as a small sampler and then in a cocktail. What was most unusual is the spirit Amaro, a liqueur made with Washington apples and traditional herbs and aromatics. Amaro is Italian and means "bitter." It is a digestive that dates back to the days of Roman gluttony to help with digestion.
Our last morning was spent wandering the streets of Bainbridge looking at all the art galleries in the Bainbridge Creative District. We were drawn to the Bainbridge Arts and Crafts Gallery. This nonprofit gallery supports art education as well as offering a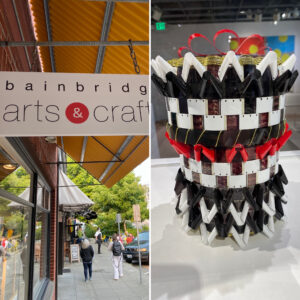 home to Northwest artists to display and sell their creations. We found such unique and creative pieces here.
Streamliner Diner is just what you want a breakfast place to be. When we walked in, we saw a long counter lined with Fiesta dinner plates in a multitude of vibrant colors. Their website says they are serving "mostly organic, mostly healthy creative food." My order of Eggs Benedict was cooked perfectly. Of course the group of us also ordered their biscuits and scones to share. They were as good as they claimed they were. Don't miss this breakfast place right near
the ferry stop.
Add to your getaway by exploring all that exists on the Kitsap Peninsula. You can find what we explored by going to my article describing the rest of our journey, including Poulsbo, at: http://bit.ly/3EfL7D2
A shoutout to our wonderful touring van owned by Natalie Rodriquez called Tour Bainbridge, a premier tour and transportation company. She is also president of the Downtown Association. We had both Mark and Paul as our drivers. They were both a wealth of knowledge about the island and were willing to take a couple of detours for our group where we wanted to see extras.
A short ferry ride can indeed bring you to a whole new world of natural beauty and a peaceful feeling without the hustle and bustle of the city.