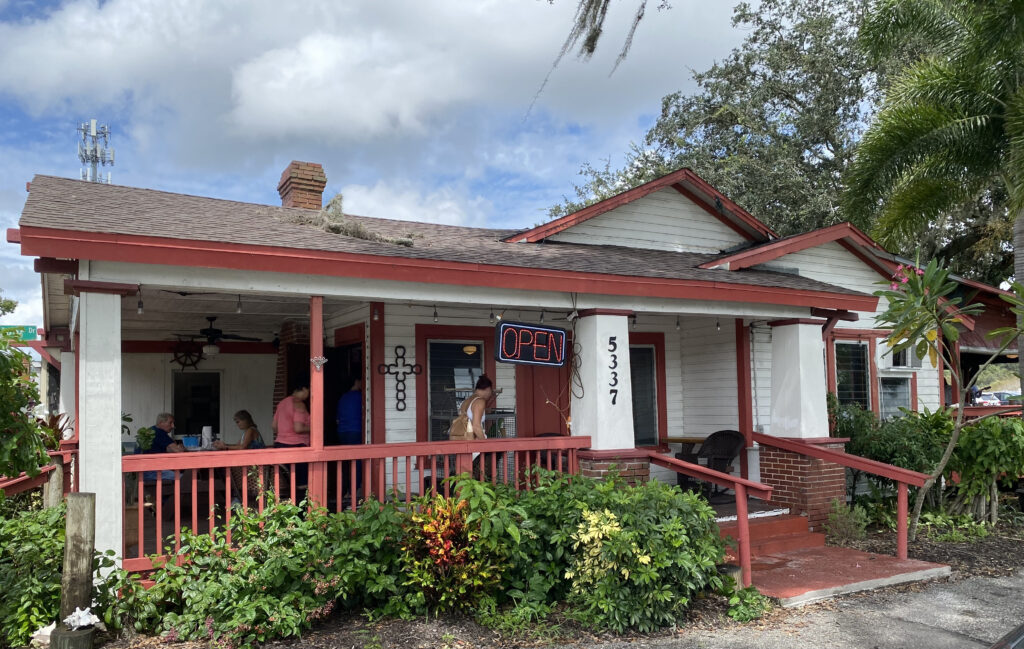 The minute we pulled into the driveway I knew we were in for a treat. My vision of the perfect seafood restaurant is a small roadside diner with a front porch (called a Cracker House) and friendly hospitality found inside. Peace River Seafood Restaurant & Market is that place. We were a group of media with the International Food Wine Travel Writers Association on a pre-trip before our conference in St. Petersburg, Florida, and were lucky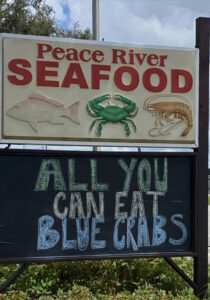 to visit this charming roadside restaurant for lunch.
Peace River Seafood Restaurant & Market brings in fresh locally-sourced seafood daily (and most times that morning) from the Charlotte Harbor and Peace River. They sell this seafood in their market on this location and serve it in their restaurant. You can taste the freshness in each bite. We were told that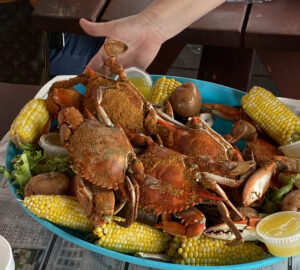 the local blue crab are the area's main export. Most likely when you eat blue crab on the East Coast, it is shipped from this area.
The day we visited, owner Kelly Beall pulled out all the stops. She brought
us a huge tray of shrimp so fresh it must have just fallen out of the fisherman's net before we ate it. I love steamer clams, and those adorned the shrimp platter (with lots of butter and lemon.) We tried the freshest of ahi and beer battered lobster bites, too.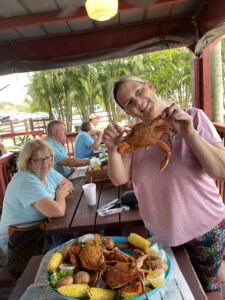 To add to our knowledge about how to eat fresh seafood in the South,  the pièce de résistance was when Kelly spread out newspaper on the wooden
picnic table and brought out corn, potatoes, and those famous blue crabs.
She showed us how to crack them open with a mallet and how to pick out the meat. By the time we had finished, we were covered with crab juice and butter and very happy smiles on our faces.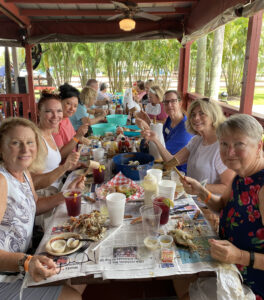 That perfectly Florida porch where we were served delectable seafood was made more perfect by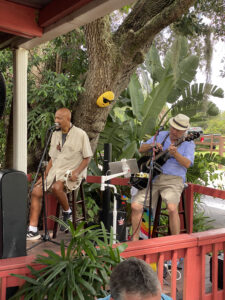 the sounds of a local blues group singing and playing at the end of the porch.
After a quick washing of hands at the outdoor sink, we were blessed with both the amarena cherry chocolate pie and the much touted key lime pie. Every tart-sweet bite of the key lime pie is worth its reputation. This place is the real deal.