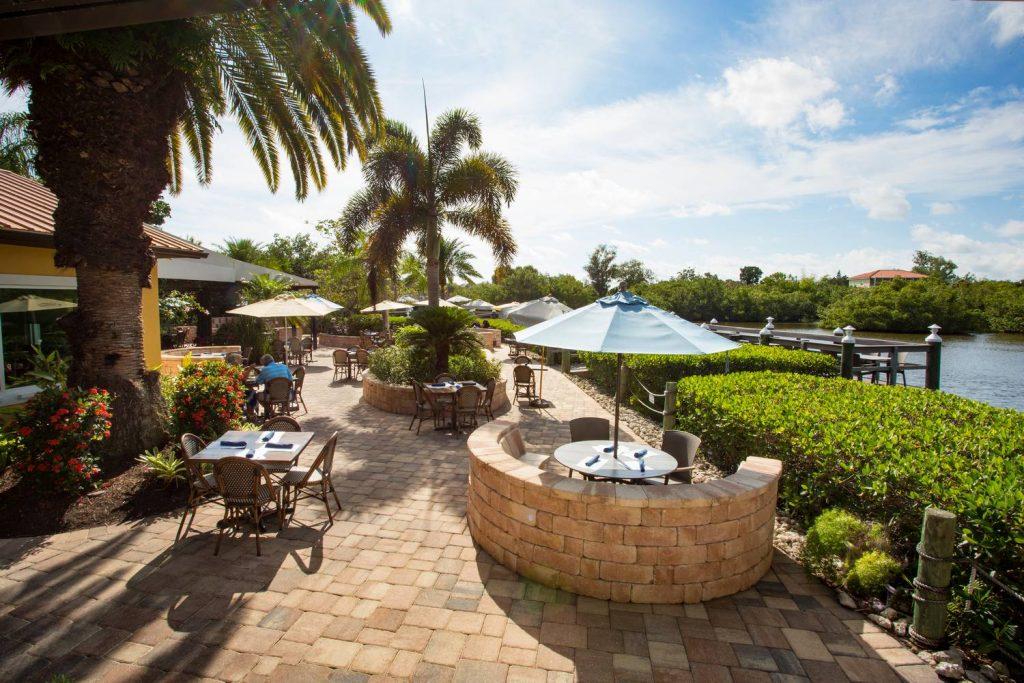 Keith and Laurie Farlow, husband and wife, warmly and attentively greeted our group of International Food Wine Travel Writers Association media at their restaurant, Farlow's On The Water for a succulent lunch on their outside patio overlooking beautiful Lemon Bay. We were on a pre-trip adventure prior to our conference in St. Petersburg, Florida.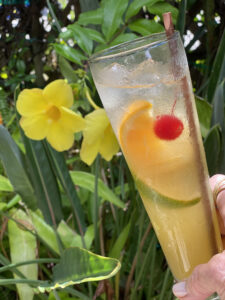 As we entered the restaurant, we were enthralled with the lush plantings along the walkway, including a brilliant lemony yellow hibiscus plant. When we walked through the passageway, we spotted outdoor seating on a patio facing Lemon Bay. We took in the small dockside area literally over the water with small intimate tables for a romantic seating for two, but we needed a table for six.
Here's a little history that we learned about the owners. Keith Farlow grew up in St. Croix, U.S. Virgin Islands, where he developed a love of fresh Caribbean food with local fish on the menus. Laurie, a Southern girl, has roots in cooking the best of Southern cuisine like fried green tomatoes and Kentucky corn pudding. This restaurant expertly combines the two cuisines for the best of both regions.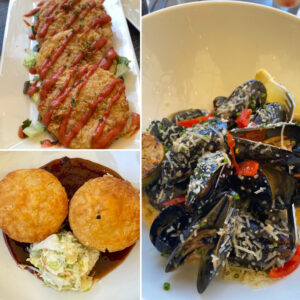 We started our lunch with a white Sangria the color of the saucer-sized
yellow hibiscus growing along the side of the restaurant. Can I tell you some of the starters we hungrily shared? We devoured the Pork Stuffed Cornbread, the oh-so-fresh Prince Edward Island Mussels sautéed in garlic butter and tossed in a creamy picante sauce, Romesco Roasted Cauliflower served with a buttermilk feta tzatziki, Kentucky Fried Green Tomatoes (a nod to Southern cooking,) and Yellowfin Tuna Tartare with mango and avocado. After all of these appetizers, we chose salads from the menu. Mine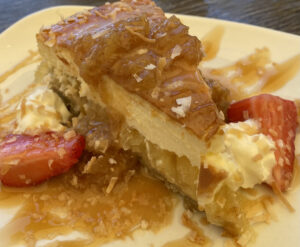 was a special salad of coconut shrimp, mango, feta cheese, and pecans. But we were not finished! Desserts were too good to pass up. A Pineapple Cheesecake, a Bourbon Pecan Bread Pudding, and a fresh Blueberry Pie adorned our
table and were quickly demolished.
While we were at Farlow's On the Water, we were graced with a tour of the newly refurbished interior with comfortable private booth seating as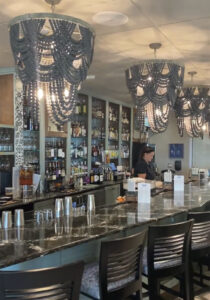 well as a bar with elegant beaded lights over a black granite counter. We also were guided through the spotless kitchen where we saw freshly plated salads waiting to be delivered to customers.
Not only is Farlow's On The Water an excellent restaurant in an engaging water view setting, but Laurie and Keith are helping the aquatic environment to keep the fish and shellfish life healthy. Twelve mini-reefs for fish have been added under their restaurant boardwalk. These mini-reefs will clean 30,000 gallons of water a day and produce food for medium and large fish (even dolphins.) The fish spend their days eating the green plankton out of the water.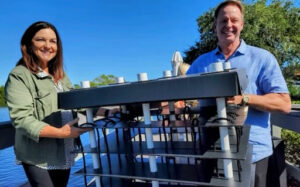 The reefs offer a mangrove-like nursery habitat. Filter feeders like sea squirts, barnacles, and oysters grow on the mini-reefs.
In addition to this wonderful environmental project, the pride and attention to detail shines everywhere in this restaurant, from gracious servers who attend to every detail like our server, Sarah, to the welcoming attitude in the immaculate kitchen by the staff, and the joy displayed by the owners to share in their journey. All creates a very special place.