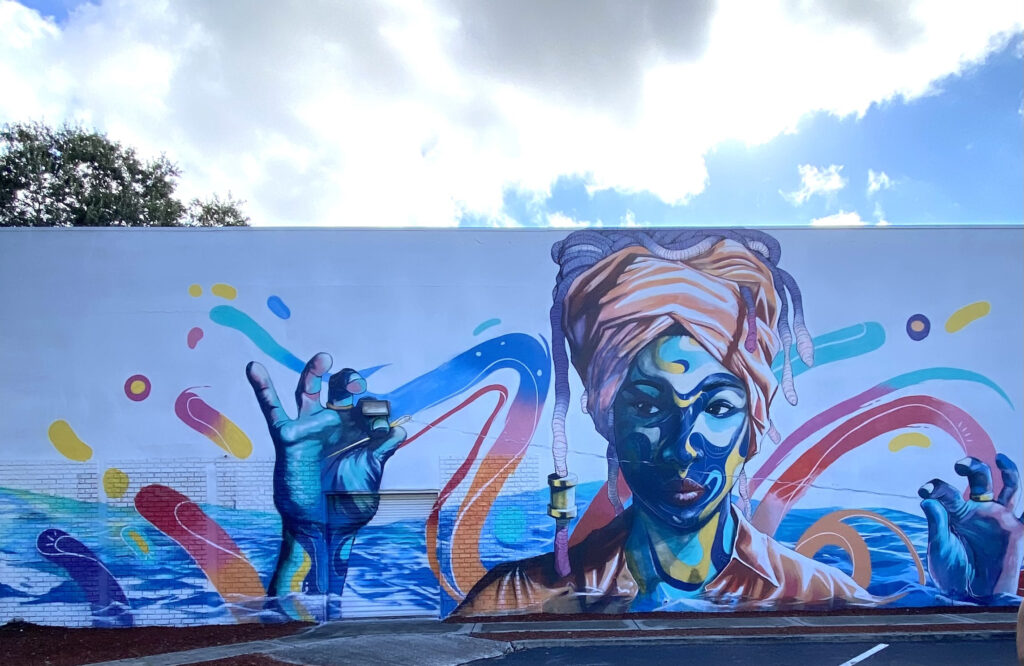 At first glance of St. Peterburg from the city core it's a leisurely stroll to the boardwalk with its lively pier along Tampa Bay where crafts are displayed at night and lit with posts of changing colors. Meander on the boardwalk to take in the water view as well as a myriad of restaurants. St. Pete, as it is fondly called, with a population of around 260,000 offers the visitor a destination for those loving beaches, the arts community, lots of outdoor activities, and the freshest of food and drink.
Our International Food Wine Travel Writers Association held its annual conference in this charming Florida city. However, just a few days in St. Pete let us know that wasn't time enough to take in all that the city has to offer. I signed up for a post-trip to explore more of the area.
Artwork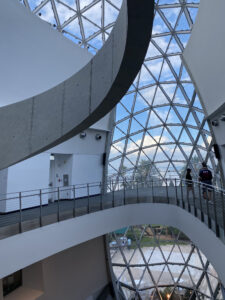 No visitor to St. Pete should miss the opportunity to saturate themselves with the wide variety of world famous museums. Architecturally, the Salvador Dali Museum flaunts the genius of Yann Weymouth and is described where the building "combines rational with fantastical." Advance timed-tickets are required for entrance. Pro-tip: You can download the app describing the artwork, but Dali is so unique that searching out a docent is the best way to enjoy the art.
If you have never been to a museum of glasswork by the master Dale Chihuly, the Chihuly Collection will wow you. Be sure to seek out this museum because even if you have seen his glasswork, this collection will still mesmerize you.
Our group had our own art walk to witness the murals in the MLK North District of St. Pete. Many of these pieces of wall art come from the annual mural festival called SHINE St. Pete where artists from around the world in October are offered walls where they can create their art. We felt blessed as we strolled this district where we saw visual candy for our eyes as we turned each corner.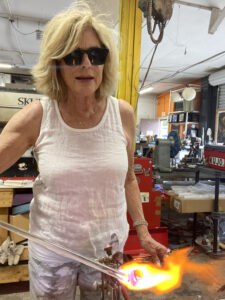 We couldn't take in all of these stunning masterpieces because we had our opportunity to create our own work of art at Zen Glass Studio. This is a place that you can become an artist of your own paperweight, ornaments, or wine glass that you personally design and make. The instructors, after giving you a demonstration, turn you loose to choose colors you use and to form your own work of art. Luckily, they closely supervised all of us newbie artists because that flame is intimidating. All of us chose to make wine glasses that made us proud and we received the finished product later at our homes.
Outdoor Adventure
An adventure awaited our group with a trip to Shell Key Preserve to kayak in glass bottom kayaks with Get Up & Go Kayaking. Ben, our guide, was extremely well versed on the 1,800 acre preserve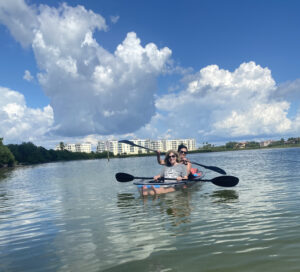 where marine habitats are protected and shore birds nest among the mangroves and seagrass beds as well as Shell Key. Shell Key is one of the largest undeveloped barrier islands in Florida. We all laughed as we got caught in low areas of the sea grass while kayaking. In addition, while we were paddling, a certain kind of duck followed our kayaks and dove right next to our boats. We found out that our paddling churned up small fish and helped the ducks to find their meal for the day. The chance to be out in nature in such a picture perfect environment was a highlight for all of us.
Our stay the first night was at Rumfish Beach Resort by TradeWinds. This resort is part of two adjoining hotels offering a massive expanse of white sand waiting for beach walks and exploring. I really like the ambiance of the Rumfish Resort. It felt to me like the quintessential Florida beach resort that had been updated but still had some of the characteristics of the older charming hotels.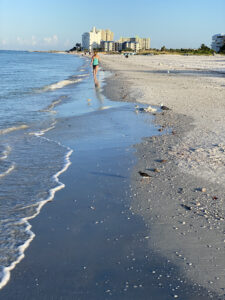 One look outside from my balcony told me I had to get outside on that soft white sand to enjoy the sunshine. Of course, we all took in the SandBox Beach Lounge with the fire tables and beach bar. With direct views of the beach, sunsets and sunrises were free for our enjoyment.
Dining
Aquatic life is everywhere you turn in Florida, and that was true of our dinner at Rumfish Grill. As we entered the restaurant, our eyes gazed on the massive 33,500 gallon fish aquarium that covers an entire wall while every known species in the area swam past us.  There are a wide variety of fish, a shark, tarpon, and even a green moray eel.
With so many delicious sounding dishes at Rumfish Grill, it was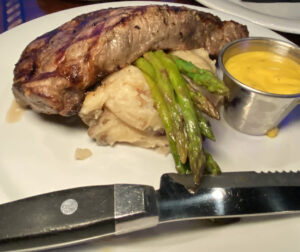 difficult to choose just one item so we divided and conquered and shared appetizers as well as main courses. The fish entrees were perfectly cooked as well as the steak for the meat lovers in the group. I savored the fresh oysters we shared at the beginning of the meal.
Culture in Tarpon Springs
An area I have always wanted to explore in Florida is Tarpon Springs,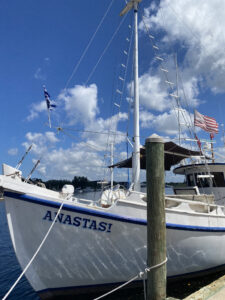 considered the "Sponge Capital of the World." The discovery of natural sponge beds in the early 1900s brought many Greek sponge divers and their families to Tarpon Springs. This town has the largest percentage of Greek Americans of any city in the United States.
When we arrived, we had no trouble finding the sponge docks. We talked with Taso as he stood on his boat that he has used since 1972 to harvest sponges. He told us that when he goes out, he is out for two weeks. There are over 2000 types of sponges, but he only picks from four different varieties. Taso told us he dives anywhere from 15 to 60 feet deep where he walks along the bottom to harvest sponges. Sponges are a multicell animal.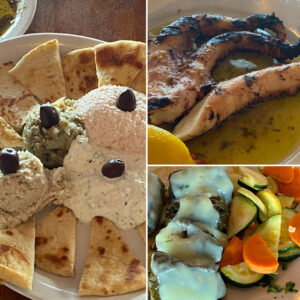 Once brought back to the dock, tissue is removed and the sponge is shaped for sale. One thing I found fascinating is that while man-produced sponges become smelly after time, natural sponges do not. I brought home several.
We couldn't leave Tarpon Springs without an authentic Greek lunch. Dimitri's On The Water was the perfect experience to enjoy everything Greek. We were served delicate and fruity olive oil topped with fresh herbs and dense bread followed by a Spread Sampler of tzatziki, an eggplant salad, whipped fish roe, and a potato and garlic dip. We felt we could ask for nothing more except some Greek wine.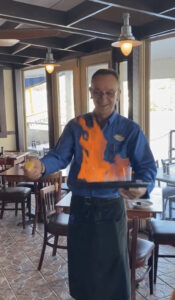 We all tried two Greek wines but couldn't decide which we liked the most so we shared both.
The appetizers were just the beginning. The show came when the
flaming Saganaki was brought to the table by our accomplished fire maker and server who asked us all to shout, "Oompa!" Chargrilled Octopus, Avgolemono soup, Greek salad, calamari, and grape leaves rounded out our meal. We were sated and very happy.
We had heard there was a beautiful Greek Orthodox church nearby. A walk to wear off the lunch was in order. Saint Nicholas Greek Orthodox Cathedral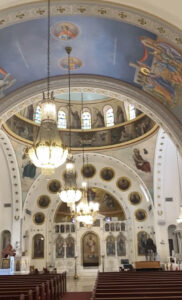 was built in 1943 in both the Byzantine and contemporary style. Marble, silver and gold inlays, as well as brightly painted frescoes adorn the ceiling and walls.
Outside stands a bronze statue of a young man holding a cross known as the Cross Diver, the symbol of a festival held in Tarpon Springs and known the world over. In January on Epiphany Sunday after the church service, tradition finds the priest casting a white cross into Spring Bayou where dozens of young men dive to retrieve the cross. The one retrieving it is blessed by the priest and carried by the others to the park where a large food celebration takes place.
Since we were offered the opportunity to visit Tarpon Springs Distillery located in a former sponge facility, we opted to investigate how malted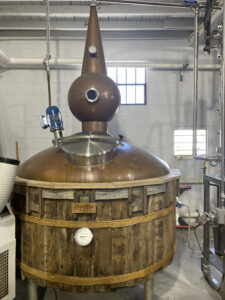 grains and botanicals were used to create spirits. Barry and Lisa Butler, owners, graciously welcomed us to the distillery and guided us through the small batch artisanal spirits making process. One of the stills is appropriately named "Amazing Grace" and sat in the spirits making room in all her copper glory. At the end of the tour, we were offered a variety of cocktails as well as sips of the individual spirits that make these cocktails.
Beautiful Dunedin
It was time for us to pack up and head to beautiful Dunedin with its Scottish
heritage as displayed by the welcome sign at the entrance to the town.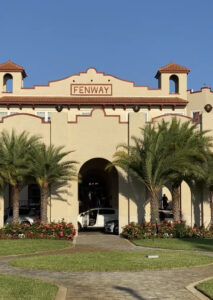 We checked in at the Fenway Hotel, part of the Autograph Collection, and built in 1924 during the Jazz Age. The interior has been updated but hasn't lost its charm from its vintage design and has lots of luxury touches from the welcoming glass of champagne to the pillow top mattress and duvet. I loved seeing immediately upon entering a stage for jazz players with a bar to the other side of the area.
We all met at the HIFI Rooftop Bar to salute the setting of the sun over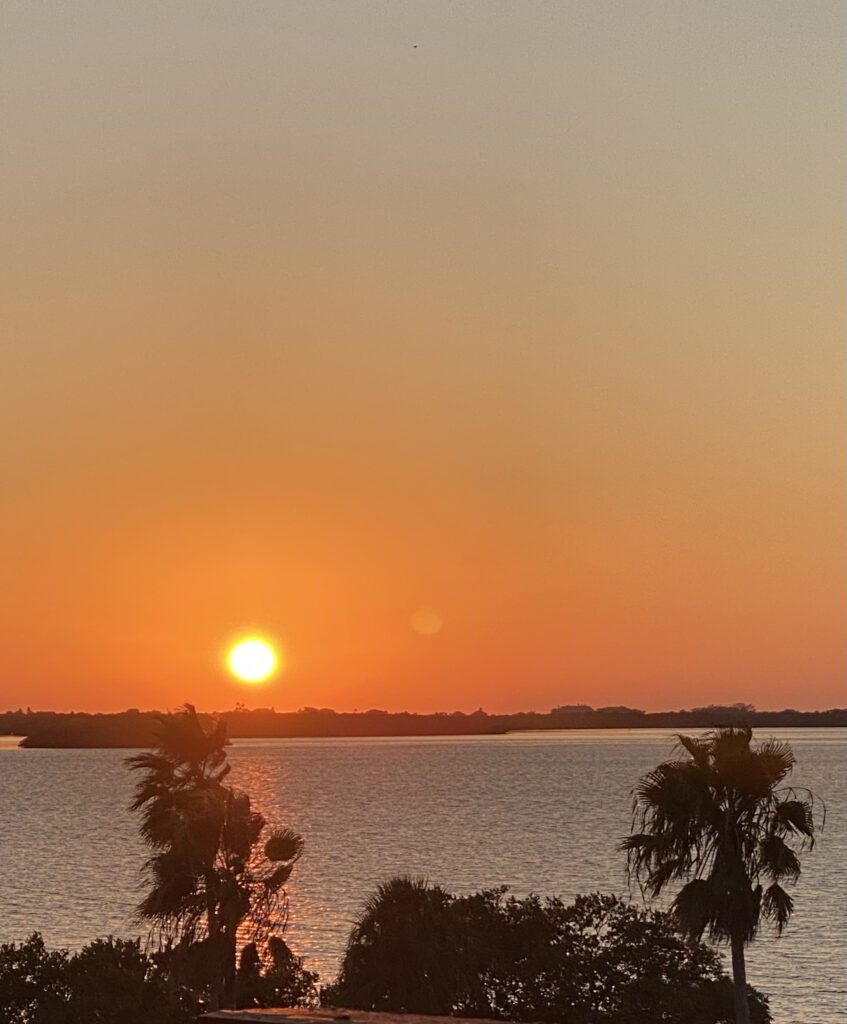 the gulf with creative cocktails. We felt the rooftop was the perfect place to gather for a perfect ending to a perfect day.
Hew Parlor & Chophouse wowed us with their food presentation and freshness of ingredients. I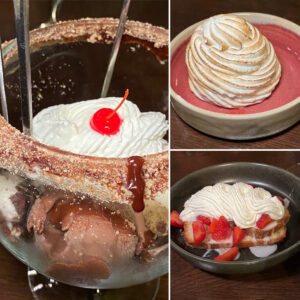 chose the scallops in a grapefruit buerre blanc with roasted Brussel sprouts and was delighted.
Desserts were a visual delight as well as just plain delicious. Baked Alaska, Strawberry Shortcake, and a Brownie Fudge Ice Cream sundae were quickly demolished by all.
Whether you are looking for artwork, culture, outdoor activities, or just the perfect place to laze around and enjoy the sand, we all felt St. Pete and its neighboring communities offer that and more.