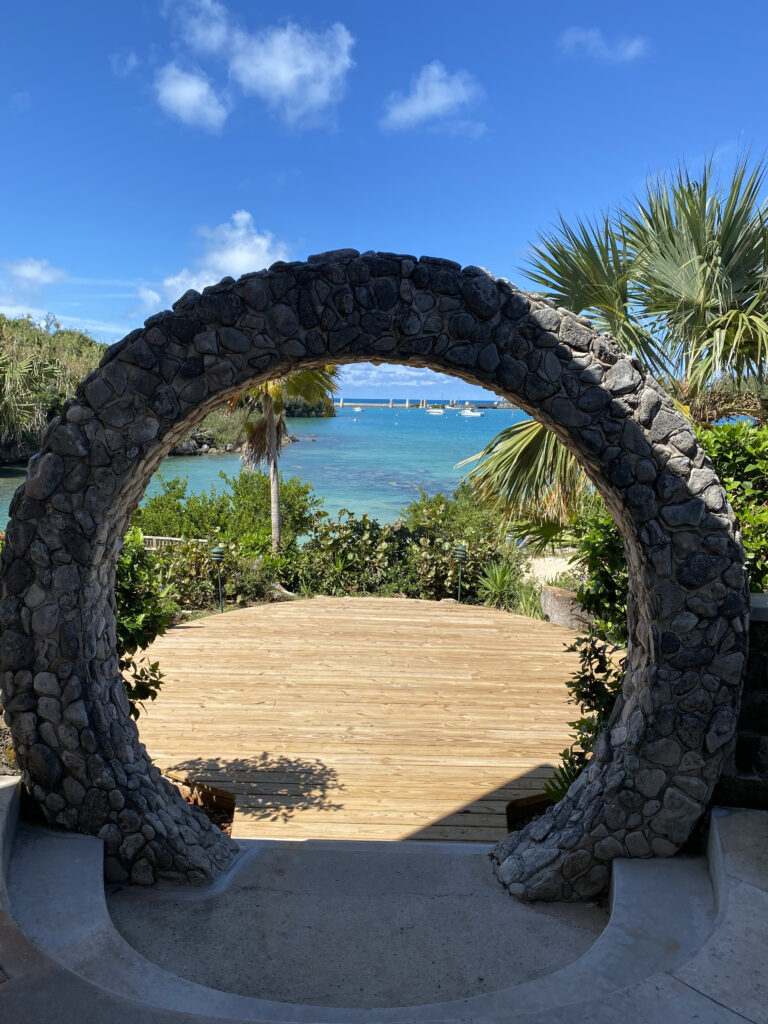 When your goddaughter sends you an invitation to attend her wedding in Bermuda, what do you do? You go. A desire to travel to Bermuda had long been on my list, and this was the perfect opportunity.
Bermuda isn't a very big island. In fact, with a population of around 65,000, the relatively small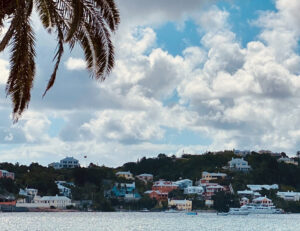 size surprised me. I knew that it was a British colony but it is administered independently as a country. The island was first settled when a British sailing ship headed to Jamestown was steered off course by a hurricane and landed near the shores of Bermuda.
What Bermuda is about is the crystal clear turquoise waters, pastel painted homes, and pink sand beaches. In addition to the amazing wedding location for my goddaughter's wedding, all of this beauty is an experience I have long wanted to see.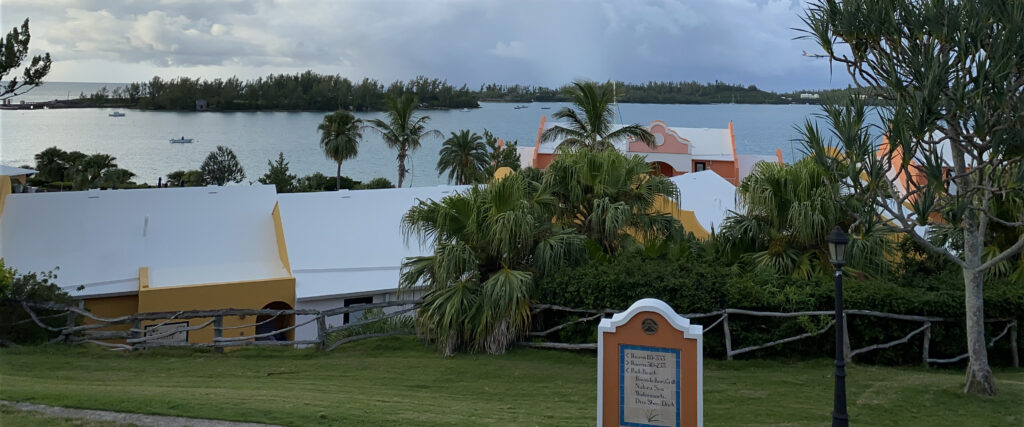 My stay was at Grotto Bay Beach Resort and Spa located in Hamilton Parish, a perfect central location to both the north and south ends of the island. The resort sprawls across 21 acres with groupings of villas with a total of only 201 guest rooms.
My first night in Bermuda was rainy. Since we were in a period of high Covid infection, I wasn't thrilled that I would be eating indoors at the restaurant until a guest reminded me that there was probably no safer place in the world because all guests had undergone tests both before flying to Bermuda and again at the airport and were required to be tested every four days they were on the island.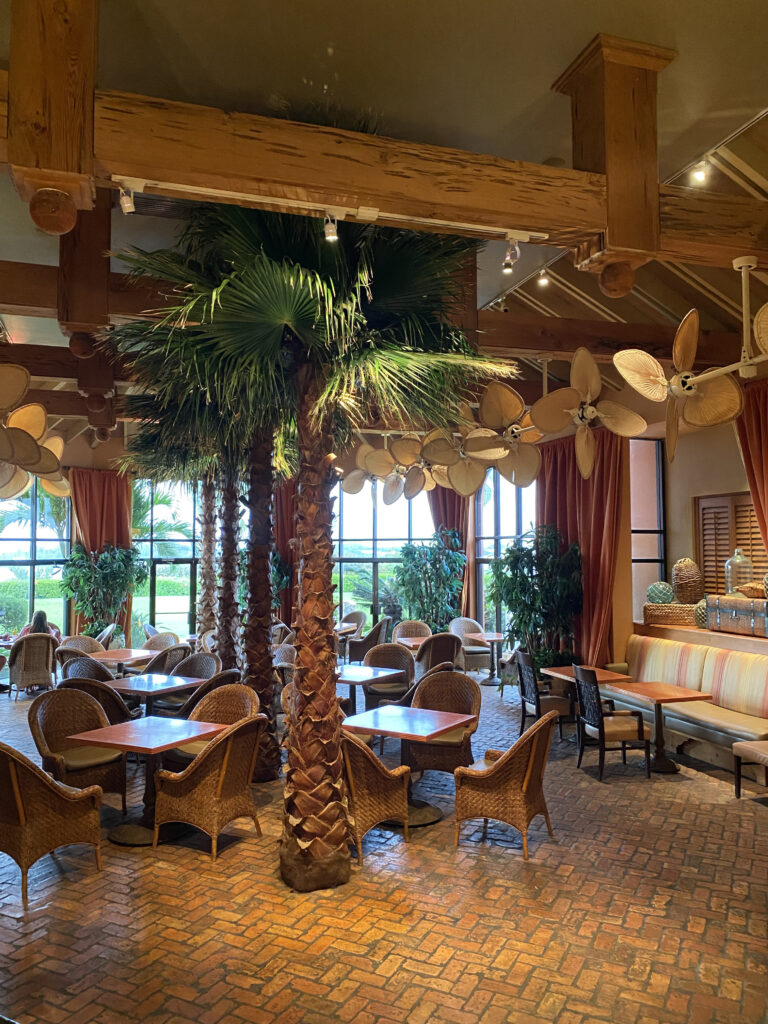 The lounge at Grotto Bay offers the perfect tropical setting to enjoy a cocktail and some appetizers. My dinner of sea bass was perfectly prepared and made me happy I was staying at this resort.
The next morning as I prepared to eat breakfast brought by room service, I glanced through the curtains to my private patio and beyond at the bay view. I noticed I had guests—a family of chickens that greeted me every morning. I looked forward to seeing them each day.
An advantage of the resort being smaller that I really liked was that it was a very short walk from my room to the resort's private beach. Snorkeling, sail boat rides, and kayaking were all available from this beach. I chose to find a comfortable beach chair and just take in the sand, the sun, and the view. When I needed some nourishment, the outdoor café was just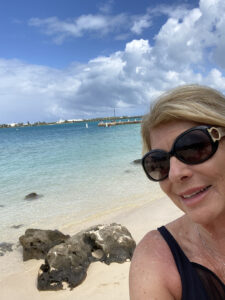 steps away and offered great fish tacos as well as a perfectly made Mai Tai.
When they make a Mai Tai at this resort, a dark rum floats on top of your typical drink, creating a perfectly delightful cocktail to enjoy while lazing in a beach chair. One of the enchanting views from the outdoor café is a Moongate, a national symbol of the island, made of local limestone and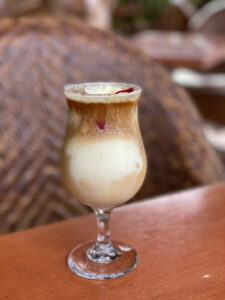 said to offer lovers, when they hold hands and walk through it, eternal love and happiness.
An added bonus to my stay at Grotto Bay Beach Resort was Cathedral Cave, a grotto on site of the property. As I wound my way down the steps through the tube cut inside the rocks, I saw marble-like material that draped the walls (called flowstone) which formed columns of stalactite and stalagmite. Once inside the cave, I was delighted to see a set of wooden steps leading to an indoor pool. It was so inviting that I knew I had to take a swim, an experience I will always remember.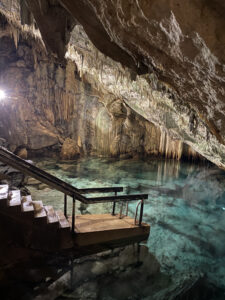 Friends told me I needed to walk next door from my resort to The Swizzle Inn, Bermuda's oldest pub and home to its national drink, the Rum Swizzle, created in the early 1900s. Inside this rustic pub, I found graffitied walls, business cards, and dollar bills. Outside, we sat on an upstairs patio to enjoy an iced pitcher of the famous Rum Swizzle. I felt like I now understood the roots of the national drink.
I had a short stay in Bermuda so I hired a driver to take me to the highlights of the area. We checked out Tucker's Town Road,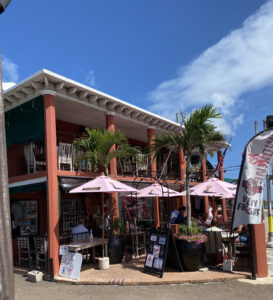 home to Bermuda's most exclusive neighborhood and dubbed "Billionaire's Row" and surrounded by golf courses.
Then we stopped at Elbow Beach known for its soft pink sand. I had to gather a small amount of pink sand at  Horseshoe Bay, shaped like its name and a great beach to just enjoy the water. By the way, my guide told me that pink color comes from fish excrement washed ashore after they have cleaned off plant growth on reefs.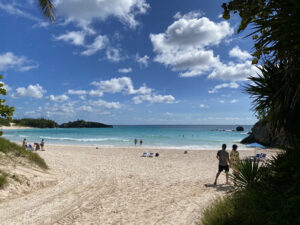 Just a short drive from my resort is the city of Hamilton, the capital of Bermuda (with a population of 850.) This is where I found shopping along Front Street with its pastel painted shops and the elegant Cathedral of the Most Holy Trinity Anglican Church, as well as Old Cellar Lane, an alley of cobblestone where before 1900, many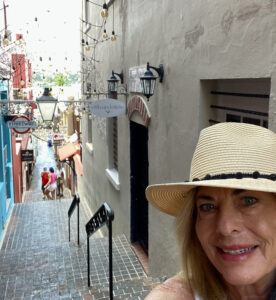 stables sheltered horses and carriages and now houses shops.
On my way to the wedding, I had to take a quick peek at St. George's, the oldest continuously inhabited British town in the New World which was settled in 1612. Here is King's Square, named in honor of King George III with its old buildings and narrow streets.
Off I went to this most enchanting and magical wedding which took place at the Unfinished Church located at the very northern tip of the island outside St. George's. The Unfinished Church is an elegant edifice of Gothic ruins started in 1874. Today this massive stone church has no roof and a floor of grass. It was built to replace St. Peter's Church that was damaged by a storm. Politics played into refinishing the original St. Peter's Church rather than finishing this building of immense stone walls. The setting is often used for weddings because of its grandeur, and my goddaughter and her husband-to-be marked the joining of their union in this charming venue.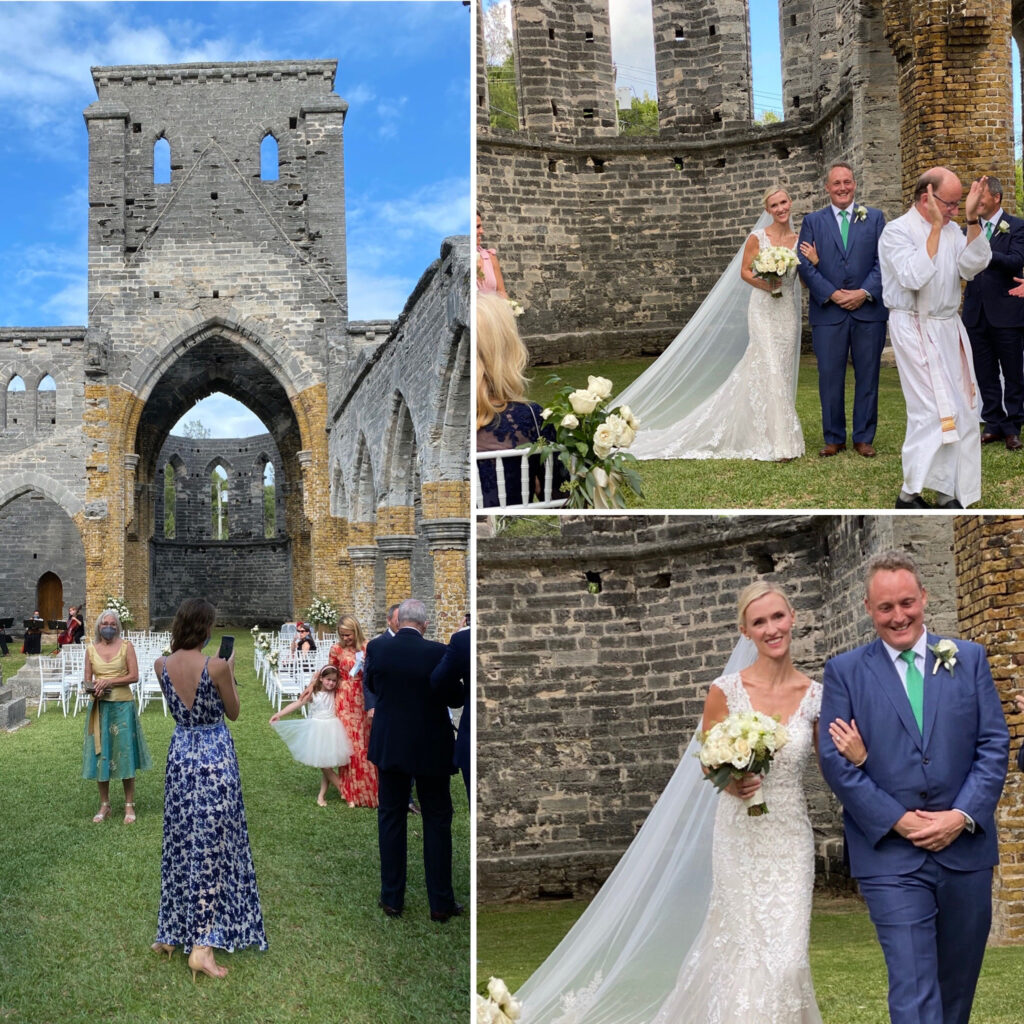 While I love to explore an area, to me Bermuda is an island meant to be treasured for its stunningly beautiful turquoise waters and pink sand beaches where you melt into a comfortable beach lounger and let the clouds and boats float by as you relax under your beach umbrella.