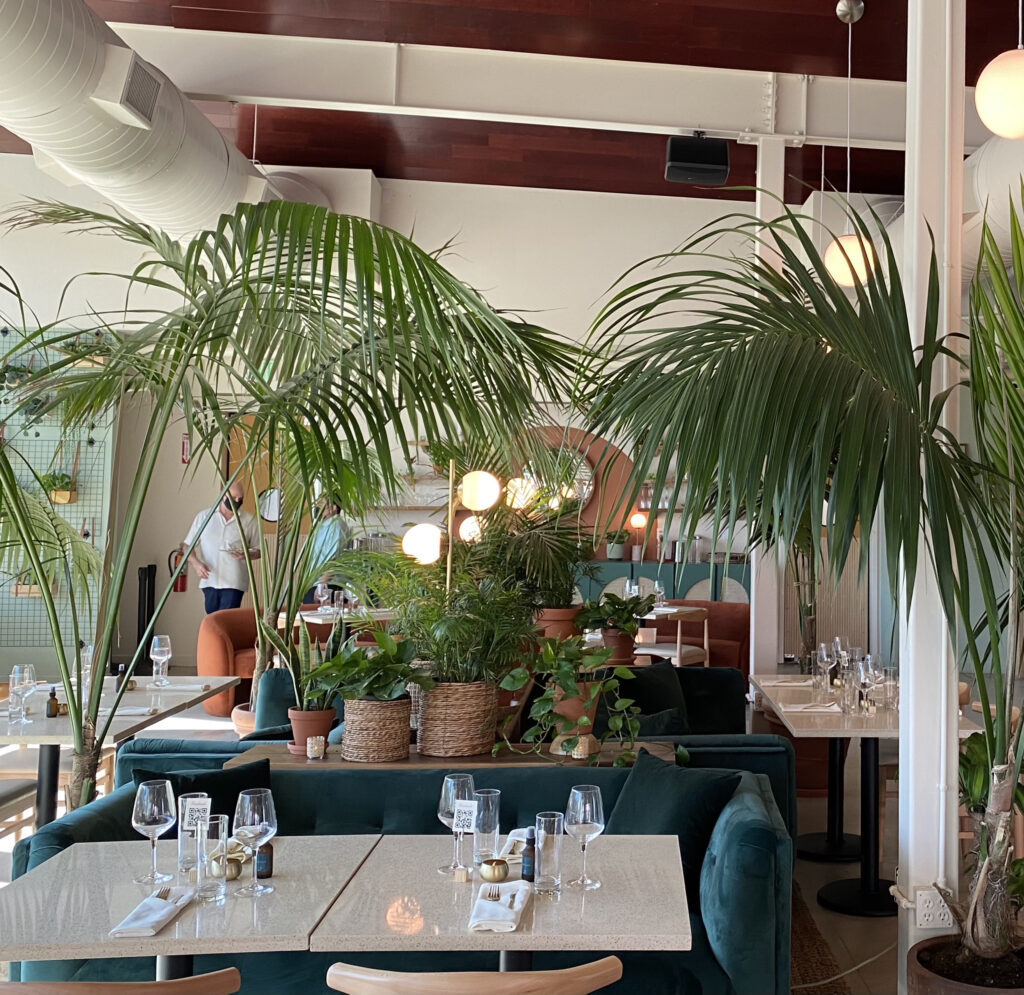 Several nights ago a fellow writer, Susan Montgomery, and I attended a media event at Boozehounds, a new dog-friendly restaurant in Palm Springs. We were wowed by the ambiance. We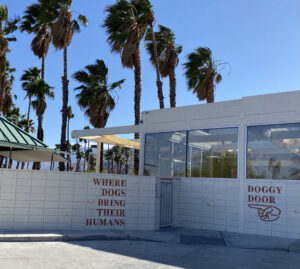 had visited the restaurant at the end of February when the restaurant was just a shell. What we saw was a very upscale classy restaurant with an intimate dining area of enclosed booths, a community high top table, a bar to view drinks prepared by an expert mixologist, luxury seating on Art Deco sofas, a lounge area to sip cocktails, and a casual and welcoming outdoor open air patio lounge and patio bar area with its own dog entrance where dogs can escort their humans for small plates and drinks (in addition to dog treats.)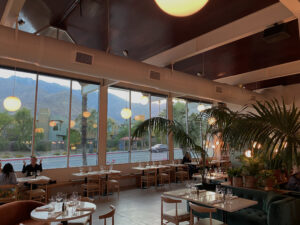 But for one minute don't think this is just a place to hang out with your dogs. This is an upscale restaurant/bar with an interior meant for fine dining and luscious cocktails. When you look out the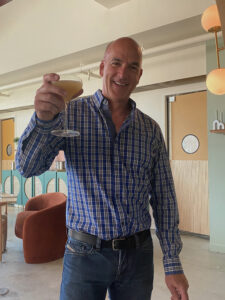 huge windows with peaks echoing the mountains, you see picturesque San Jacinto State Park. This place has it all and does it with lots of fun and humor but also lots of sophistication. Their New York interior designer hit it out of the park.
We were welcomed with a glass of sparkling wine to celebrate the opening of this new venture. The owners, Steve Piacenza, Jimmy McGill, and Bryan Rogers were on hand to show us around. The restrooms make up part of the tour with their neon lighting, elaborate wallpaper, and Hollywood photos of musicians and actors. This is a fun place.
As you look around, you see photos of the owners' dogs as well as just plain fun shots of dogs among plants everywhere to add to the tropical feel of the place.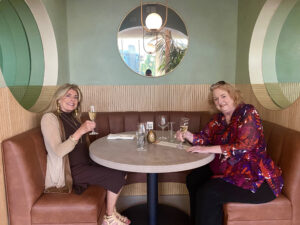 We were seated in what would be my favorite spot in the restaurant, an intimate three-sided booth with glass on two sides to make it feel cozy but not confining. We noticed others seated on the colorful Art Deco sofas with tall plants to break up the huge room and provide comfortable and more private seating.
When we were asked what cocktail we would like to try, we were very happy because we tasted mixologist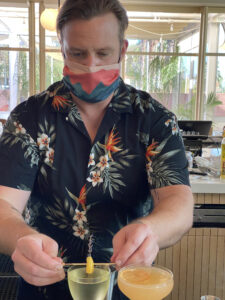 Justin Gordon's cocktails on our first visit. We learned that he even forages for spruce in nearby Idyllwild to make his own shrubs. To add to the fun, the drinks all have dog names. We tried the Old Yeller and Aunt
Donna's Dirty Poodle (named after owner Jimmy's Aunt Dona Cole, a B movie actress and a debutante.) Delicious as we expected.
Our Crudos were a visually elegant sustainably sourced Bluefin Tuna and a Japanese Yellowtail. The fish is delivered everyday so there is no worry about freshness here.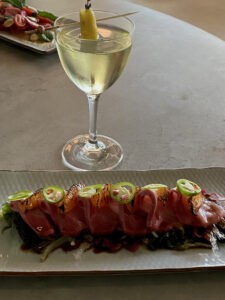 The chef, Cory Baker, enjoys using Asian seasonings, but he told us he aims for just a hint of that flavor and not an overwhelming sense of it. One of our next courses consisted of a most unusual dish of a crunchy crispy shrimp head in a spicy red aguachile sauce. I was game and actually enjoyed it. Our other item chosen by Susan was a salad so large and full of so many fresh ingredients that it could be a main course.  That salad, called Maguro 'tataki' was made with a tamari garlic butter seared tuna. Again, both dishes displayed so much creativity and color that they are truly photo worthy.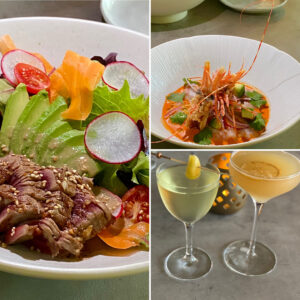 On to our main dishes we went. We selected the Miso Chilean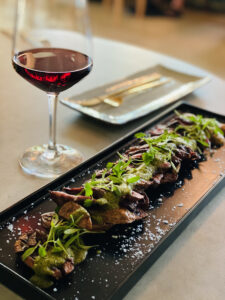 Fish & Chips and the Skirt Steak. Of the two, we highly recommend the skirt steak. The Creekstone Farms Prime Cut was topped with a chile verde foam, again displaying the chef's ability to wow guests.
Desserts were a Budino (Italian for custard or pudding) of maple butterscotch and a Bibingka, a Filipino coconut rice flour cake.
If you have dietary concerns, there are plenty of gluten free and vegan options.
Boozehounds is a place to plan on spending a long evening or an afternoon enjoying the ambiance and all that it has to offer. Let your dog take you there or visit with a human companion.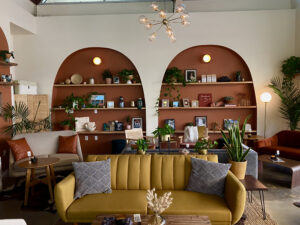 Thank you, Boozehounds, for the gift of a delightful evening.