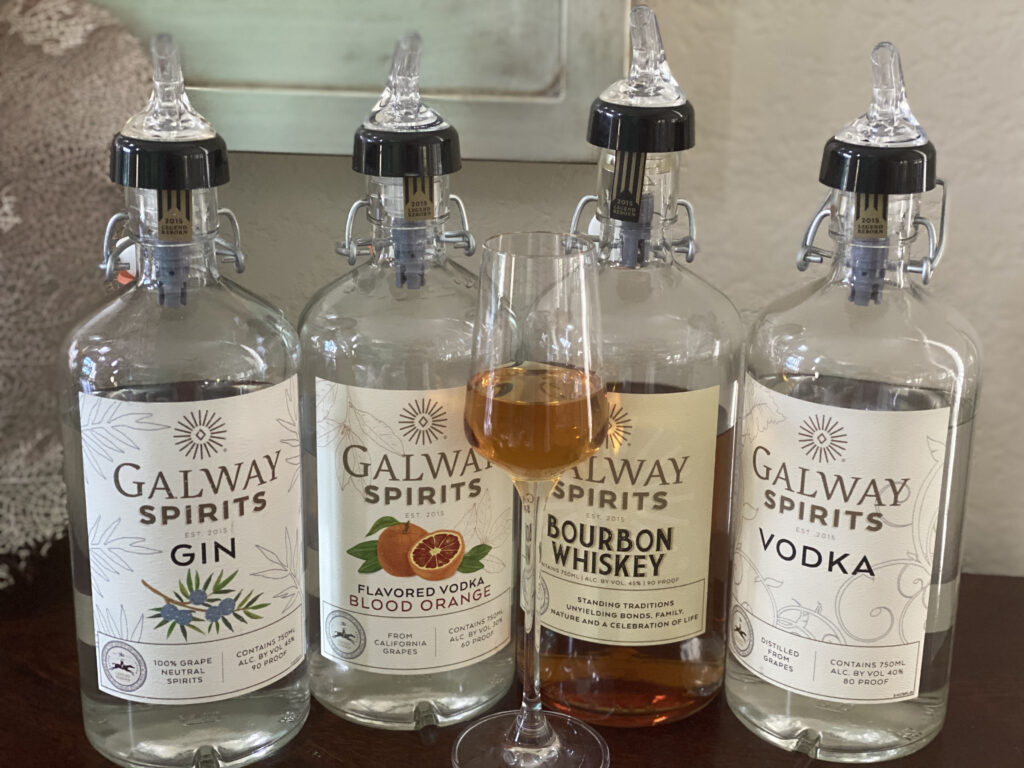 Bring a little spirit to your days during this time when we are forced to pause in our homes and wait out this virus.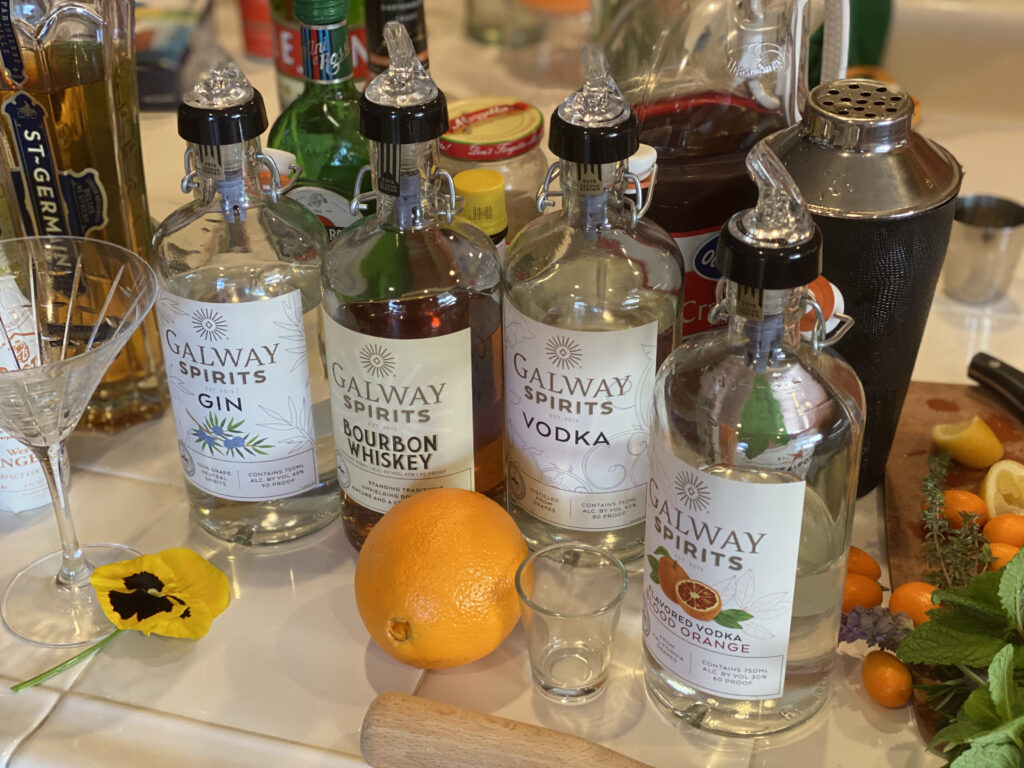 I love creating my own cocktails or sniffing out what seems like a great recipe to try. When I found out  Galway Spirits delivers to your doorstep, it seemed like the perfect opportunity to have some fun and create my own cocktails right in my kitchen. Since we aren't supposed to be leaving our home, I decided to use what I had in my refrigerator and my backyard to add to these cocktails.
Let me share a little about Galway Spirits. Galway Spirits is a hand-crafted, small-batch artisan spirits producer in Temecula, California. The owner, Ken Smith, also owns Galway Downs, an equestrian events center just on the edge of Temecula. Ken came up with the idea of Galway Spirits after being inspired by the spirit of Galway Downs. The idea grew into a distillery headquartered in an industrial area close to Old Town Temecula.
Galway Spirits creates vodkas, both a crystal clear vodka as well as flavored vodkas such as coffee, blood orange, dragon fruit, and mango. All of these vodkas are made from grapes which is quite fitting in a wine-growing region. These grapes add to the fruitiness of the vodka.
Besides vodka, Galway Spirits produces a rye whiskey, a bourbon whiskey, and a gin. I found the gin unique because it is low in juniper flavor and speaks more to the citrus and lavender. The bourbon whiskey has notes of honey, caramel, vanilla, and a touch of orange. The rye whiskey is full-bodied with caramel and spice and a tad bit of tobacco.
Just to help you keep bourbon and rye straight, bourbon must be at least 51% corn, be in contact with New American oak, and be made in the United States. Rye follows the same guidelines, but it is made with at least 51% rye grain.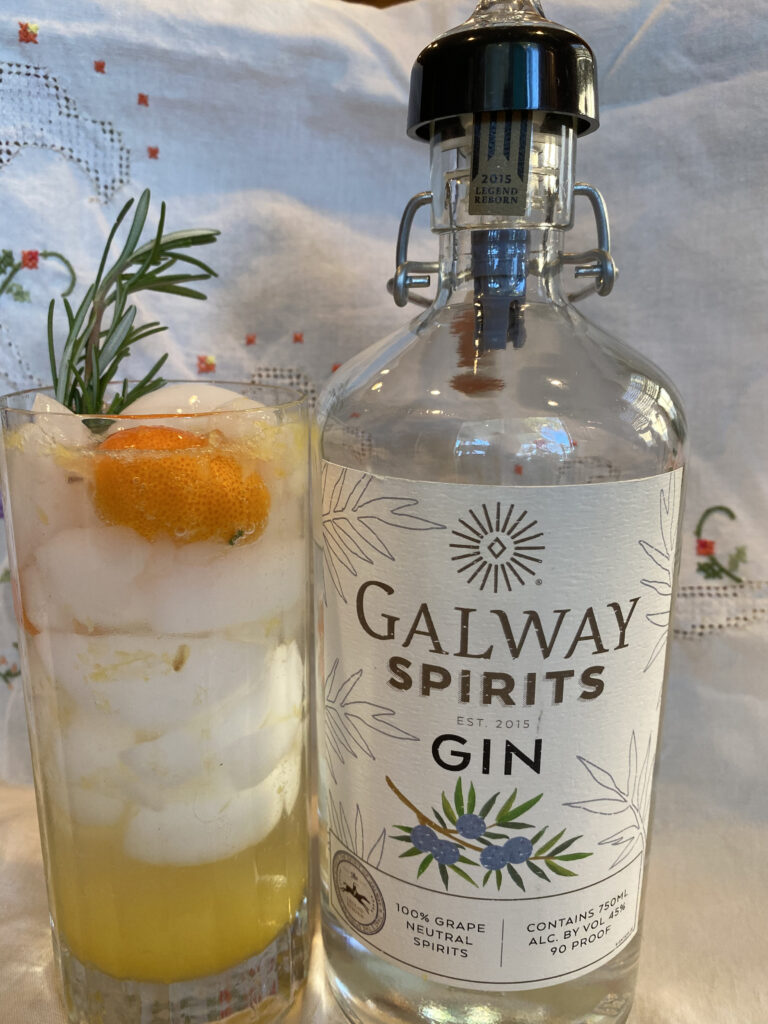 The first cocktail I am calling the Kumquat Smash. I have a tree loaded with kumquats so this was a logical choice. I muddled together about 10 kumquats with a sprig of rosemary. In with that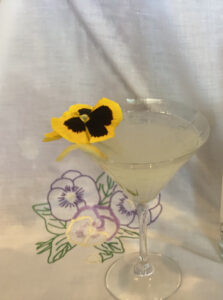 mixture, I poured 2 ounces of the Galway Downs Gin. Then I added about an ounce of lemon juice and ½ ounce of honey. I strained off the liquid and put everything in a very tall glass of ice and topped the drink off with a splash of soda water. It was pretty and refreshing. The citrus notes in the gin created a great cocktail.
The second cocktail I made is called the Citrus Burst. I used 2 ounces of the clear vodka, ¾ ounce Triple Sec (I'm trying Grand Marnier next time), 2 ounces Sweet & Sour, 1 squeezed lemon, and 1 ounce lemon soda. I put all of this in my cocktail shaker with lots of ice and shook the mixture for a long time because I love those small ice crystals you get from this process. Everything got poured into a martini glass, and it was delicious.
The last cocktail I made was the traditional Manhattan, one of my favorites. The honey and caramel flavor of the Galway bourbon works really well for this cocktail. Place 2 ounces of Galway Bourbon in a cocktail shaker. Add 1 ounce of Sweet Vermouth, and 3 drops of bitters. Again, shake it like mad so that you get those lovely crystals, and pour it into a martini glass. To me, this is the perfect drink at the end of an evening.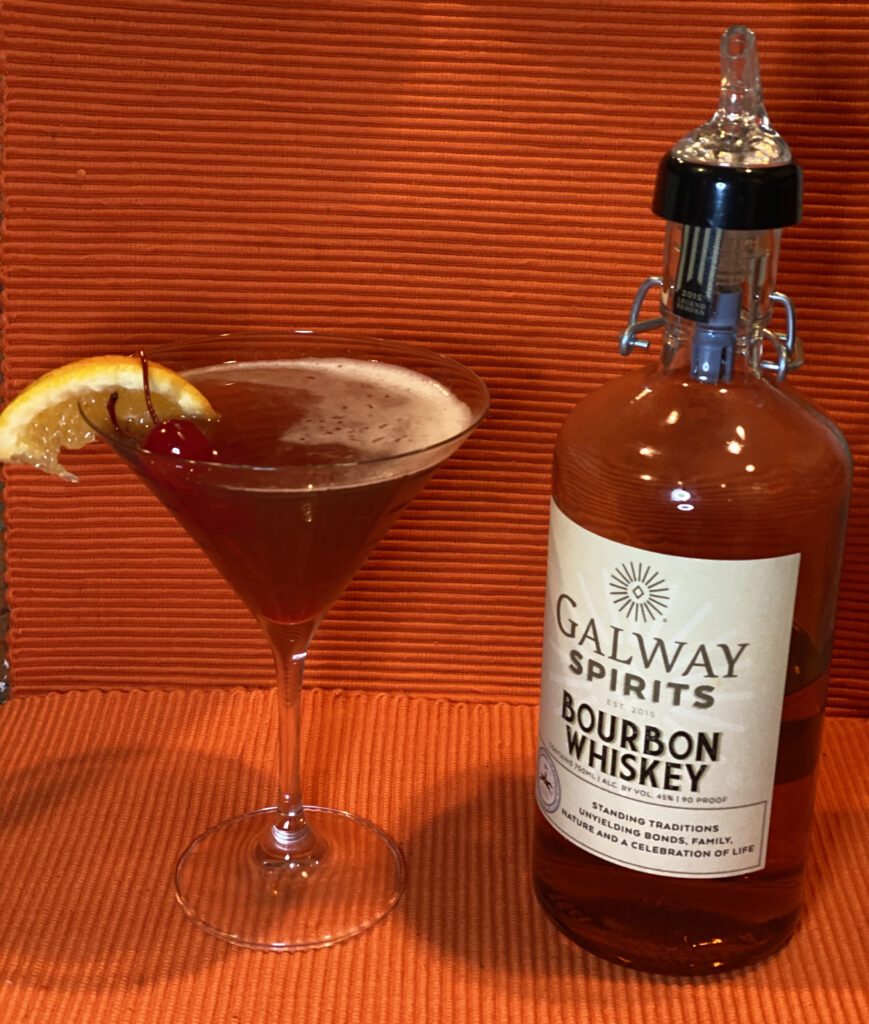 Right now, you can order up to three bottles of spirits to be delivered to your home, or you can pick up as many as you like at their warehouse. To schedule either, call 951-296-6444. You can also send an email to [email protected]. You might even be tempted to join the Galway Spirits Club with its many benefits.
Ken Smith's goal in creating his successful businesses is to continue the standing traditions of unyielding bonds, family, nature, and a celebration of life. Cheers to that!