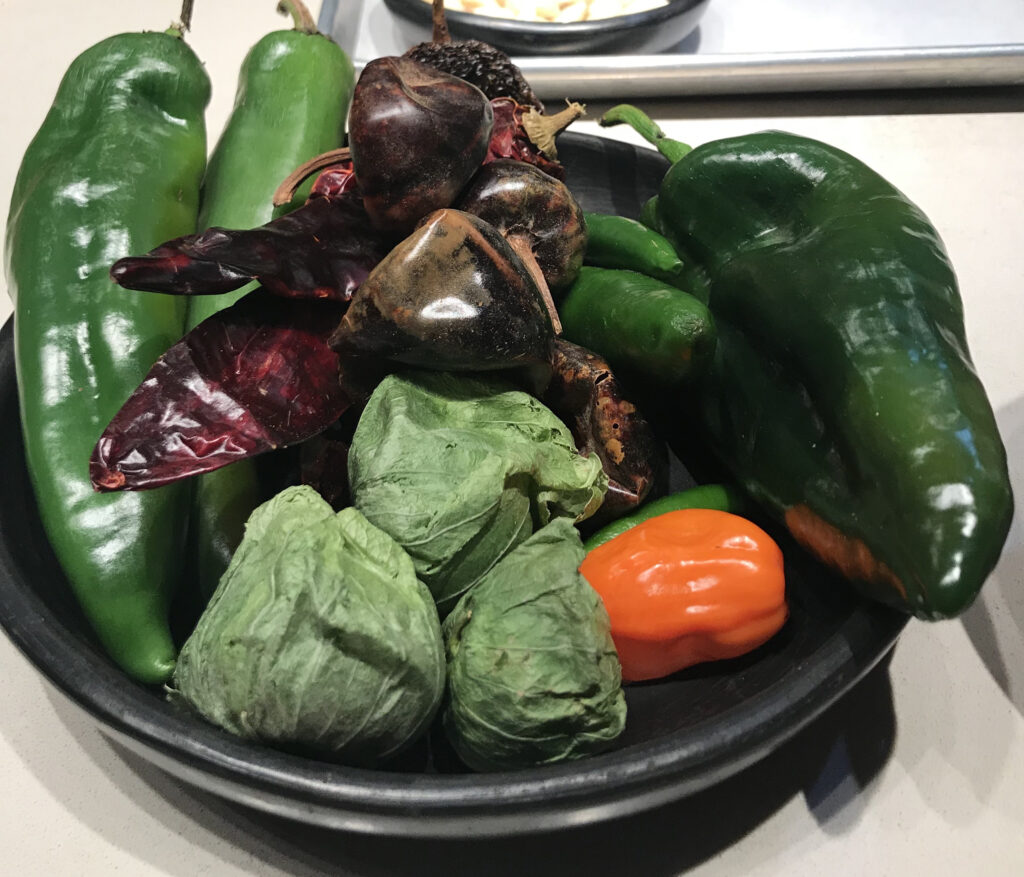 "Red or Green?" That is New Mexico's state question. With Hatch, New Mexico, known as the "Green Chile capital of the world," it's no wonder this question is asked at any restaurant serving authentic New Mexican cuisine.
Red and green Hatch chiles are really the same pepper but picked at different times. The color does indicate a unique flavor. When roasted, the green chiles have a smoky, upfront flavor. As the chiles ripen to red, they become sweeter and more earthy.
Many years ago my daughter and I traveled through New Mexico to take her back to her college in St. Louis. We spent a night in Albuquerque on our journey, and we had a wonderful dinner with enchiladas. The flavor of those enchiladas was so unique from all the other enchiladas I had tasted in the past. That was the beginning of my quest for that smoky chile-based sauce.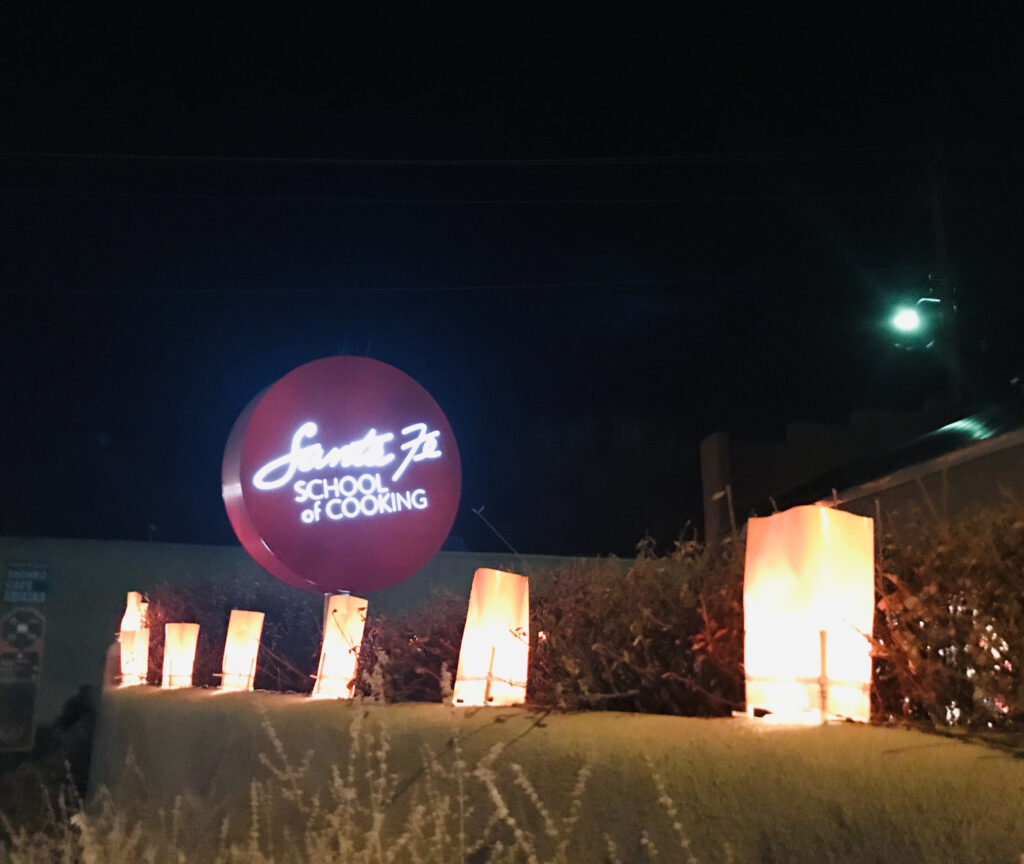 Fast forward to 2019 when I was lucky enough to again visit New Mexico and spend some time in Santa Fe as a member of the International Food, Wine & Travel Association when they held their 2019 conference there. On the agenda was a night spent at the Santa Fe School of Cooking where we witnessed the preparation of authentic New Mexican cuisine and then were served a plate of rich and satisfying New Mexico chile-based sauce smothering enchiladas.
The Santa Fe School of Cooking was founded by Susan Curtis in 1989. Her love for the traditional foods of Santa Fe inspired her towards a local sustainable lifestyle with fresh garden produce and home-cured meats. Susan has written numerous cookbooks on the foods of New Mexico.  Her daughter, Nicole Curtis Ammerman, is the school's Director of Operations. Nicole follows the goals set out by her mother. She has enriched what is available through the cooking school. The team's goal is to celebrate local food.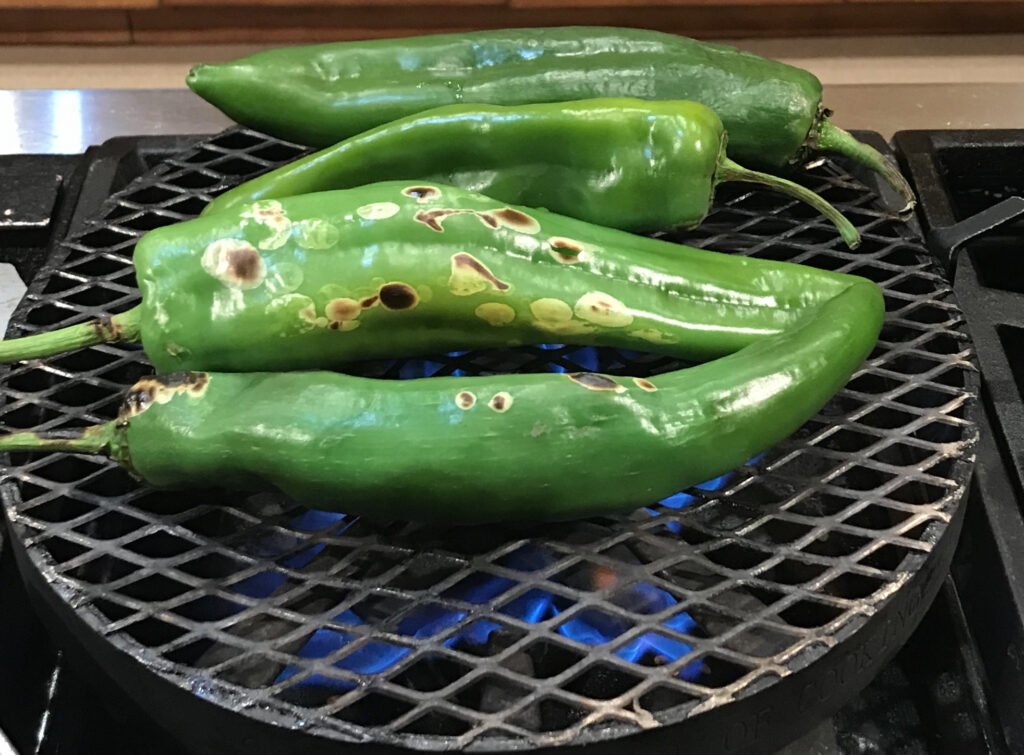 The great news for anyone traveling to Santa Fe is that as of Tuesday, June 16, the Santa Fe School of Cooking will re-open with in-person cooking classes! The first class will be Traditional New Mexico cuisine. The summer class schedule can now be found on their website. These classes are taught by some of the best chefs in Santa Fe and are both entertaining and educational. And, one of the best parts is that you get to come home with the recipes to prepare your own amazing dishes. Take a moment to learn about who these chefs are, and you will know you will be learning from the best.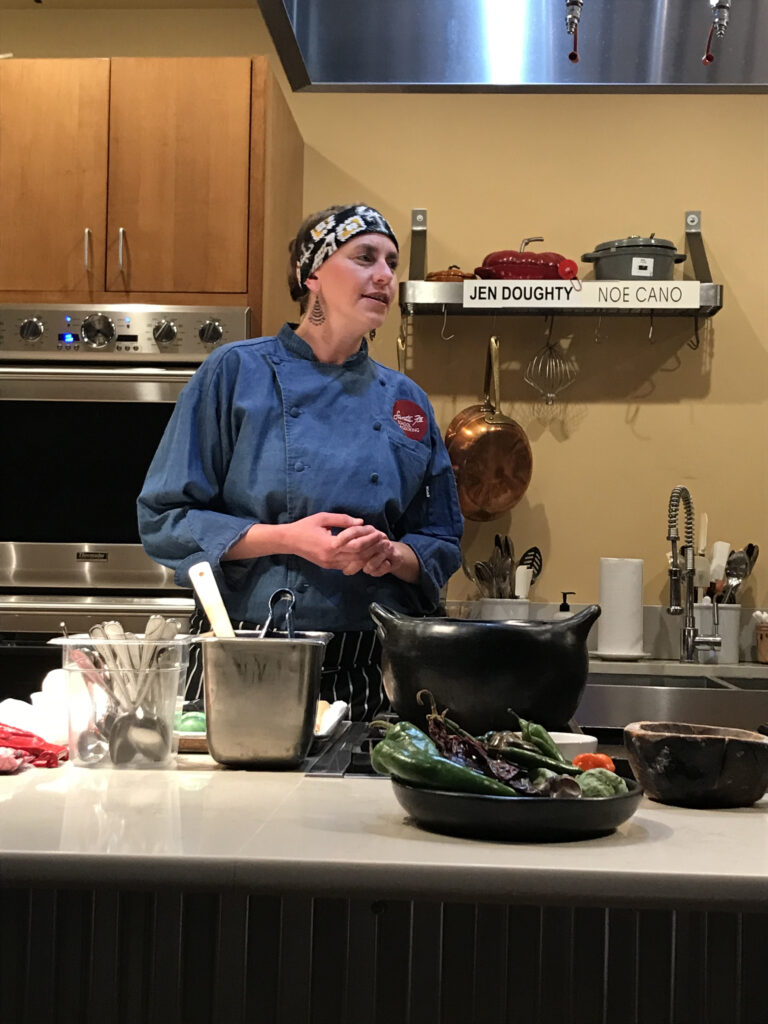 If you don't plan a road trip in the immediate future, you can still indulge in cooking classes taught by one of the Santa Fe School of Cooking chefs. These classes range from "Grilled Salmon with Poblano Lime Jam and Corn and Green Onion Tamales" with Chef Michele Chavez to "Huevos Rancheros and Blue Corn Pancakes and other Southwest Brunch Ideas" with Chef Allen Smith.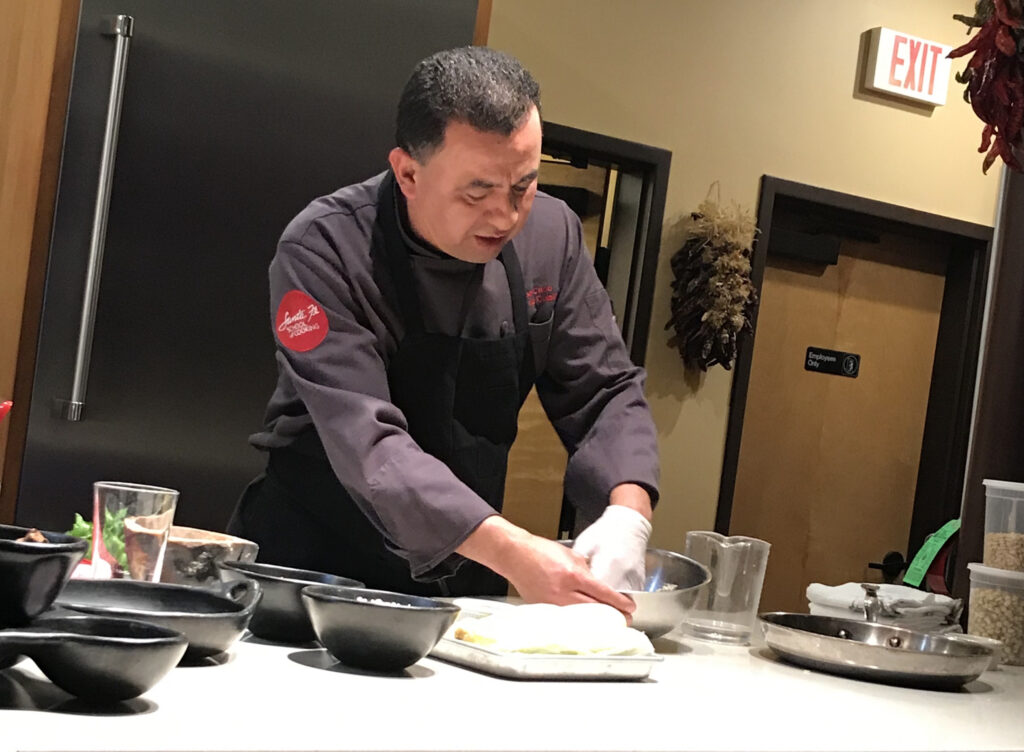 Ingredients specific to these classes can be purchased on their website ahead of time so you can cook along with the chef. In addition to ingredients, I highly recommend their special La Chamba clay cookware, a unique serving and cooking line that is oven, stove top, and microwave safe. These pieces of clayware are such beautiful dishes to use as serving pieces in addition to cooking. Another great purchase is their cooking grill which is great for chiles, garlic, tomatoes, onions, and summer vegetables. And, you can also purchase chiles.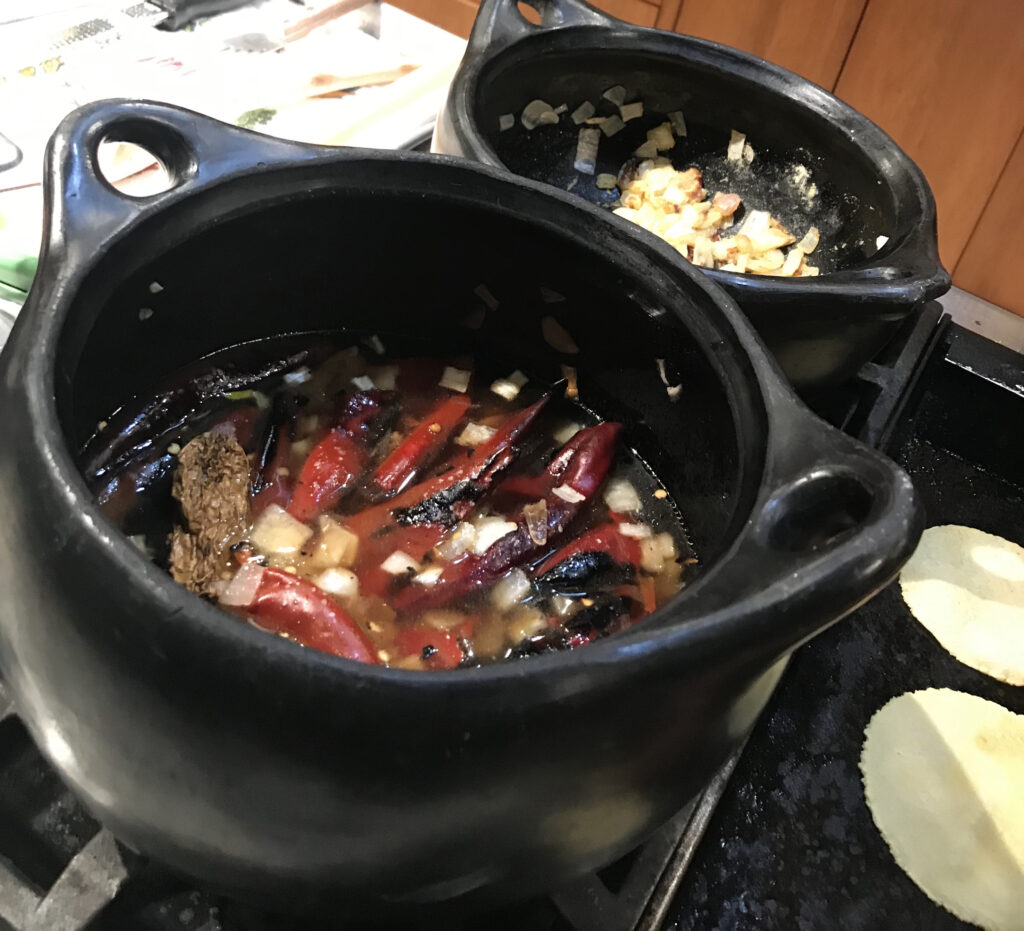 To give you a taste of the amazing and authentic dishes prepared at the Santa Fe School of Cooking, I want to share one of my favorite recipes, Chicken Enchiladas, I saw prepared and enjoyed while there. Along with this recipe, you will learn how to prepare that unique Red Chile Sauce from Ground Chile (recipe published in Celebrating Foods of New Mexico Cookbook.)
Chicken Enchiladas
Serves 10
3 cups red or green chile sauce (red chile sauce recipe below)
16 fresh corn tortillas, about 4 inches in diameter
4 cups cooked shredded chicken
1 ½ pounds Monterey Jack or Cheddar cheese, grated
1 ½ cups diced onion, or sliced scallions with green tops
2 cups shredded iceberg or romaine lettuce
1 ½ cups diced tomato
1 ¼  cups sour cream
Preheat the oven to 350 degrees. Oil a 9 X 12 baking dish or pan (or your large Chamba baking dish)
Spread about 1 cup of the sauce over the bottom of the dish and layer half of the tortillas evenly over the sauce. Top the tortillas with 1/2 of the chicken and 1/3 of the cheese and sprinkle with half the onion (for milder onion flavor, use scallions.) Repeat for second layer and top with the last cup of sauce and the remaining cheese. Bake 20 to 30 minutes, until bubbly and lightly browned.
To serve, spoon portions onto dinner plates, garnish with shredded lettuce, diced tomato, and top with 2 tablespoons sour cream. Serve with pinto beans and posole.
Red Chile Sauce
Makes about 3 cups
¼ cup vegetable oil
½ cup finely diced onion
2 to 3 teaspoons minced garlic
2 Tablespoons all-purpose flour
½ cup pure ground medium Chimayo or New Mexican red chile
2 ½ cups water
1 teaspoon dried Mexican oregano
½ teaspoon freshly ground cumin seed
Salt to taste
Optional seasoning: Freshly ground coriander seed
Heat the oil in a medium saucepan over medium-high and sauté the onion for 3 to 4 minutes, until softened. Add the garlic and sauté 2 minutes more. Stir in the flour, then chile, and slowly add the water, whisking to break up any lumps in the chile. Add the oregano and the cumin, and bring to a boil. Reduce the heat and simmer for about 20 minutes, or until the mixture has thickened slightly. Season with salt to taste.