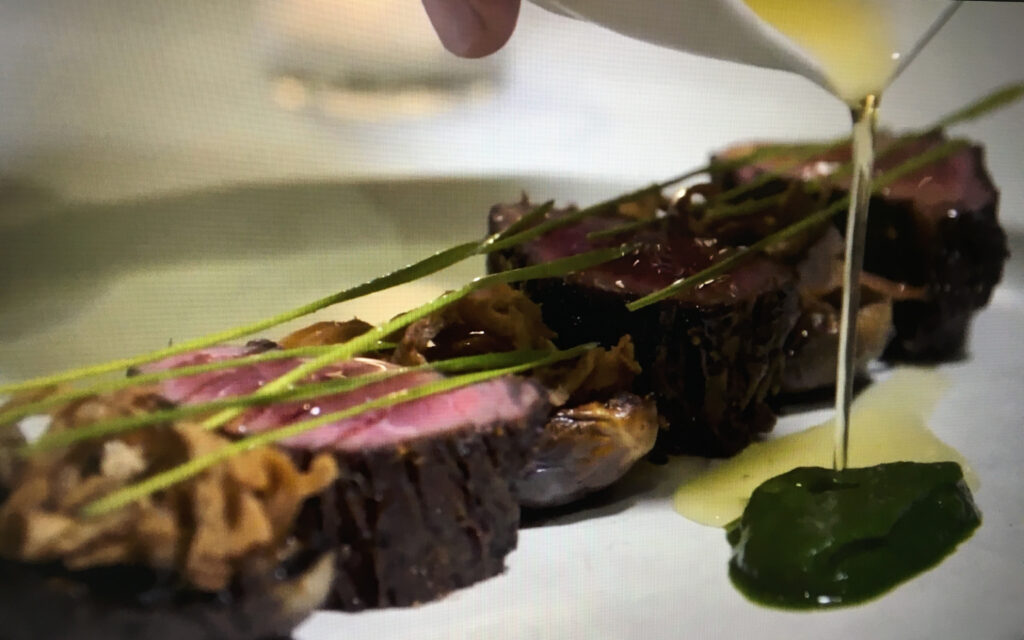 Mention Omaha and steaks and my thoughts go back to my days as a little girl when my dad sold his cattle at the Union Stockyards in Omaha. That was a big day for the whole family. We would all head to the stockyards, walk on the wood plank walkways above the cattle pens, and because it was the day Dad got paid for his cattle, we would all have lunch at Johnny's Café. Johnny's original café has been around since 1922 and has the iconic steakhouse appearance inside.
Omaha Steak History
It's interesting to know why Omaha became known for its steaks and a stockyard that was the second largest one in the country. It all goes back to 1862 when a Wyoming rancher asked a group of Omaha businessmen to consider creating a stockyard. This rancher wanted a place to feed and water his herds (to get the most money from the livestock) before they continued on to the markets in the East. In addition, Omaha was a transportation hub with the Union Pacific Railroad located there. While the Union Stockyards of Omaha shut down in 1999, that steak history remains.
Many wonderful steak restaurants have popped up since the opening of Johnny's Café. Of course, any trip to Omaha for a meal would have to include a steak since Omaha is known worldwide for its steaks.
A group of food and travel writers were lucky enough to participate in a virtual tour of Omaha's world-renowned steaks with tips and techniques by three of the best chefs in Omaha. The webinar was organized by Visit Omaha's Director of Communications, Tracie McPherson, and was also sponsored by Omaha Steaks. We were all given gift certificates by Omaha Steaks to order our own steaks to prepare after learning the tricks of the trade by these three chefs.
What's New About Omaha's Chefs
One of the first things I noticed about the chefs we met was that they were all young and enthusiastic. In addition, all three of these chefs are originally from Omaha. They have all practiced their culinary skills around the world but returned to their roots. They all focus on locally sourced ingredients. Omaha provided a perfect place for these chefs to not only do the classic menu items but to be able to go outside the box of what you traditionally would have found in Omaha restaurants. This ingenuity is what has recently made Omaha an exciting food city.
Old Market District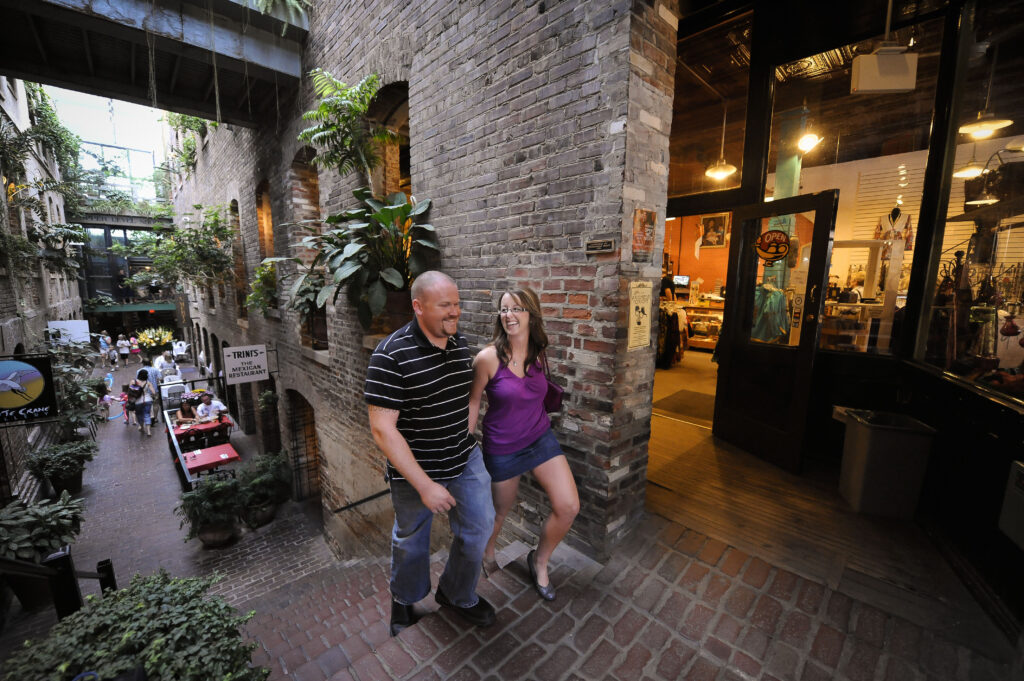 When you are looking for a great place to eat in Omaha, head to the Old Market Entertainment District where you will find pubs, sweet shops, unique boutiques, and some amazing and creative restaurants. Set in the old part of Omaha, cobblestone streets and alleys are home to much outdoor dining. Two of the chefs we met who know how to prepare the perfect steak have restaurants in this area.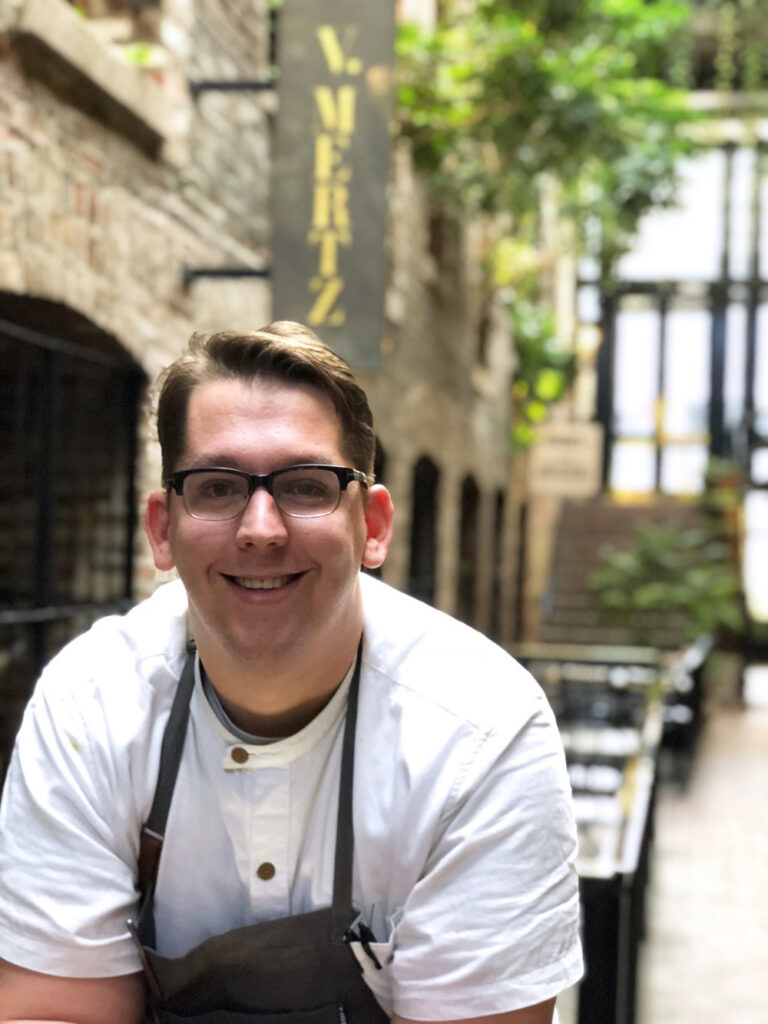 V.Mertz
Head Chef Jake Newton works at V.Mertz in the Old Market area. A native of Omaha, Chef Newton started his culinary career at a ProStart Culinary Program in Denver. From there, he became interested in food cultures around the world and traveled to Europe where he cooked in some great restaurants.
V.Mertz has been in existence for 40 years and is home to the New York Strip Steak, made from Morgan Ranch Wagu beef in a French Peppercorn Brandy Cream Sauce. Lamb, and duck breast are also on the menu as well as salmon and poached seabass. The wine cellar won the Wine Spectator Award of Excellence in 2019.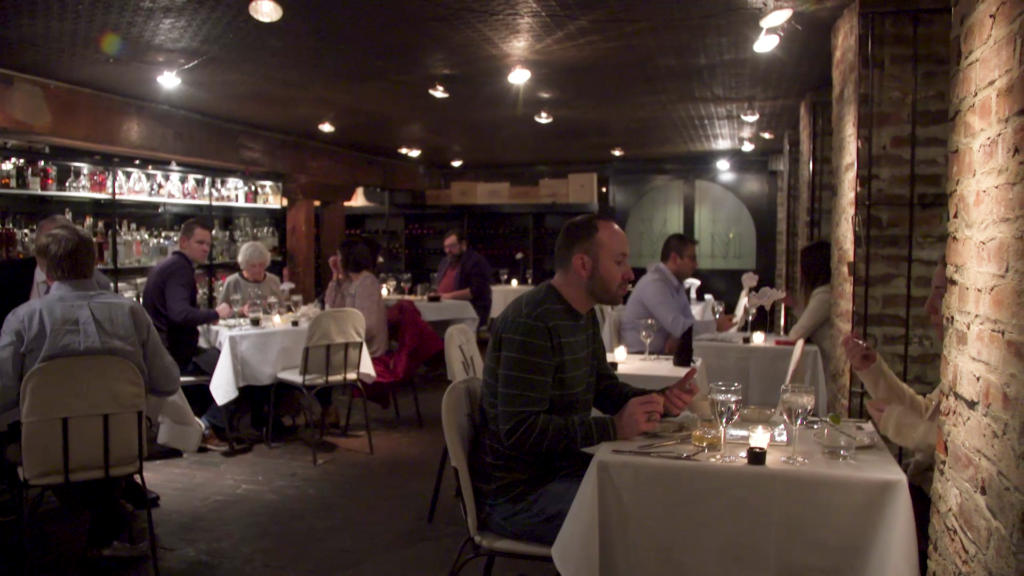 Chef Newton puts a heavy coating of peppercorns on both sides as well as a liberal amount of salt. He likes to work with a very dry steak, and by adding the salt while the steak is resting to room temperature, he can achieve this. He sears the steak with a little canola oil on a very hot surface to get some carmelizing on both sides of the steak.  He doesn't turn the steak until it is well browned on one side first. He moves his cast-iron skillet from one very hot spot to another hot spot on the stove to create this carmelizing effect. This process takes approximately 3-3 ½ minutes for a ½" thick steak. The trick to his steak preparation is to take the steak out of the pan for a first rest for 5 minutes. He wants to get a cool exterior so that it is cooler than the interior. He finishes the steak in a 450 degree oven for about 5 minutes. The final rest is for about 15 minutes before slicing across the grain to serve.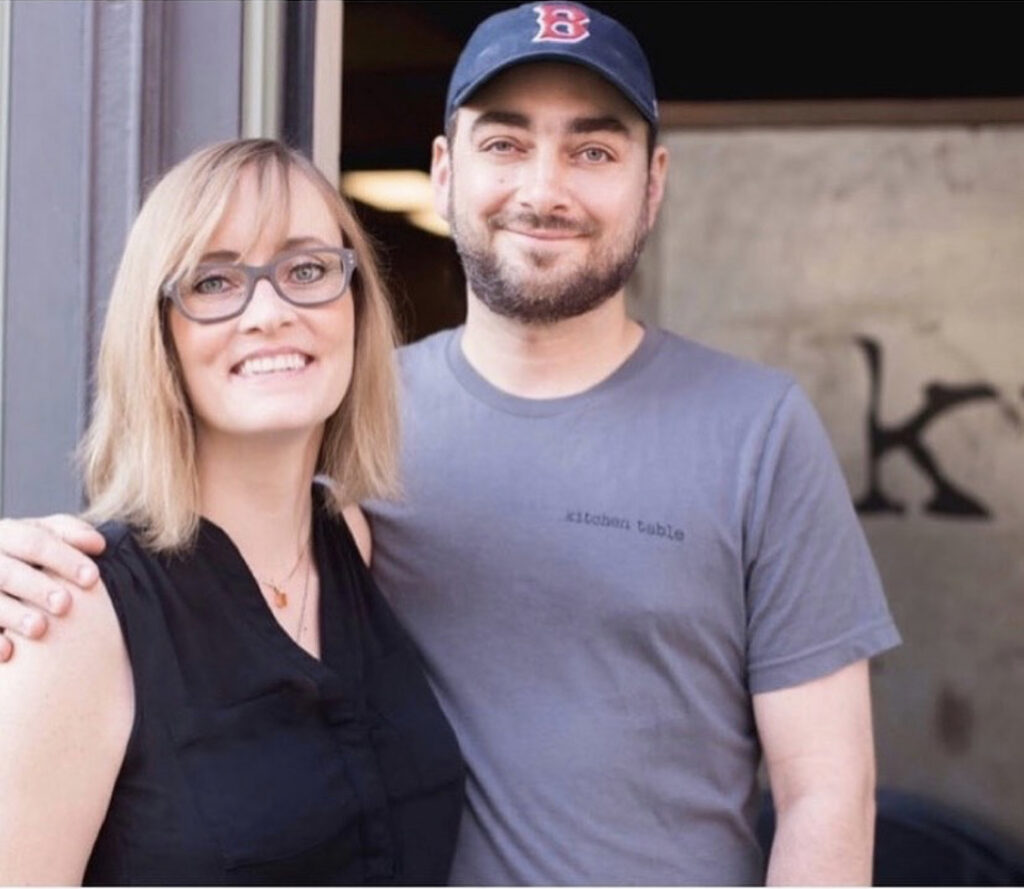 Kitchen Table
Another wonderful restaurant down an alley in the Old Market district is Kitchen Table. The theory of this restaurant is that the most important things happen around the kitchen table. This casual restaurant prepares everything in-house and touts a unique menu. One of the appetizers with Nebraska in mind since it is also known for its corn, is their popcorn with chunks of bacon in it that is popped in front of the guests. Kitchen Table posts their daily menus on their Facebook page and can be found with the link above.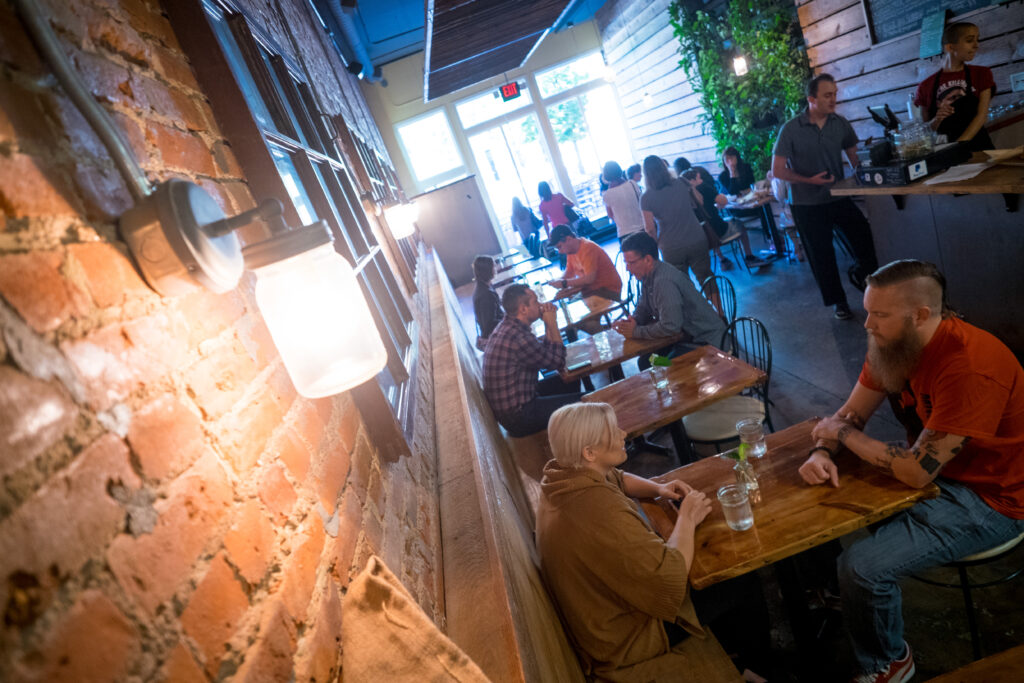 Chef/owner Colin Duggan along with his wife, Jessica, prepare local food from farmers and growers they know. Colin prepared for us a breakfast, lunch, and dinner using some of that great Omaha steak.
One of his favorite steaks is the Teres Major steak, a steak large enough for two servings. He likes to season up to 12 hours in advance with salt and pepper to get a dry piece of meat with which to cook. Chef Duggan seasons his steak with some of his own in-house seasonings.  One of the steaks he prepared was seasoned with Jerk seasoning. He, like the other two chefs, likes to have a very hot cast iron pan to sear the meat at first. At the end of cooking this steak, he added butter, garlic, and olive oil to give it a great flavor.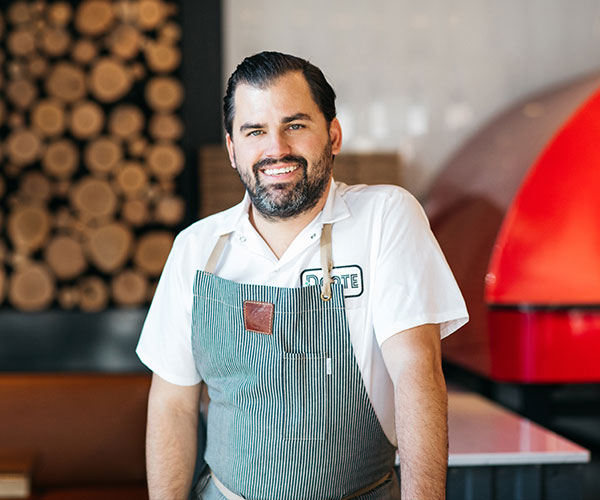 Dante
If you want a great steak but are craving Italian as well, Dante is your answer. Chef and owner Nick Strawhecker has an impressive background. Part of his training was in the Piedmont region in Italy where he learned about Italian cooking at the Master Chef's Program at the Italian Culinary Institute for Foreigners. That was followed by working at a Michelin-rated restaurant in Tuscany.
Chef Strawhecker is very proud of his wood-fired oven where he bakes a Neapolitan-style pizza. In fact, he has the only Neapolitan-style oven in a restaurant in Nebraska that is certified by the Italian government. In addition, Food Network Magazine recently listed their favorite pastas across the country. Of course, Dante's Rigatoni Bolognese was featured.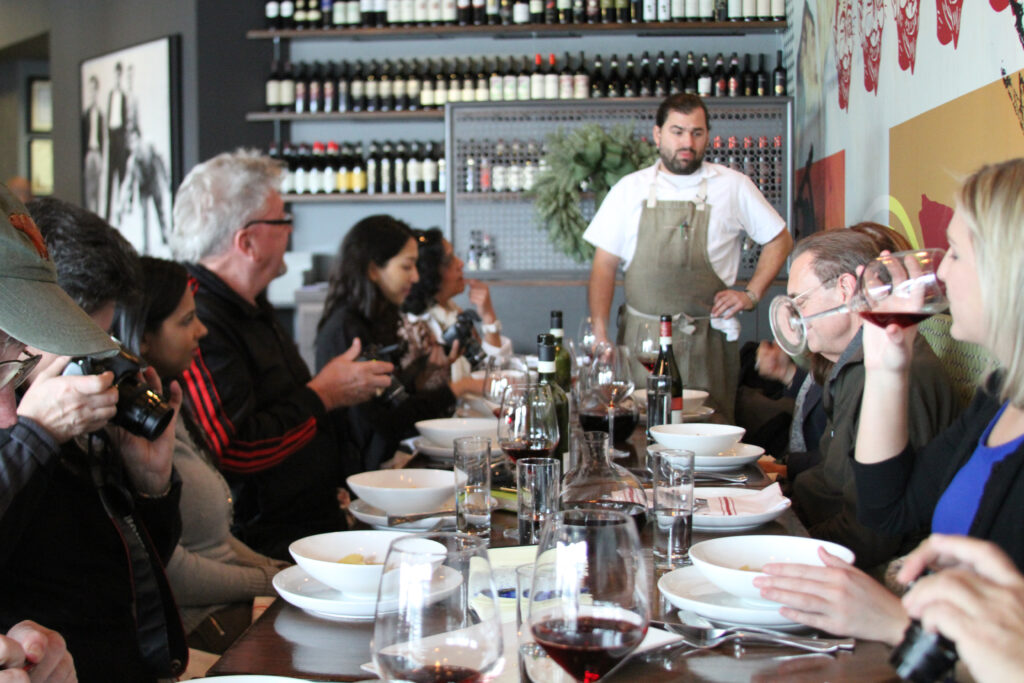 But back to steak. Chef Strawhecker tempers the meat by letting it reach room temperature for two hours. Then he applies a hard seasoning of black pepper and diamond crystal salt. Chef Strawhecker uses his wood oven to prepare a perfect steak using the high temperature of the oven and a cast iron skillet. For steak, the oven reaches 700 degrees before he slides the skillet coated with olive oil inside. Once his cast-iron skillet becomes extremely hot in the oven, he adds the steak and cooks the steak to approximately 115 degrees for a rare steak. Again, just like the other chefs, he believes in resting the steak for at least 5 minutes before slicing it. The steak should be sliced opposite the grain of the steak. For cooking at home, he recommends a good cast iron skillet heated on the stove, grill, or in the oven.
More to Come
Stay tuned to learn of my efforts to create a perfect steak using these chefs' techniques and tips. I will be trying several steak preparations with my Omaha Steaks and offer several recipes to create a delicious home-prepared steak in a follow-up article.