Thai food is my favorite Asian cuisine. When I looked for a description of Thai food,  I found Thai cooking places emphasis on delicately prepared dishes with strong fragrant components and a spicy edge. Another description suggested it's about juggling incongruous ingredients to make for a perfectly harmonious finish. This must be why I love Thai food.
A new venture has popped up called Culinary Adventures with MJ. That MJ is MJ Hong, a member of the International Food, Wine & Travel Association who is a master of all things culinary and wine related.
I have been involved in many of MJ's cooking classes over her last 10 years of doing event planning by providing these cooking classes at her former business called The Wine Artist. I enjoy her wide variety of repertoires from New Orleans to Spanish, Korean, and Italian. You name it, and MJ can teach a class on it. She also teaches classes on charcuterie trays. Along with the culinar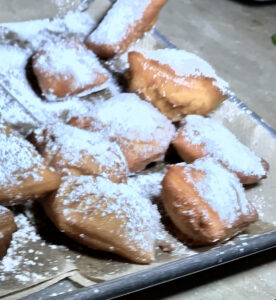 y delight, she will pair some fantastic wines to enjoy alongside the food. Are you in the mood for paella? How
about a Spanish class with paella, empanadas, and gazpacho. Maybe you would like to try your hand at New Orleans cooking. She will help you whip up some gumbo, jambalaya, Bananas Foster and beignets.
What I love most about MJ's classes is that she isn't a trained chef so she knows how we, as learners, look at unusual ingredients and describes in full detail how to perfectly execute a meal. MJ makes cooking intricate dishes so accessible. She has taught over 10,000 students in cooking international cuisines. I think she must have been a teacher in her past life who spent a lot of time dreaming about food.
MJ is based in Southern California, but she loves to travel and will fly to your destination. Her classes last around 2 ½ hours and are a great way to entertain a group with an interactive activity. At the end, all can enjoy an exquisite meal. MJ will arrive with everything—ingredients, aprons, cutting boards, utensils, and recipes. All you need to do is enjoy the adventure with your friends or working cohorts. These classes are great for team building, too, and will bond your group or business together.
Luckily for me, MJ's favorite cuisine to cook with a group is Asian, and we enjoyed a Thai cooking class. A group of us were invited to the home of Marc and Robin Dohrn Simpson, set on an acre oasis of pure tropical delight in San Diego.
Under a covered patio area, MJ set out two cooking stations with butane countertop ranges and chopping boards on a very long table. She divided our party into two cooking teams. She also had another range for herself. On yet another round table she had the basic ingredients we would need to prepare this gourmet meal.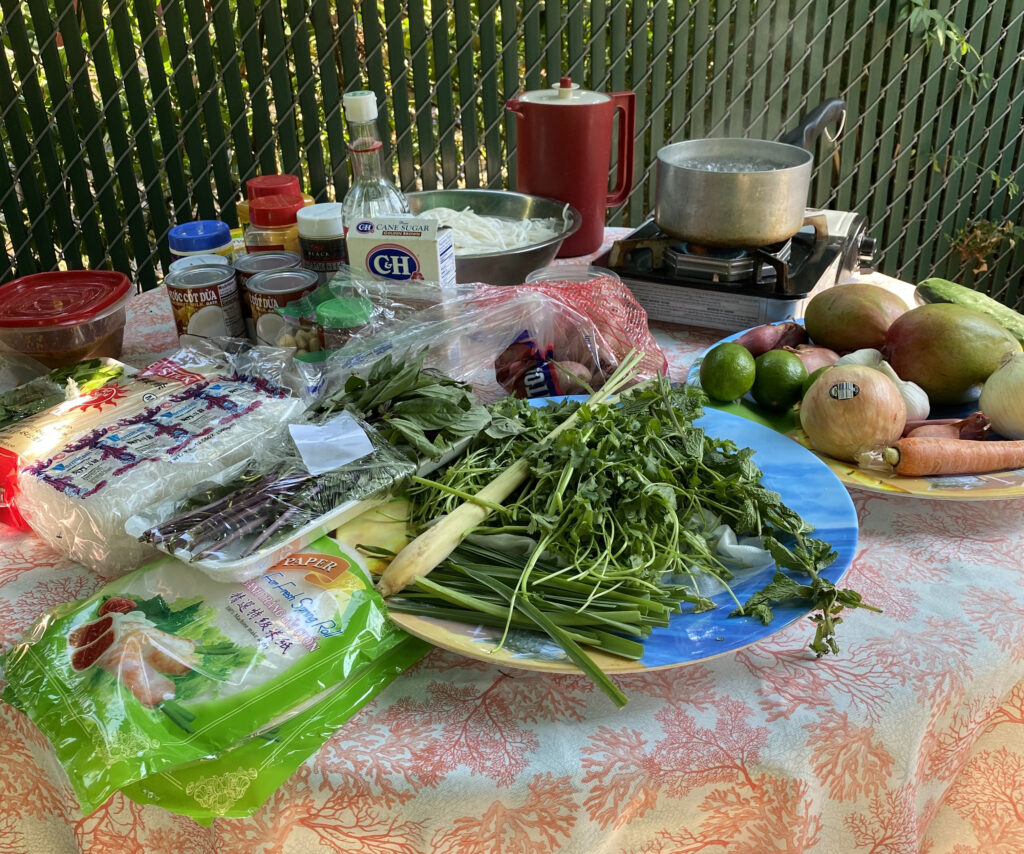 Spring Rolls
The first item to prepare on our list was Spring Rolls. We did a lot of grating and chopping of vegetables and herbs while MJ prepared the rice vermicelli to go inside the rolls.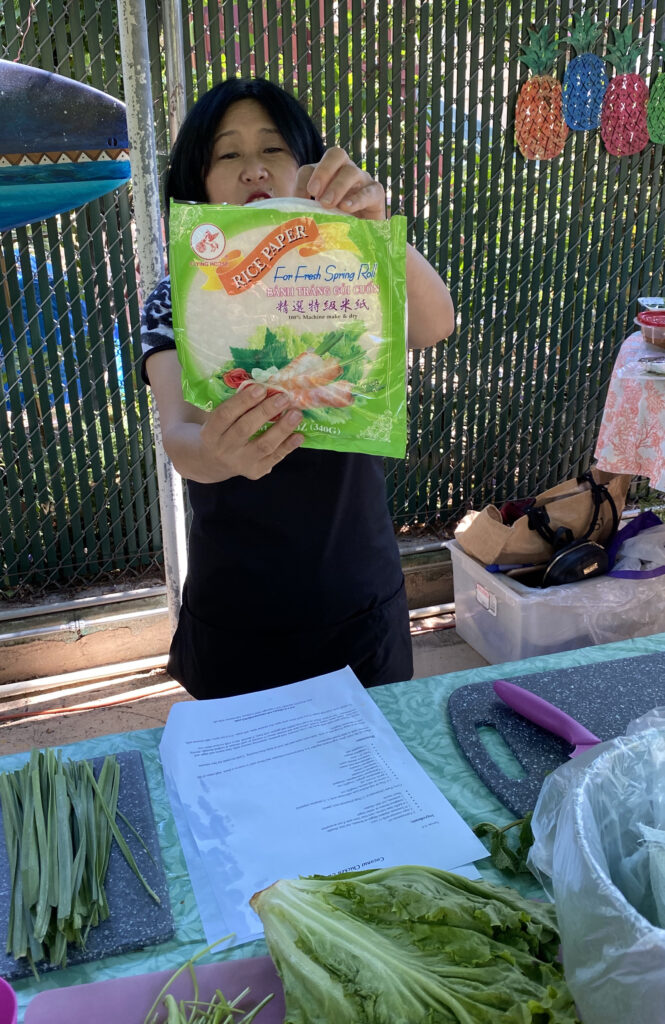 In front of us at our station was a large bowl of warm water. We dipped the rice wrapper into the water briefly.  Once it was soft, we lined up whatever fillings we wanted down the center of the wrapper. We folded the sides inward and rolled that roll up tightly.
Tip: The dipping sauce can be ½ peanut butter and ½ hoisin sauce. Viola! So delicious and easy.
Tip: Do not immerse the rice wrapper more than 3 seconds in the warm water or it will fall apart.
Pad Thai
Pad Thai is a dish you see on every Thai menu because everyone loves it. We were going to learn the tricks of the trade.
First, the rice noodles soaked while we mixed tamarind, sugar and fish sauce together. Peanuts, chicken and/or shrimp were sautéed in the wok and then set aside. Next came the tofu and shallots, followed by a scrambled egg. Into this pan went the noodles and the tamarind mixture. When noodles are tender, add bean sprouts, chives, chicken, shrimp, and  peanuts. We topped it off with chives, bean sprouts, lime, and cilantro. This was truly the best Pad Thai I have ever had, and I helped make it.
Tip: Use medium-sized rice noodles soaked for 30 minutes.
Tip: The leftover tamarind can be also used in cocktails and also frozen. Go lightly when adding it to your dish. You can always add more.
Tip: Cook the noodles to be soft. This isn't Italian pasta that you want el dente.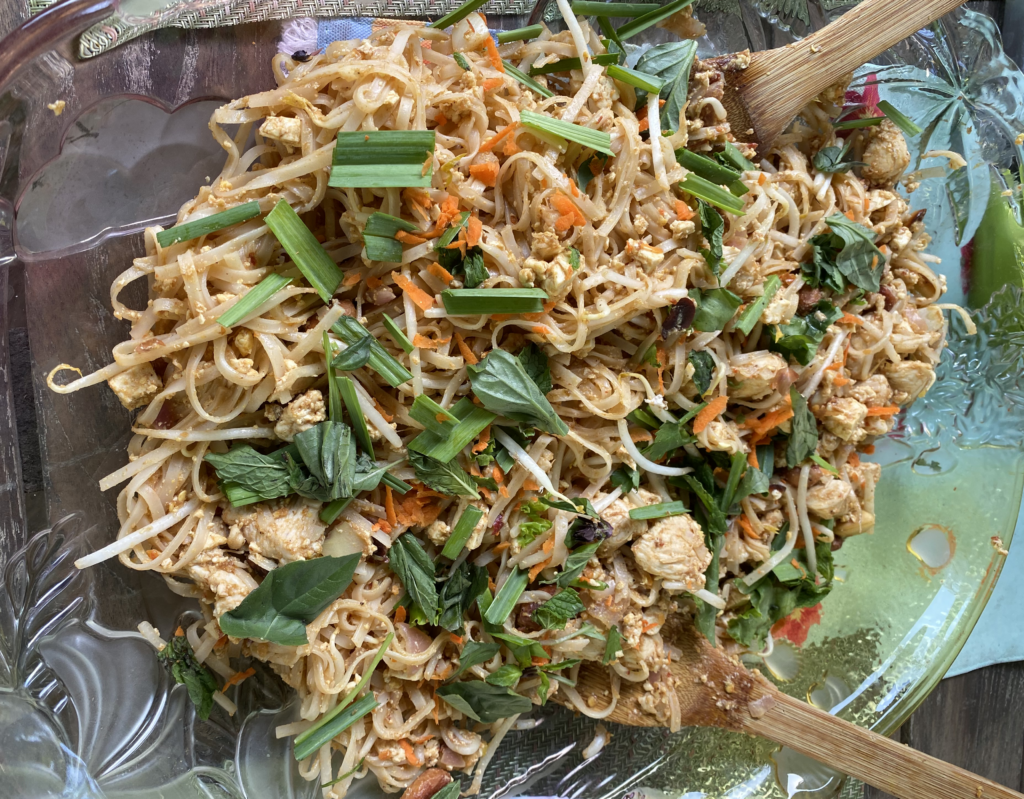 Coconut Chicken Curry

For the Coconut Chicken Curry, the only unusual ingredient required from an Asian market is the kaffir lime leaves. The remainder that you don't use can be frozen.
The recipe for the Coconut Chicken Curry is at the end of the article.
Tip: Make your own curry paste and freeze the leftovers to be used for another dish.
Tip: You can substitute lime zest for kaffir lime leaves if you don't want to make a trip to an Asian market.
Mango Sticky Rice
If you love mango, this delicious dessert will be right up your alley.
MJ placed the sticky rice in a traditional bamboo steamer with cheesecloth to make rice that was moist and tender. Another pot contained coconut milk, sugar and salt to simmer.
MJ poured half of the coconut milk mixture over the sticky rice and stirred it together. She placed the mixture on a plate, topped with the chopped mango, and poured the remainder of the coconut mixture on top.
Tip: Use Sweet Rice, not your traditional rice.
Tip: For fun, invest in a bamboo steamer from an Asian grocery.
Coconut Chicken Curry
Serves 4-6
Ingredients:
2 Tablespoons oil
2 Cups coconut milk (1 can)
1 lb. boneless chicken thighs or breasts, cut into chunks
3-4 kaffir lime leaves, torn (use lime zest if not available)
1 teaspoon brown or white sugar
2-3 potatoes, cut into small chunks
Basil leaves
Curry Paste – (Alternative is 3 Tablespoons curry paste)
1-2 Thai or red chilies (can substitute with 1-2 jalapeno peppers)
½ onion or red onion, roughly cut
3-4 garlic cloves
1 Tablespoon fresh ginger, roughly cut (the rest can be frozen)
1 Tablespoon lemongrass, chopped (use just the bottom fourth)
1 teaspoon coriander
1 teaspoon cumin
1 teaspoon turmeric
3 Tablespoons fish sauce
1 teaspoon shrimp paste
Juice of 1 lime
1 teaspoon pepper
½ teaspoon salt.