With the holidays coming up, it's a great time to plan what wines you will be serving with your celebrations.
The Wine Review Council met recently to test out eight wines from sparkling to deep reds and paired each with what might show up at your holiday spreads.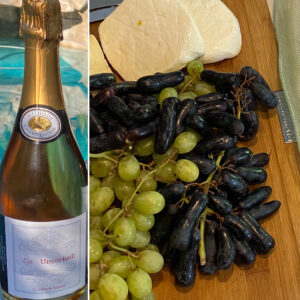 I love starting out a gathering with a sparkling wine. We started with a Windsor Vineyards Platinum Series North Coast  Brut Rosé ($32.) Made in the Methode Champenoise way, this wine tasted of honeysuckle and pear. Our group paired it with some Mexican Farm Cheese brought back recently from the Guadalupe Valley and some delicious fall grapes. What can be really special about this wine is you can choose to personalize the label (as seen in the photo) to make it a unique gift for someone.
The 2019 Tres Sabores Headline White Wine from the Willamette Valley of Oregon, a blend of Pinot Gris, Pinot Blanc, and Melon de Bourgogne, is a yummy floral and peachy wine with fresh acidity and goes extremely well with seafood and salads. It would be a
wonderful wine to kick off your feast. The wine was paired with Smoked Copper River Salmon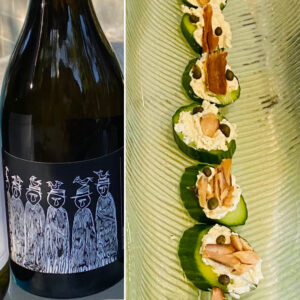 (brought back from a recent Alaska trip) with Capers and Cream Cheese on Crostini. Unfortunately, the Headline White is no longer available, but I would try the 2020 Tres Sabores Sauvignon Blanc ($24.) I love Tres Sabores because they have a female winemaker which is still somewhat of a rarity.
An oak aged 2019 Windsor Vineyards Chardonnay($27) from the Russian River Valley with flavors of stone fruit and a richness coming from the oak called for a little more hearty dish. The Chicken Pot Pie paired well with this wine and suggests that it can handle a richer dish like the pie.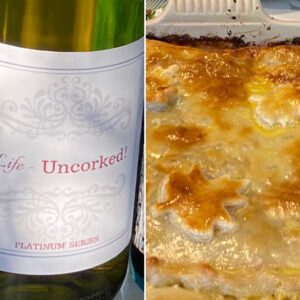 Moving right along and heading towards the red wines, we were blessed with the 2019 Merry Edwards Sonoma Coast Pinot Noir ($54) rated 94 points by Wine Enthusiast. The nose was of raspberry and red currant with a mouth-coating silky acidity readily noticed. There were flavors of cocoa, evergreen and cranberries. This wine needed some bigger flavors for pairing and went well with the Butternut Squash Curry Soup with Roasted Pears and a topping of dried Hatch Chile Coated Pecans.
As you plan through your holiday meals, you might be thinking about a corn chowder. Our group paired the next wine with a Smokey Meat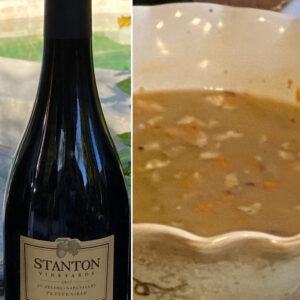 Corn Chowder making it a good pairing for the 2017 Stanton Vineyards Saint Helena Petite Sirah ($45.) The smoked meat addition works well with this wine because it is a big wine with some tannins (but not overwhelming) and flavors of blackberries and black pepper.
How about a spicy meatball? That's exactly what our group paired the 2015 St. Helena Napa Valley Varozza Vineyards Petite Sirah ($50.) This big bold wine deserves a pairing of spice and meat which is why the Moroccan Meatballs worked so well with it. Varozza Petite Sirah is full of tannins that wake up and coat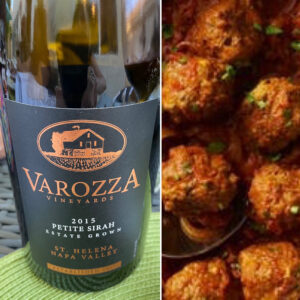 your mouth. The first sniff of the wine gives you aromas of cocoa and fig. A sip offers up coffee, all spice, blackberry and pepper.
Do you want a fun bottle to bring to the table to share with your guests. Then check out the Stokes Ghost Wines 2016 Monterey Petite Sirah ($34.) The story of Stokes Ghost is that in 1833 a British sailor, James Stokes, jumped ship with a booty of stolen medicine with which he started his medical practice as Dr.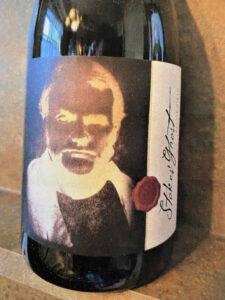 Stokes. Although this doctor had a knack for killing his patients, he ended up being commissioned as the personal physician to California Governor Jose
Figuroa. In spite of the fact that the governor also dies, Stokes became rich and became mayor of Monterey. Eventually, his sons confronted him and he poisoned himself. His home is still standing today and is haunted by a man in 1800s clothes.
But let me tell you a little about this 2016 Petite Sirah ($31) that is produced by Sheid Family Wines. The wine is inky dark in the glass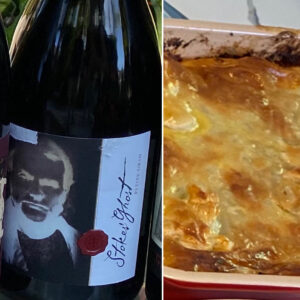 with flavors of black cherries and cassis. It has a velvety finish and can stand up to the biggest of food pairings which is why we paired it with an Italian Sausage Lasagna.
Our final wine was the 2018 Tres Sabores Rutherford (Napa Valley) Zinfandel ($39.) In true Zinfandel style, this wine has very berry-forward aromas and flavors of spice and black fruits with tannins and a big mouth feel to it. The spiciness and richness of the Picadillo in Corn Chip Cups balanced out the boldness of this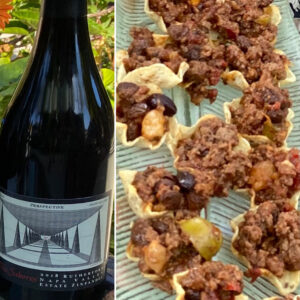 big wine.
When you are planning those parties and big holiday meals, think about some of these memorable wines to make all of your guests feel in the holiday mood.
As is typical of this industry, the wines were gifted to our group to pair with our creations. The comments are my own.