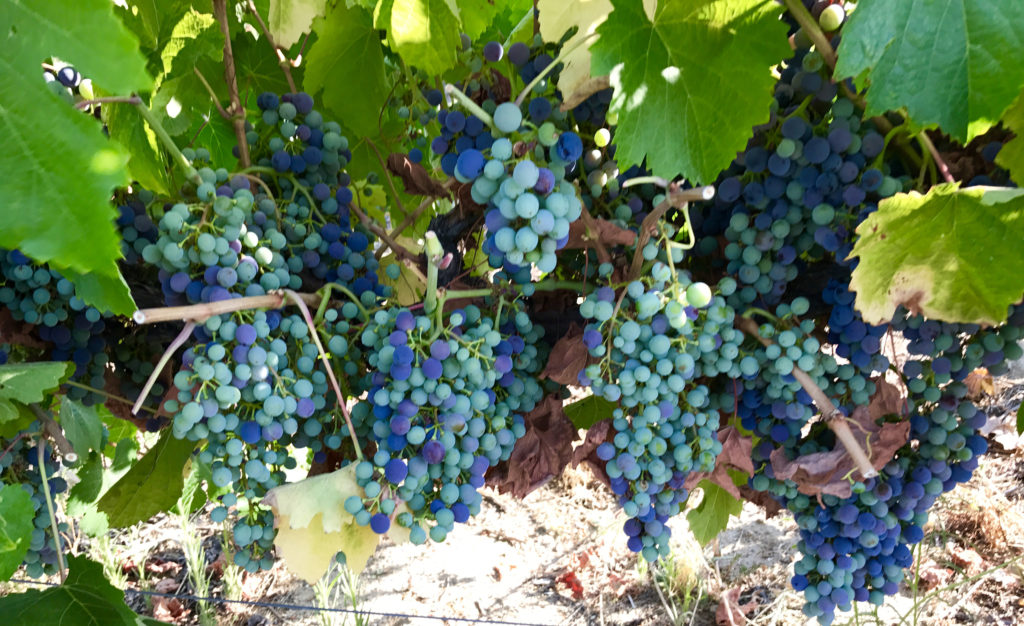 Since Missouri is the "Show Me" state, they know something about proving to the rest of us that what they say is fact. Because most of us had never been to Missouri to taste wines, we were a little shy about the quality. We brought an Oregon wine and a Lodi wine to our wine tasting for the Wine Review Council comprised of a group of eight wine aficionados just to be sure we had some good wines with which to compare the Missouri wines. I'm hear to tell you that we were pleasantly surprised by the group of Missouri wines we sampled.
As West Coast residents, we are familiar with a wide variety of grapes such as Petite Syrah and Chardonnay. When wines are produced in colder climates, it takes some unique varieties to create good wines. Much research comes out of the University of Minnesota and to create those grape varieties that fit a colder climate. We learned some new varieties during this tasting.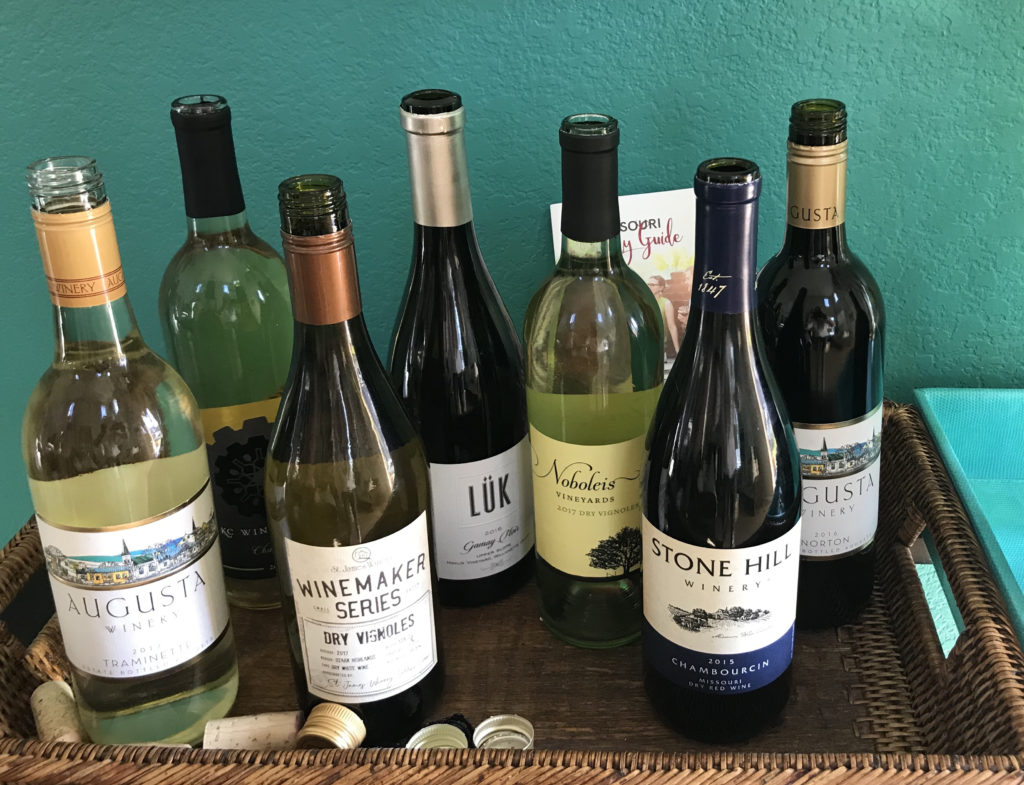 The first wine we tasted was Augusta Winery 2017 Traminette – $11.68 – The Traminette is a grape hybrid that came from the parents of Gewurztraminer and Seyve and was bred at Cornell University. It proves to be disease tolerant and a cold hardy variety. We found the Augusta Winery Traminette to possess delightful flavors of lychee, peach, and honey with a lovely nose to start. We all enjoyed this wine. The Traminette was paired with a Mediterranean Chicken Salad Shooter which proved to be a great pairing.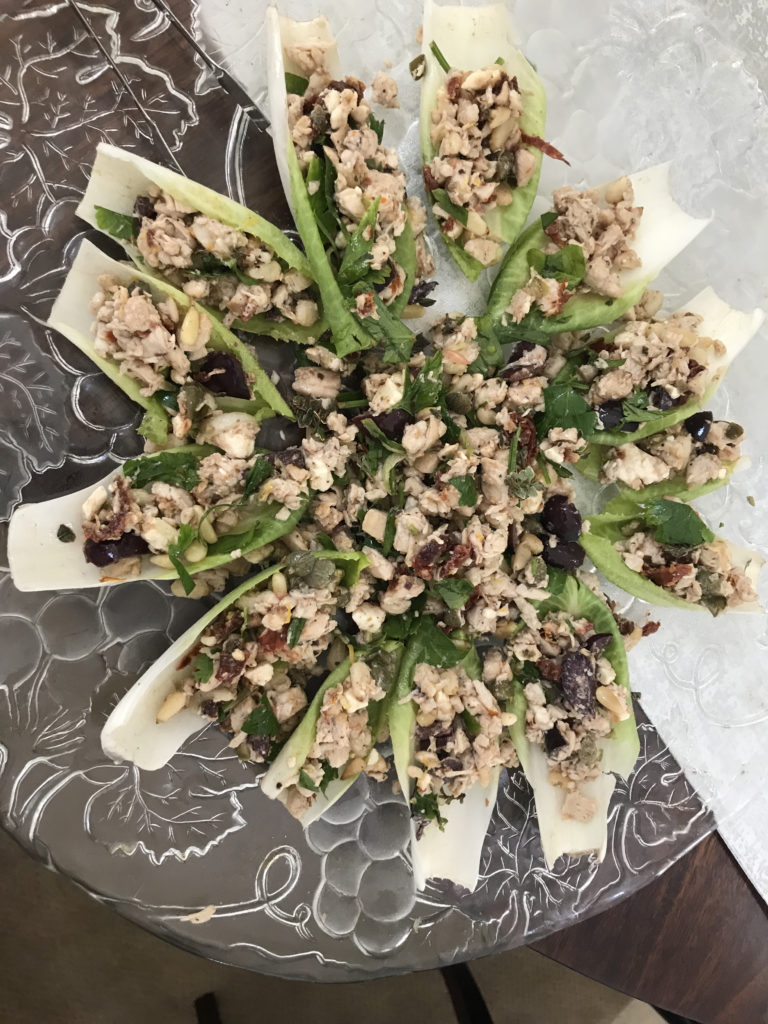 KC Wineworks 2015 Chardonel was next to be sampled. – $19.00 – K C Wineworks, established in 2014, became Kansas City's first grape-to-glass winery. Chardonel is a hybrid of Seyval and Chardonnay. This wine was 100% fermented in stainless steel tanks. We found this wine to be dry and full bodied with apple and pear. Again, we were enthused by the rich and lovely taste, and it was a group favorite.  It was paired with a Honey Goat Cheese and Pear Puff Pastry Cup.
St. James Winery 2017 Dry Vignoles– $17.99 – Our third offering, proved to be crisp and light with an apple and peach flavor and a touch of fruitiness at the end. St. James Winery  is the fifth largest winery east of the Rocky Mountains. The taste of this wine is crisp and clean like a Riesling, some acidity, and flavors of tropical fruit. The grape variety has been cloned from a wide variety of parents and its exact heritage isn't know. It held up well to the pairing of Ceviche and Savory Chips.
Stone Hill Winery 2015 Chambourcin – $12.99 – The Chambourcin variety is a vigorous, disease-resistant French-American hybrid developed in the Loire Valley of France. It's exact parents are unknown. The Stone Hill Winery Chambourcin is very purple in color with flavors of blueberry, plum, and definitely boysenberry with very herbaceous qualities as well. Many times Chambourcin is weak on tannins, but this one displayed tannins to balance the fruit. Stone Hill was established in 1847, long before Napa Valley and grew to be the second largest winery in the United States. Prohibition hit and everything fell into disrepair. In 1965, the Helds purchased the vineyard and restored it. Today it is on the National Register of Historic Places with a carriage house and a horse barn that has been converted to the Vintage Restaurant, specializing in German and American cuisine.
We found the Chambourcin variety a grape that our West Coast palates didn't recognize. We liked it but felt it would take us several tastings to feel familiar with this wine. One of our tasters really likes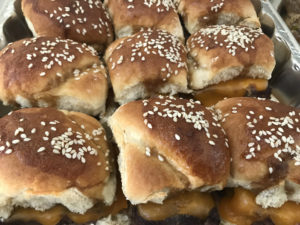 it but has sampled it on several occasions. This speaks true to the fact that you can develop a palate enjoying the familiarity of a particular variety. We paired the Chambourcin with Hamburger Sliders and also thought a sharp cheddar would be perfect.
Augusta Winery 2016 Norton – $13.99 – Norton is Missouri's official state grape with a big, full body, came from a clone of parents that are now extinct. The Norton has been grown in Missouri for over 150 years. This Augusta Winery wine is aged in Missouri oak which makes it an all-American wine. The bouquet was of bing cherry with a hint of vanilla. The taste we found was of berries and jam but not overly sweet. The pairing was an Herbed Brie, but we found it excellent with the spicy chili brought for another pairing.

Luk 2016 Havlin Vineyard Upper Slope Gamay Noir – $35.00 – The Van Duzer Corridor north of Dallas, Oregon, is home to this vineyard. The grapes in this area benefit from the rapid cooling effect of the Van Duzer winds that exchange with the hot valley air in the late afternoon. The Havlin Vineyard Luk Gamay Noir wine to be tannic with flavors of raspberry and strawberry mixed with some graphite minerality to it. The pairing for this wine was a No-Bean Chili which proved to be perfect for this bolder wine. By the way, Luk is Turkish for "Something considered inessential, though highly conducive to pleasure and comfort…a luxury."
Earthquake Zinfandel: 2015 Appellation, Michael David Winery – $34.00 – Wine Enthusiast has given this Zin 90 points. The grapes are grown on Old Lodi Vines at Michael David Winery which create a rich and full-bodied jammy wine. It showed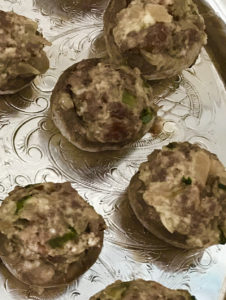 signs of spice and smoke as well as sweet flavors of plums, dates, and blackberry jam. Earthquake Zin should be respected for its 15.5% alcohol content.
The Phillips family have been farming this land since the 1850's and are on their sixth generation of family members growing. They have a strong sense of sustainable growing because of their love and respect for the land.
The pairing of Sausage Stuffed Mushrooms matched the bold wine but added a dimension of earthiness to the jammy flavor of the wine.
One of the joys of tasting wines from different regions of a country is to discover new and interesting varieties of grapes. Missouri reversed roles on us, and the "Show Me" state showed us.