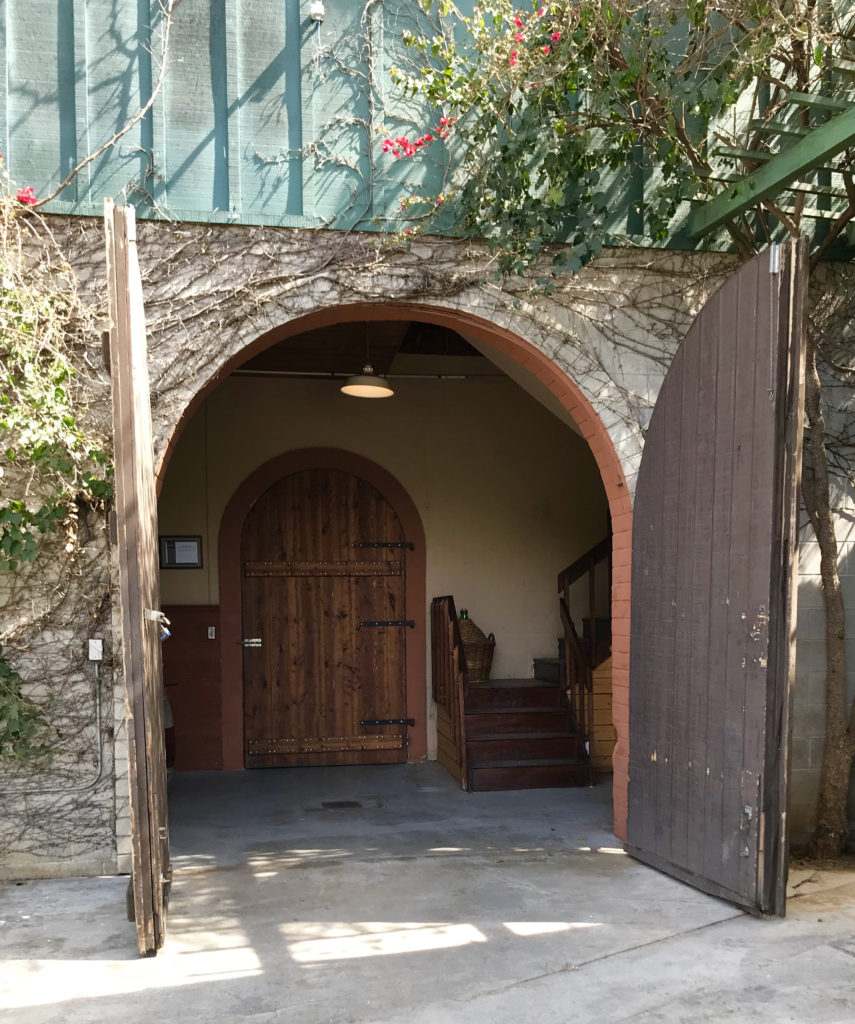 Down a long and winding road (at 33 ° N) over gently rolling hills sits the Fallbrook Winery outside Fallbrook, California. Not only do you get to see beautiful, lush, and green countryside on your way, but the wines that await your palate are tantalizing.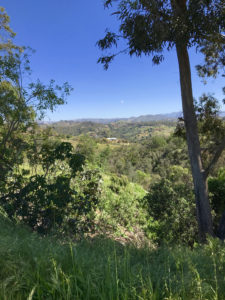 In this vineyard grows French varieties such as Cabernet, Merlot, Petit Verdot, Grenache, and Syrah, as well as Italian grapes of Sangiovese and Anglianico.
Clover abounds between the rows of vines, but you won't find herbicides. Compost also covers the ground. Everything that comes out of the vineyard goes back into the vineyard. Beehives house those insects that help this whole healthy process. This vineyard proudly displays its use of sustainable farming with its certification as a sustainable farm.  The microclimate with its moderate temperature, warm days, and cool nights makes for ideal growing conditions for grapes.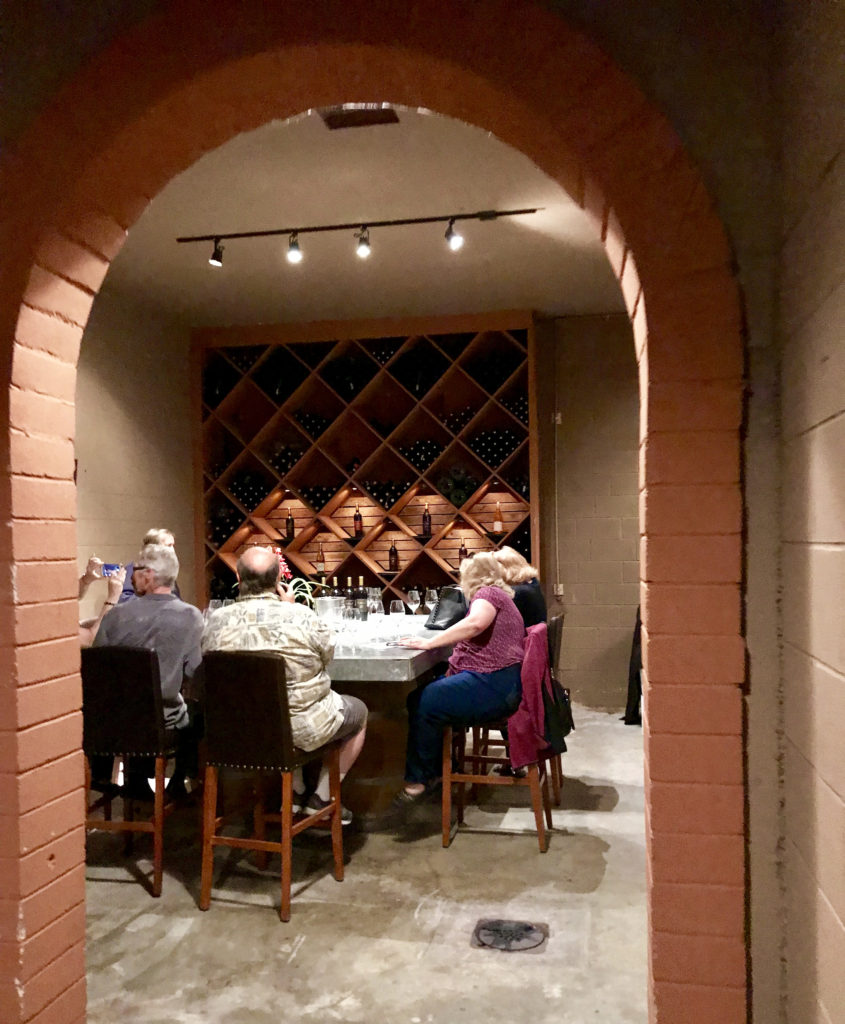 Owners Ira Gourvitz and Rebecca "Pepper" Wood offer tastings of their award-winning wines. Both Ira and Pepper make guests feel so welcome. Tastings take place behind the massive doors leading to the inside tasting room where guests sit around a large. rustic metal-coated table among the shelves full of estate bottled wines.
Anything that is labeled as 33 ° means that all the grapes grow on their property in Fallbrook. The Chardonnay grows in Monterrey, an area more suitable to that variety of grape. Examples of awards won are the 2012 Merlot that won a double gold at the San Francisco Chronicle Wine Competition and the 2017 Special Selection Chardonnay that won gold at the 2018 San Francisco International Wine Competition. The 2013 33 ° Merlot placed a silver in the same competition.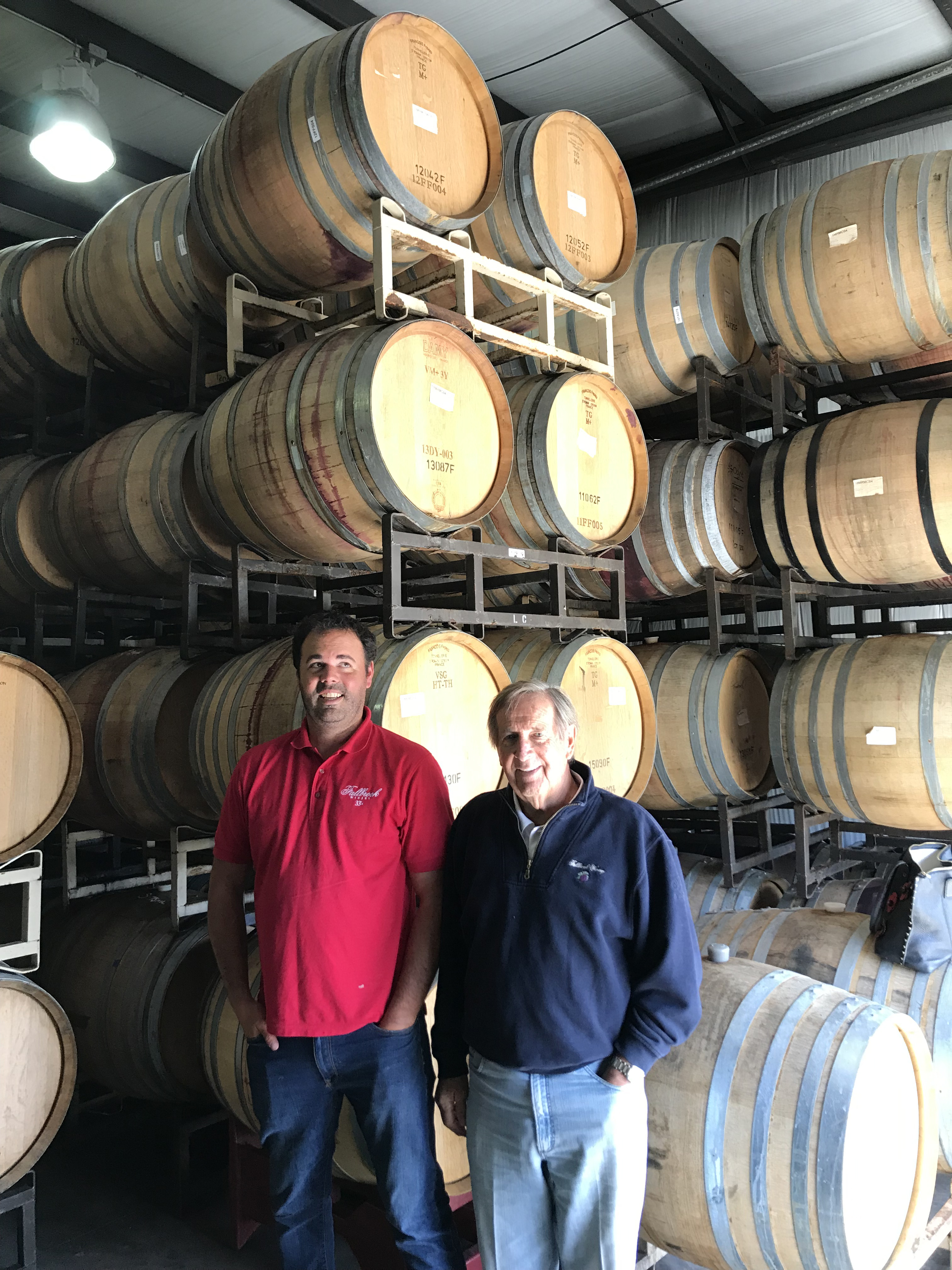 One of the glories of this winery that shines through their delicious wines is a superior winemaker, Euan Parker. Euan started in the wine business 20 years ago in New Zealand.  He comes with a great set of papers and background. Euan graduated with honors in Biochemistry and then was awarded a full scholarship to attend the prestigious Ecole Supérieure d'Agricultures Angers wine program in France.  He obtained a master's degree in Vine, Wine and Terroir Management.  Euan has made wine in Spain, New Zealand, and France as well as in the USA.
Ira is proud of the Chardonnay they produce made with grapes from Monterrey, CA. To develop just the notes they want, the wine is 50% oaked barrel and 50% stainless steel barrel. The goal Ira and Euan wants is to taste the fruit with no austere taste left on the tongue.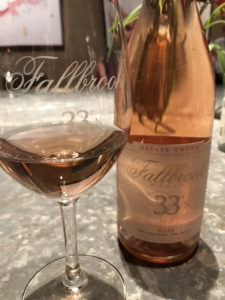 Rosé welcomes summertime which is upon us. Fallbrook Winery's Rosé, a blend of 53% Sangiovese, 17% Merlot, 15% Grenache, and 15% Montepulciano, speaks to those warm days ahead. The wine's beautiful blush color welcomes your palate to experience summer flavors of papaya, melon, and a lot of wild strawberries.
The Cabernet Franc is reminiscent of the notes of that variety with a eucalyptus nose, light oak, and delicious fruit of black currants and cherries.
Estate-grown Sangiovese benefits from aging 18 months in French oak to offer a subtle bit of oak with lots of black fruit flavors and a beautiful color.
An interesting blend is the White BDX (BDX being a play on the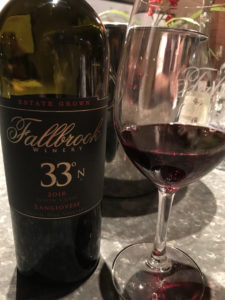 Bordeaux region.) Fifty percent Semillon and 50% Sauvignon Blanc comprise the White BDX. Interestingly, the Sauvignon Blanc is barrel fermented and spends time the second and third year in oak. Semillon gives this blend its muscle.  Flavors of pink grapefruit, honey, and guava exude from a glass of White BDX.
Because Fallbrook Winery is so small and everyone is making great wine, it is necessary to make an appointment. Appointments can be made online at: https://fallbrookwinery.com/about-the-winery.   A call can also be made for an appointment at (760) 728-0156. The hours of operation for tours are: Monday – Friday: Reservations available 10am – 4:30pm, $20/person; and on weekends and holidays: Reservations available 10am – 4:30pm, $30/person.