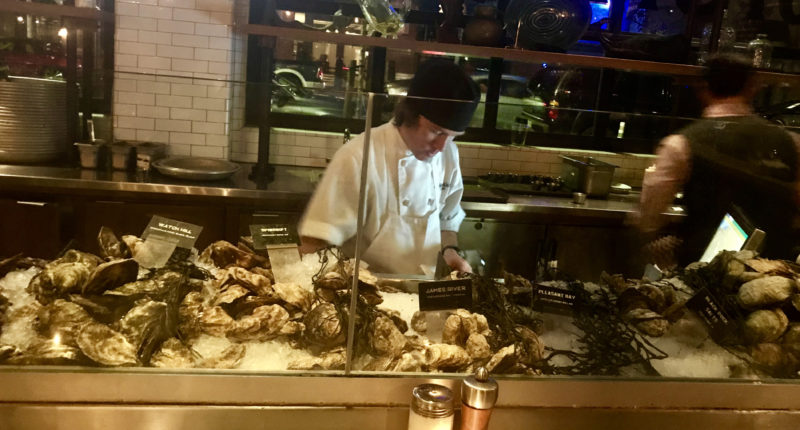 By Sue Montgomery and Linda Milks
Soft lights and a romantic atmosphere highlight Water Grill, a seafood restaurant in the Gaslamp District of San Diego. My cohort and myself were here to explore the offerings of this restaurant for San Diego Restaurant Week, January 20-27, 2019.
As we entered this casual yet upscale restaurant, we were offered seating next to the bar in a comfortable booth. Jordan, our engaging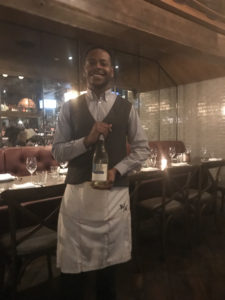 server, made us feel very welcome and delighted us with his stories about his upbringing. A Restaurant Week menu awaited us to peruse while we enjoyed our perfectly made cocktails. With a name like Campfire Sling, I had to try this drink of Rye Whiskey, maple syrup, dark chocolate bitters, and scorched orange oil. Smooth and delightful with a slightly smoky flavor would be my description of this beverage. My friend tried the 6th and J cocktail comprised of vodka, fresh strawberry and lemon juice with a tarragon essence that added complexity to the drink.
From the four first course selections, we sampled the Farmed New Zealand King Salmon Crudo–slices of fresh salmon accompanied by pink grapefruit, dandelion, and pumpernickel–and the Roasted Beets,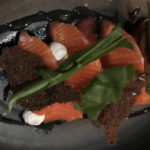 offered as sliced beets with pickled pears and goat cheese. We also shared a bowl of the Clam Chowder. While we enjoyed all three appetizers, I would urge you not to miss the clam chowder. With one of us growing up digging clams in Washington State and having an aunt who then made amazing clam chowder, a clam chowder aficionado was among us.  We acknowledged that this was one of the best we had ever tried.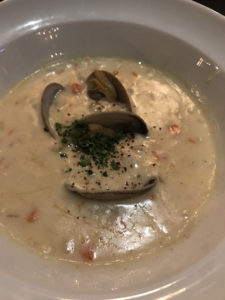 To our delight, Water Grill offers an extensive wine list from which to choose the perfect wine to accompany your dinner. We loved the fact that they offered many in a half bottle carafe—just the perfect amount to share after a cocktail. We chose the White Pinot Noir from Left Coast Cellars in the Willamette Valley of Oregon, a wine we have enjoyed in the past. It was a great match for our entrées.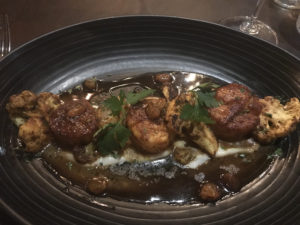 The Restaurant Week menu includes four entrées: salmon, scallops, swordfish, and chicken. One of the entrées we selected was the Wild Eastern Sea Scallops topped with soy brown butter and accompanied by a cauliflower puree. The scallops were cooked to perfection, something that doesn't always happen with scallops. The flavor combination of the soy butter and scallops was a perfect match. The accompaniment of olive tapenade beneath the fish in the other entrée we ordered, Wild Pacific Swordfish with Spaghetti Squash,  provided a salty juxtaposition to the buttery and meaty swordfish.
San Diego Restaurant Week menus consist of three courses, an appetizer, an entrée, and a dessert. It is always difficult to choose among three wonderful desserts, but in the end we selected the Key Lime Pie with Tangerine Coulis, and the Caramel Bread Pudding with Alsea Red Sea Salt and topped with Salted Caramel Ice Cream. How delighted we were with both of these wonderful selections. The Key Lime Pie was a perfect consistency with a delightful tartness. The rich and creamy bread pudding made from croissants and brioche kept calling us to finish every last bite even though we were stuffed at this point.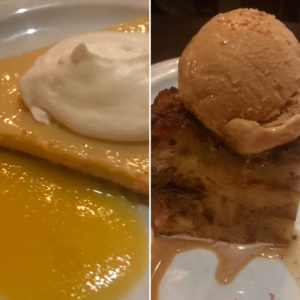 Although the Restaurant Week menu didn't offer any of the Iced Shellfish Platters with a wide variety of clams, mussels, oysters, and crab,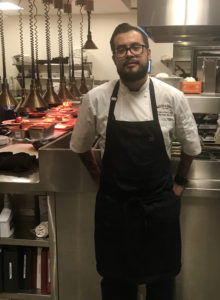 we vowed our next visit would have to include one of these platters.
The gracious manager, Jerry James, gave us the opportunity to visit the kitchen where we saw the fresh Maine lobsters and spiny lobsters in tanks. We also met the executive chef of this fine establishment, Chef German Mejia, trained at Le Cordon Bleu College of Culinary Arts.
The San Diego Restaurant Week menu is available for dinner from January 20-27 at $50.00.  We recommend reservations at this popular restaurant online at Water Grill Reservations or by calling them at 619-717-6992. They are located at 615 J Street in San Diego.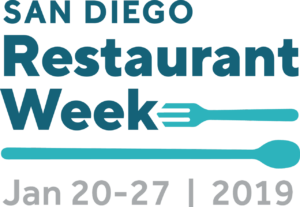 San Diego Restaurant Week is an opportunity to try new restaurants at a reduced price and to fall in love with somewhere you haven't yet had the chance to enjoy. Check out the entire list of over 180 restaurants at San Diego Restaurant Week.