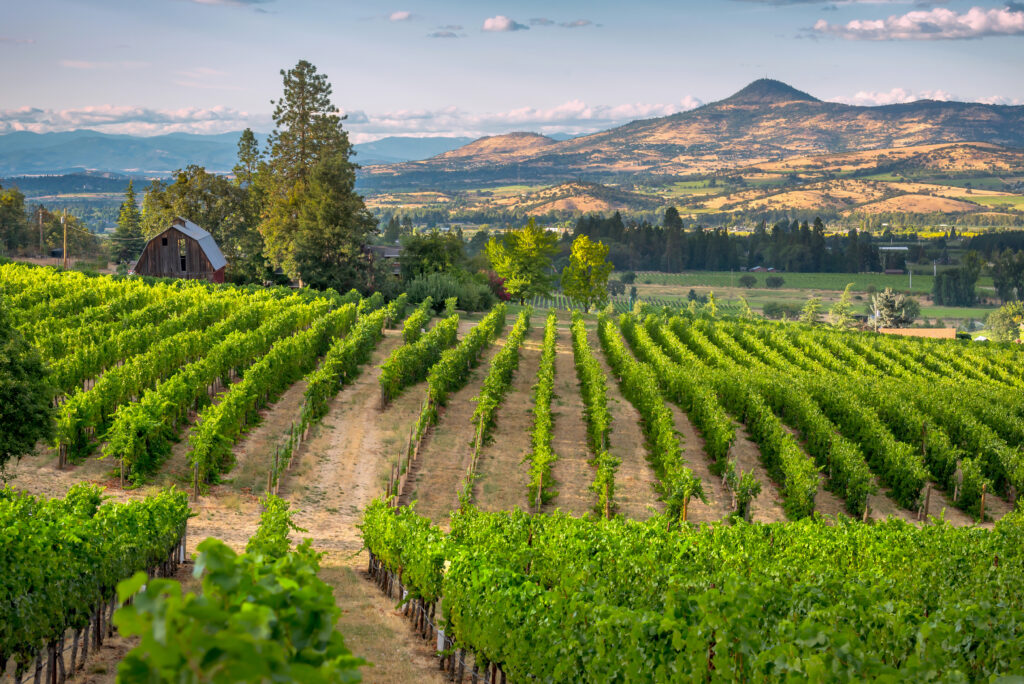 There is more to wine country in Oregon than the Willamette Valley. Drive four hours south and experience the home to 88 vineyards, more than 70 varietals of grapes, and 53 tasting rooms in the gorgeous Rogue Valley. While Forbes Magazine has recommended the Rogue Valley wine region as a Top Global Wine Destination, wine has been grown since the 1850's and the first winery opened in this valley in 1873.
Many travel writers are now having to learn and experience regions where they would have traveled from their sofas with virtual travel in anticipation of future trips in person. That was the case of a group of International Food, Wine & Travel Association writers recently. Ashley Cates of Travel Medford was our host. One of the best parts of our virtual experience was the kindness of several wineries who express delivered bottles of their wines for us to sample while being on Zoom to comment.
The Rogue Valley Wine Region is divided into four wine trails: the Upper Rogue, Bear Creek, Jacksonville, and Applegate. The two largest of these regions are the Bear Creek Wineries and the Applegate Wineries. There are 19 wineries in the Applegate AVA and 13 wineries on the Bear Creek Wine Trail.
Within the Applegate Valley wine region you will see both hillsides of forests and lavender fields. Adjacent to these are fields of  grass-fed cattle and organic produce farms. Granite soil where vineyards are planted on stream terraces or alluvial fans (a triangular deposit of sediment carried by a river or stream) make this AVA perfect for growing a wide variety of high-quality grapes.
I was fortunate to have two bottles arrive at my doorstep from Troon Winery. These are the wines I am focusing on today.
Troon Vineyard sits on the Kubli Bench, a strip of level land bounded by slopes around it. The vineyard is both biodynamic and organic certified which reflect the terroir  (the soil, climate and terrain) of the vineyard. In addition, Troon believes in using only native yeasts with no commercial acids, sugar, or enzymes added to the wines. Winemaker, Nate Wall, shows off his expertise with the two wines I sampled.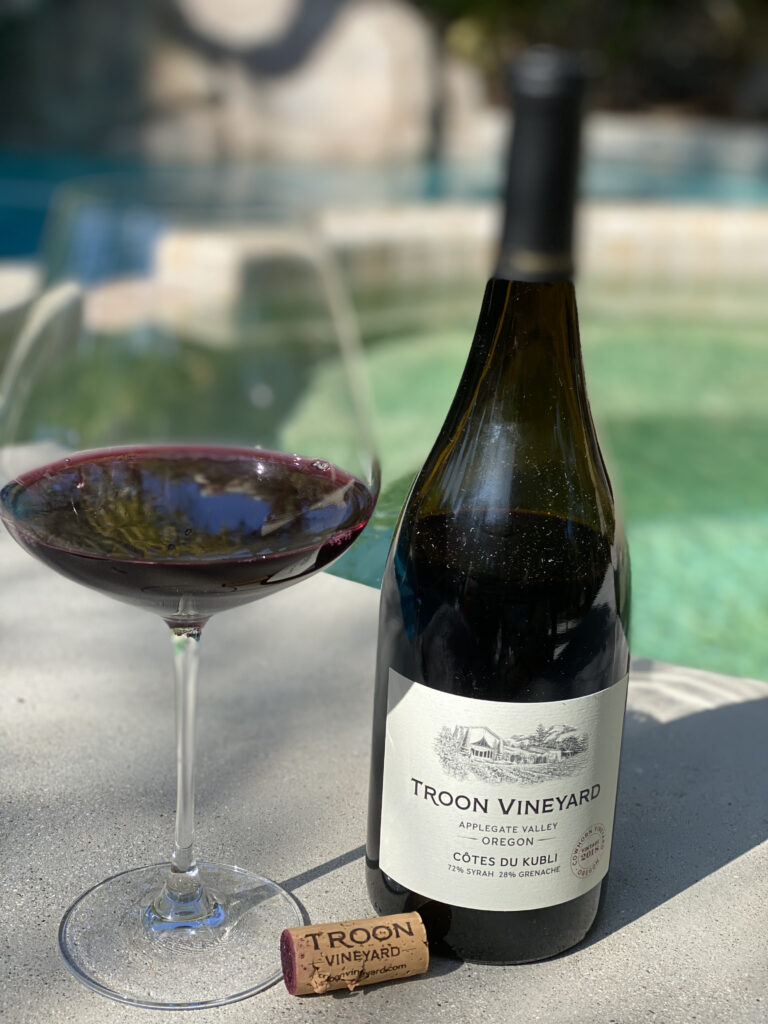 A glance of the first wine, Cotes du Kubli Rouge, a blend of 72% Syrah and 28% Grenache, amazed me by its deep purple color. This wine comes from the Cowhorn Vineyards with lots of gravel and riverbed rocks in their soil and a cooler area than a lot of Southern Oregon. When the grapes are first pressed, they are set under oak trees in the shade to control the aging process. If more sun is needed, they can move the grapes to a sunnier area.
My nose picked up the aromas of blackberry and plum. I like the peppery taste of the Syrah grape, and I found it in this wine as well as herbs, providing an earthiness. There was a big mouthwatering chewiness to this wine, but I wasn't overwhelmed by a strong tannin base. Lamb shank or any rich, slightly fatty meat would be perfect with this wine.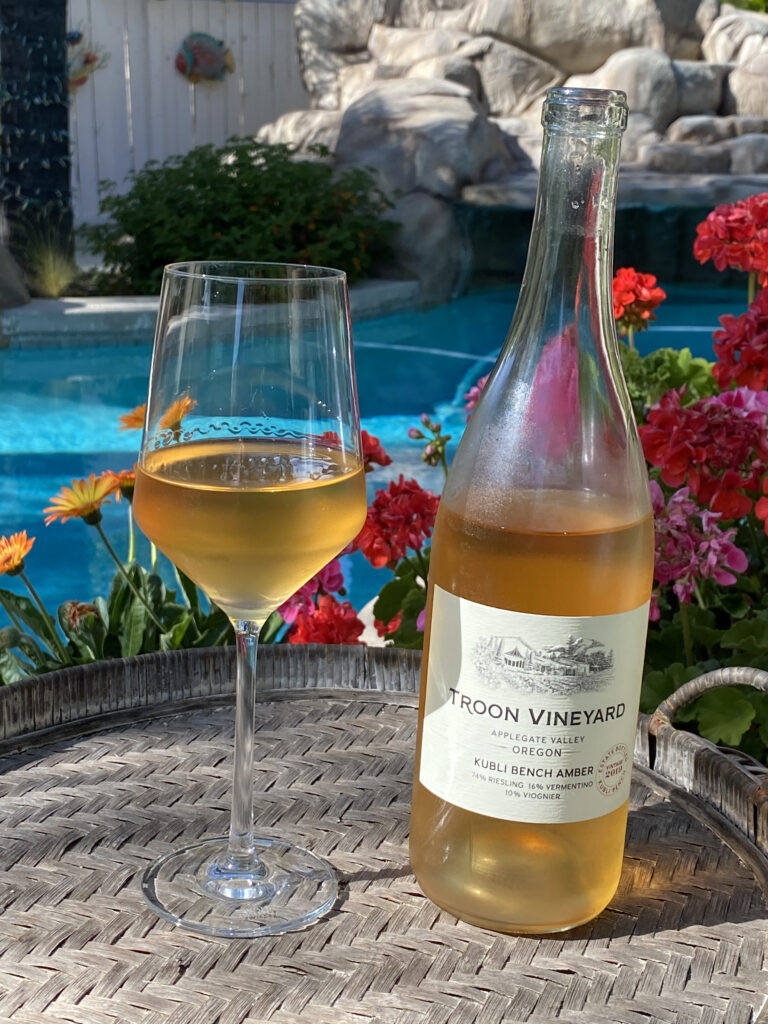 The second bottle of wine I sampled was the 2019 Kubli Bench Amber blend. Amber wine is also called a "skin fermented white wine" or orange wine, made from the entire fermentation of a white grape. The word "orange" is not allowed on the label since there is actually no orange in the wine. This blend consists of 74% Riesling, 16% Vermentino and 10% Viognier. In general, amber wine is very aromatic because the skins when crushed give off a variety of notes, and with amber wine, the grapes spend time on the skins for the duration of the fermentation. Both when I smelled the wine and tasted it, apricot jumped out at me. I also tasted peach and floral notes as well as citrus. Amber wines should be served cool but not cold so that you can appreciate the aromatics. These wines can be paired with almost everything. Some good suggestions are to pair it with spicy food such as burritos with tomatillos and with big cheeses.
When we can travel to this region again, an area just over four hours from Portland and about 5 ½ hours from San Francisco, there will be much to see in addition to tasting those luscious wines.
Of course if you are in the Rogue Valley vicinity, Crater Lake, the deepest lake in the United States and probably the most pristine in the world (since no private boating is allowed on the lake) is a sight of wonder not to be missed.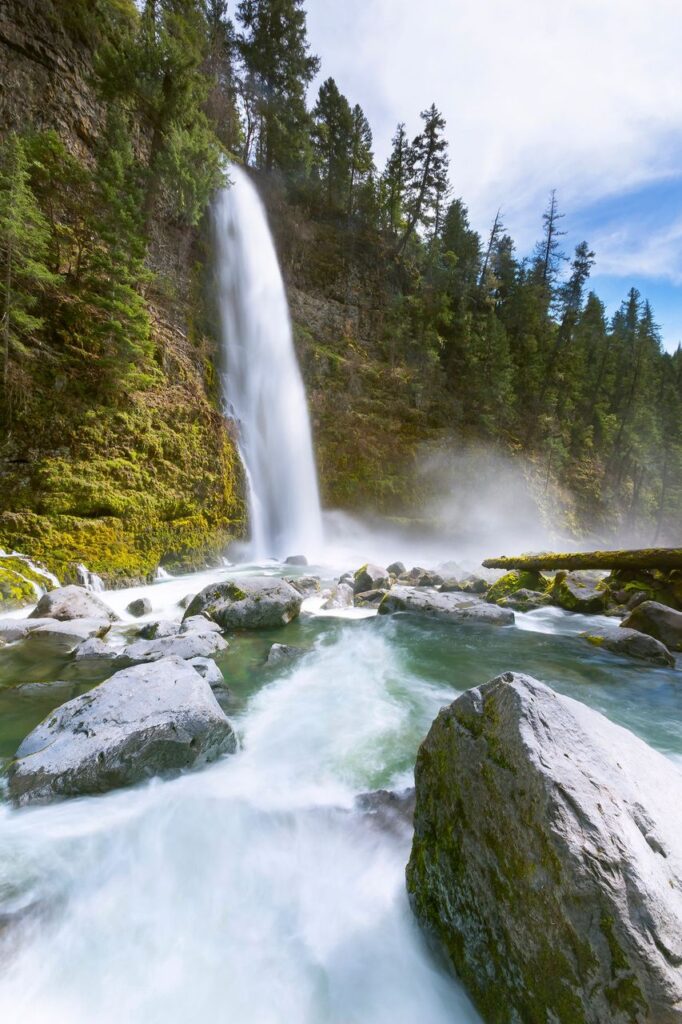 I would also highly recommend a self-guided tour of the numerous waterfalls within an hour's drive from Medford. Mill Creek Falls is one example with its jaw-dropping thunderous fall of 173 feet into the Rogue River Gorge. Clearwater Falls has been described as hobbit-like in appearance with its moss-covered trees and dark green fauna. At Crowfoot Falls, you can wade and swim at the base of the falls. A picnic with a bottle of Rogue Valley wine would be the perfect accompaniment to your waterfall adventure.
The Rogue Valley is home to some of the best cheeses in the country as well as pears, lavender, honey, and tons of farm markets.
It's time to start thinking about a great road trip for the summer, and the Rogue Valley has lots of options for safe stays, scenic beauty, and luscious food and wine.