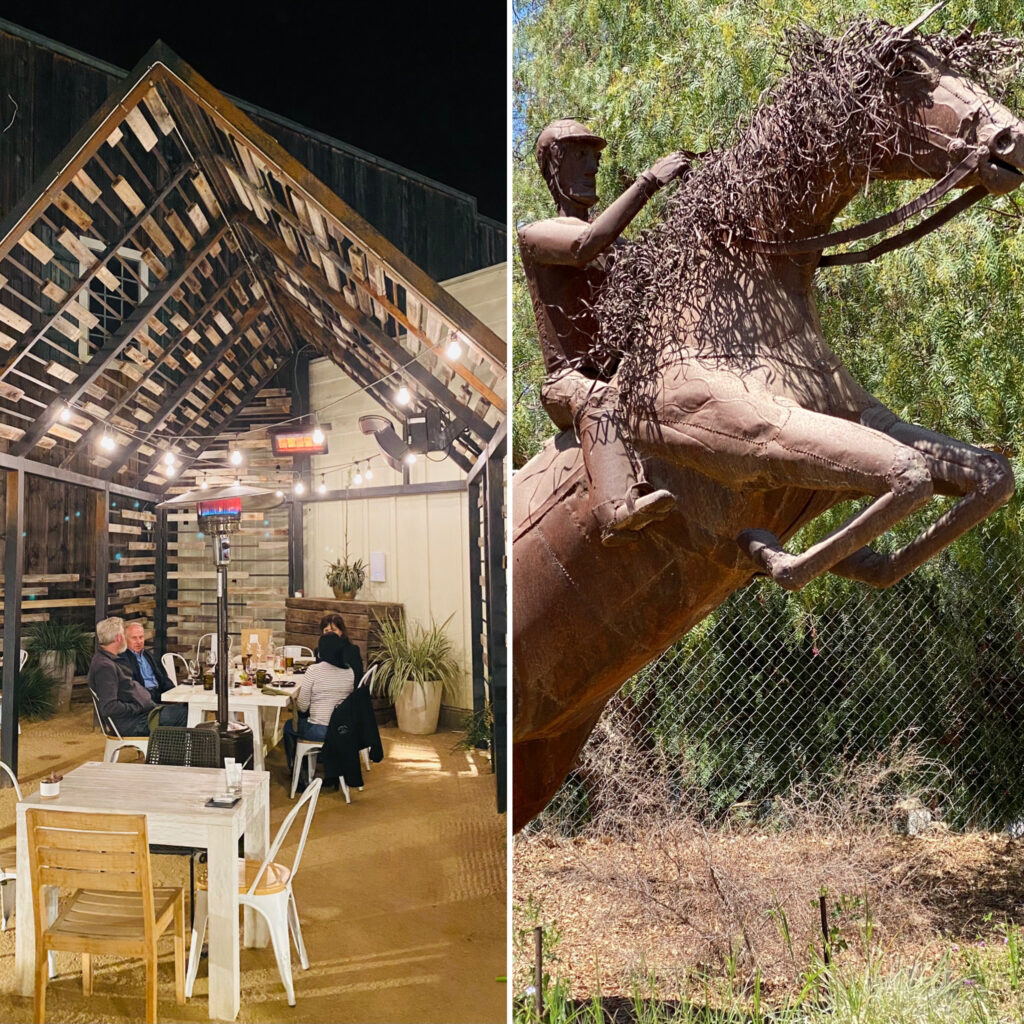 Temecula, California, has a split personality. This is a good thing. Let me give you a little background about the city and what I see as a resident through my experiences here.
The city only became incorporated as a city in 1989, but much took place in the Temecula Valley prior to that. In the 1850's, Temecula was a stop on the stagecoach lines. The Butterfield Stage went from St. Louis to San Francisco through Temecula. This is where Butterfield Stage Road got its name.
In the 1880's, the major industries in the valley were stone quarries, cattle, and shipping. In the 20's and 30's, there was quite a bit of bootlegging and speakeasies, too.
In 1904, Walter Vail bought nearly 90,000 acres in the area and set up Vail Cattle Ranch which operated for nearly 60 years. When he decided to sell, Richard Break, a farm manager and broker commissioned a study to see how well citrus would grow in the region and found that not only would citrus grow well but that the climate and soil were suited for growing wine grapes.
One of the couples who purchased part of the development was Vincenzo and Audrey Cilurzo. They established the first commercial vineyard in the valley in 1968. Audrey says that she traveled to Hemet to apply for a vineyard permit through the Department of Agriculture for $10. Things have certainly changed.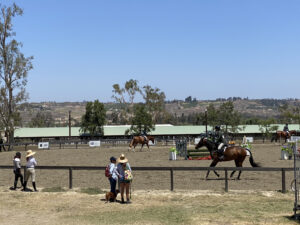 During a beautiful May week, I experienced the two very distinct Temeculas. There is the Vail Ranch Shopping Plaza with the old water tower, a remnant of former Vail Ranch days, and of course, Vail Lake, formed from the Temecula River. As you drive all along DePortola Road, you see horses and ranches, including Galway Downs. Horses that have brought home upwards of a million dollars in their racing history have lived and trained at Galway Downs and throughout the Temecula Valley.
I experienced some of the horse country experience by taking a trip out to Temecula's Wine Country and climbed aboard a carriage at the Temecula Carriage Company. This company is owned by Mark and Marika Matson and assisted by the knowledgeable horse person, Arlene Eyerman. The clip-clop tour through wine country on the carriage was driven by Mark and his two beautiful Clydesdales, Chip and Floyd.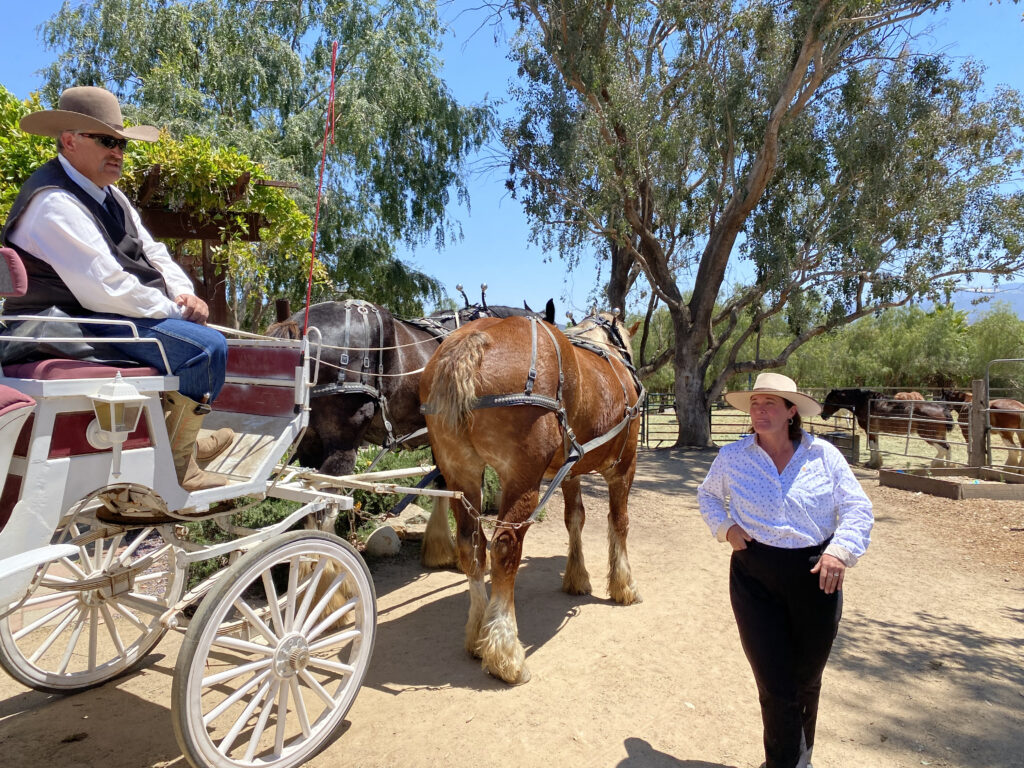 Because wineries were closed during the pandemic, the Matsons brainstormed and came up with a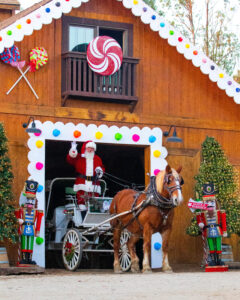 few great options to keep their business afloat and the horses fed. What fun passengers in the carriage must have experienced at Halloween to be chased by a Headless Horseman. In December, families visited the ranch to see Santa and his elves at work on toys in the transformed barn on the property. With a lot of luck, these festive holiday activities will become a yearly occasion at the Temecula Carriage Company.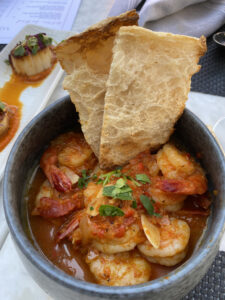 The other Temecula is comprised of the growth of a very healthy wine region and restaurant business enjoyed by both locals and tourists.
Europa Village with its charming Bolero Winery, ten casitas, and authentic Spanish-style cuisine is just one of the many enchanting spots to taste some skillfully made wine. Here one can experience a trip to Spain without a passport. The patio at C'est la Vie (another part of Europa) is still one of my favorite places to sip wine and enjoy the vineyard setting. If you are lucky, wine server Whitney will guide you through a flight of wines.
Upscale restaurants have also set foot in Old Town Temecula. A star is Small Barn. Owners Dan and Cathy Gibson's creation is a dining experience not to be missed.
If you are brave enough to tackle the 32 oz. Wagyu Beef Tomahawk Steak (or have others along to share it like I had,) you will be rewarded with one of the most tender pieces of steak your palate has every enjoyed.
Chef Angelo Sosa, a finalist of the show Top Chef, also delighted us with his Tasmanian Trout Crudo nestled in a puree of sweet pea aguachile as well as the elegant presentation of his Shrimp & Lemongrass Soup with its tart and aromatic flavor. This restaurant knows about food presentation while still creating flavorful and inviting food.
During dinner, we enjoyed a bottle of the Super Tuscan wine made by the Gibsons and carrying the Small Barn label.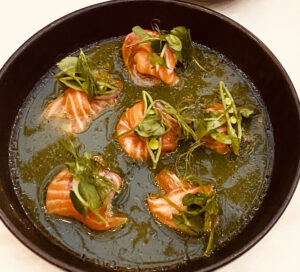 A visit to Temecula means a trip to two very different experiences. There's the horse country that will always be at the roots of Temecula and the ever expanding sophistication of
wineries and delectable restaurants for both the locals and visitors, too.
*As is customary in this industry, I was treated to these venues, but the views are my own.